Want to find native plants near you?
Find your state in the list below. Then click on the link for a list of native plants from your state that are featured on Native Backyards. You'll also find a list of recommended native plant websites and resources for your state.
Need more help finding plants that are native to your area? Contact me!
This page contains affiliate links. See our full disclosure.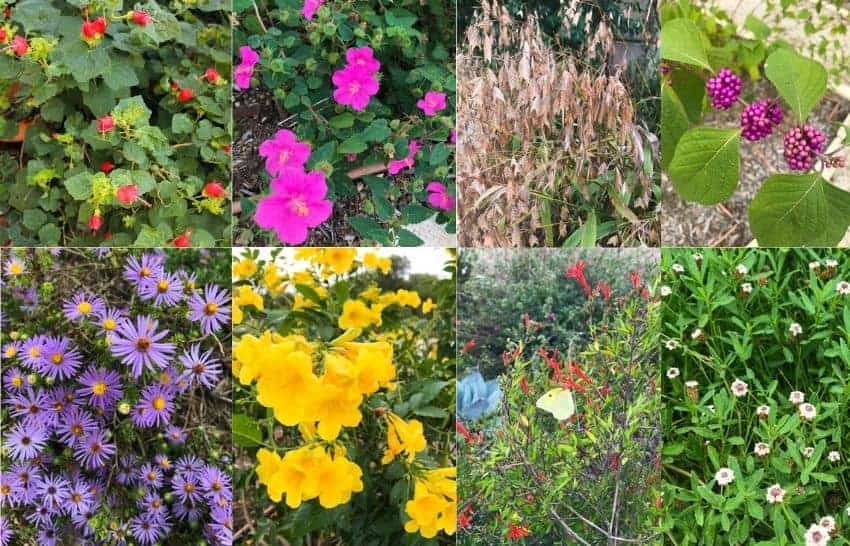 Alabama Native Plants
Plant Profiles on Native Backyards:
Other Resources:
Arizona Native Plants
Plant Profiles on Native Backyards:
Other Resources:
Arkansas Native Plants
Plant Profiles on Native Backyards:
Other Resources:
California Native Plants
Plant Profiles on Native Backyards:
Other Resources:
Colorado Native Plants
Plant Profiles on Native Backyards:
Other Resources:
Connecticut Native Plants
Plant Profiles on Native Backyards:
Other Resources:
Delaware Native Plants
Plant Profiles on Native Backyards:
Other Resources:
Florida Native Plants
Plant Profiles on Native Backyards:
Other Resources:
Georgia Native Plants
Plant Profiles on Native Backyards:
Other Resources:
Illinois Native Plants
Plant Profiles on Native Backyards:
Other Resources:
Indiana Native Plants
Plant Profiles on Native Backyards:
Other Resources:
Iowa Native Plants
Plant Profiles on Native Backyards:
Other Resources:
Kansas Native Plants
Plant Profiles on Native Backyards:
Other Resources:
Kentucky Native Plants
Plant Profiles on Native Backyards:
Other Resources:
Louisiana Native Plants
Plant Profiles on Native Backyards:
Other Resources:
Maryland Native Plants
Plant Profiles on Native Backyards:
Other Resources
Massachusetts Native Plants
Plant Profiles on Native Backyards:
Other Resources:
Michigan Native Plants
Plant Profiles on Native Backyards:
Other Resources:
Minnesota Native Plants
Plant Profiles on Native Backyards:
Other Resources:
Mississippi Native Plants
Plant Profiles on Native Backyards:
Other Resources:
Missouri Native Plants
Plant Profiles on Native Backyards:
Other Resources:
Nebraska Native Plants
Plant Profiles on Native Backyards:
Other Resources:
New Hampshire Native Plants
Plant Profiles on Native Backyards:
New Jersey Native Plants
Plant Profiles on Native Backyards:
Other Resources:
New Mexico Native Plants
Plant Profiles on Native Backyards:
Other Resources:
New York Native Plants
Plant Profiles on Native Backyards:
Other Resources:
North Carolina Native Plants
Plant Profiles on Native Backyards:
Other Resources:
Ohio Native Plants
Plant Profiles on Native Backyards:
Other Resources:
Oklahoma Native Plants
Plant Profiles on Native Backyards:
Other Resources:
Oregon Native Plants
Plant Profiles on Native Backyards:
Other Resources:
Pennsylvania Native Plants
Plant Profiles on Native Backyards:
Other Resources:
Rhode Island Native Plants
Plant Profiles on Native Backyards:
South Carolina Native Plants
Plant Profiles on Native Backyards:
Other Resources:
Tennessee Native Plants
Plant Profiles on Native Backyards:
Other Resources:
Texas Native Plants
Plant Profiles on Native Backyards:
Other Resources:
Vermont Native Plants
Plant Profiles on Native Backyards:
Virginia Native Plants
Plant Profiles on Native Backyards:
Other Resources:
West Virginia Native Plants
Plant Profiles on Native Backyards:
Other Resources:
Wisconsin Native Plants
Plant Profiles on Native Backyards: