Top 10 Texas Shade Plants
One of the trickiest garden challenges can be growing plants successfully in the shade. I'm here to tell you it is easy with the right Texas shade plants!
Start by downloading my free printable PDF of the Top 10 Texas Shade Plants. You can take this handy one-pager with you to the plant nursery.
Replace Grass with Native Plants in Shady Areas
I live in San Antonio, Texas where we are blessed with gorgeous Live Oak trees. I have several mature trees providing shade in my yard.
However, many times it can be difficult to get our St. Augustine turf grass to grow well under shade trees.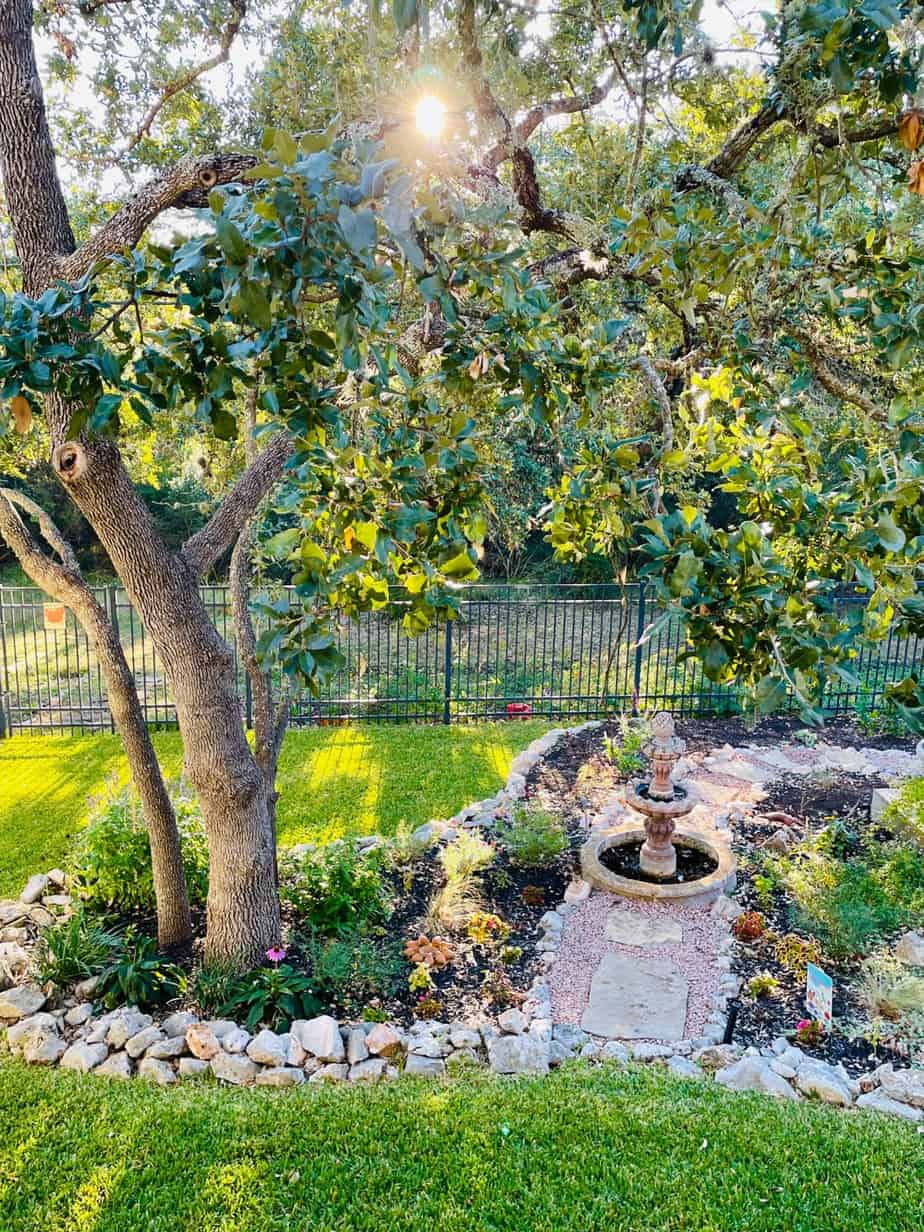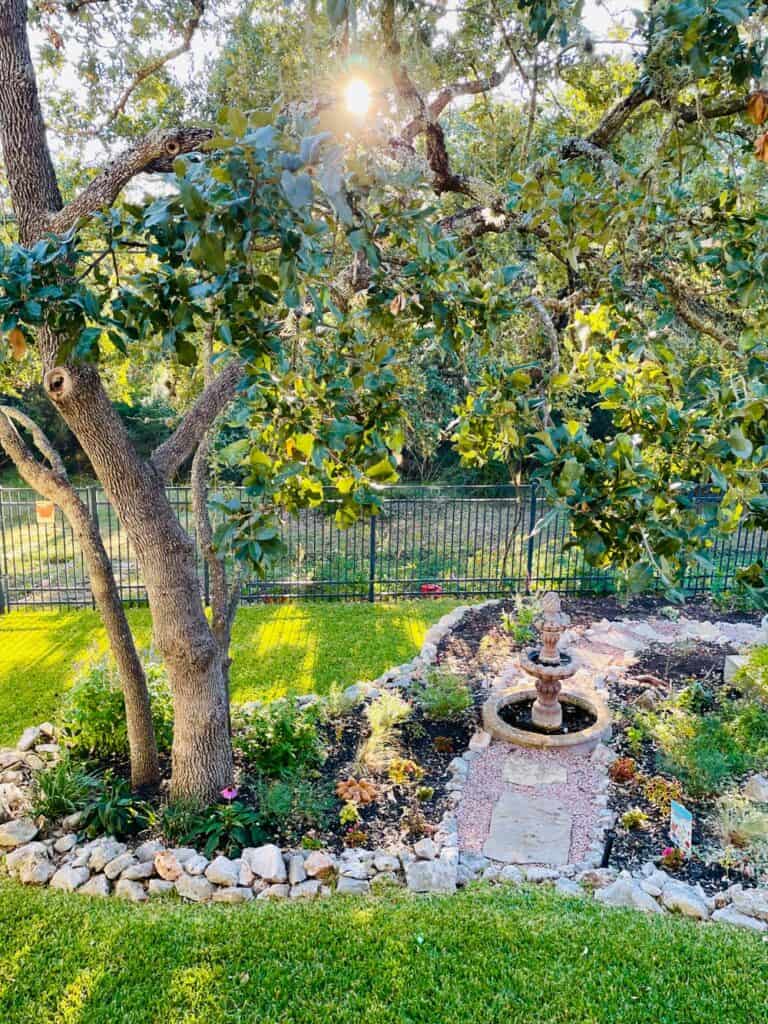 This is an excellent opportunity to replace hard-to-care-for grass with an easy-to-care-for native shade garden!
Shade tolerant plants don't have to all be different shades of green. There are lots of ways to add pops of color to a shady spot with native blooming shade plants.
Here are my top 10 favorite shade plants. While these are all native to the state of Texas, many are native to other states as well.
Check out our state-by-state plant lists to see if they are native species where you live.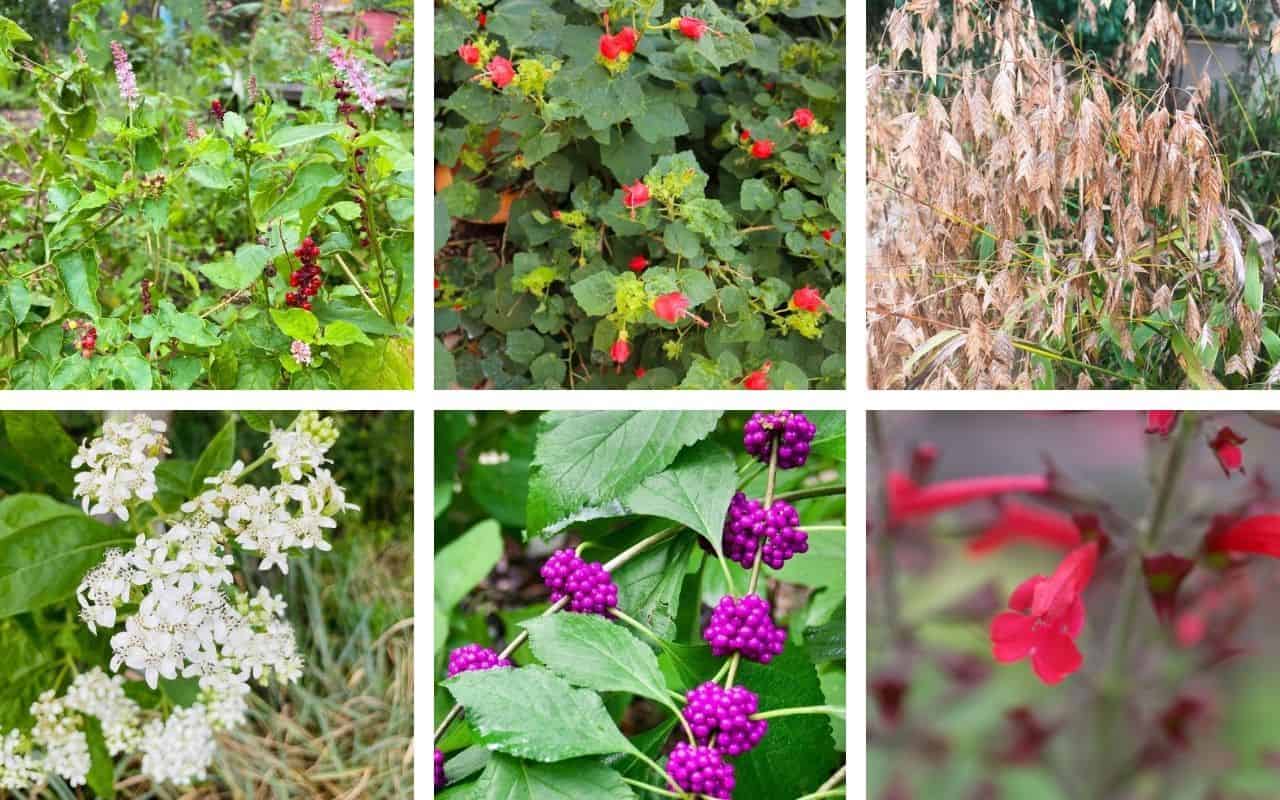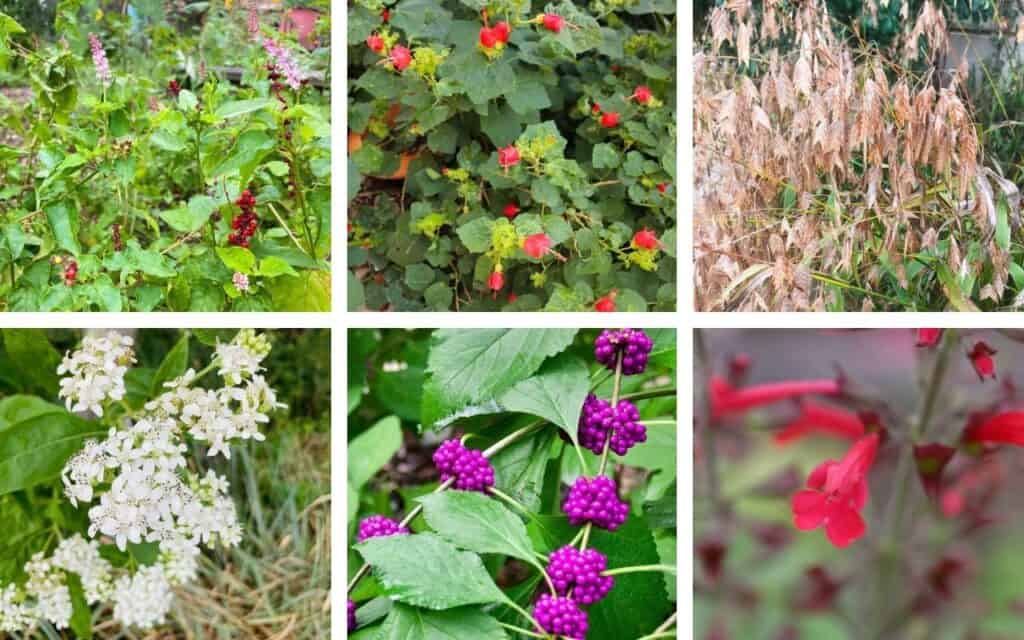 With these great plants, not only are you able to grow something successfully in shady areas of your yard, you are providing important food and habitat for insects, birds and other wildlife.
Each of these native plants has an important role to play in our local ecosystem. They've been growing wild in Texas for thousands of years. It's time to reintroduce them to our lawns!
Top 10 Native Texas Shade Perennials
Looking for shady are plants? Skip the exotic evergreen plants from Asia and choose these local Texas shade lovers plants instead!
These plants encompass blooms in a wide variety of colors from bright red to yellow to magenta purple! I have included both the common name and scientific name (in parentheses) for each.
1. Inland Sea Oats
Ornamental bunch grasses are a great way to add texture and seasonal interest to your yard, especially when interspersed among flowering perennials. However, most ornamental grasses require full sun to thrive.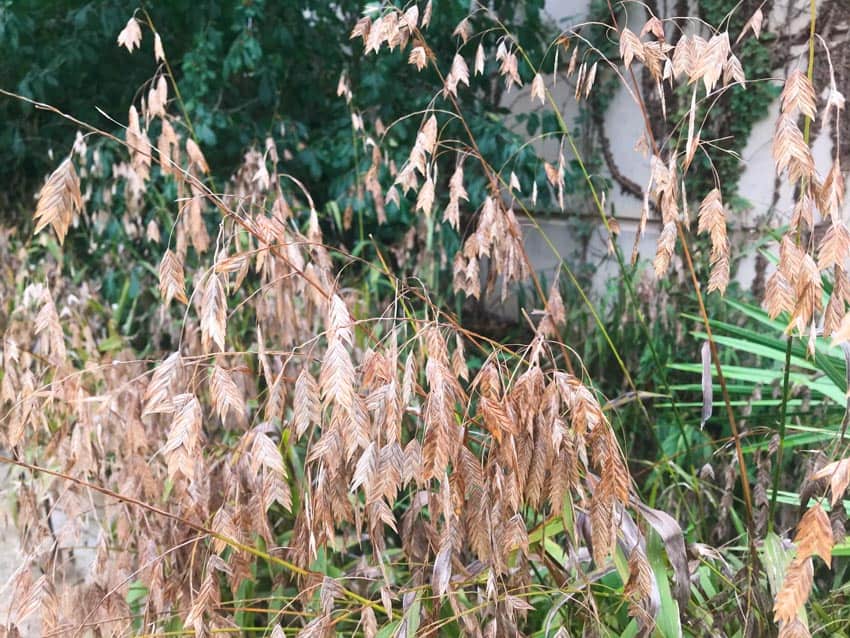 That is not the case with Inland Sea Oats (Chasmanthium latifolium). This native grass loves the shade. Growing 1-2 feet tall, it has thick green blades and beautiful chevron seed heads from summer though fall.
Inland Sea Oats tend to spread, so they are a great option to fill in large areas where turf grass won't grow. In addition to being native to Texas, it is native to 28 other states.
Wildlife Benefits:
The seed heads provide food for birds
Inland Seas Oats is an important host plant for X skipper butterflies.
2. Turk's Cap
It can also be very challenging to find flowering perennials that will bloom in the shade. Turk's Cap (Malvaviscus arboreus) is the rare unicorn of a plant that will bloom profusely.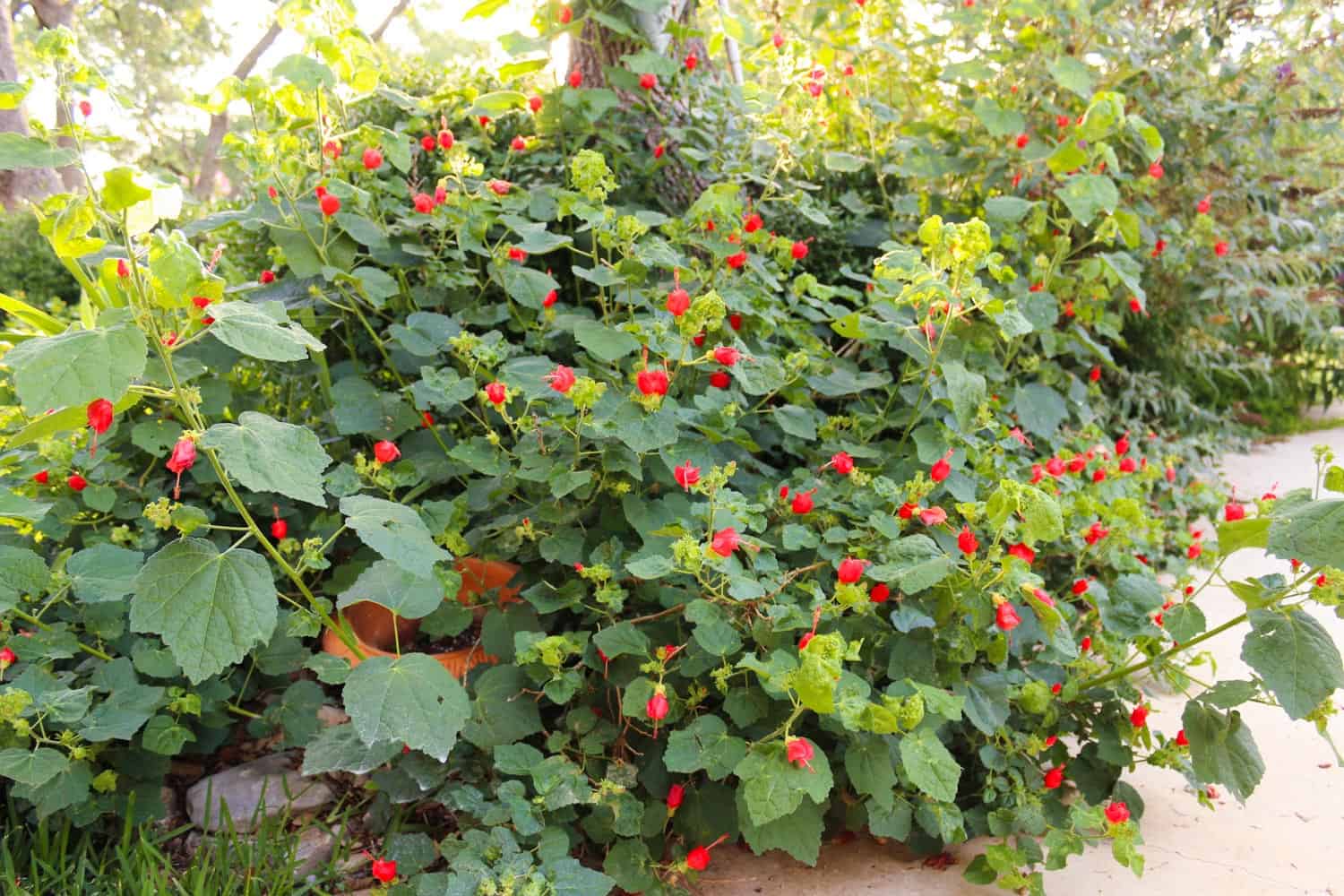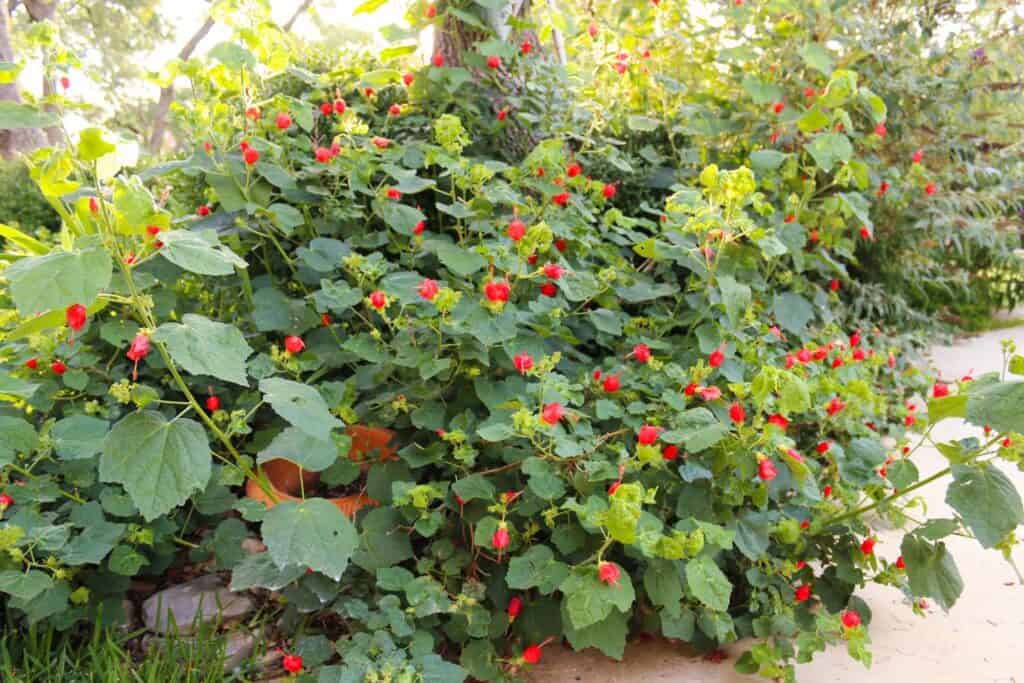 This native Texas shade perennial is covered in bright red blooms from late spring through fall. It blooms most prolifically in part shade to dappled shade, and will have fewer blooms in deep shade.
In addition to being native to Texas, Turk's Cap is also native to six other states in southeastern US. Along with the red flower color you can also find Turk's Cap with white blooms and pink blooms.
They will die back in the winter. Cut back to the ground in early spring at the signs of new growth.
Wildlife Benefits:
Great addition to a pollinator garden – provides nectar for hummingbirds and butterflies
Host plant to Turk's Cap Skipper
Fruits are edible for wildlife and humans
3. American Beautyberry
American Beautyberry (Callicarpa americana) is a true stunner in a native garden and performs great in the shade. It is an understory shrub that can grow 4 to 6 feet tall and wide.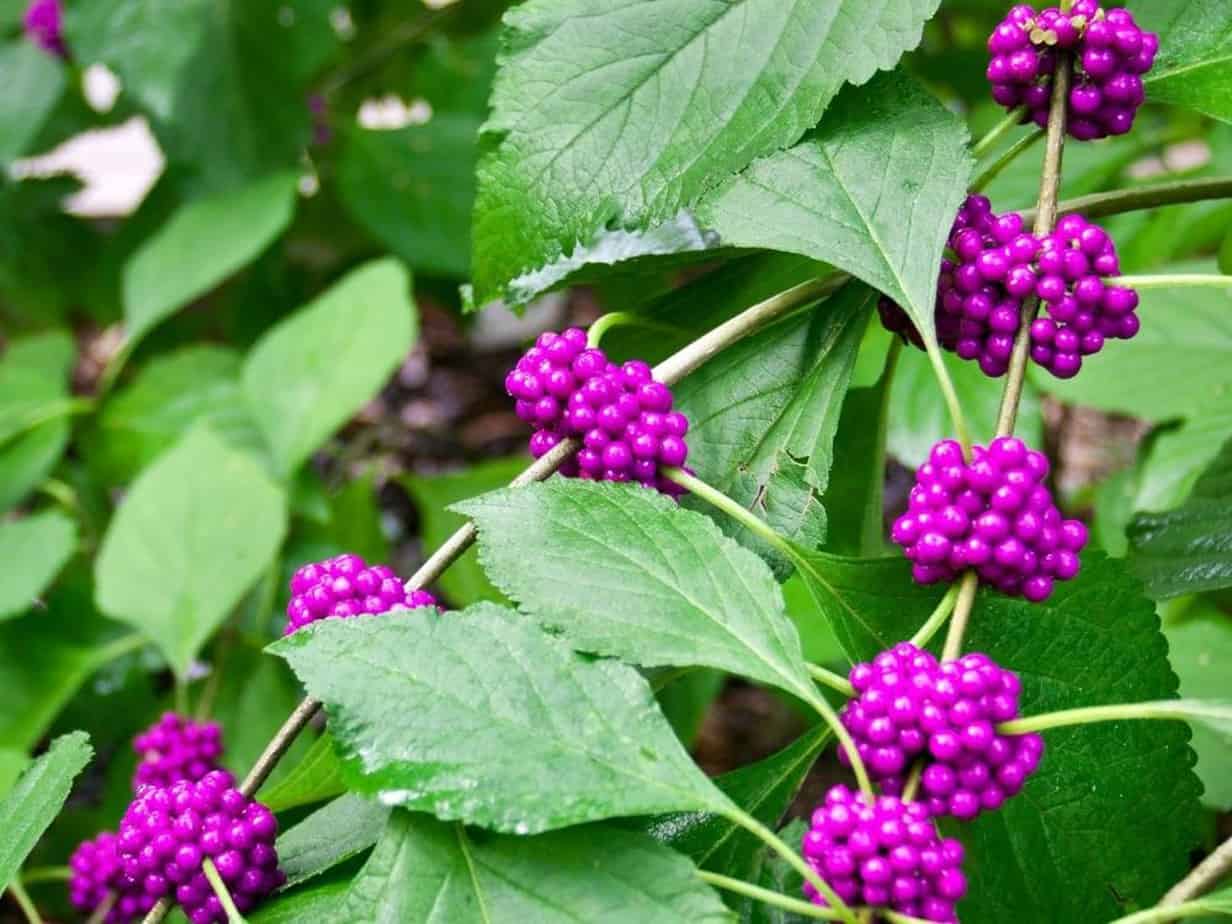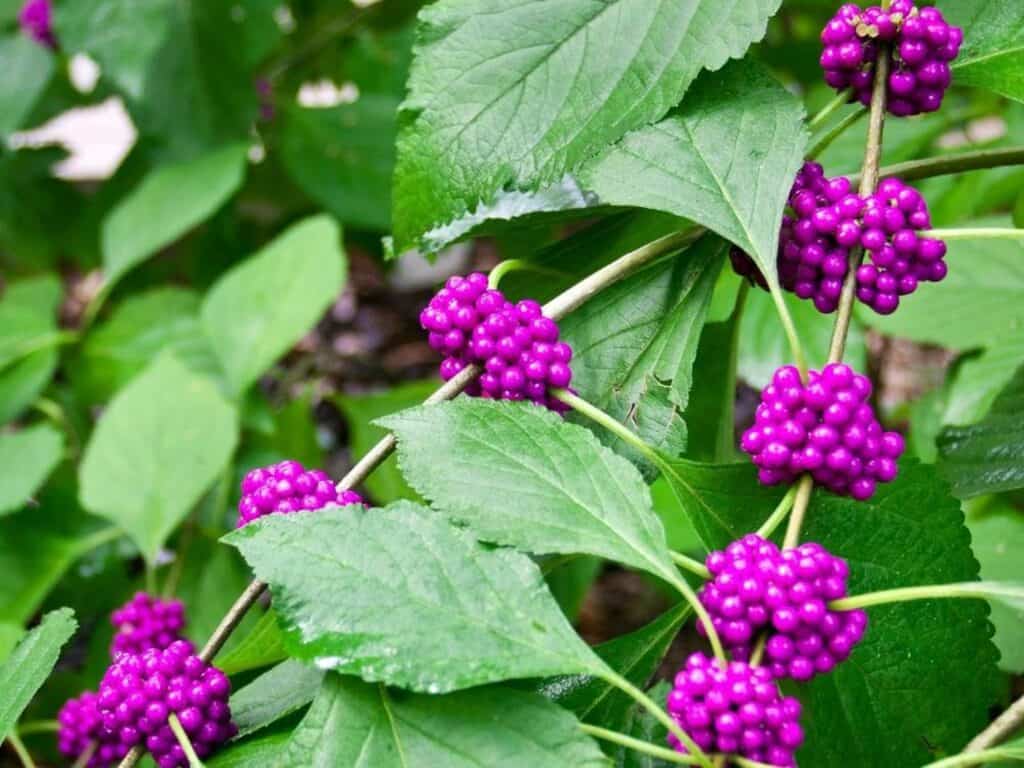 Beautyberry prefers partial shade but can handle part sun but may require more supplemental water in the summer heat. It likes well-drained moist soil.
Starting in the late summer its branches will be covered with magenta purple berries. The brightly colored fruits stay on the plant through early winter. Beautyberry is native to the southeastern US.
Wildlife Benefits
Berries loved by birds and small mammals
4. Pigeonberry
Another cool berry producing plant for the shade is Pigeonberry (Rivina humilis l.). What makes this shade plant particularly unique is that it produces red berries and pretty light pinkish white flowers simultaneously.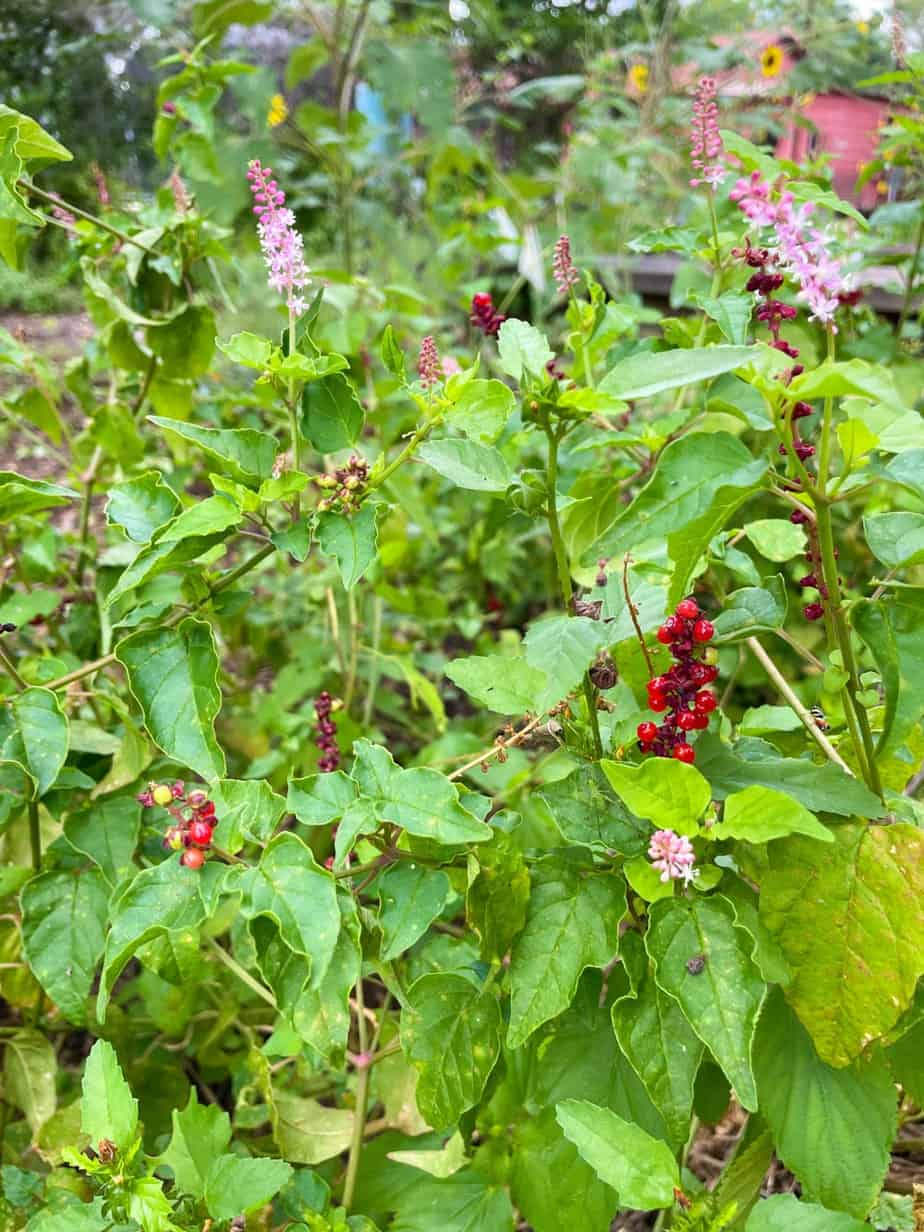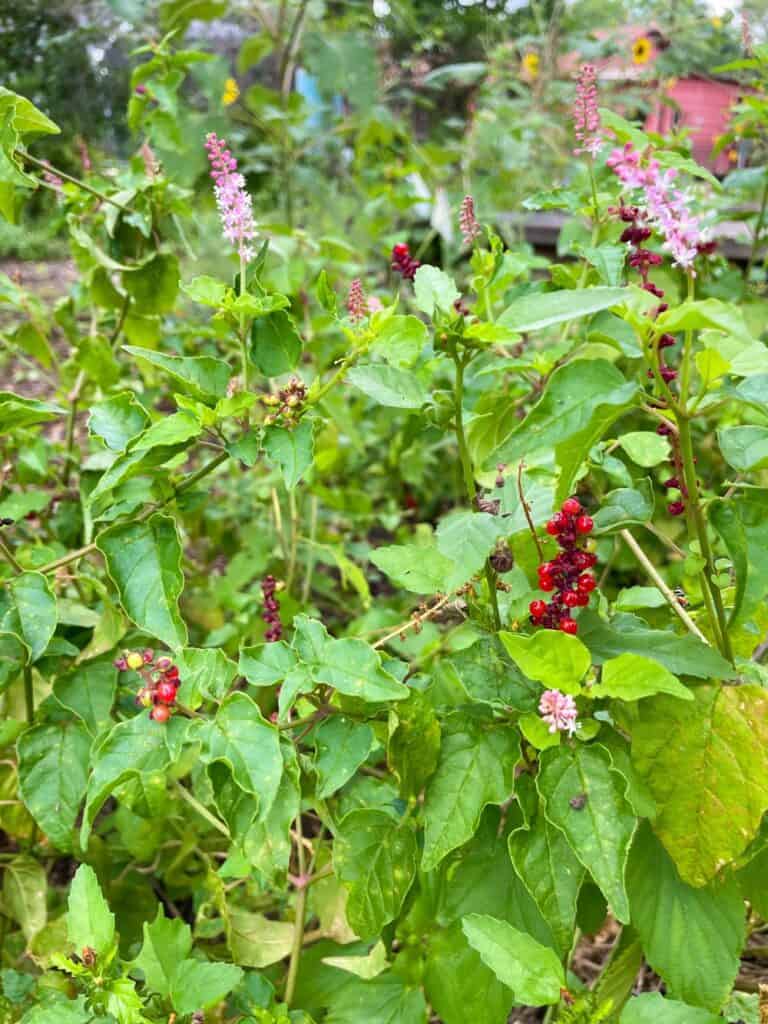 The blooms last from early spring until late fall. Pigeonberry grows 1-2 feet tall, making it a great low growing plant to layer under other shade loving perennial shrubs.
It may go dormant in the summer months without supplemental water. It is native to the southern US.
Wildlife Benefits:
Birds love the berries(but toxic to humans!)
Host plant for the Goodson's Greenstreak butterfly
5. Frostweed
Fall blooming Frostweed (Verbesina virginica) is a critical nectar plant for migrating Monarchs and other pollinators seeking its nectar. In the wild you will often find it growing under a large tree.
Frostweed will be covered in large clusters of white blooms starting in August and lasting until November.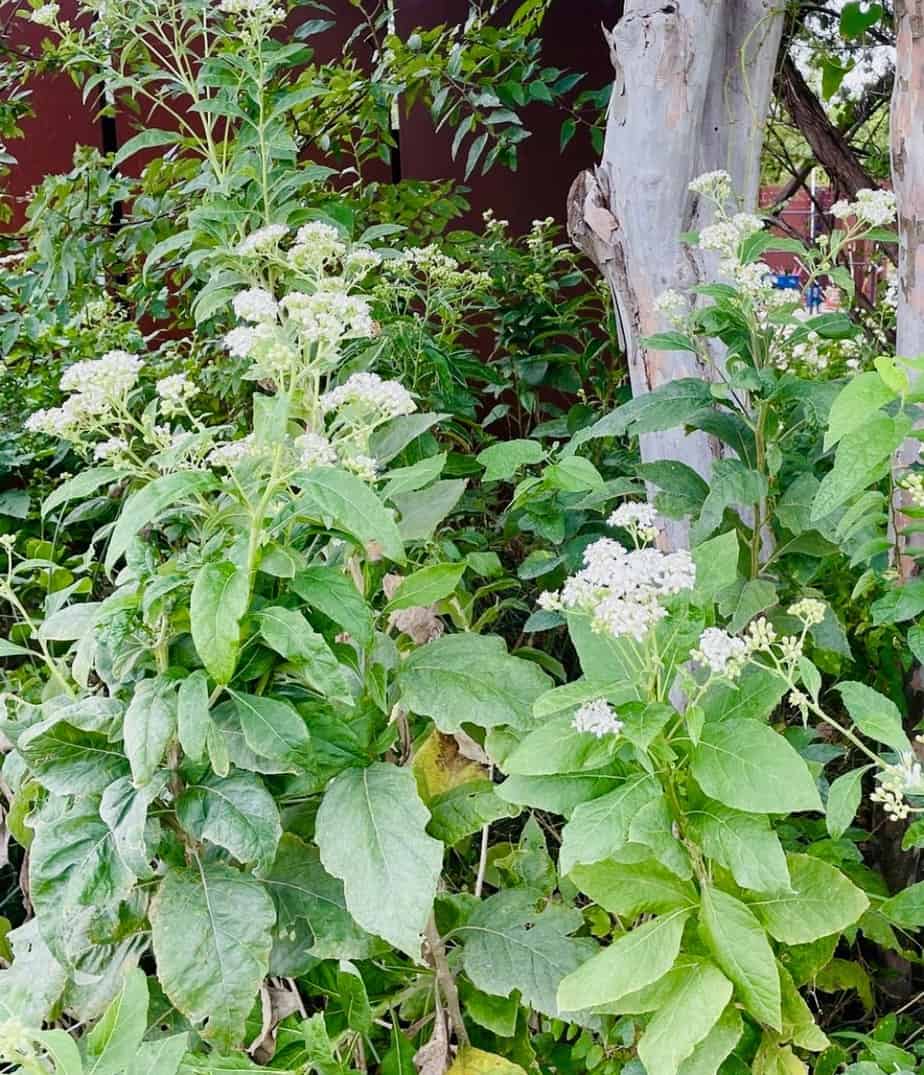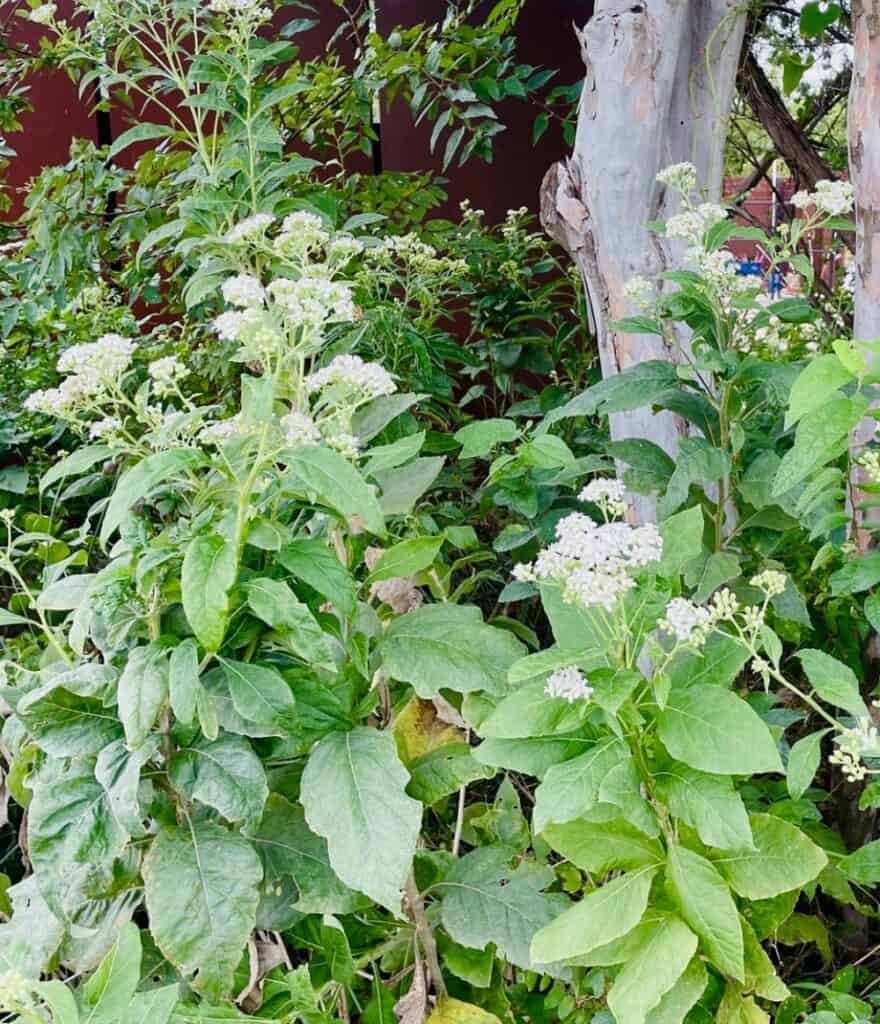 While its leaves give it a "wilder look", this full shade native plant adds interest to your garden when other flowering plants have fizzled out for the season.
During the first freeze of winter, its stems burst open to reveal beautiful and unique ice crystals.
Wildlife Benefits of Frostweed
Pollinator magnet – provides important fall nectar for butterflies and bees
Important food source for Monarchs during Fall migration
Host plant for the Bordered Patch butterfly
6. Chili Petin
Add more pops of color to partial sun and light shade areas with the bright tiny red peppers of the Chili Petin (Capsicum annuum).
Not only does it look beautiful, it can provide you with some yummy spicy peppers that supposedly make a great salsa! Birds love them too.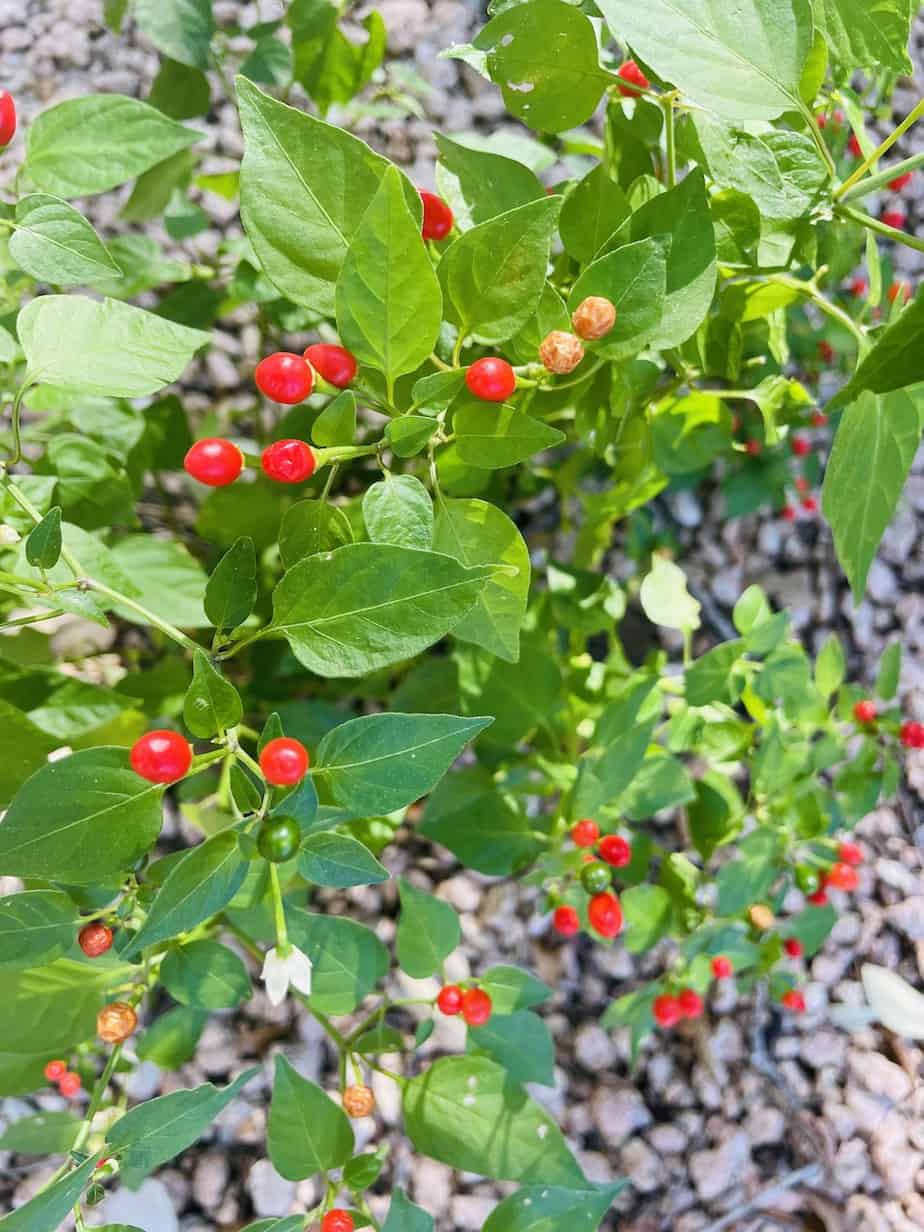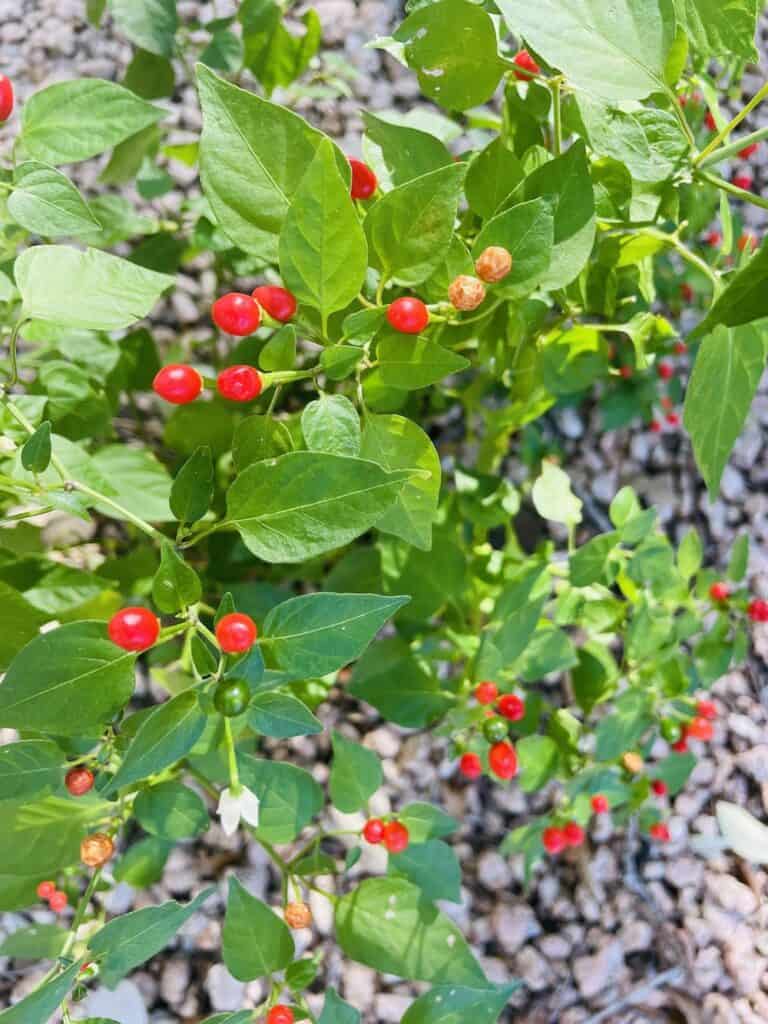 Growing 1 to 3 feet tall, it looks great in mass plantings.
Wildlife Benefits
Peppers for birds
Small flowers provide nectar source
7. Shrubby Boneset
Shrubby Boneset (Ageratina havanensis), also called White Mistflower, is a rounded shrub growing 2-6 ft tall.
Like Frostweed, it provides a critical source of nectar to pollinators in the fall.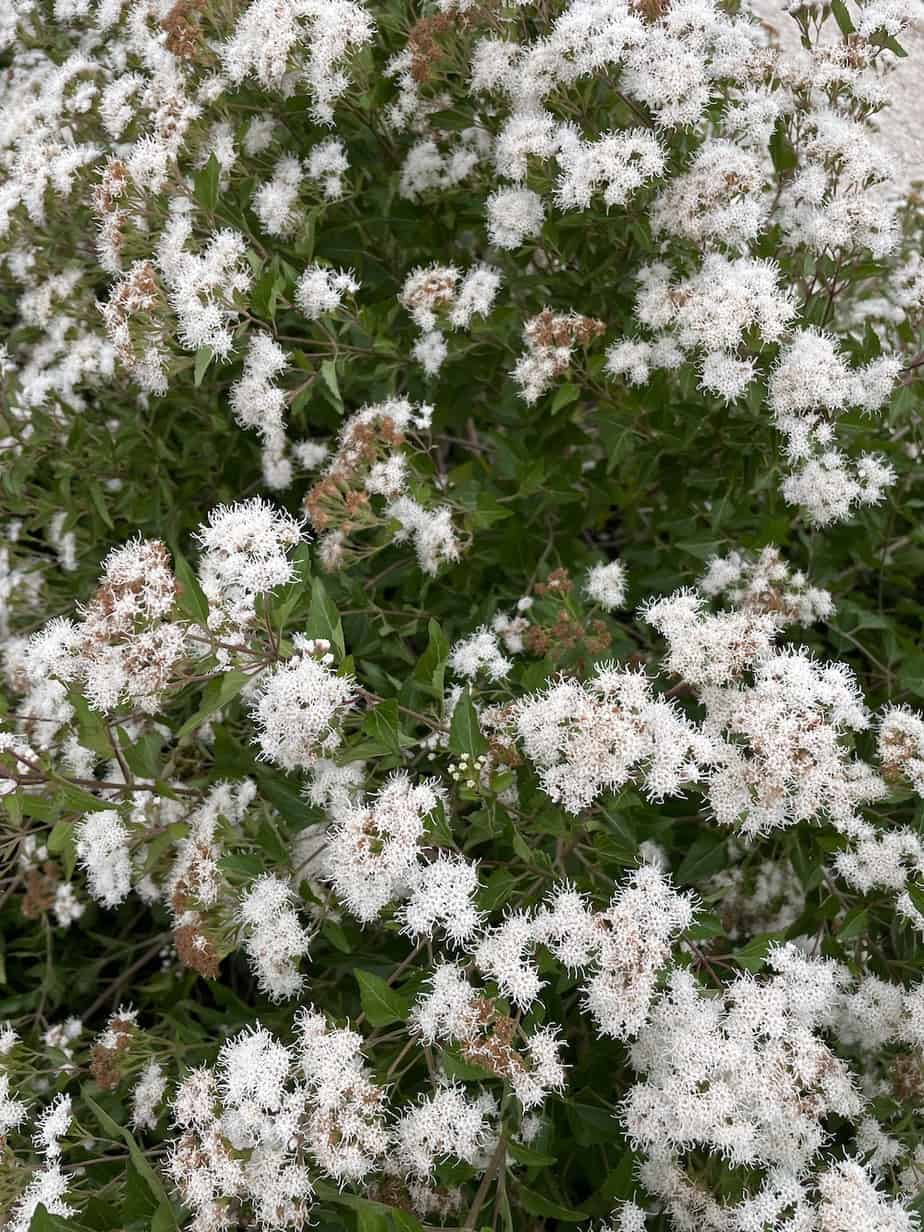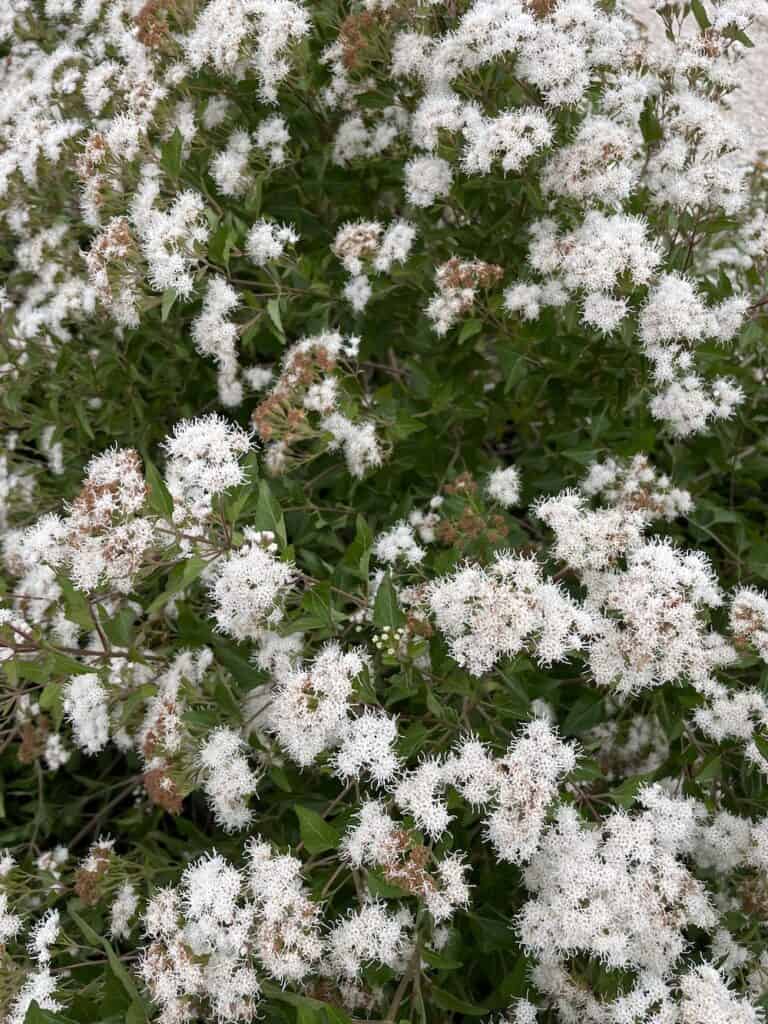 It can add pretty soft white blooms to your part shade area, but can also handle sun.
Wildlife Benefits of Shrubby Boneset
Nectar source for butterflies, moths, bees and hummingbirds
Host plant for Rawson's Metalmark butterfly
8. Cedar Sage
Cedar Sage (Salvia roemeriana) is a native perennial salvia with red blooms from spring through summer. It is a smaller salvia that grows 1-2ft tall.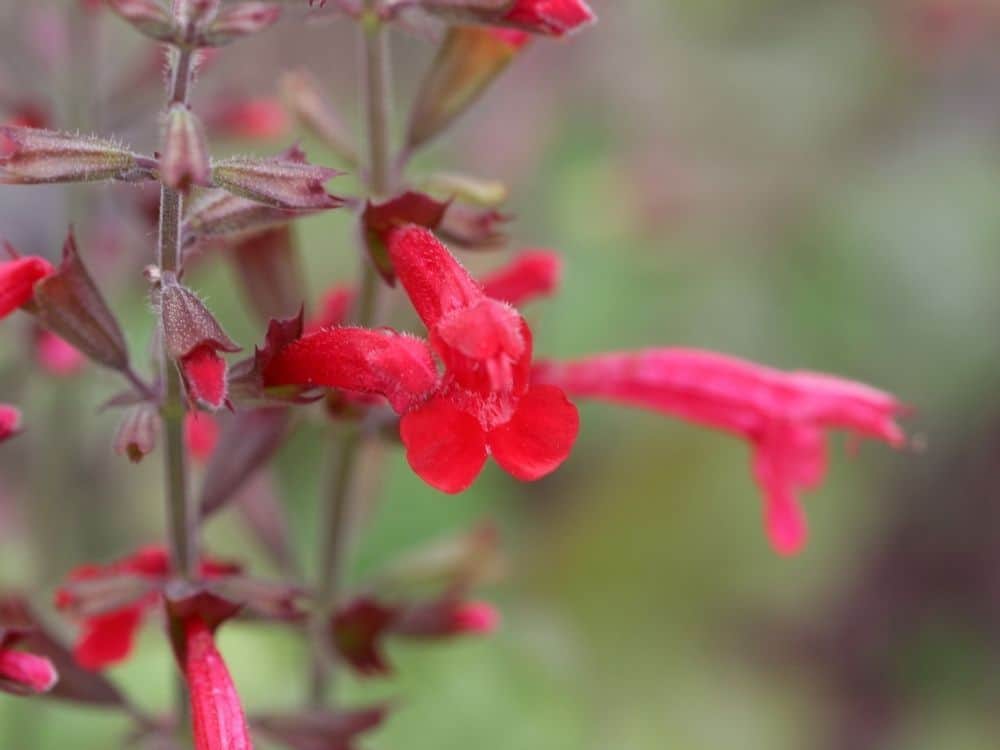 Cedar Sage likes part shade. In Texas, you'll find it growing under Ashe Juniper (Cedar) trees.
Wildlife Benefits of Cedar Sage
Pollinators are attracted to its spring blooms for nectar.
9. Lyreleaf Sage
Another version of Saliva is Lyreleaf Sage (Salvia lyrata). It also grows 1-2 ft tall and is topped with light purple blooms in the spring. It can be used as a ground cover in shady areas.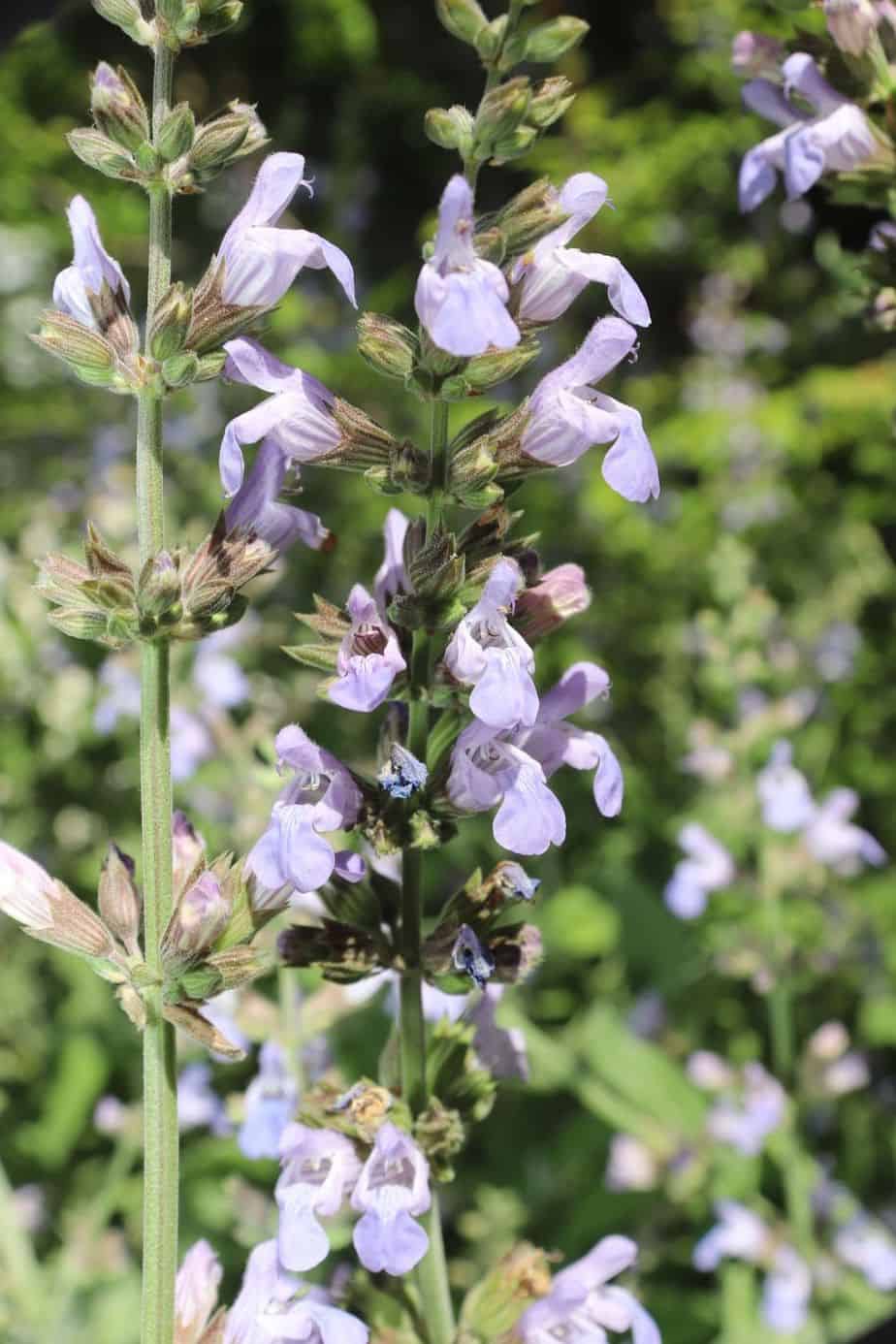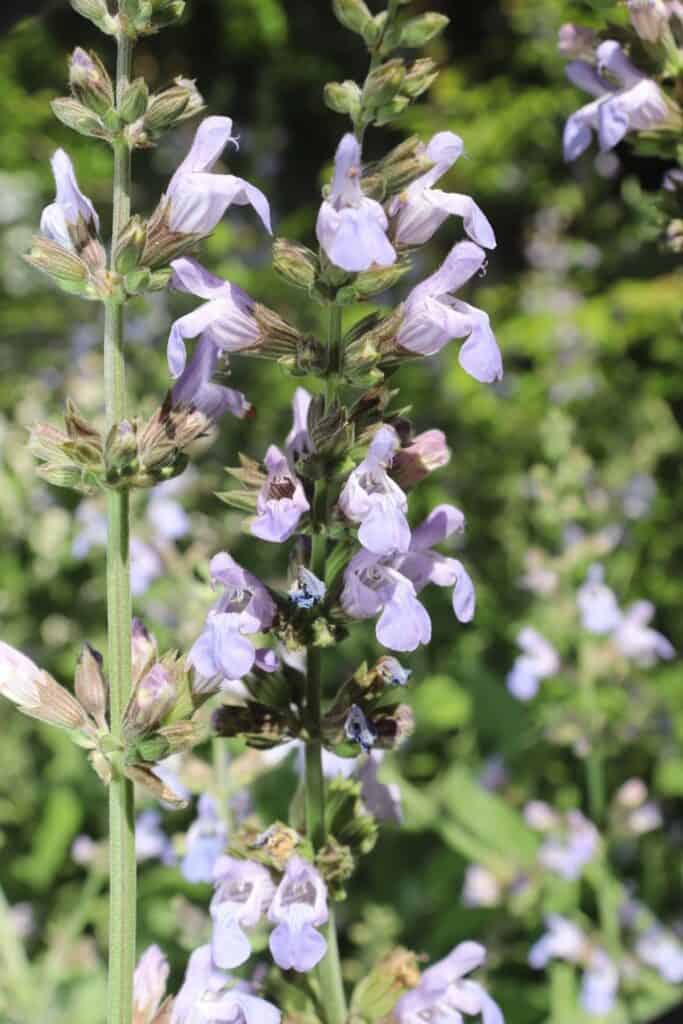 Wildlife Benefits of Lyreleaf Sage
Good source of nectar. Bees in particular love this plant.
10. Horseherb
Love it or hate it, Horseherb (Calyptocarpus vialis) can be a great semi evergreen ground cover in shady areas where grass won't grow.
Also known as Straggler Daisy, it can grow in both shade or sun conditions. Can go dormant in winters with freezing temps.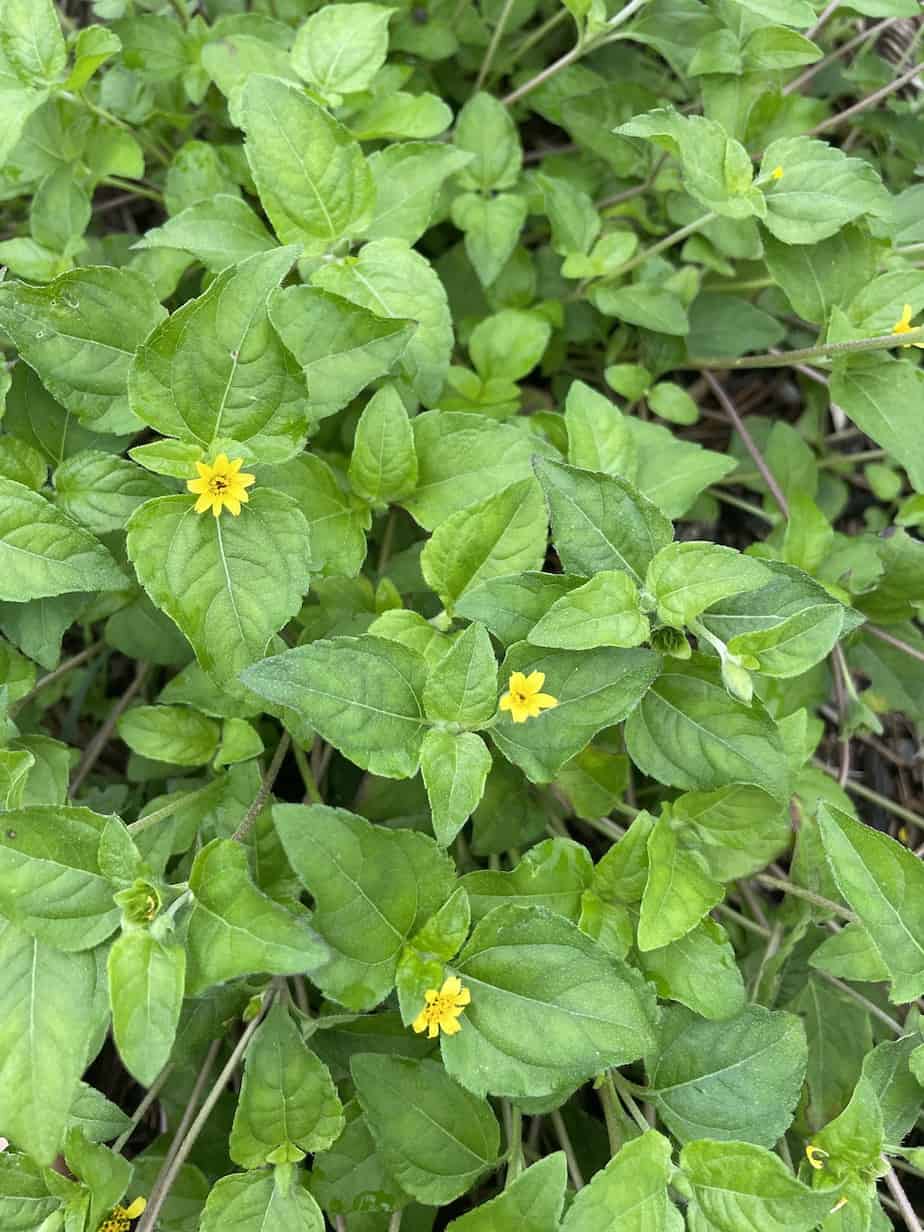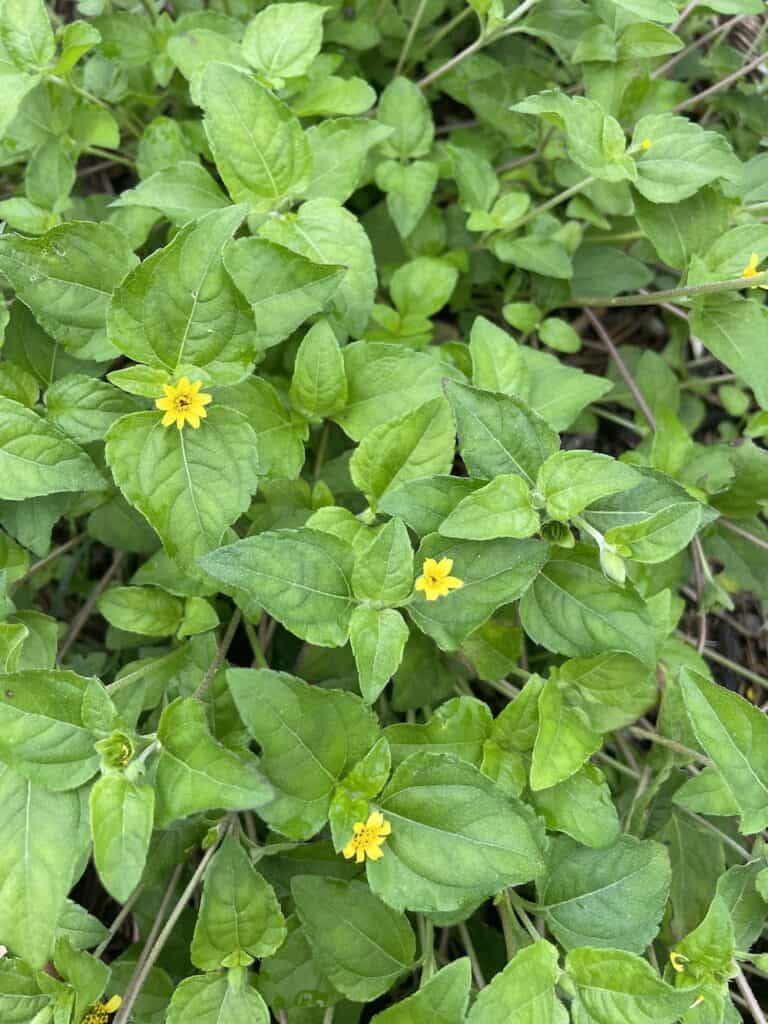 Wildlife Benefits of Horseherb
Nectar for small butterflies
Want to know which Texas native plants are most appropriate for your area of Texas? Check out these helpful regional plant lists from the Native Plant Society of Texas!
Download the Free PDF: Texas Native Shade Plants
I created a handy one-page PDF for you to print and take along with you to the plant nursery. It includes a thumbnail photo of each plant along with both its common and scientific name, shade requirements, and other helpful growing info. Get it here: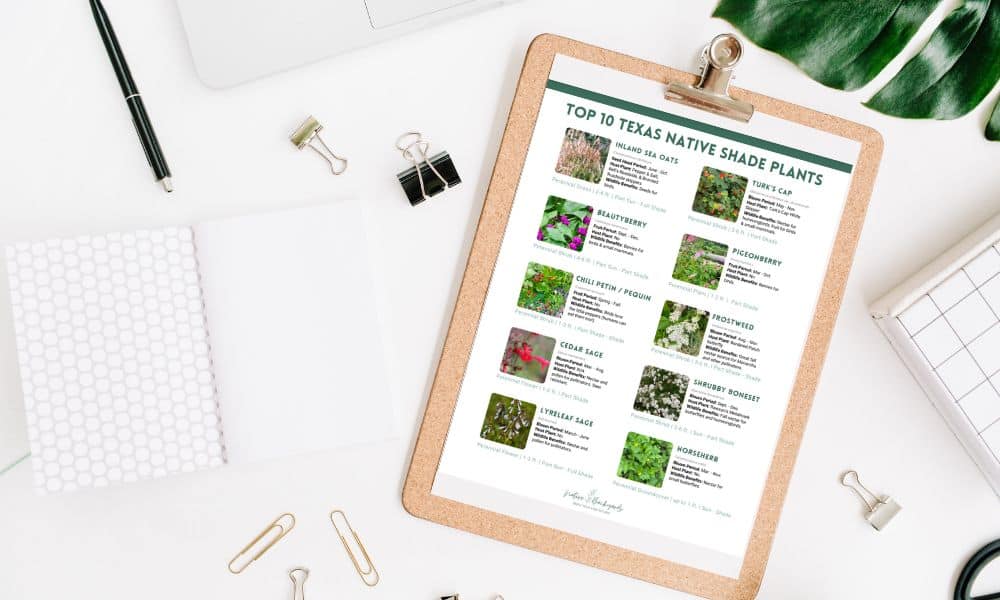 Best North Texas Shade Plants
Of the shade-loving plants listed above, these are best suited for North Texas:
American Beautyberry
Shrubby Boneset
Chili Petin / Chili Pequin
Frostweed
Fall Obedient Plant
Cedar Sage
Turk's Cap
Inland Sea Oats
Best South Texas Shade Plants
Of the shade plants listed above, these are best suited for South Texas:
American Beautyberry
Turk's Cap
Chili Petin / Chili Pequin
Pigeonberry
Inland Sea Oats
Best Central Texas Shade Plants
Of the shade plants listed above, these are best suited for Central Texas:
American Beautyberry
Turk's Cap
Cedar Sage
Horseherb
Pigeonberry
Inland Sea Oats
How to Know If You Need Shade Plants?
The first step is counting the hours of sunlight the area receives. Anything less than 4 hours of direct sunlight is considered shade. An area with 4-6 hours of direct sunlight is considered part shade.
Where to Find Native Shade Perennials?
A nursery in your area that carries a wide selection of Texas native plants should have many of these available. Here in San Antonio, I like to get mine from Rainbow Gardens. Here is a list of Texas nurseries that carry native plants.
Also be sure to keep an eye out for native plant sales – many chapters of the Texas Native Plant Society hold them in the spring.
Grow Shade Perennials From Seed
If you'd like to try growing these shade-tolerant plants from seed, check out Native American Seed. They sell seeds for the following shade perennials:
Why It Is Important to Grow Native Plants
If you add any new plant to your yard, make it a native! Native plants are the foundation of a healthy ecosystem. These plants have evolved in your local area, while non-native plants were introduced from other countries. Native plants:
Are important food source to plant-eating insects and wildlife
Serve as host plants to butterflies and moths
Require less water and maintenance
Support more species than non-native plants
If you are new to native plants be sure to read the Top 6 Benefits of Native Plants in Your Yard.
The majority of our yards are currently filled with non-native plants so there are lots of opportunities to swap in some natives and help the environment!
Pin this to help spread the word!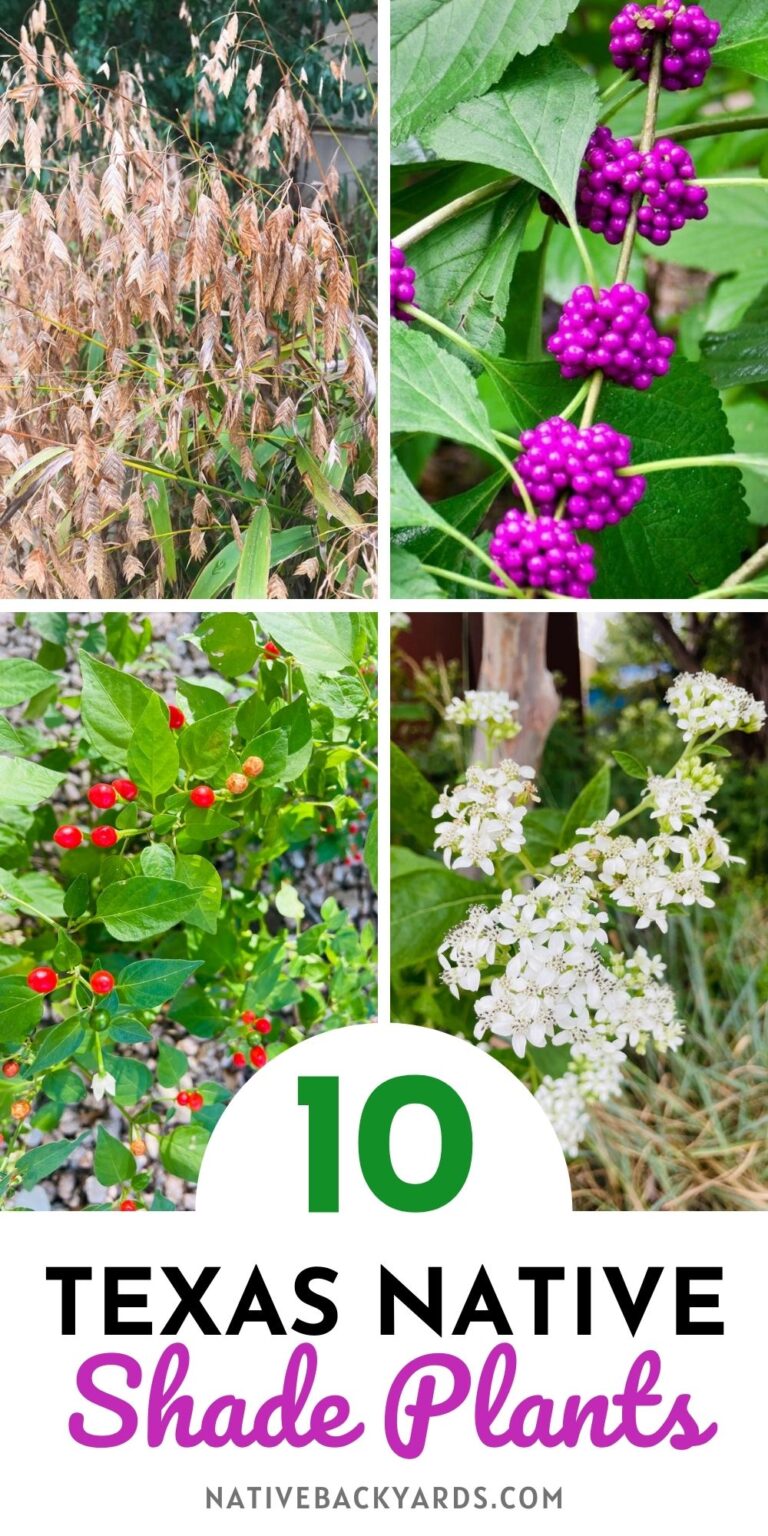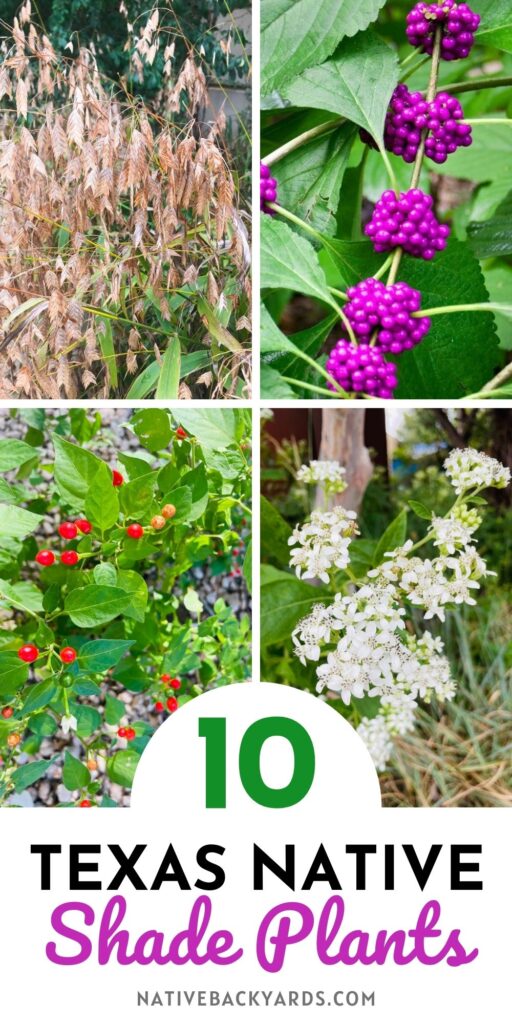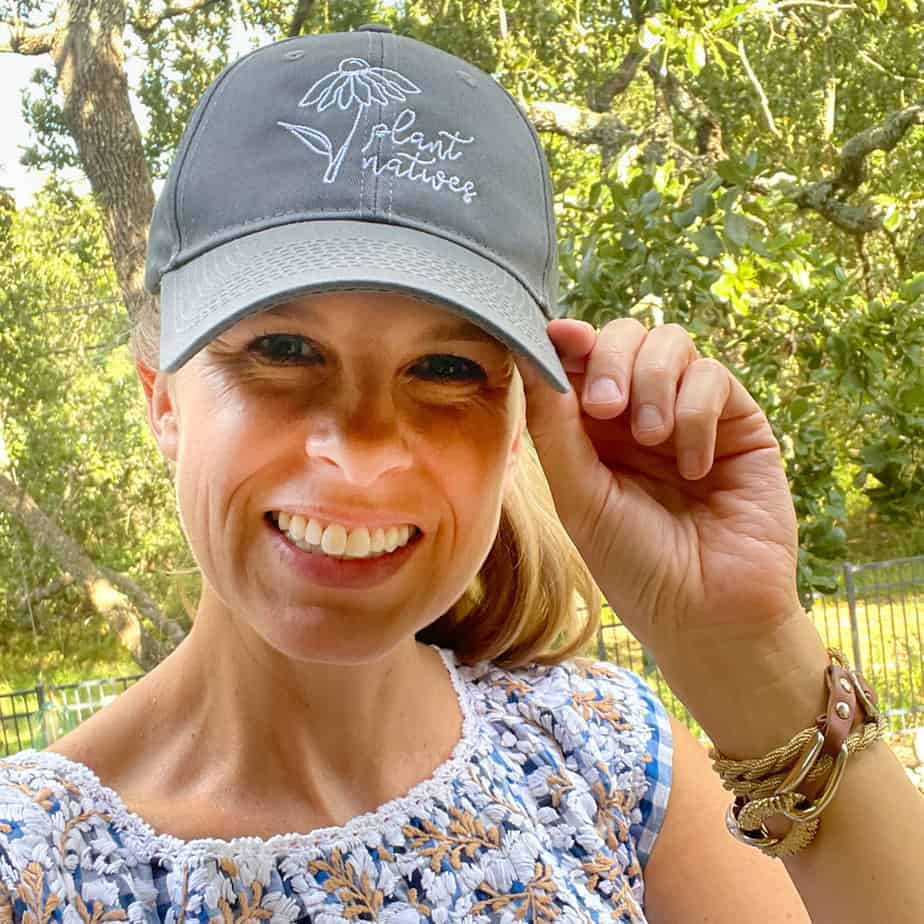 Welcome to Native Backyards! I'm Haeley from San Antonio, Texas, and I want to help you grow more natives.
I have seen firsthand how the right plants can bring your yard to life with butterflies, bees, and birds. I've transformed my yard with Texas natives and I'm excited to share what I've learned with you.
Join my newsletter here! – each week I'll send you helpful tips to make your native plant garden a reality!