Top 10 Tips for Growing Texas Bluebonnets
I became a Texan in 2013 and quickly became familiar with the Texas state flower, the Texas Bluebonnet. It spans out across the roadsides of the Texas Hill Country around San Antonio in late March and April.
There is nothing quite like Texas Bluebonnet season. I quickly fell in love!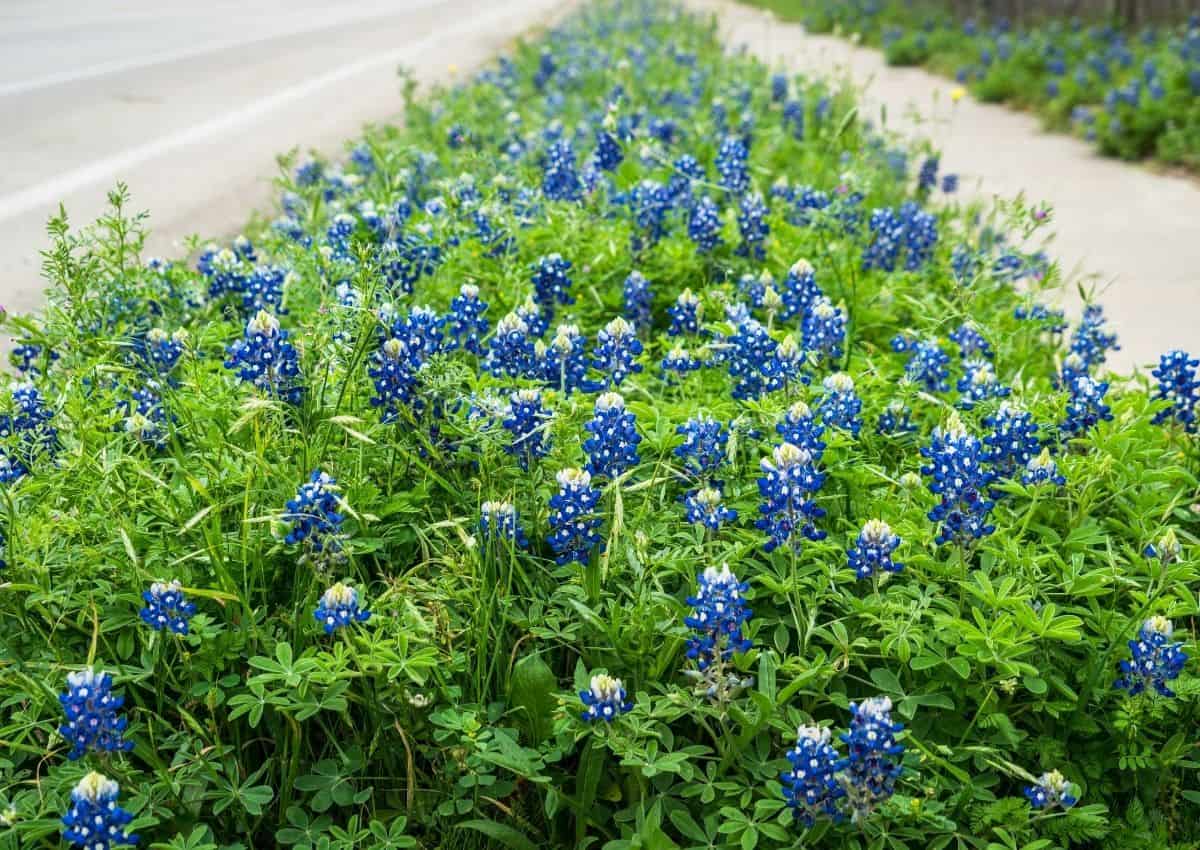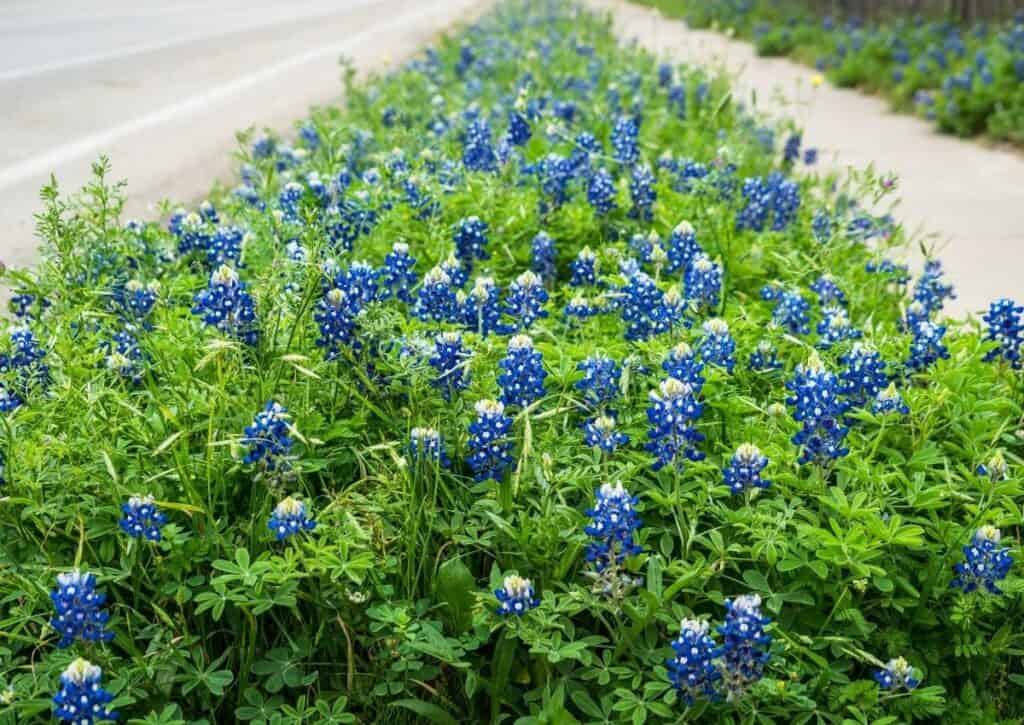 But most Texans only see beautiful bluebonnets for their roadside photographing potential along the Bluebonnet Trail scenic drive or at the Lady Bird Johnson Wildflower Center.
They don't realize that in addition to taking bluebonnet photos in a field or park, one of the best places to grow them is at home!
Want to grow Texas wildflowers at home? Then start by downloading this FREE 10 Texas Wildflowers PDF. It includes a photo of each along with growing info including bloom period and sun requirements.
Texas Bluebonnet: Lupinus Texensis
Did you know that the Texas Bluebonnet (Lupinus texensis) is only one of five different varieties of native bluebonnets in the state of Texas? The Texas legislature named all five species of Bluebonnet as the state flower of Texas!
For the sake of this article, I'm just going to focus on Lupinus texensis. This is the variety most available at nurseries here in Central Texas and the easiest to grow. Learn more about the other Texas bluebonnet varieties.
The Bluebonnet Flower
The flower of the Texas Bluebonnet (Lupinus texensis) is an elongated cluster of small blueish purple flowers. Each of these individual flowers are in the shape of a bonnet reminiscent of those worn by pioneer women.
The end of the bluebonnet spike is white. This white tip can resemble bunny tails, and has given the bluebonnet one of its common names "Conejo", which means rabbit in Spanish.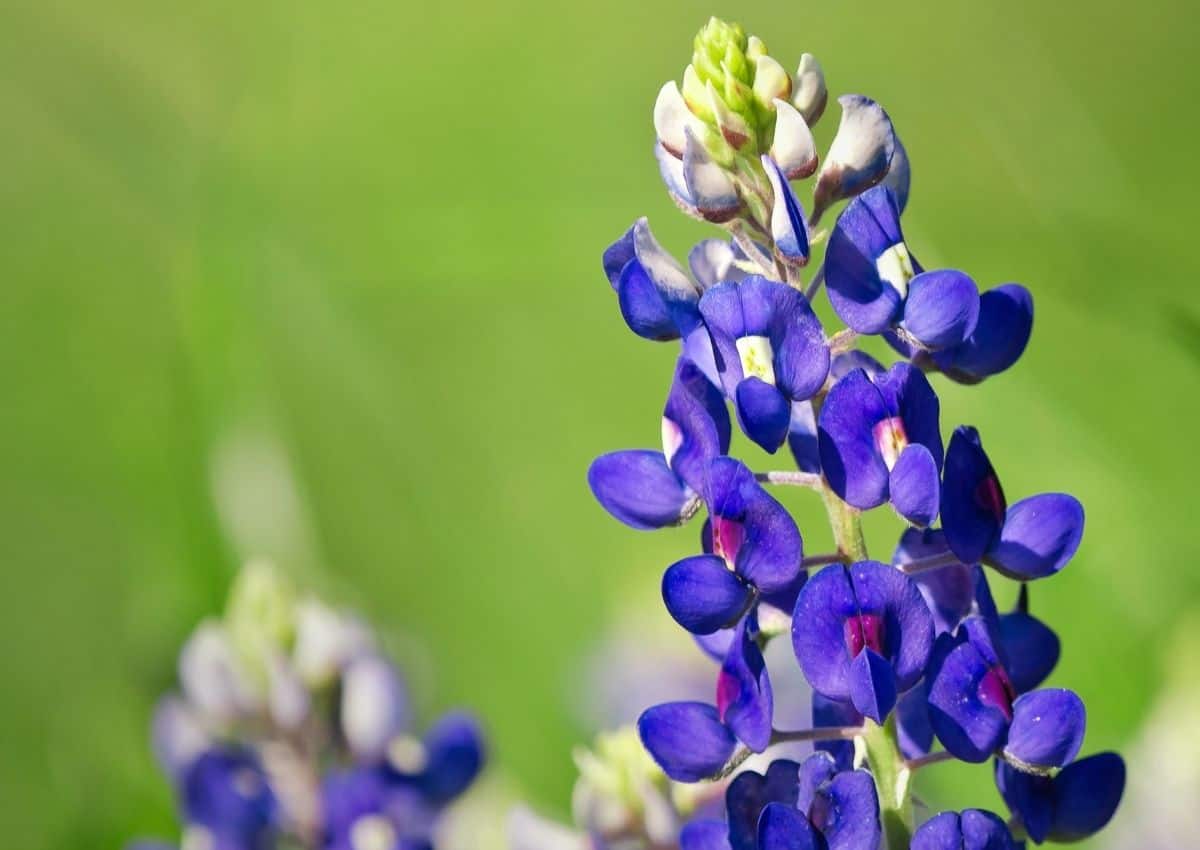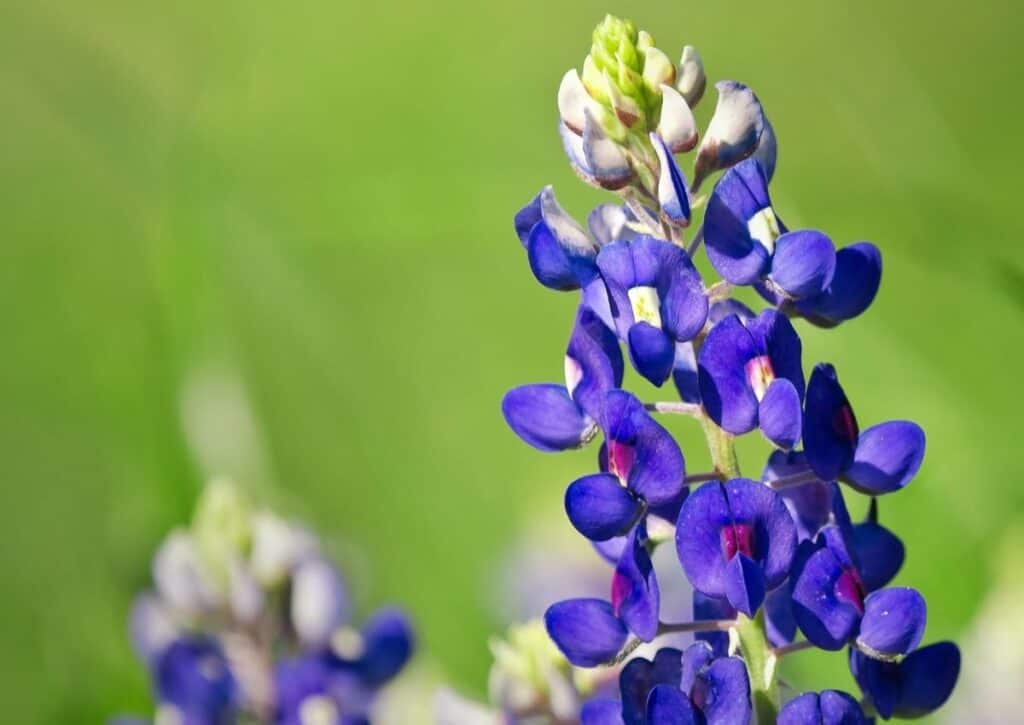 Fun fact – you may also occasionally see a white or pink bluebonnet among the blue flowers due to a gene recession.
Other common names for the bluebonnet flower include Texas Lupine and Buffalo Clover.
5 Tips for Growing Texas Bluebonnets
1. Go with transplants, not seeds
Growing bluebonnets from seed can be notoriously hard due to their tough seed coat and low germination rates.
You can do something called scarification to the bluebonnet seed using sandpaper to roughen the seed coat and help it along. You can also buy pre-scarified seeds like these bluebonnet seeds from Wildseed Farms.
I prefer planting transplants to get a head start. After you have some transplants established the bluebonnet will naturally reseed itself by dropping seeds for the following years.
2. Plant Texas bluebonnets in the fall, not spring
You would think spring would be the perfect time to plant wildflowers, but that is not the case! You ideally want to plant bluebonnets in the fall, especially if planting by seed.
The bluebonnets will actually start growing over winter, creating a mound of leaves called a rosette and developing their root systems so they are ready for full bloom in the spring.
Hard freezes don't phase bluebonnets. We went through a record freeze in February (lovingly called "Snowmaggedon"). The 2021 Texas winter storm killed so many tropical plants, but not the bluebonnets. Their rosettes continued on growing after the hard freeze.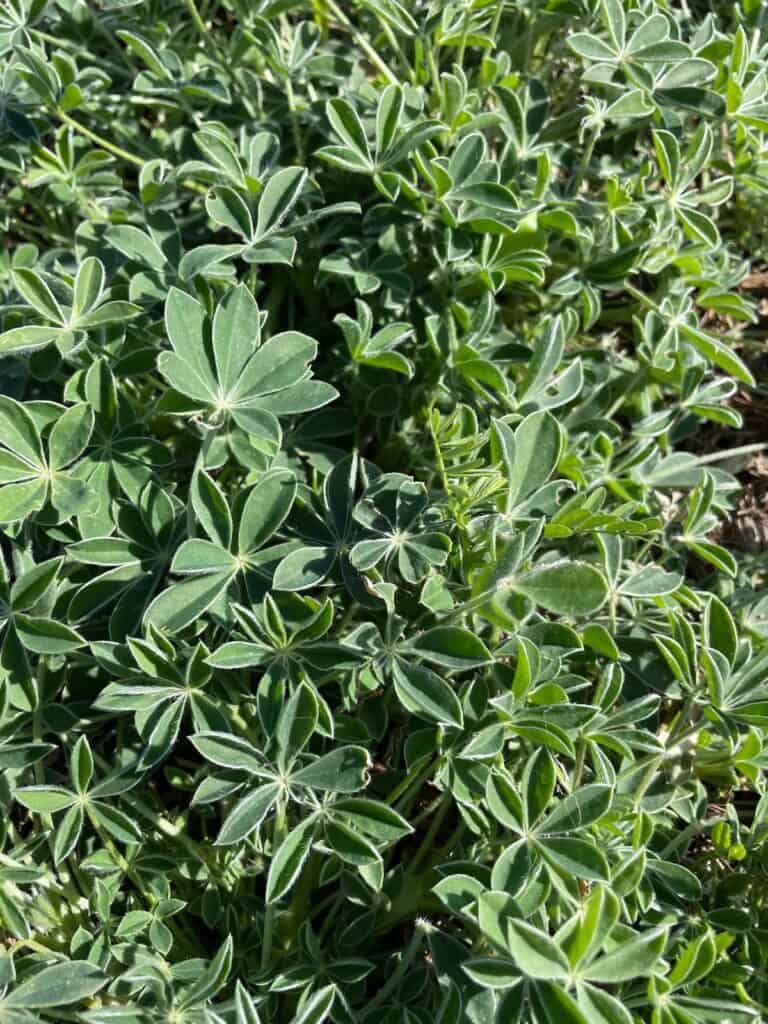 That being said, I have only seen bluebonnet transplants available at nurseries in the spring, not the fall. If you know of a nursery that sells them in the fall, let me know.
According to Aggie Horticulture, transplants should be planted by no later than Halloween in North Texas and no later than Valentine's Day in South Texas. So you can wait until almost Spring in South Texas.
3. Sun, sun, sun
Probably the primary determinant of success for growing bluebonnets in your yard is the amount of sun they'll receive. This is the issue I'm struggling with in my wildflower meadow behind our back fence. Bluebonnets want 8-10 hours of full, direct sun. Mine get 4-6 hours.
Bluebonnets will grow with less sun, but they won't be as abundant and produce as many flowers. However, if you have a hot, sunny spot not shaded by trees then bluebonnets are going to thrive!
4. Neglect is best for Texas bluebonnets
The bluebonnets you see blanketing the side of the road are thriving on rocky, poor soils without any human intervention of fertilizing or hand watering!
Once you have your bluebonnets established you can just sit back and let them be! As long as they have plenty of sun and well-drained soil they should be good.
I have seen this firsthand in the native plant demonstration gardens where I volunteer. We are frequently removing bluebonnets from the crushed granite walking paths, where they have decided they prefer to grow instead of the rich soil of the garden beds!
The good news for me is that I get to bring these wayward bluebonnets home and transplant them in my own poor rocky soil!
5. Incorporate Texas bluebonnets into your landscaping
You don't have to have a designated wildflower meadow to grow bluebonnets. They are an underused flower for garden beds and landscaped areas.
Mix them in with your perennials to add early spring color before the perennials take off. The bluebonnets will die back just as the other plants are taking off. You can cut them back once they have released their seeds.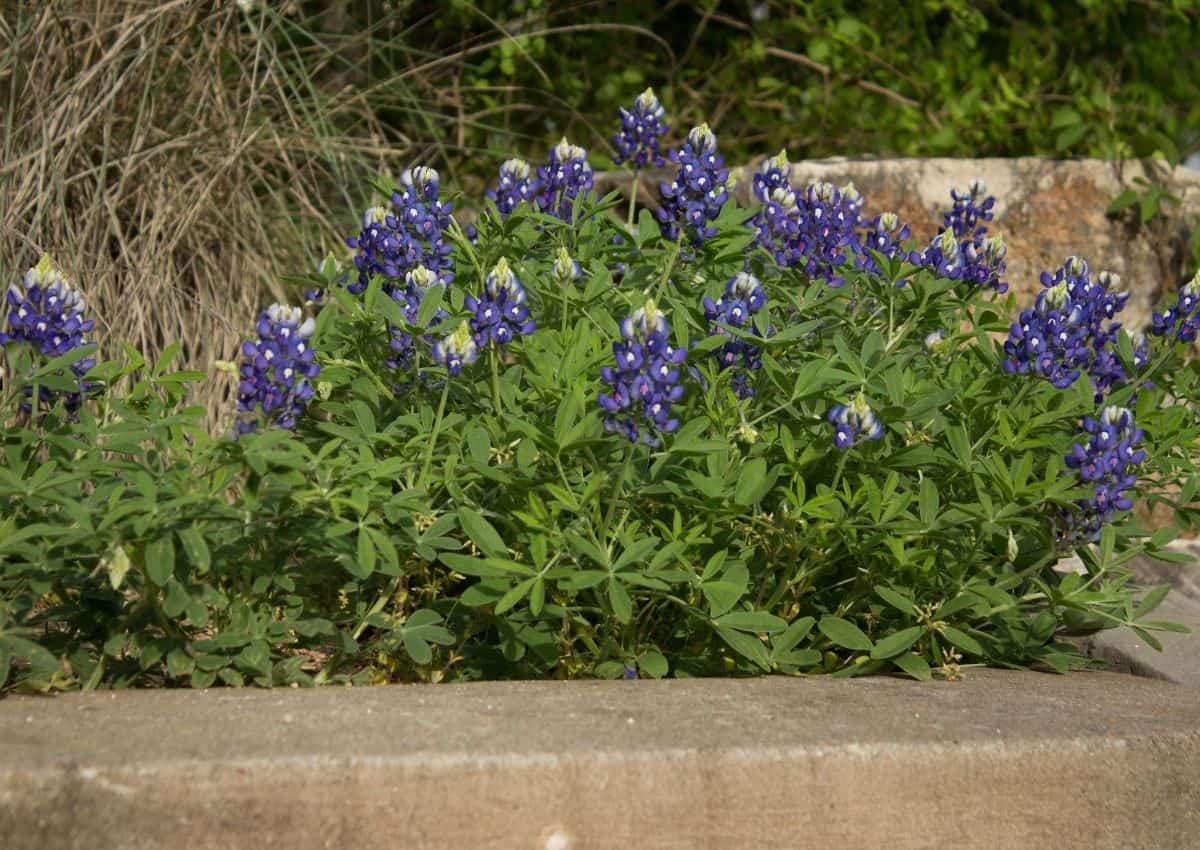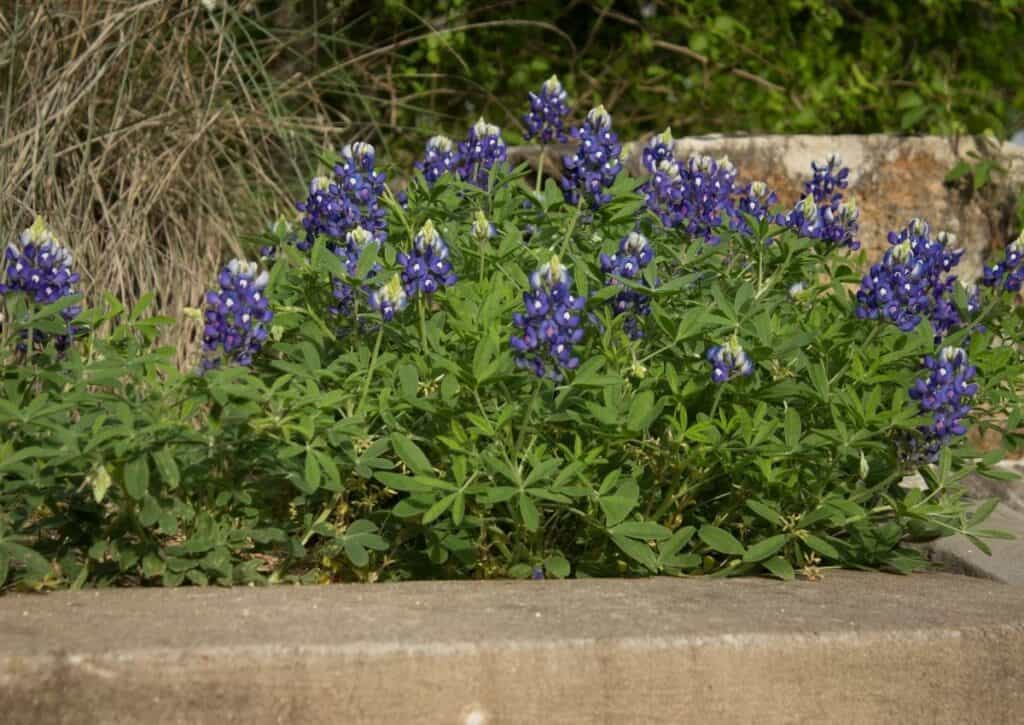 6. The lower petals of Texas bluebonnets turn red after pollination
Each of the individual bluebonnet flowers on the spike has a top and bottom petal. The top petal is blue and the bottom is white. However the bottom petal turns red once it has been fertilized by a bee so they know to try elsewhere. How amazing is that! Try studying a bluebonnet to see this for yourself.
7. It can take years for bluebonnet seeds to germinate
I have learned that bluebonnets are smart. Their tough seed coat is intended to spread out the germination process over several years. This ensures that the bluebonnets can survive during periods of extreme weather.
If one year is a bust for bluebonnets, there are more seeds still in the ground to germinate for the next year. However, this means you'll need to be patient when it comes to establishing bluebonnets. Keep adding new transplants or scarified seeds each year to increase your chances of long term success!
8. Seed pods make a cool popping sound when they open
I learned this from a Master Naturalist friend and then I heard it myself. It is so cool! Once the seed pods turn brown they burst open and fling their seeds out to disperse them widely. Check out this YouTube video if you want to see and hear for yourself!
9. Bluebonnets enrich soil by fixing oxygen
Bluebonnets are part of the Legume family of plants. That means that their roots have the ability to enrich soil with nitrogen through a bacteria that lives on the roots called Rhizobium. No need to fertilize bluebonnets, they already working to naturally fertilize the soil on their own.
10. Bluebonnets are host plants to butterflies
Any time I add a new plant to my yard, I want to make sure it is host plant to butterflies and moths. Learn more about why host plants are so important for our ecosystem. Texas bluebonnets are a host plant for the Hairstreak butterfly and Elfin butterfly. That means those butterflies will lay their eggs on bluebonnets.
Answers to Common Bluebonnet FAQs
Are Texas bluebonnets perennial?
No, bluebonnets are annuals. They germinate, flower and reseed all in the same year. When they drop their seeds they are preparing a new crop of annuals for the following year!
When do bluebonnets bloom?
Texas bluebonnets typically bloom from early March through the beginning of May but you can find rogue bluebonnets blooming outside this timeframe. Depending on the winter weather, they can start blooming earlier.
Where is the best place in Texas to see Bluebonnets?
I recommend a drive on the Willow City Loop, a visit to Wildseed Farms for a maintained field of bluebonnets, or a road trip to Ennis, the official bluebonnet city of Texas for its bluebonnet festivals in early April!
Is it illegal to pick bluebonnets?
I believed this for the first couple years we lived in Texas (thanks to a warning from a child in the neighborhood!). However, it is a myth! You can pick bluebonnets. Just be sure to do it sparingly so you leave plenty for reseeding. Also, don't stop on the side of the road to pick bluebonnets (or to photograph them). That can be dangerous!
What do bluebonnets symbolize?
I learned in my Master Naturalist class that bluebonnets symbolize "Voraciousness" and "Imagination" in the language of flowers. Who knew?
Download the Free PDF: Texas Wildflowers
I created a handy one-page PDF for you to print out. It includes a thumbnail photo of each plant along with both its common and scientific name, sun requirements, and other helpful growing info. Get it here: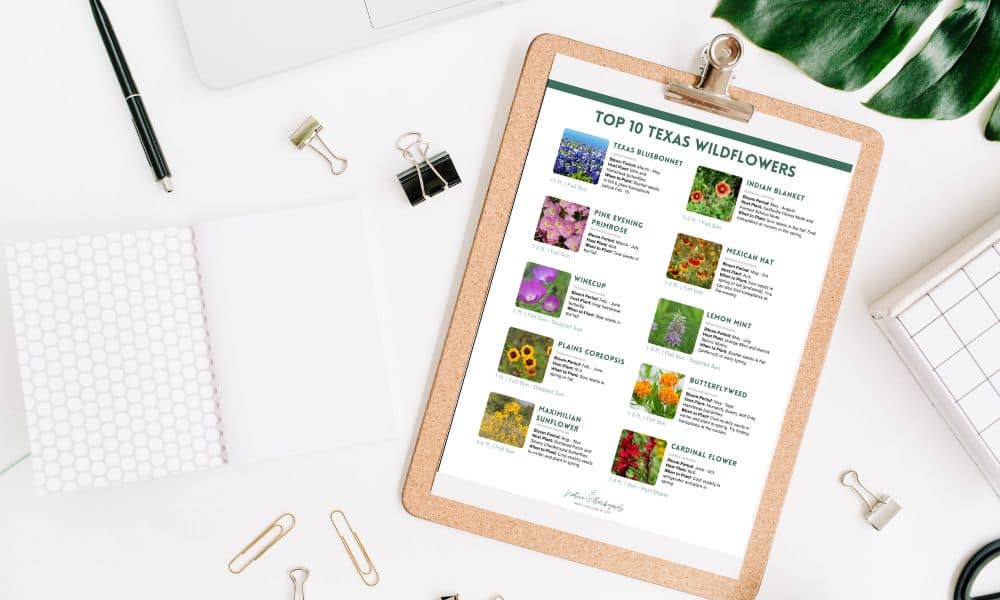 Pin this to spread the word about growing bluebonnets!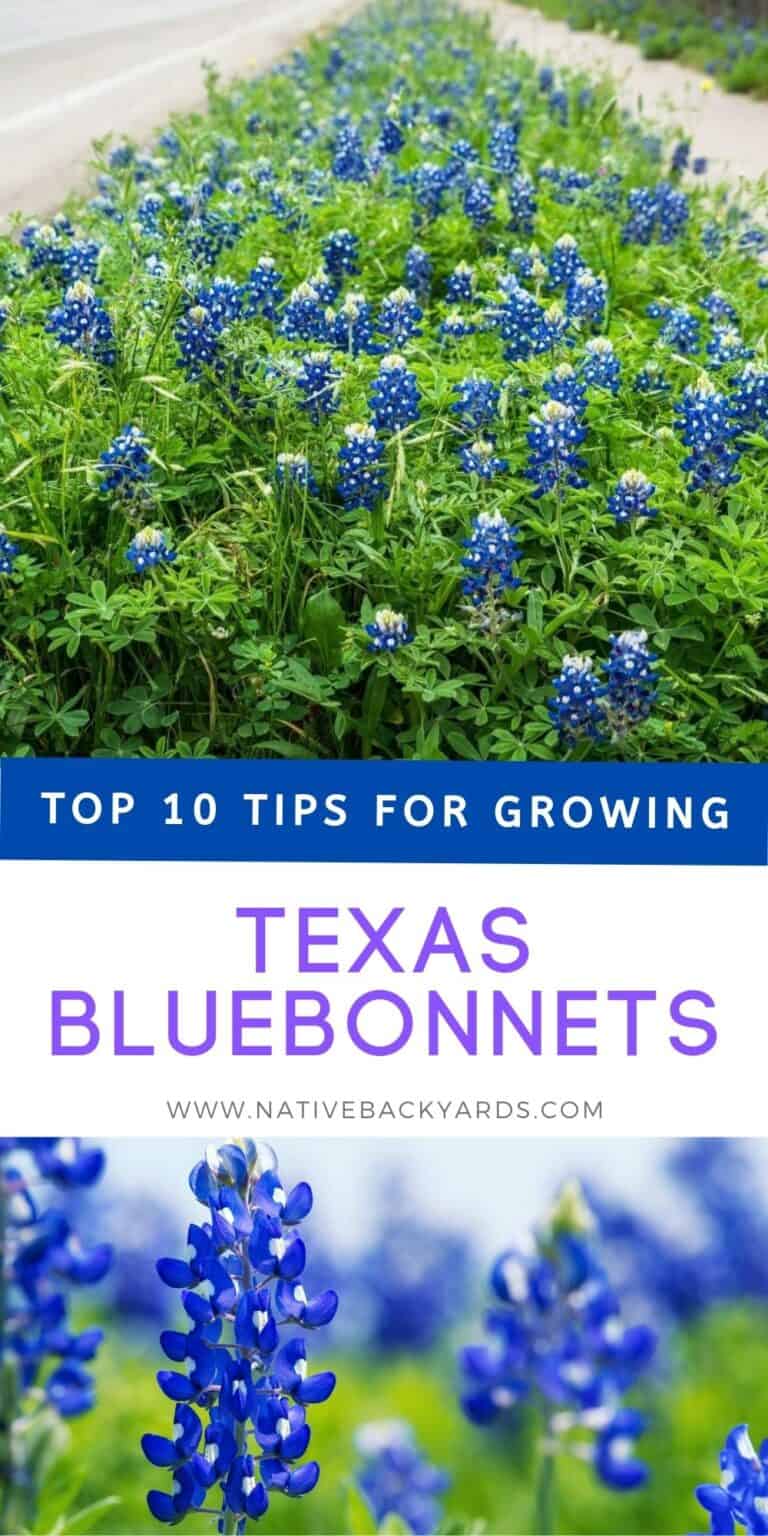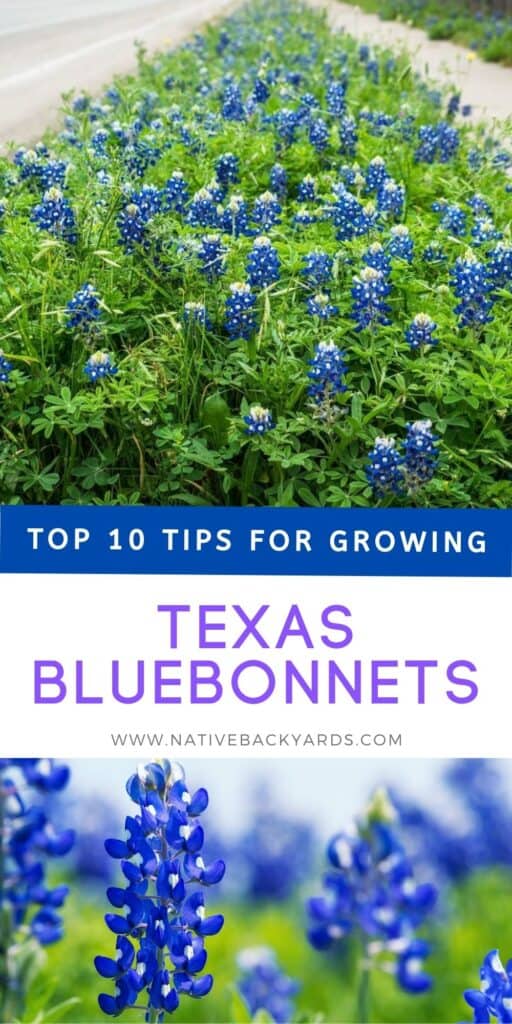 Texas Bluebonnet Plant Care Printable
Texas Bluebonnets: Plant Care Printable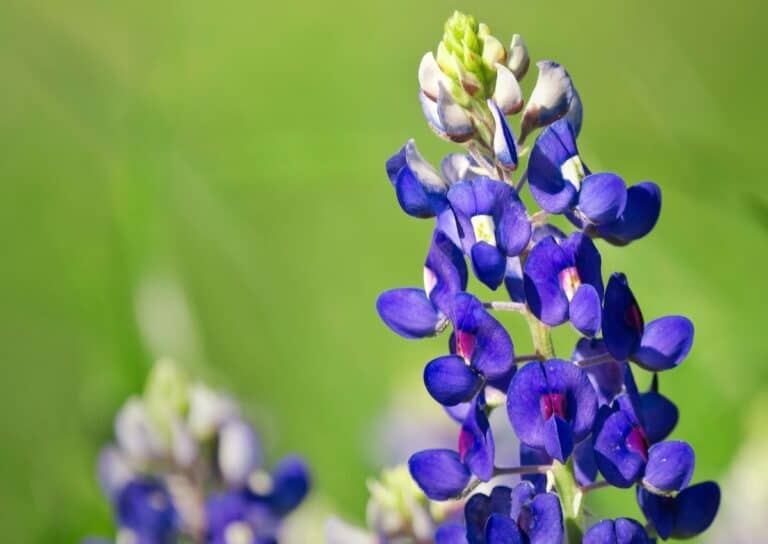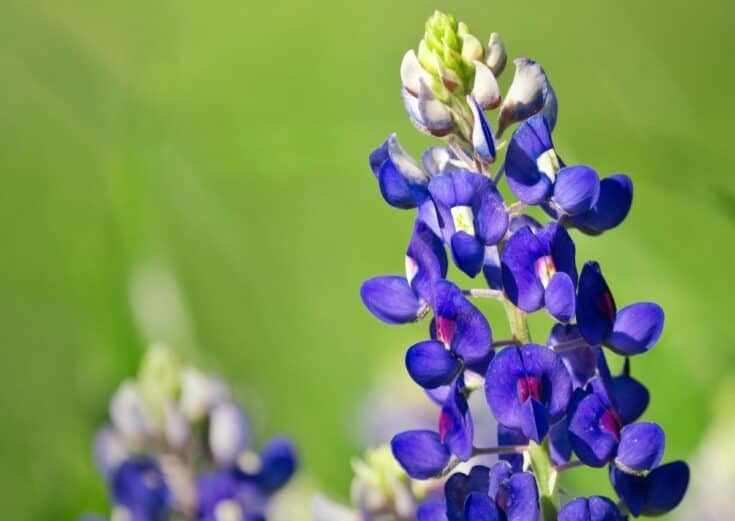 Scientific Name:
Lupinus texensis
Native to:
TX
Mature Height and Width:
<1 ft.
Bloom Period:
Mar-May
Sun Conditions:
Full sun (ideally 8+ hours a day)
Water Needs:
Requires minimal watering once established. Likes well drained soil.
Wildlife Benefits:
Flowers provide nectar for bees. Host plant for Elfin and Hairstreak butterflies.
Instructions
Planting
Plant scarified seeds or transplants in the fall (or as late as mid February in South Texas). Plant in a full sun location with well drained soil. If planting seeds, plant on lightly raked soil and stamp down to ensure seed to soil contact. Rosette will form over winter.
Watering
Water until germinated (2-3 weeks), then minimal to no watering. Likes well drained soil.
Propagating
Don't mow or cut back plant until seed pods turn brown (6-8 weeks after blooming). The seed pods will pop open and disperse seeds for upcoming years.
Recommended Products
As an Amazon Associate and member of other affiliate programs, I earn from qualifying purchases.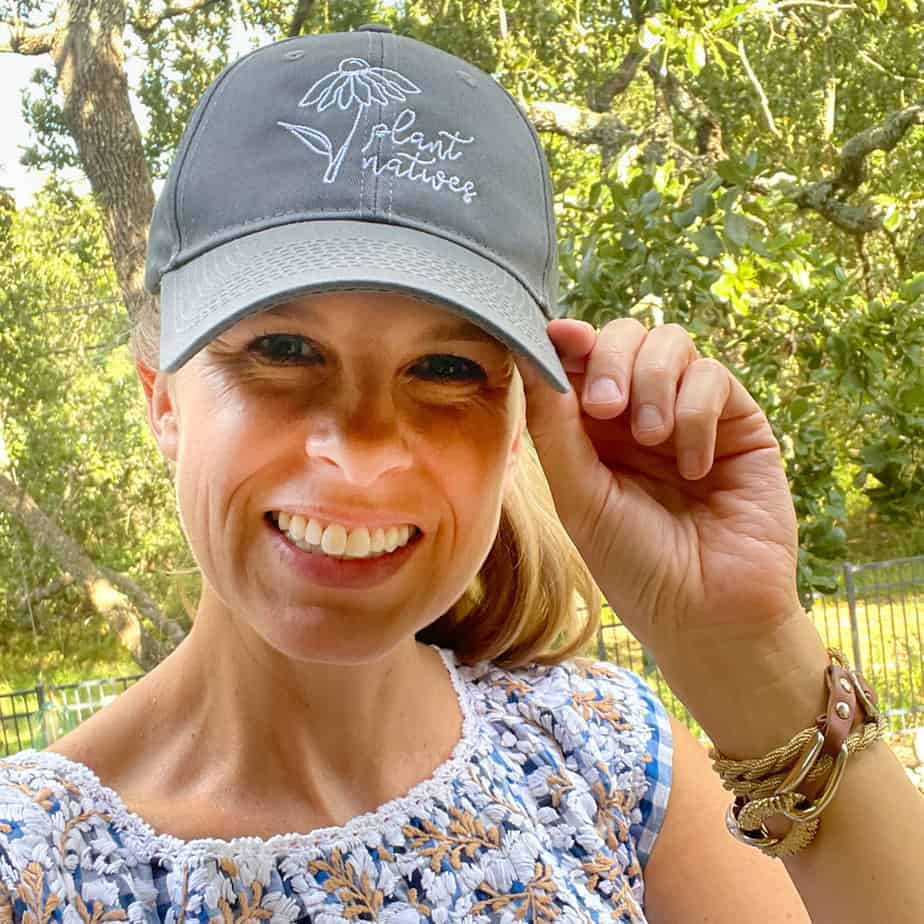 Welcome to Native Backyards! I'm Haeley from San Antonio, Texas, and I want to help you grow more native plants.
I have seen firsthand how the right plants can bring your yard to life with butterflies, bees, and birds. I've transformed my yard with Texas natives and I'm excited to share what I've learned with you.
Join my newsletter here! – each week I'll send you helpful tips to make your native plant garden a reality!
Want to learn more about me and my garden? Check out my About page!