7 Reasons to Grow Autumn Sage (Salvia Greggii)
When you find a no-fail native perennial to add to your home garden, you need to share the news! And I have certainly found one with Saliva greggii (also called Autumn Sage).
Native salivas are the perfect addition to your garden. They are low maintenance, low water, profuse bloomers that are a magnet for pollinators and hummingbirds. I promise you won't regret adding Salvia greggii to your yard!
Want more great Texas native shrub ideas? Be sure to download my FREE Native Texas Shrubs PDF. You can take this handy one-pager with you to the plant nursery.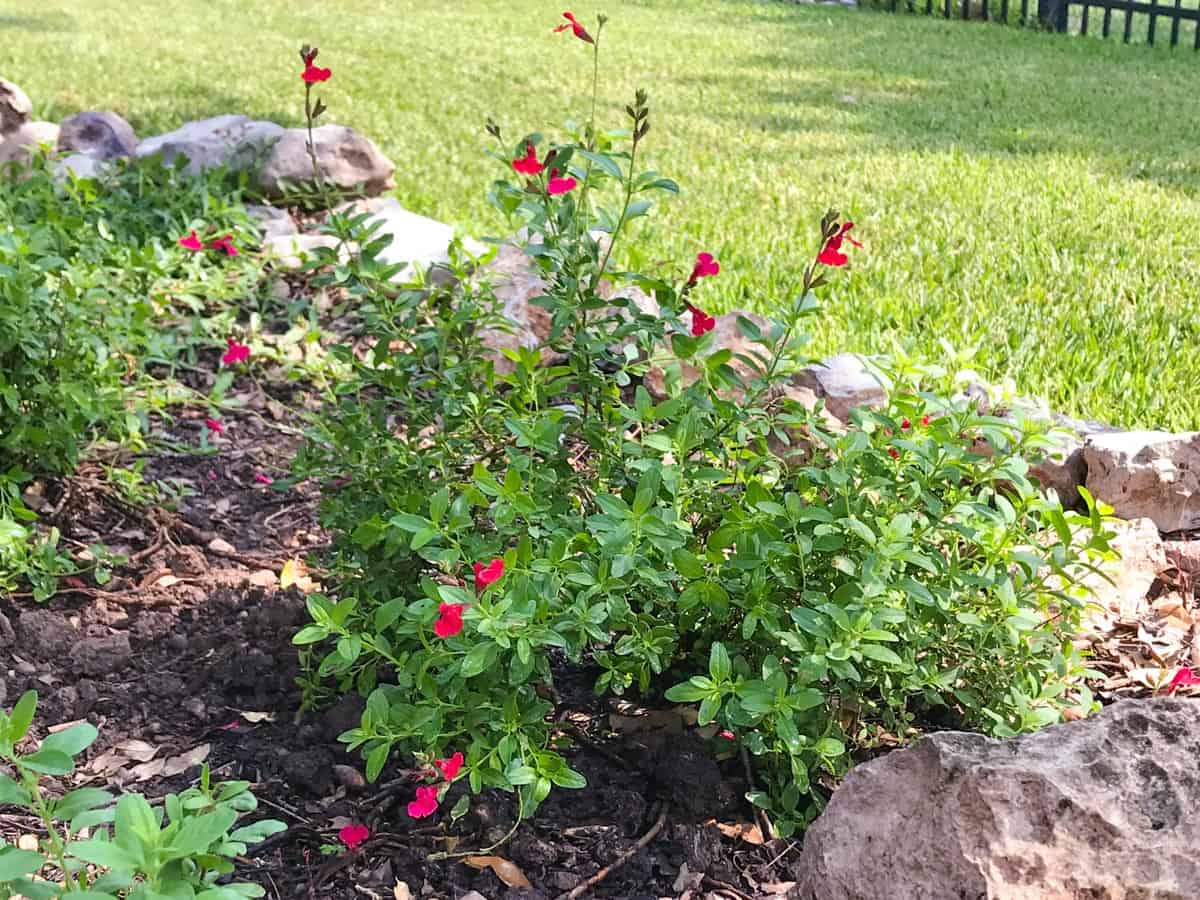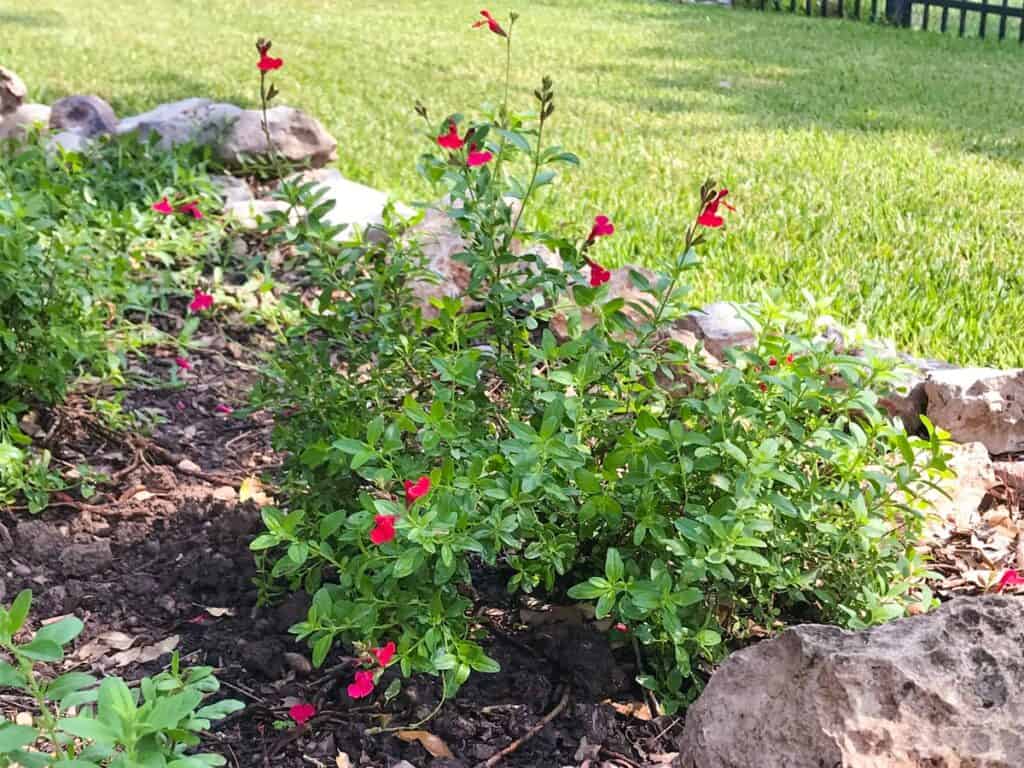 Why It Is Important to Grow Native Plants
If you add any new plant to your yard, make it a native! Native plants are the foundation of a healthy ecosystem. These plants have evolved in your local area, while non-native plants were introduced from other countries. Native plants:
Are important food source to plant-eating insects
Serve as host plants to butterflies and moths
Require less water and maintenance
Support more species than non-native plants
If you are new to native plants be sure to read the Top 6 Benefits of Native Plants in Your Yard. The majority of our yards are currently filled with non-native plants so there are lots of opportunities to swap in some natives and help the environment.
7 Great Reasons to Grow Autumn Sage (Saliva Greggii)
1. Hummingbirds and butterflies love it
Anytime I can add a native plant that attracts pollinators and birds to my yard, I consider it a win! Salvia greggii is a great addition to a pollinator garden. Its long bloom season ensures you'll be providing nectar for months. On the flip side, I hear it is deer resistant – another plus!
2. Salvia Greggii blooms from spring until frost
When I look at my native plant garden, I want to see blooms! The bloom periods of so many flowering plants can be fleeting especially during the hot Texas summer. However that is not the case with Autumn Sage. Despite its name, its bloom time spans from March through November. By periodically pinching off its tips you will encourage even more continuous blooms.
3. It is heat and drought tolerant
I've had my three Salvia greggii plants for almost a year and have witnessed them handle 100+ degree temps with ease. Just increase watering to a couple times a week during the hottest days. Cutting the plant back by 1/3 in August will prevent it from getting leggy and encourage more blooms in the fall.
4. Salvia Greggii is often evergreen
In the mild winters of South Texas, the Autumn Sage foliage will often stay green. That was the case in my yard this winter until the Feb 2021 Mega Freeze here in Texas. I did not cover the plants during the freeze. They experienced several days of being covered with snow and temps in the teens. While they did die back, I was amazed to see new growth in a matter of a couple weeks.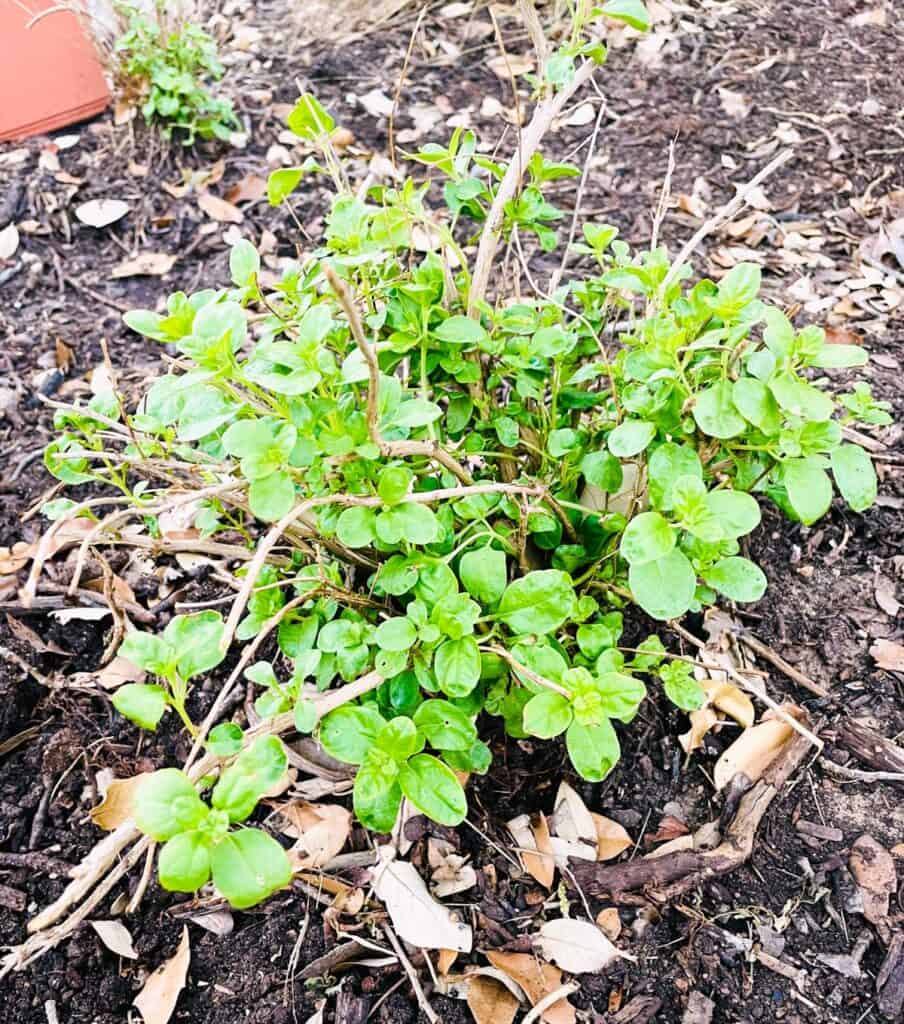 5. It comes in different colors
While the most common color is red, Autumn Sage can also be found in purple, pink and even white. A garden would look so pretty with a mix of Autumn Sage in different colors!
6. It is small enough to grow in a container
I love container gardening, and am in the process of swapping in as many native plants as I can in my garden pots. Salvia greggii is a great candidate for a large container because it is a relatively small shrub. It grows to 2-3 feet wide. It would look pretty in a pot along with some native Frog Fruit trailing off the side, and perhaps some Inland Sea Oats adding some height in the back!
7. Salvia Greggii is readily available at nurseries
Unlike other native plants, Autumn Sage is pretty easy to find at nurseries in Texas. Especially if you seek out a local nursery that has a solid offering of native plants. Here are my favorite sources for native plants in San Antonio. You may even be lucky enough to find it in different colors!
Download the Free PDF: 10 Native Texas Shrubs
Autumn Sage is just one of many awesome Texas native shrubs you can grow in your yard! I created a handy one-page PDF for you to print and take with you to the plant nursery. It includes a thumbnail photo of each plant along with its common and scientific names, size, sun needs and more. Get it here: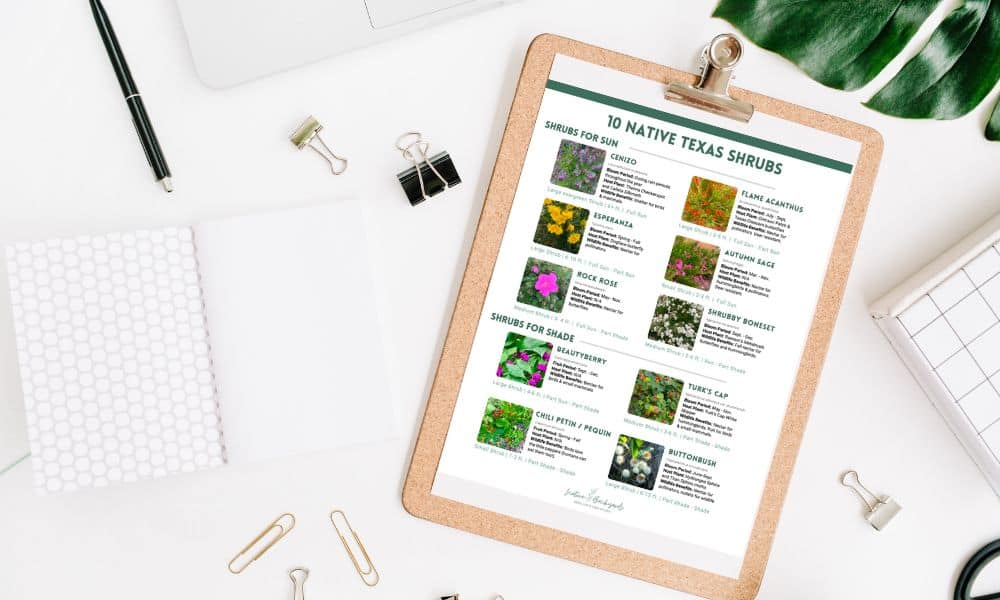 Names for Salvia Greggii
Scientific Name
Salvia greggii is this plant's scientific (Latin) name. It's the name you want to look for on the plant label at the nursery to make sure you're getting the true thing. It was named after an 1800s explorer and naturalist Josiah Gregg who has over 20 plants named after him. How cool!
Common Names
A plant only has one scientific name, but can have many common names. You will typically hear this plant called by its common name of Autumn Sage. Salvia is the Latin word for sage. However, the Autumn part of the name is a misnomer, as this perennial blooms from spring until frost. Other common names for Salvia greggi include Cherry Sage, Autumn Salvia, and Gregg Salvia.
Where does Autumn Sage Grow?
Autumn sage is native from the Texas Hill Country south through Southwest Texas and into Mexico. However, it can be grown throughout Texas. There are lots of different types of native salvias, so if you live in another part of the United States try to find one in your are. Check out my tips for finding native plants near you.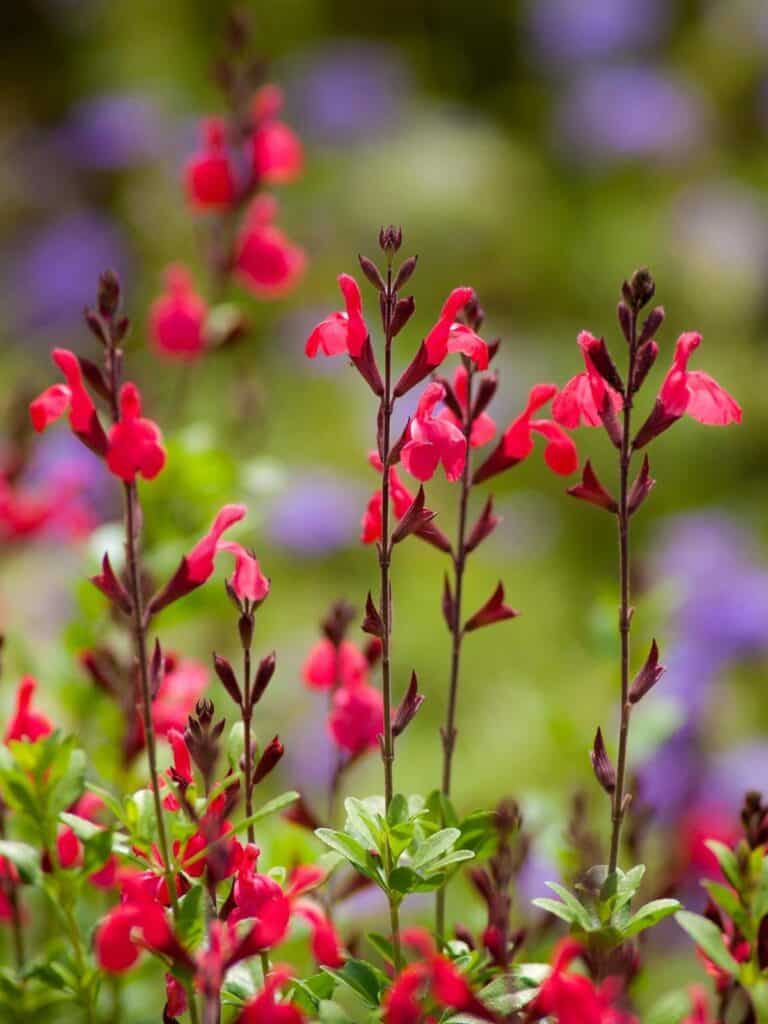 How Do You Grow Salvia Greggii?
Salvia greggii is one of those plants that will make you feel like an expert gardener with little to no work. Once established it requires minimal water and care. Here are some answers to frequently asked questions about how to grow salvia:
How do you grow Salvia greggii?
Growing salvia is easy! Plant in a full sun to part sun area with good drainage. Salvia greggii grows to be 2-3′ wide and across, so provide enough space between plants. Water a couple times a week until established and during drought periods. Otherwise it requires minimal watering. You can pinch off its tips from time to time to encourage more blooms.
Can Autumn Sage grow in the shade?
Autumn Sage will grow well in part sun, but not full shade. For a full shade bloomer, check out Turk's Cap, another one of my favorite native perennials with red flowers that hummingbirds love!
Do you cut back salvias in the fall?
You can cut back Salvia greggii by 1/3 in August to encourage another round of blooms through the fall. Then cut back again in February by up to 1/2 to create a more compact, rounded plant and prevent it from getting too woody.
Can you take cuttings of salvia?
You can propagate salvia from soft wood cuttings in the spring. Applying a root stimulator to the cutting will help it grow.
Pin this to spread the word about native plants!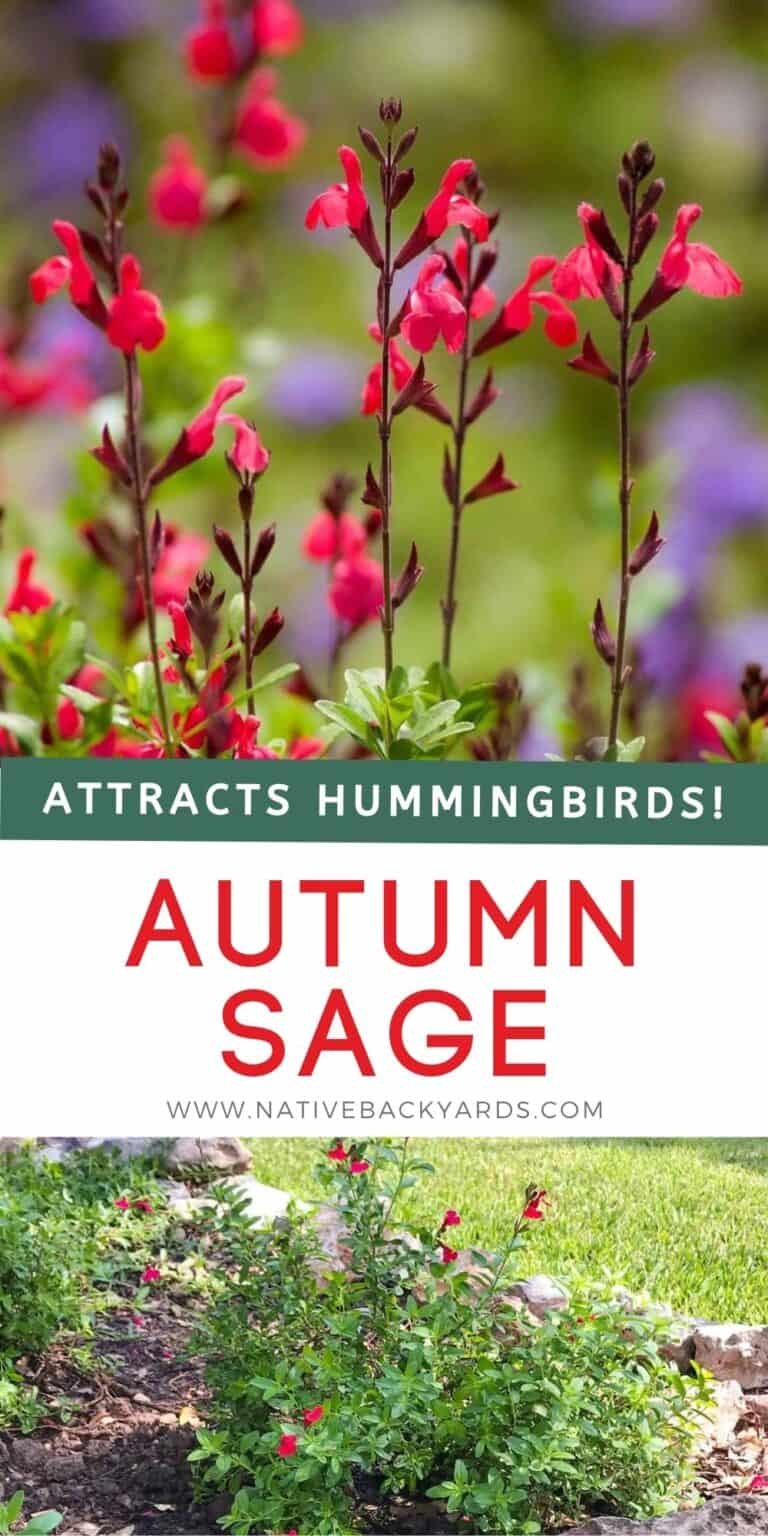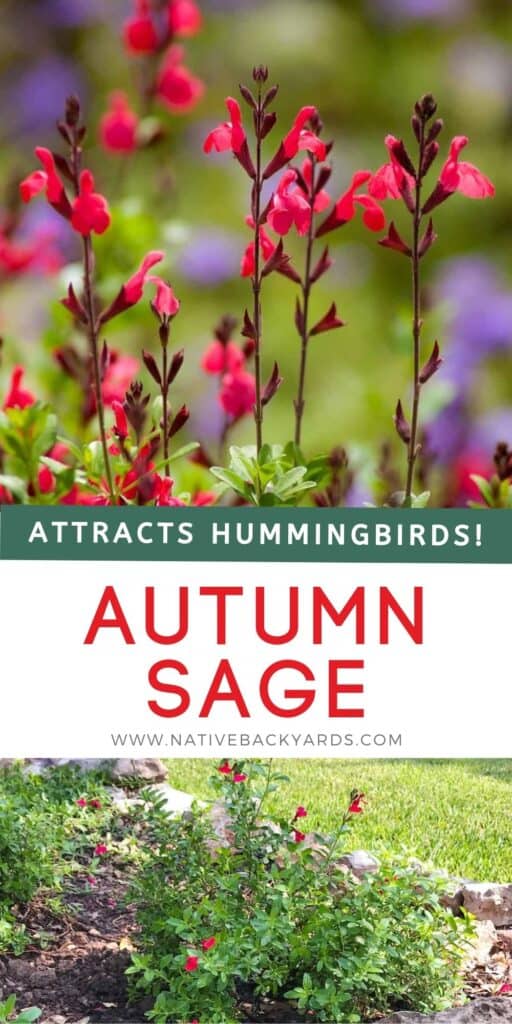 Autumn Sage: Plant Care Printable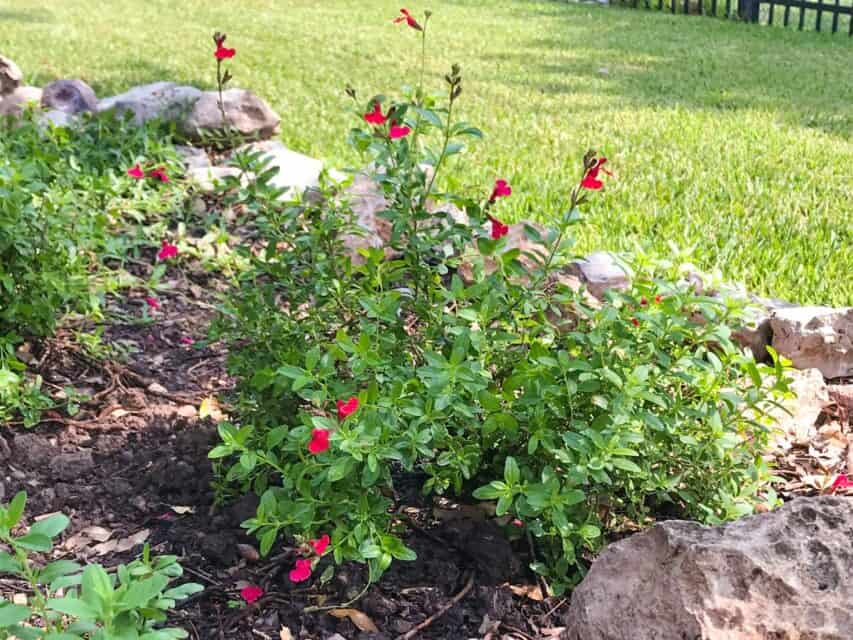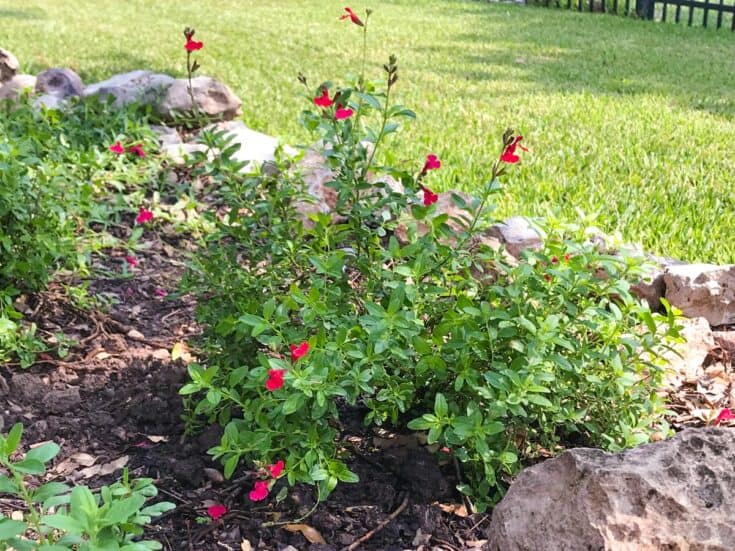 Scientific Name:
Salvia Greggii
Native to:
TX (Hill Country through Southwest TX)
Mature Height and Width:
2-3' tall and 2-3' wide
Sun Conditions:
Full to part sun
Water Needs:
Requires minimal watering once established. Likes well drained soil.
Wildlife Benefits:
Flowers provide nectar for hummingbirds and butterflies.
Hardiness Zone:
Hardy in Zones 7-9
Tools
Instructions
Watering
Water 2x a week until established, then minimal watering. Likes well drained soil.
Pruning
Cut back by 1/3 in August. Cut back again by up to 1/2 in February. You can continually pinch tips throughout the growing season to encourage more blooms.
Propagating
Plant can be propagated by seeds or soft wood cuttings in the spring. Apply a rooting hormone to the cutting will help with propagation.
Recommended Products
As an Amazon Associate and member of other affiliate programs, I earn from qualifying purchases.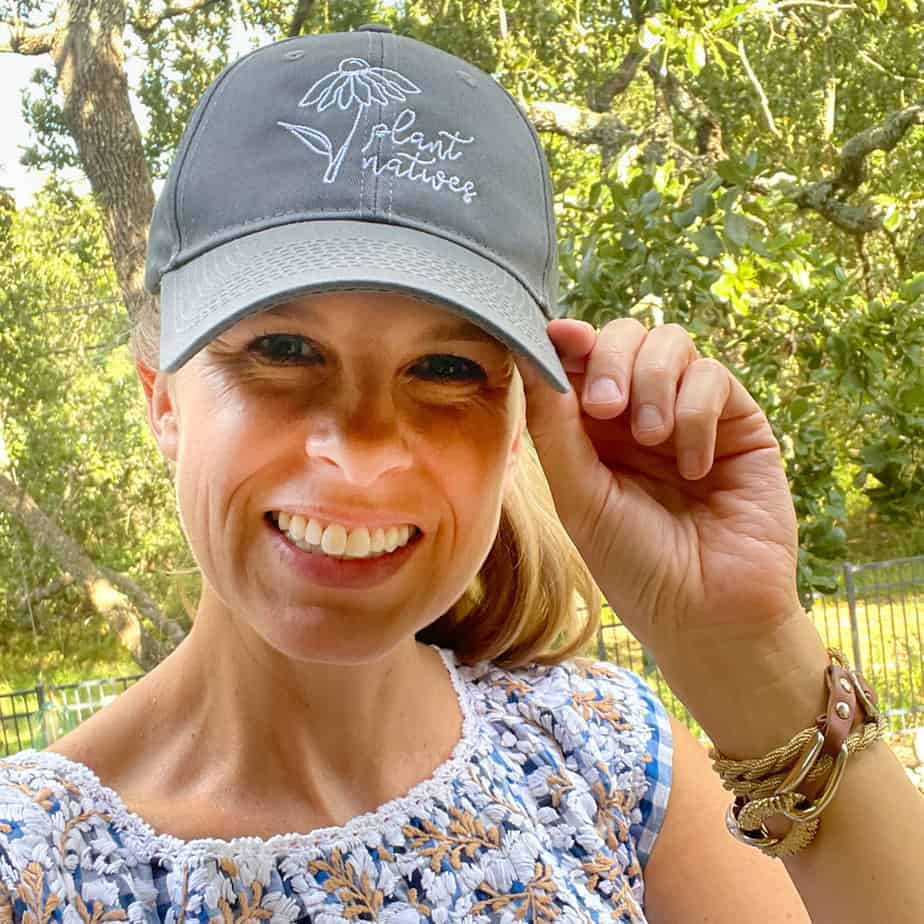 Welcome to Native Backyards! I'm Haeley from San Antonio, Texas, and I want to help you grow more native plants.
I have seen firsthand how the right plants can bring your yard to life with butterflies, bees, and birds. I've transformed my yard with Texas natives and I'm excited to share what I've learned with you.
Join my newsletter here! – each week I'll send you helpful tips to make your native plant garden a reality!
Want to learn more about me and my garden? Check out my About page!