Frog Fruit: My Favorite Native Ground Cover
Frog Fruit (also spelled Frogfruit) was foreign to me until just this year. I was immediately captivated by its fun name. But it wasn't until I saw it in real life, abuzz with bees, that I fell in love! I now have this pretty ground cover with mini white flowers in my backyard landscaping and it seems right at home.
Want to attract more pollinators to your yard? Be sure to download my FREE Pollinator Nectar Plants PDF. Take this handy one-pager to the nursery to get the native plants that pollinators LOVE!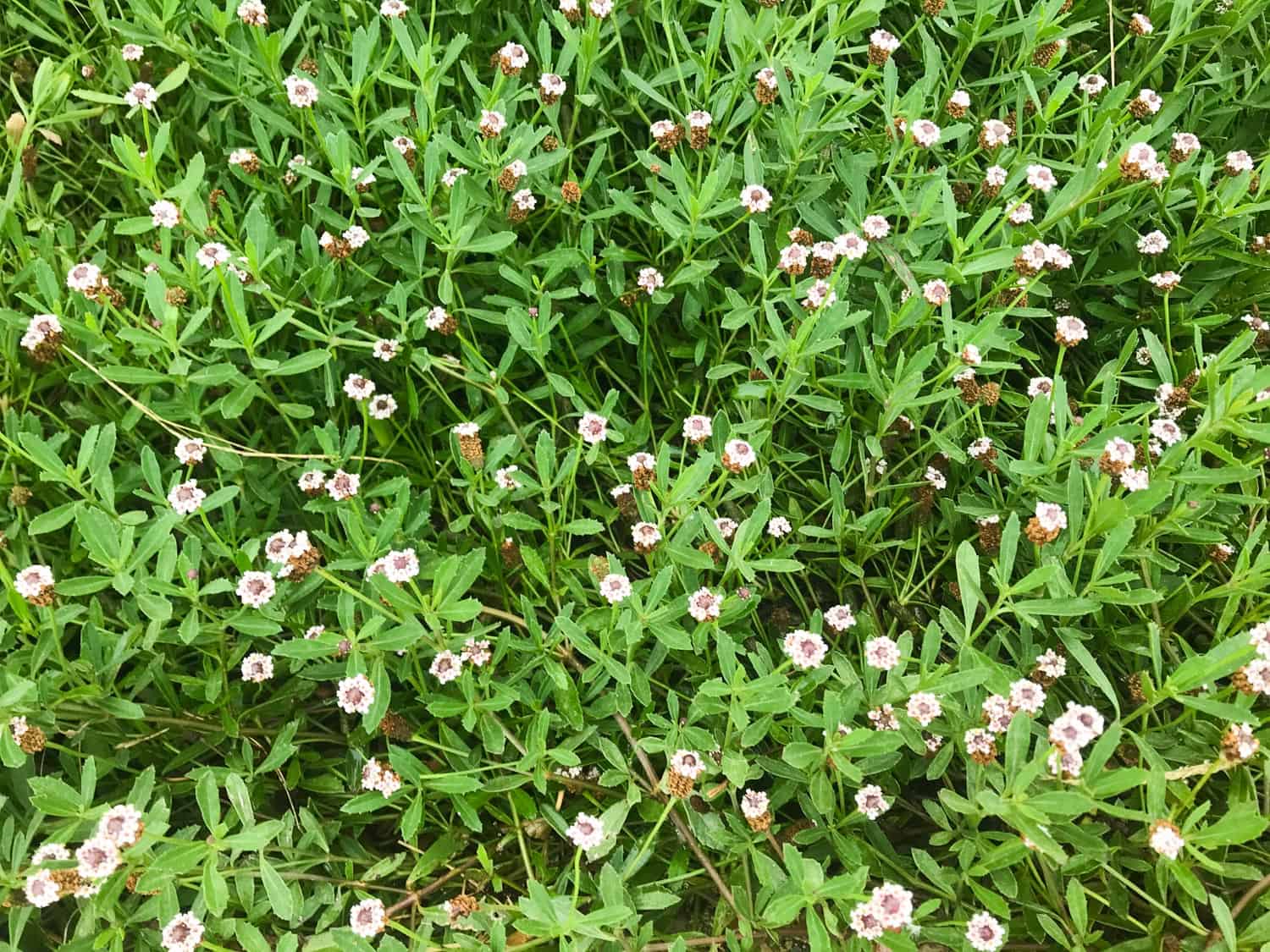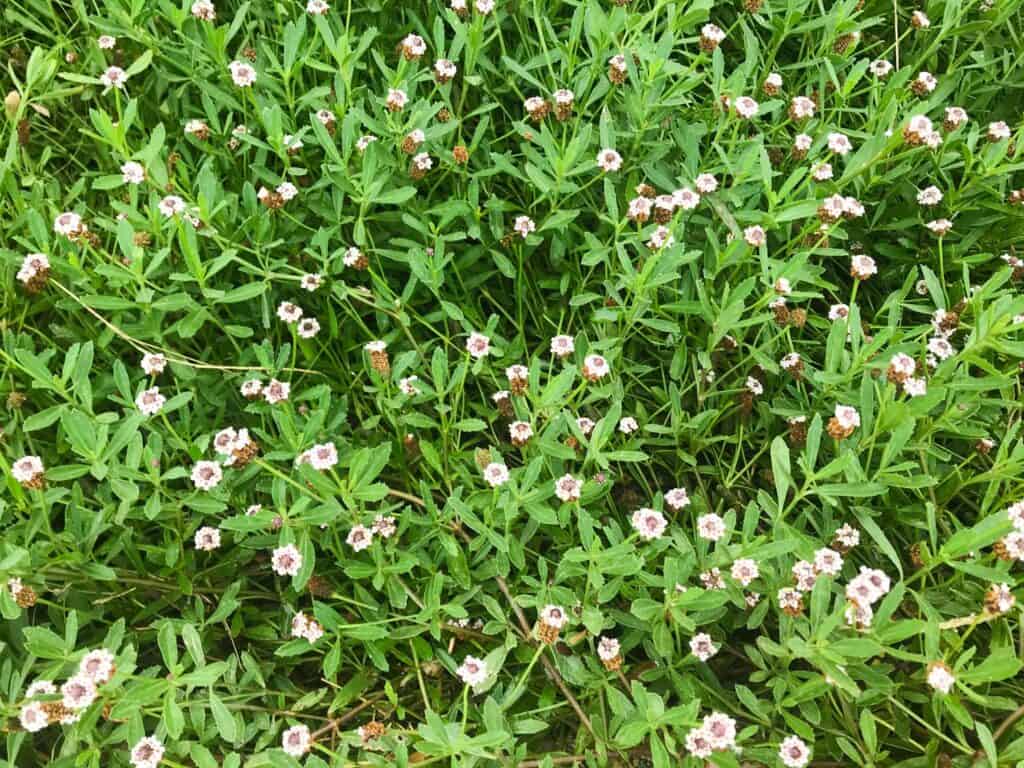 What are the benefits of frog fruit?
I hope this post convinces you to become a frog fruit lover as well. If you need some more convincing, here are five reasons why frog fruit is the perfect native ground cover addition to your home landscape or gardening beds.
1. It grows quickly
Some of my Master Naturalist friends may say it grows too quickly! It can be aggressive in flower beds, but if you are looking for a ground cover that grows quickly, this is the one for you. You can always trim it back. It is easy to remove because it doesn't put out long roots. A ground cover like this does a great job in crowding out weeds so you have to weed less!
Many people even use frog fruit as a lawn alternative. It grows well in part sun to full sun conditions. Imagine replacing even a portion of your lawn with this pretty flowering plant. Rather than being an ecological dead zone like most non-native turf, it will bring your yard alive with pollinators!
My goal in 2021 is to remove part of the lawn in our backyard and replace with with more native plants. You can bet frog fruit will be a big part of that. I've already started incorporating it in two places in my backyard landscaping design and it is doing really well.
2. It is very low maintenance
While frog fruit blooms best in full sun, it can handle some shade too. My plants receive part sun as they are located in a bed beneath two large live oak trees. They seem as happy as can be. I've seen the ground cover growing naturally in the Texas Hill Country mixed in with grass. It can handle some walking on without being damaged. It can also handle very dry, hot conditions. That is quite a feat!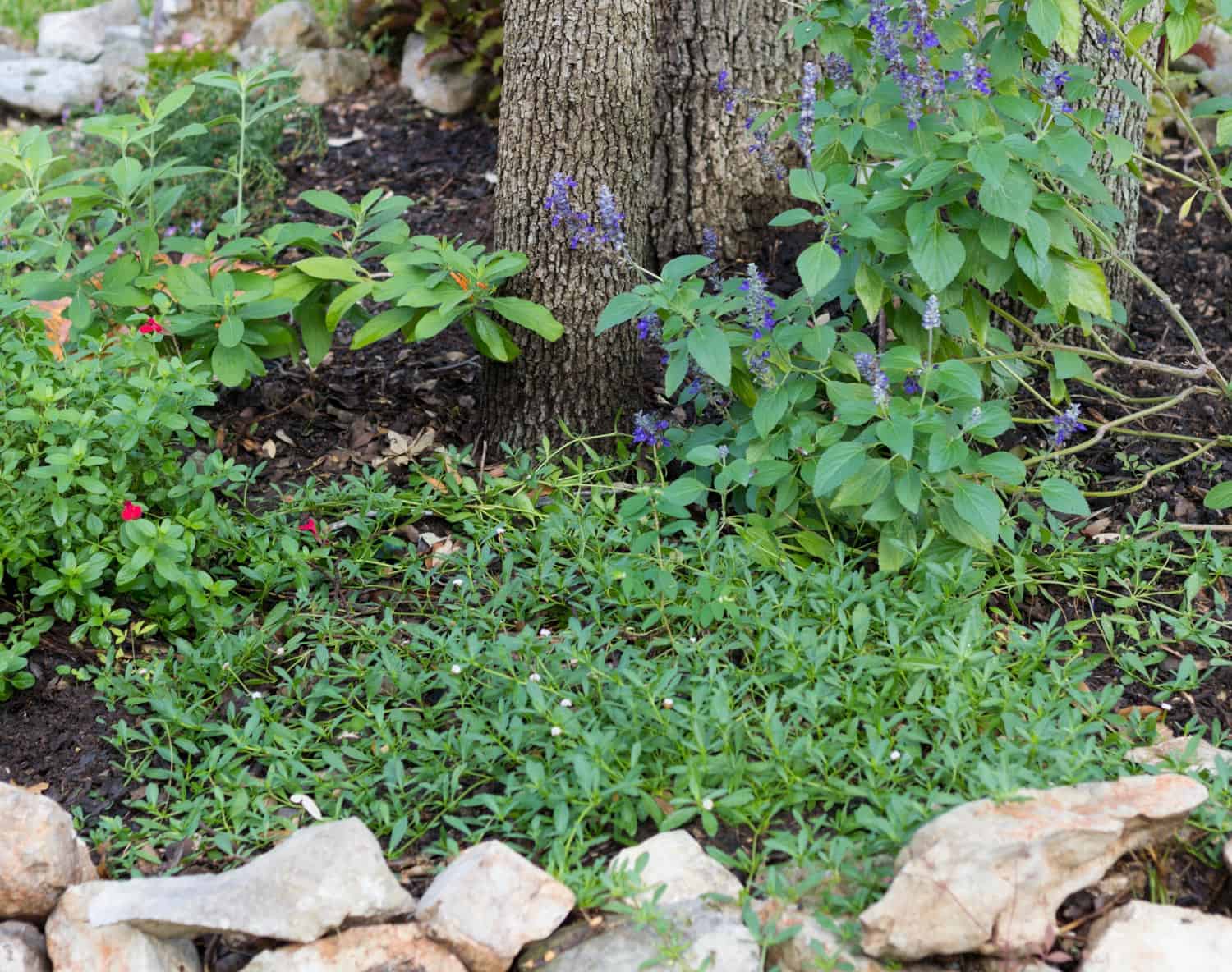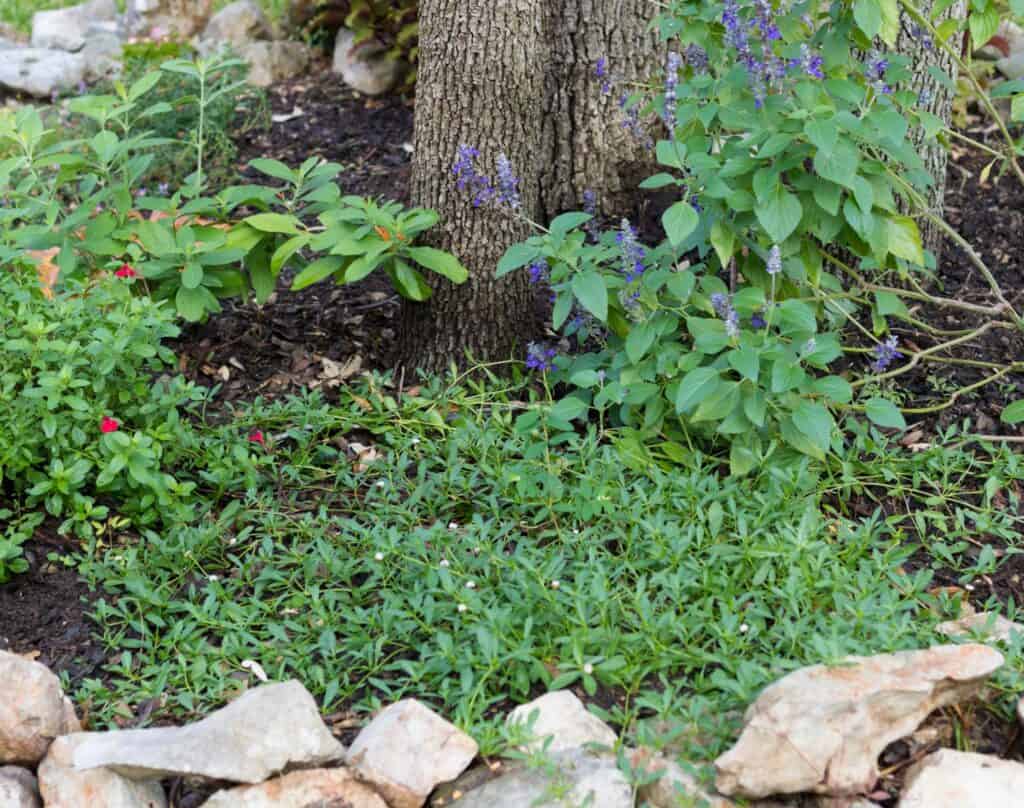 3. It has a long bloom period
The white blooms appear in April and last all the way until October. I love that it is a ground cover that flowers. It is just as visually interesting as my other flowering perennials. In addition to a ground cover, it can be used as a trailing flower for pots. That is something I plan to try next spring!
4. It is loved by pollinators
I have never seen my frog fruit in bloom without at least one pollinator around it. From bees, to wasps, to butterflies, it is alive with action. It is a fun plant for children and adults to observe alike. It would be a great addition to add to a pollinator garden.
5. It is a host plant for several butterfly species
When looking for new plants for your yard, I encourage you to prioritize host plants. Those plants that are used by butterflies and moths to lay their eggs and feed their caterpillars. This plant checks the box as a host plant for three different butterfly species:
I am excited to keep an eye out for each of these butterflies next spring so I can record them in iNaturalist!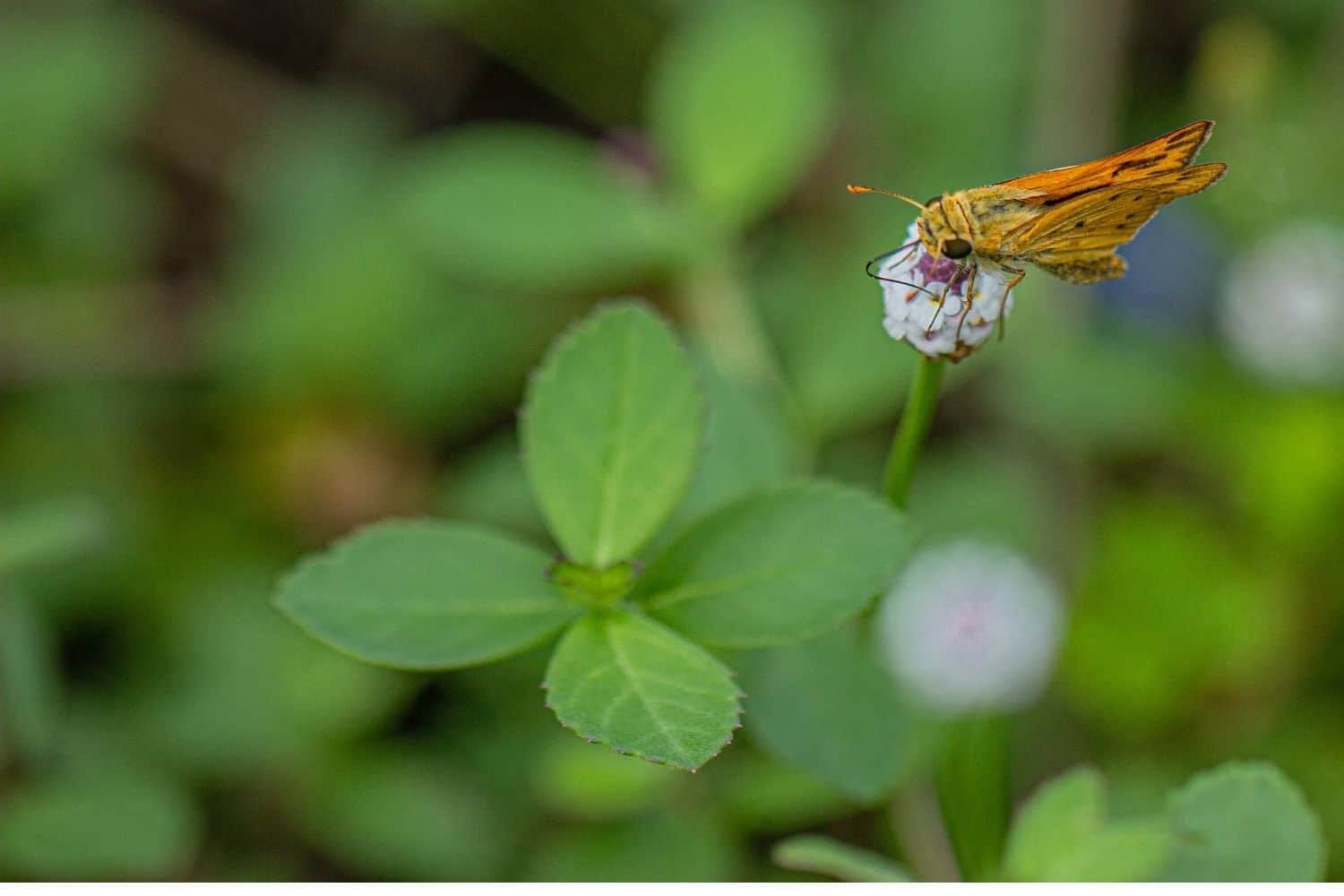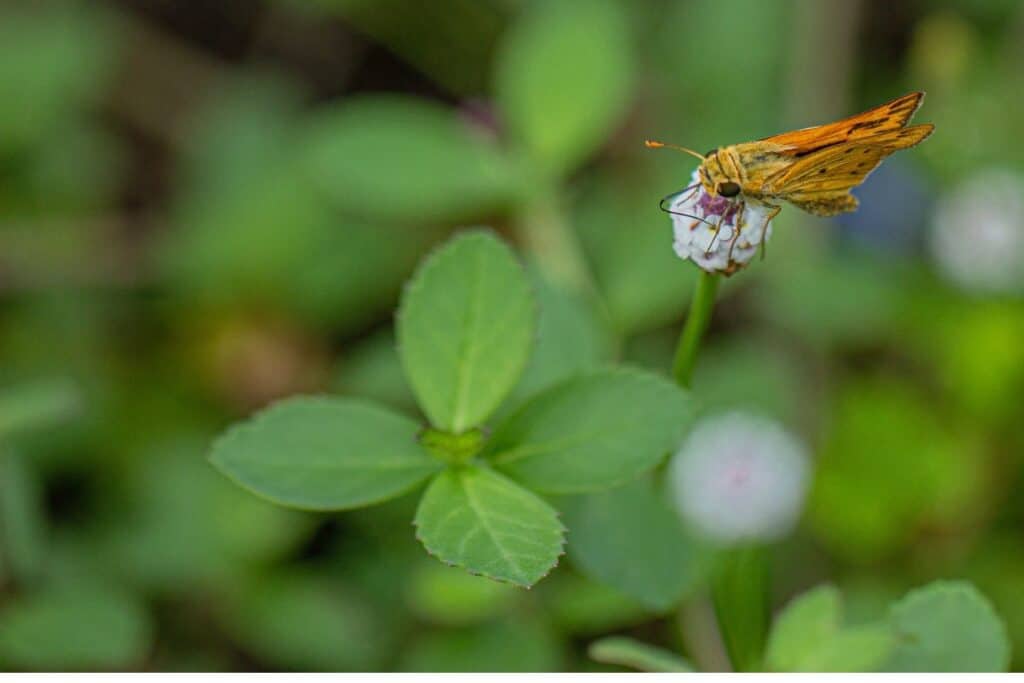 Download the Free PDF: Native Nectar Plants
Want all the pollinators in your yard? I created a handy one-page PDF for you to print and take along with you to the plant nursery. It includes a thumbnail photo of each plant along with both its common and scientific name, shade requirements, and other helpful growing info. Get it here: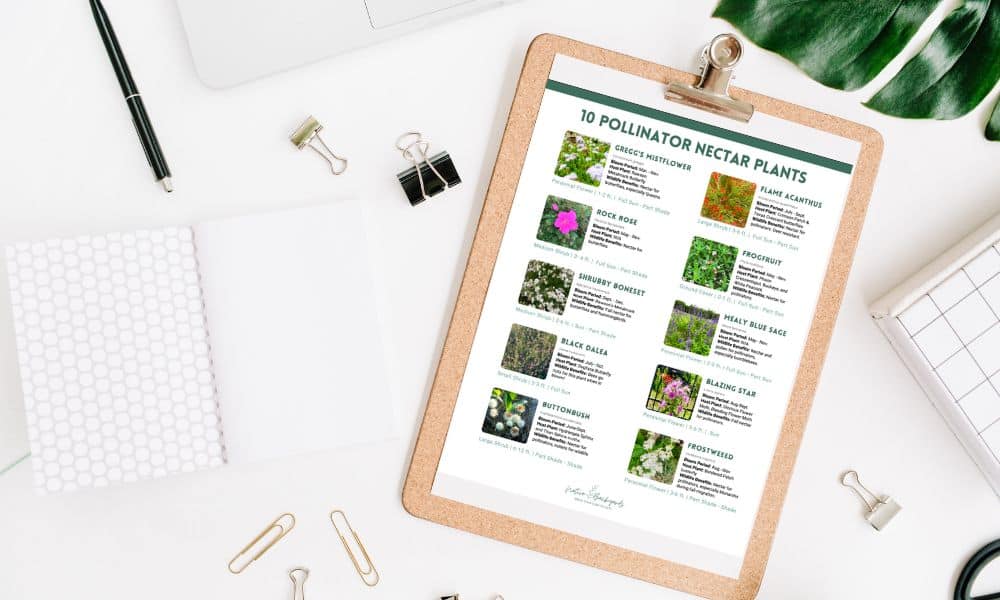 Why is it called frog fruit?
The scientific name of the Texas Frog Fruit I'm referring to is phyla nodiflora. Plants have only one scientific name, but can have many common names. Frog fruit is no different. It is also known as Matchhead and Turkey Tangle Fog Fruit. Another equally silly name!
Apparently, the plant initially was called "fog fruit". In the Middle Ages, farmers would call low growing plants that took over their freshly hayed field "fog fruit". This general name for low growing plants was given to phyla nodiflora. However, over time the name transitioned from "fog" to "frog". So the name has nothing to do with frogs, just a mispronunciation of its initial common name!
Where is frog fruit native to?
Well, first of all, there are are actually four different species of frog fruit. All of them look pretty similar, and all are native to United States. That makes it a good candidate for growing in many parts of the US, not just South Central Texas where I live. Frogfruit is part of the Verbena family of plants.
Here are the states where phyla nodiflora is native. If you don't see your state on the list, check out the other three types of frog fruit. Regardless, it is worth finding to grow in your garden!
Alabama
Arkansas
Arizona
California
Florida
Georgia
Hawaii
Kansas
Kentucky
Louisiana
Maryland
Missouri
Mississippi
North Carolina
New Mexico
Nevada
Oklahoma
Oregon
Pennsylvania
South Carolina
Texas
Utah
Virginia
Frog fruit flower
The frog fruit flower is a dainty white flower that packs a big punch when it comes to attracting pollinators! The white flower is actually several tiny flowers in one, all perched on a brown cone. The flowers are at the end of a skinny stem that sticks out from the ground cover.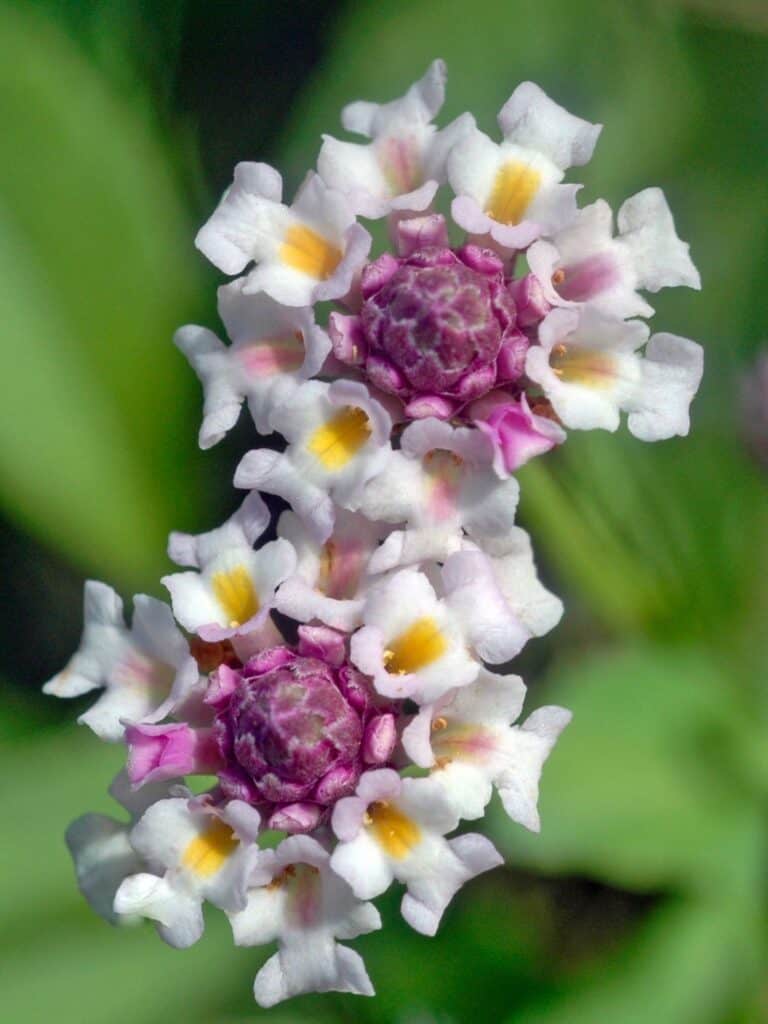 How to grow frog fruit
There is not much involved in growing frog fruit. You'll want to water it regularly until it is established, but after that it is very easy going. I hand water mine around once a week during the summer. It can be trimmed back in the winter it it gets too dense or tangled. Frogfruit goes dormant in the winter but can be semi-evergreen in warmer climates.
How to transplant frog fruit
To transplant or propagate frog fruit, you can just take one of its runners with roots. Clip it from the main plant and carefully replant in a new area. I have taken some of the runners from my landscaping and transplanted them to grow between stepping stones leading to my wildflower garden!
Pin this image to spread the word about frogfruit!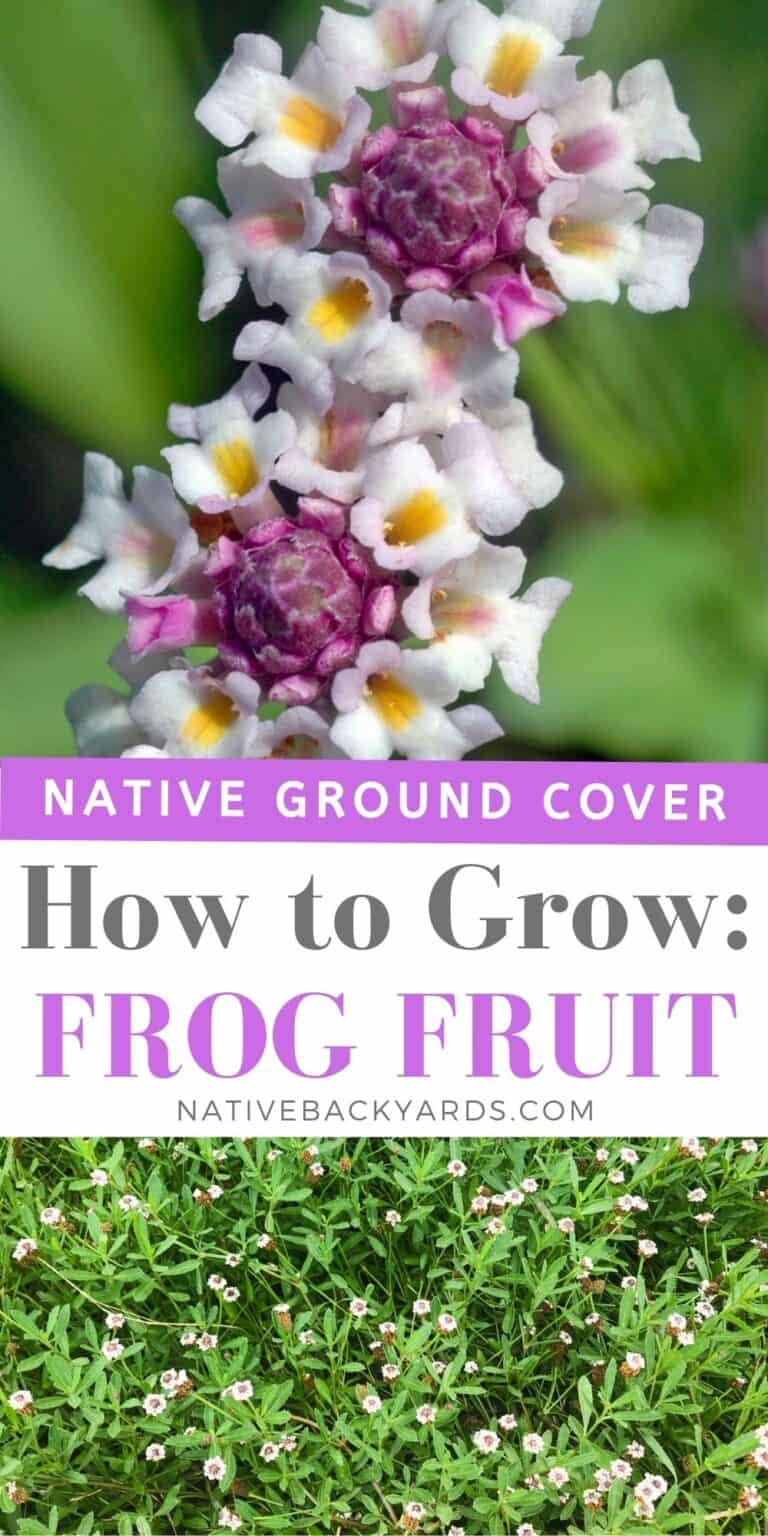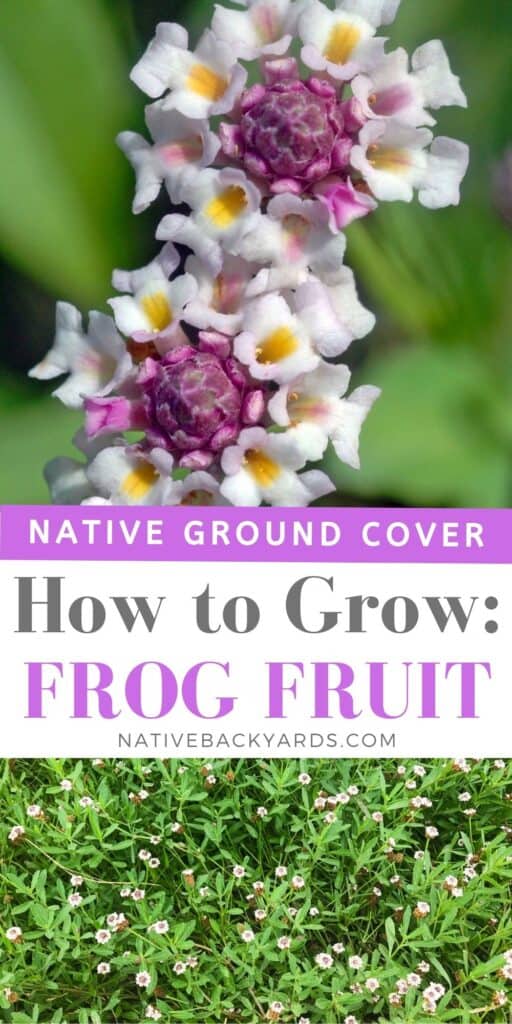 Frog Fruit: Plant Care Printable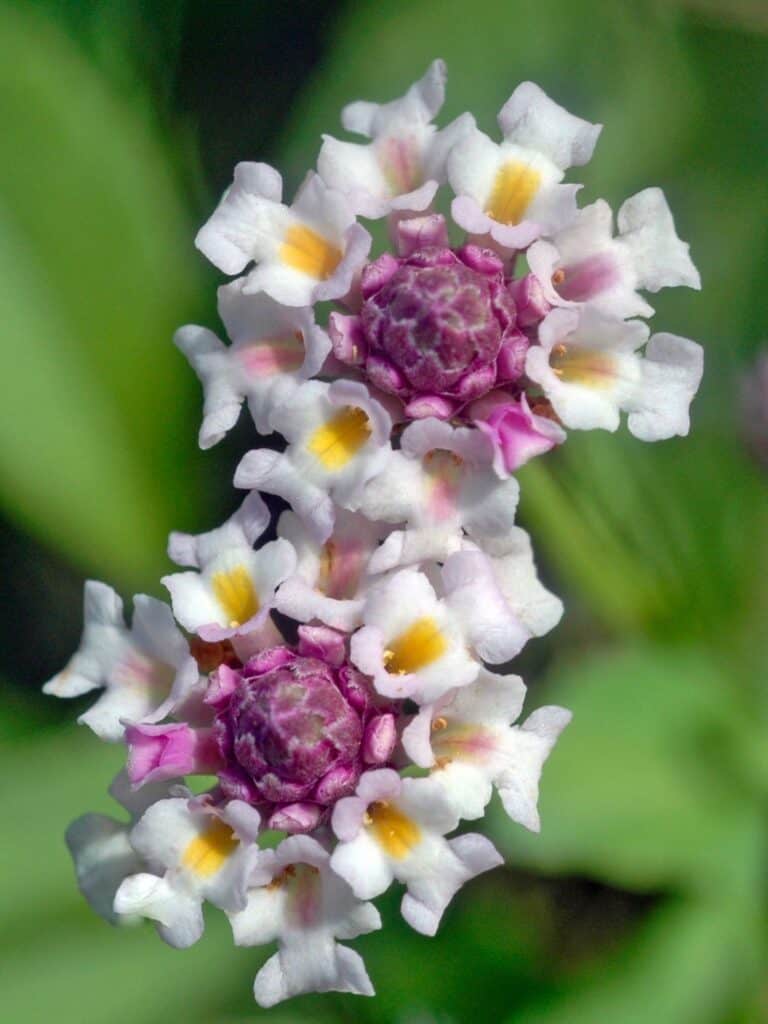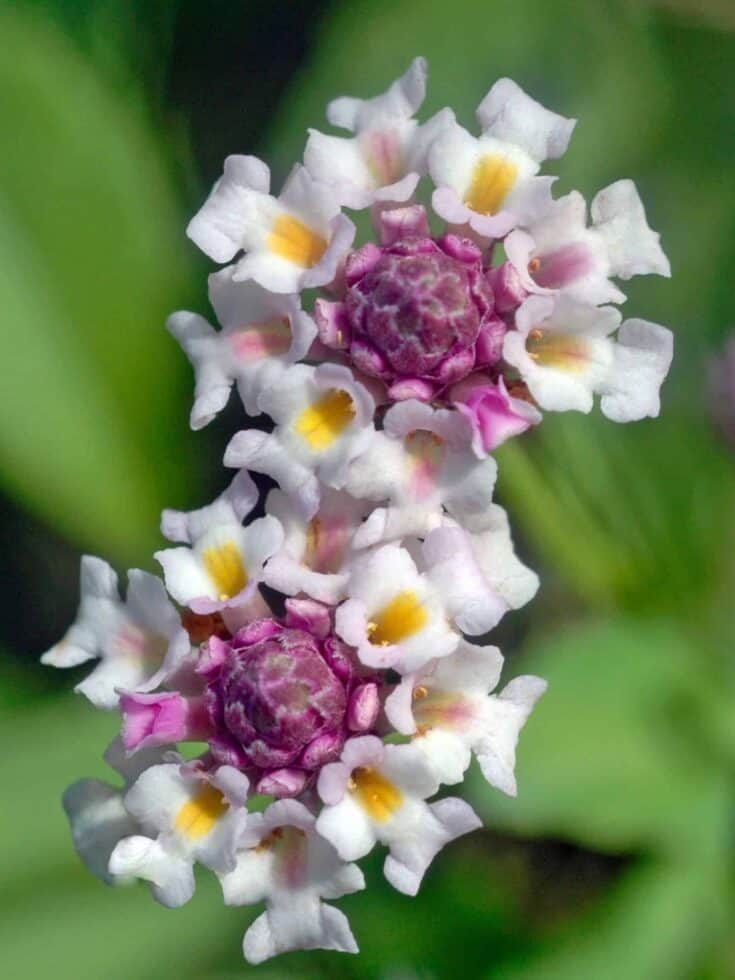 Scientific Name:
phyla nodiflora
Native to:
Alabama, Arkansas, Arizona, California, Florida, Georgia, Hawaii, Kansas, Kentucky, Louisiana, Maryland, Missouri, Mississippi, North Carolina, New Mexico, Nevada, Oklahoma, Oregon, Pennsylvania, South Carolina, Texas, Utah, Virginia
Mature Height and Width:
6-12" tall / spreads 1-4" wide
Sun Conditions:
Part shade to full sun. Tolerates a variety of conditions but blooms best in full sun.
Water Needs:
Low water once established. Can withstand drought conditions.
Wildlife Benefits:
Great nectar source for pollinators. Blooms last from April through October. Host plant for the Phaon Crescent, White Peacock and Common Buckeye butterflies.
Materials
Instructions
Watering
Low water needs once established.
Can tolerate drought conditions and hot temps.
Pruning
Prune back plant in winter if it gets too leggy.
It typically goes dormant in freezing temps, but can be evergreen in warmer climates.
Propagating
Plant can be propagated by clipping a runner with roots and replanting carefully.
Notes
Frog fruit is a great alternative to grass turf, and can tolerate some walking on it. It can be mowed once after it flowers! This fast growing ground cover is a great addition to any native garden or pollinator garden.
Recommended Products
As an Amazon Associate and member of other affiliate programs, I earn from qualifying purchases.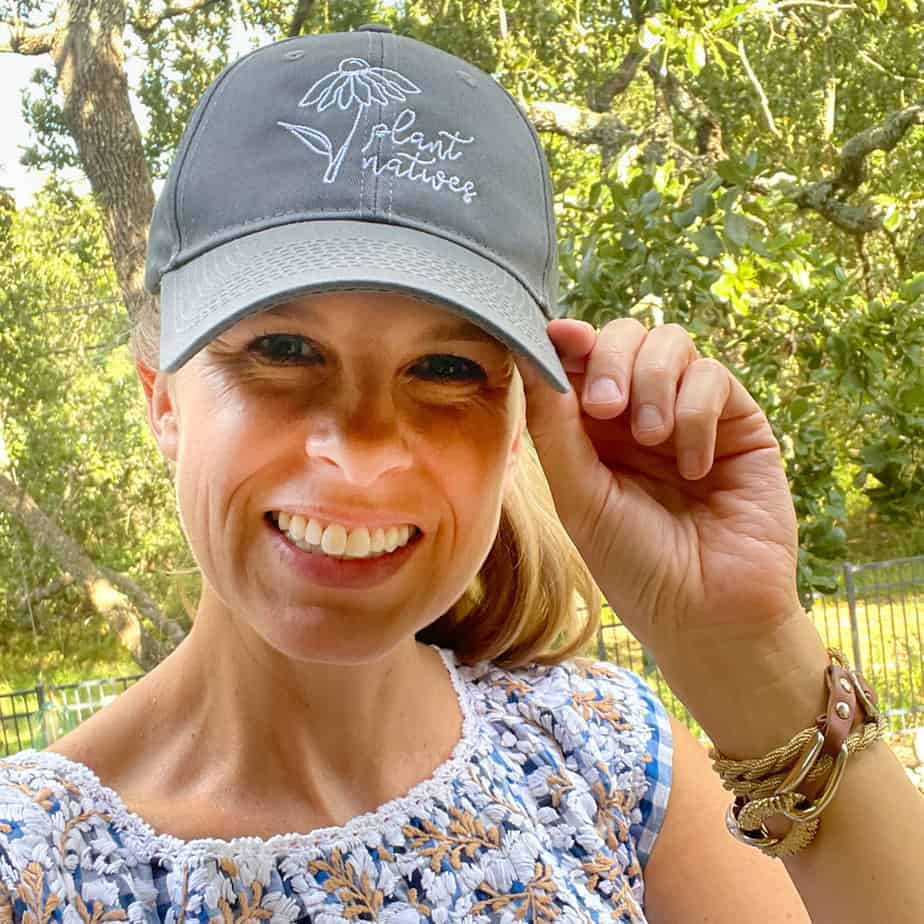 Welcome to Native Backyards! I'm Haeley from San Antonio, Texas, and I want to help you grow more native plants.
I have seen firsthand how the right plants can bring your yard to life with butterflies, bees, and birds. I've transformed my yard with Texas natives and I'm excited to share what I've learned with you.
Join my newsletter here! – each week I'll send you helpful tips to make your native plant garden a reality!
Want to learn more about me and my garden? Check out my About page!