Hummingbird Bush (Flame Acanthus): A Texas Native
It's that time of year when hummingbirds start their migration through Texas. I've had a black chinned hummingbird visiting my feeder multiple times a day. While feeders are great, native nectar plants are even better.
Adding Hummingbird Bush (also called Flame Acanthus) is the perfect hummingbird magnet, especially for year-round residents and the fall migration.
Want to attract more pollinators to your yard? Be sure to download my FREE Pollinator Nectar Plants PDF. Take this handy one-pager to the nursery to get the native plants that pollinators LOVE!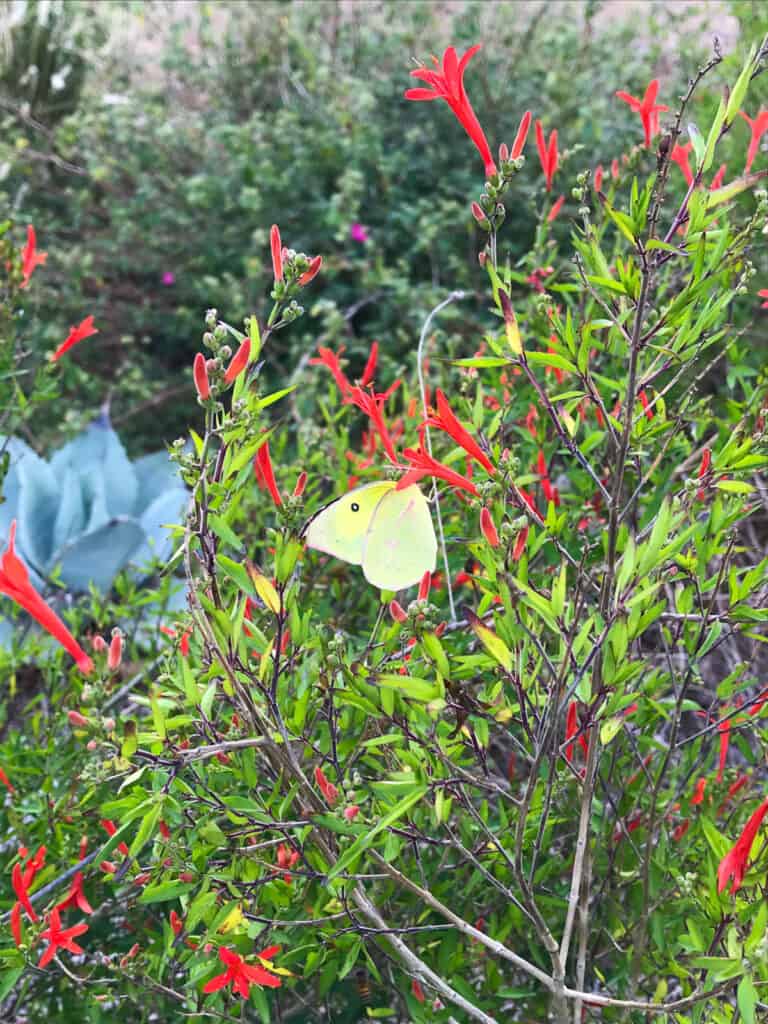 Where is Hummingbird Bush (Flame Acanthus) Native To?
This plant is a true Texan! This particular variety (Aniscanthus quadrificlus var. wrightii) is found in West and South Central Texas. However it is particularly associated with the Hill Country and the Edwards Plateau region around San Antonio where I live.
Flame Acanthus Attracts Hummingbirds
This plant is known for its profuse blooms of orange-red flowers. The flowers are trumpet shaped and upright, making them the perfect drinking vessel for hummingbirds and butterflies.
If you want a Hummingbird Bush covered in flowers from summer through fall, place it in full sun. It can grow ok in part sun, but will produce fewer blooms.
Unlike bees which can't see the color red, hummingbirds are drawn to the bright red flowers.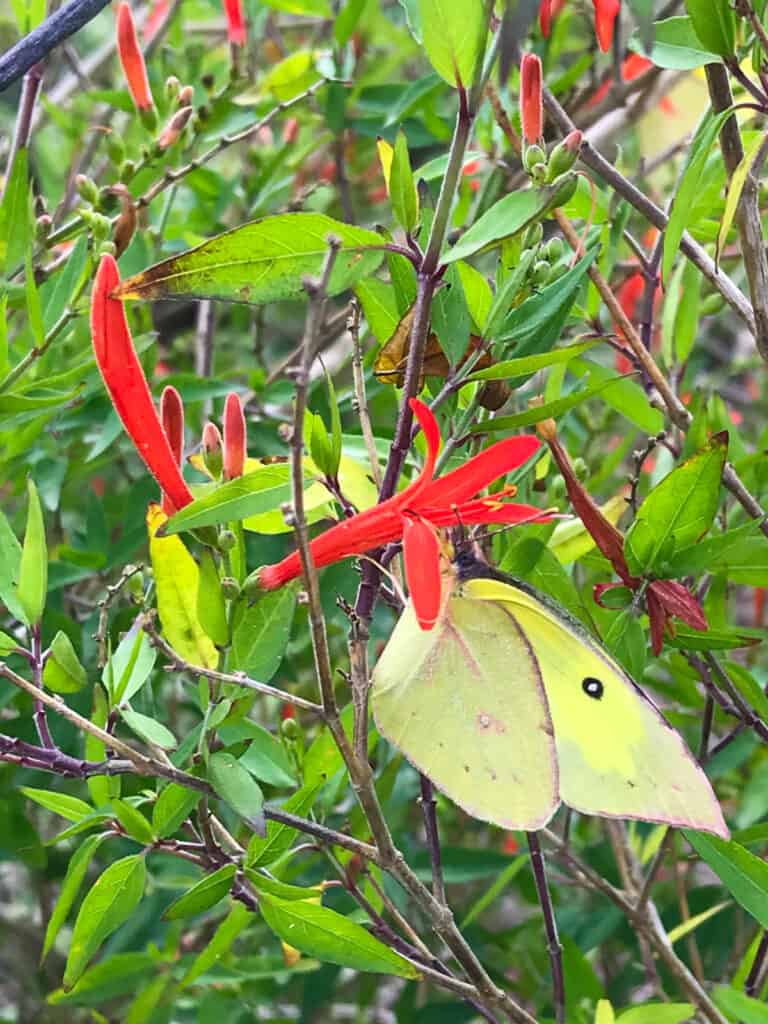 5 Reasons to Grow Hummingbird Bush (Flame Acanthus)
1. It is profuse bloomer
It can be hard to find plants with long bloom periods, especially in the heat of the Texas summer. However, Flame Acanthus produces abundant blooms from mid summer until frost. Be sure to grow it in full sun where it will thrive.
2. It is heat and drought tolerant
If you're looking for a low-maintenance plant this is the one for you. Hummingbird Bush loves the heat and requires very little watering once established.
It is even cold tolerant. In terms of hardiness zones, it will stay root hardy through Zone 7. Here in San Antonio, the plant even survived the mega freeze of February 2021!
It is a deciduous plant (it will lose its leaves during the winter). However if you cut back the dead branches by 2/3 in the spring it will regrow from its roots. This will help produce a denser, fuller shrub.
3. It is not picky about its location
As long as Hummingbird Bush has well drained soil, it is not picky about the type of soil. It is also not super picky about sun conditions. It prefers full sun, but can grow in dappled to part sun as well. However, I would not recommend it for full shade areas.
4. It is a butterfly host plant
In addition to feeding butterflies with its nectar, it also feeds butterfly's caterpillars as a host plant. Anytime I can add a butterfly or moth host plant to my garden it is a win. Read more about why having host plants in our yard is so important for the ecosystem.
Flame Acanthus is the host plant for two butterflies:
5. It is easy to grow in containers
I love incorporating native plants into my container pots on my patio along with annuals. Flame Acanthus grows to about 3-4″ tall and wide, making it a good candidate for a large pot.
Download the Free PDF: Native Nectar Plants
Want all the pollinators in your yard? I created a handy one-page PDF for you to print and take along with you to the plant nursery. It includes a thumbnail photo of each plant along with both its common and scientific name, shade requirements, and other helpful growing info. Get it here: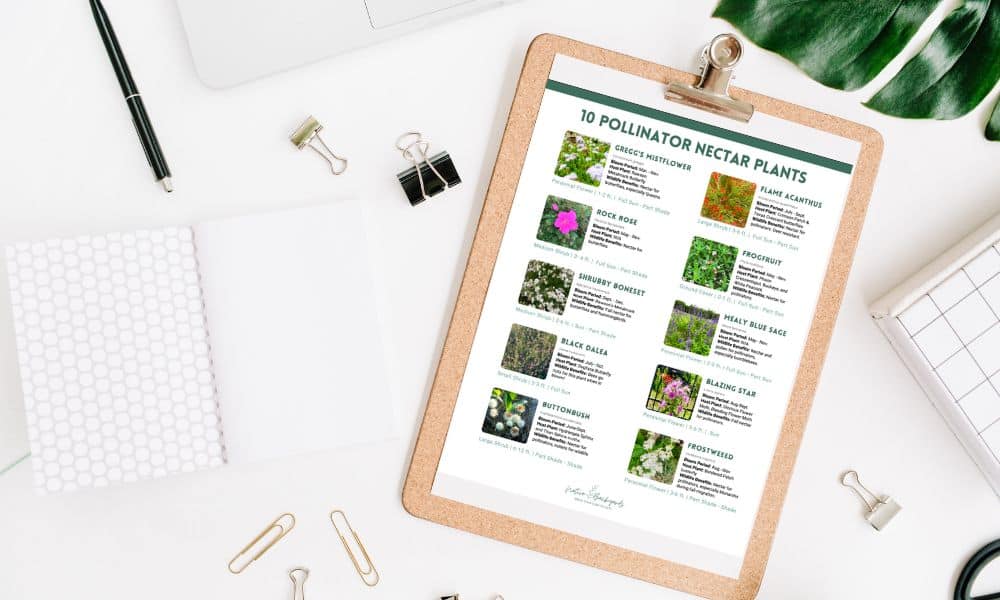 Make a Hummingbird Garden
Hummingbirds migrate through Texas every spring and fall, and some stay year-round. Hummingbird bush will be in full bloom for their fall migration.
Pair this plant with other Texas natives such as Turk's Cap and Autumn Sage to create a garden that attracts hummingbirds. These perennial shrubs also have red tubular shaped flowers that hummingbirds and butterflies can't resist.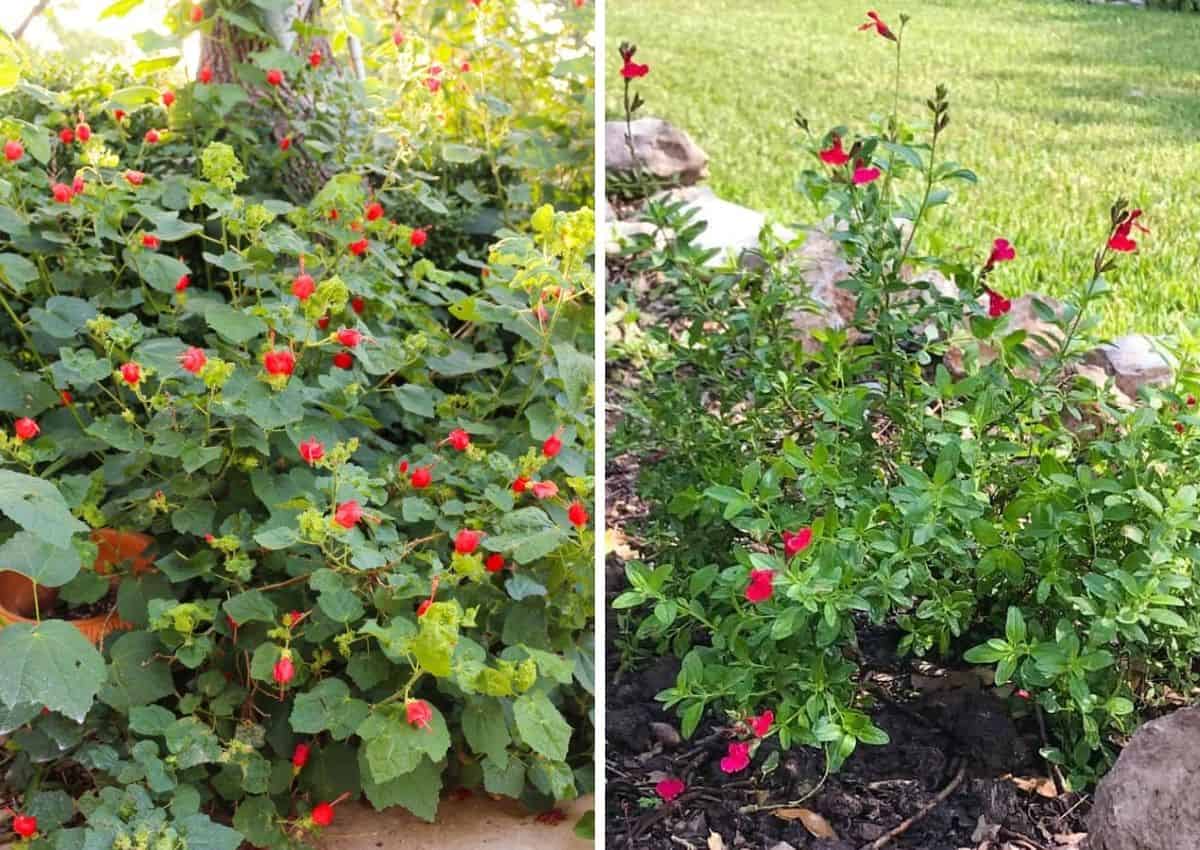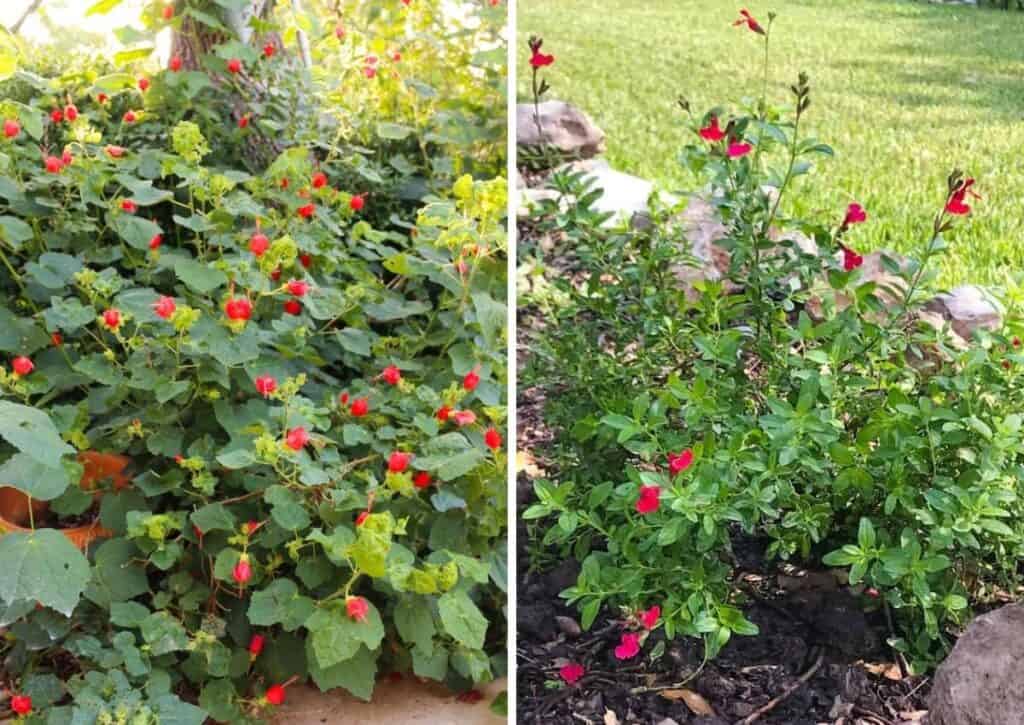 If you include these plants and add a hummingbird feeder (this is the one I use), you'll have a hummer paradise in your yard!
Names for Hummingbird Bush
Scientific Name
Aniscanthus quadrificlus var. wrightii is the scientifc (Latin) name for the Hummingbird Bush I am referring to. That is certainly a mouthful, and I'm not sure I can even pronounce it correctly! However, that is the name you'll want to look for on the plant label at the nursery to ensure you're getting the native plant.
It is especially important because there are several other non-native plants with the common name Hummingbird Bush such as these. Here are their scientific names:
Dicliptera suberecta
Hamelia patens
Grevillea thelemanniana
Common Names
Each plant variety has only one scientific name but can have several common names. In addition to Hummingbird Bush, one of the most common names for Aniscanthus quadrificlus var. wrightii is Flame Acanthus.
I like to use Hummingbird Bush because I think it will encourage more people to plant it! Who doesn't like hummingbirds?!
How Do You Prune Hummingbird Bush?
Maintaining hummingbird bush is easy. Just cut back by about 2/3 in February. You are removing the dead branches to encourage new growth from the base and create a more fuller, rounder plant. Leaving the dead foliage on the plant through winter helps provide habitat for insects and birds.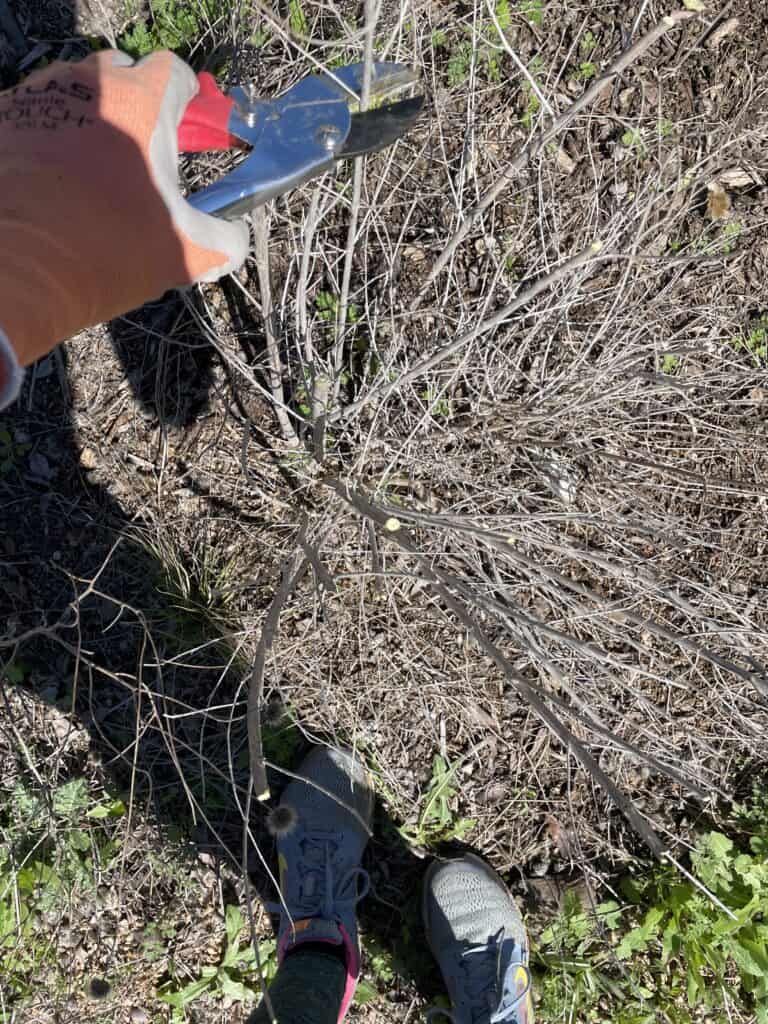 Hummingbird Bush (Flame Acanthus): Plant Care Printable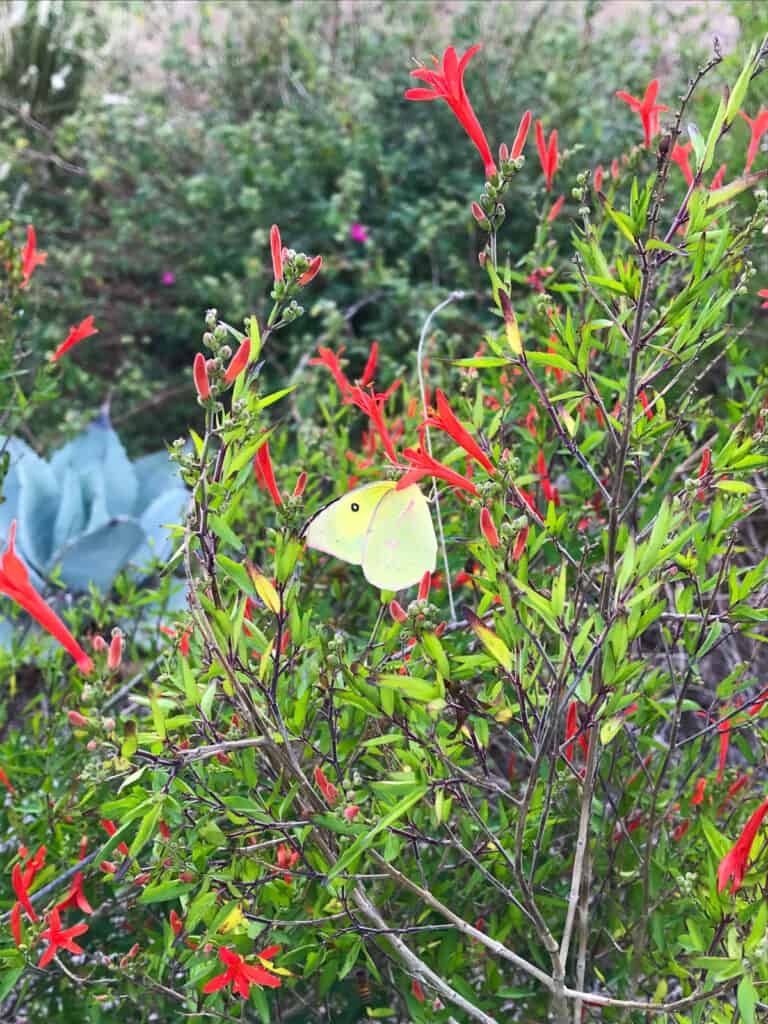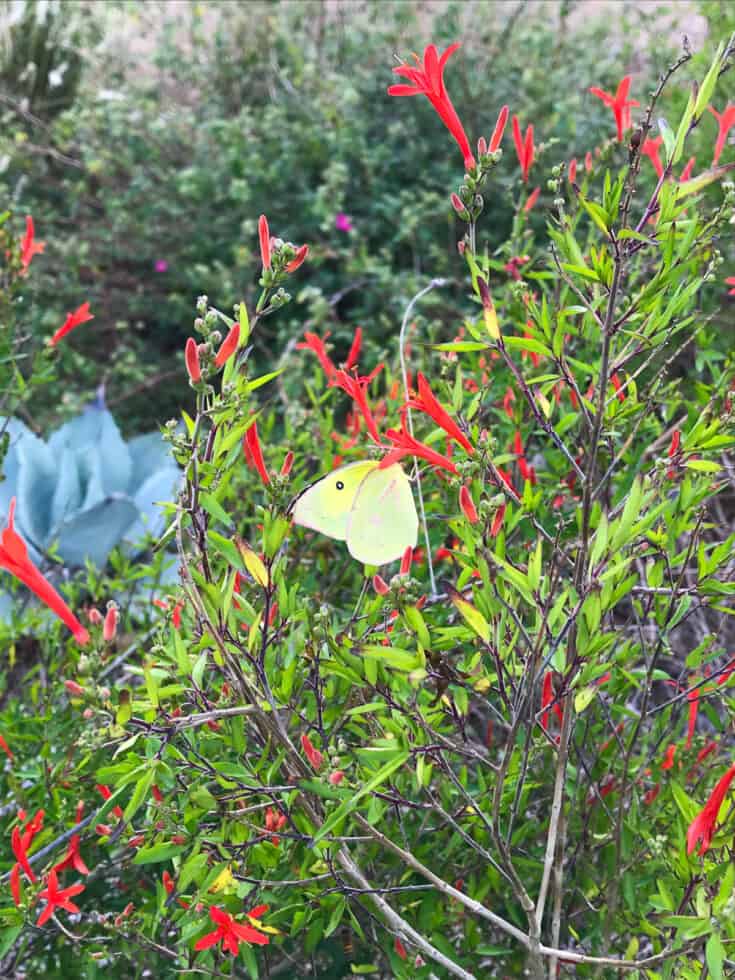 Scientific Name:
Anisacanthus quadrifidus var. wrightii
Native to:
South Central and West Texas
Mature Height and Width:
3-4' tall and wide
Sun Conditions:
Full sun to part sun
Water Needs:
Requires minimal watering once established. Likes well drained soil.
Wildlife Benefits:
Flowers provide nectar for hummingbirds and butterflies. Serves as host plant to Texan Crescentspot and Crimson Patch butterflies.
Tools
Instructions
Watering
Water 2x a week until established, then minimal watering. Likes well drained soil.
Pruning
Cut back by 2/3 in February. Plant will regrow from the ground.
Propagating
Plant can be propagated by seeds or soft wood cuttings in the spring. Apply a rooting hormone to the cutting will help with propagation.
Recommended Products
As an Amazon Associate and member of other affiliate programs, I earn from qualifying purchases.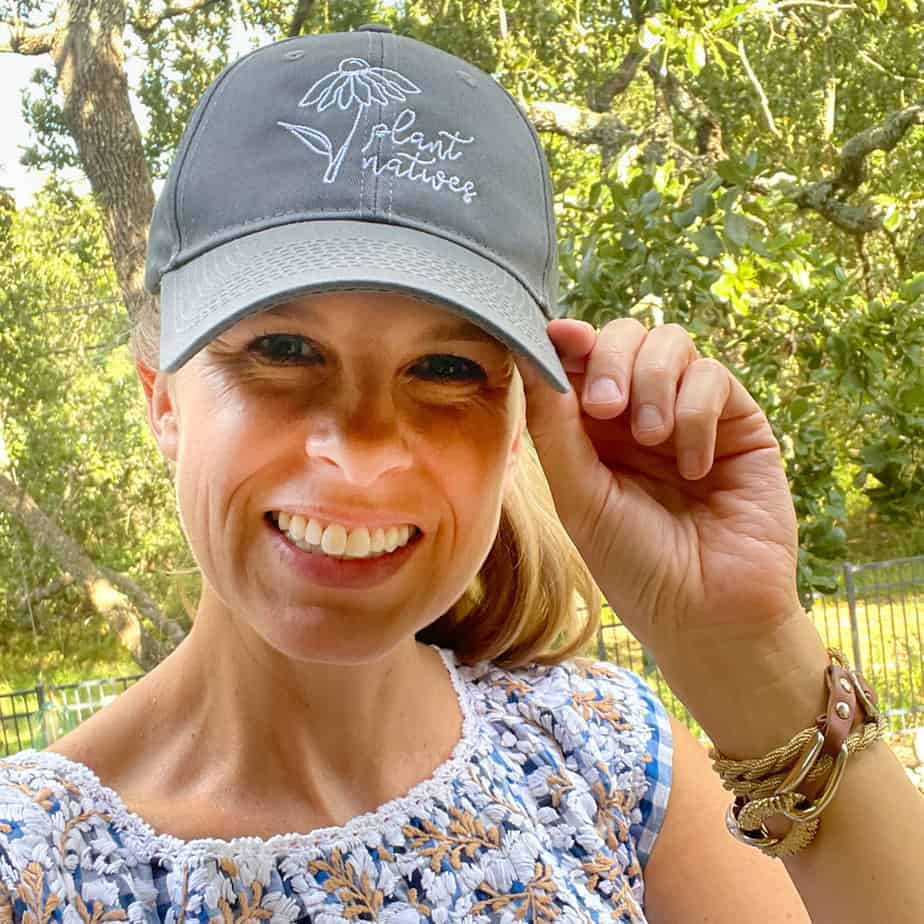 Welcome to Native Backyards! I'm Haeley from San Antonio, Texas, and I want to help you grow more native plants.
I have seen firsthand how the right plants can bring your yard to life with butterflies, bees, and birds. I've transformed my yard with Texas natives and I'm excited to share what I've learned with you.
Join my newsletter here! – each week I'll send you helpful tips to make your native plant garden a reality!
Want to learn more about me and my garden? Check out my About page!