Top 10 Drought Tolerant Perennials for Texas
Want drought tolerant perennials for your yard? Start by downloading my FREE 10 Texas Drought Tolerant Plants PDF. You can take this handy one-pager with you to the nursery.
These 10 Texas native plants pass the drought tolerant test with flying colors. They are tough as nails and have been surviving on their own in nature for thousands of years.
Summer 2022 in Texas tested even the most seasoned gardener, and the hardiest of landscaping plants. However, these 10 drought-tolerant perennials can survive very hot summers and very dry conditions. These are all excellent choices for your landscaping, flower beds, or rock gardens.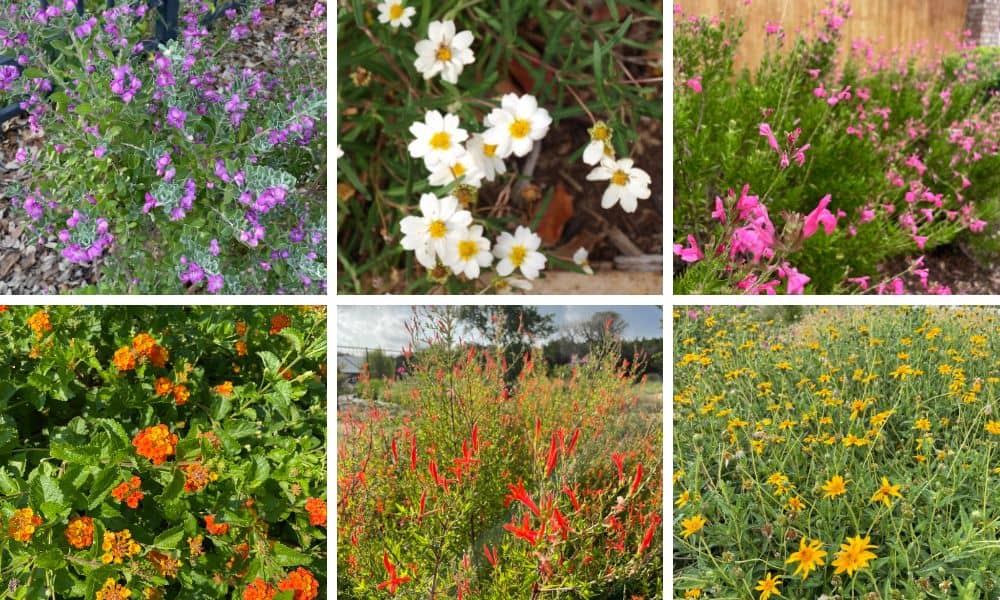 Why Natives are Great Drought-Tolerant Plants
1. They need less water
Plants that are native to your local area tend to need less water and care than non-native plants from other parts of the world.
They are often a much better choice during periods of drought than turf grass, which accounts for around 30% percent of water consumption for households in Texas.
Water conservation is becoming increasingly important in Texas, and throughout the world. Imagine if we were able to save that water by getting rid of large potions of our lawns and replacing them with native, drought-tolerant perennials!
2. They Require Less Maintenance
Not only would you be helping the planet and saving money on your water bill, but you will also save time maintaining and replacing plants when they die.
These natives tend to require less maintenance once established and aren't picky about growing conditions as long as they get sufficient sunlight.
Some of these plants may have fewer flowers or go partially dormant during severe drought, but will bounce back after a good rain.
3. They Attract Pollinators
Avoid using pesticides and these beautiful native flowers will attract beneficial insects to your yard, such as butterflies and bees.
Native plants are important sources of nectar and pollen for our native bees. They are also host plants to many butterfly and moth caterpillars.
I've listed the wildlife benefits each plant offers below!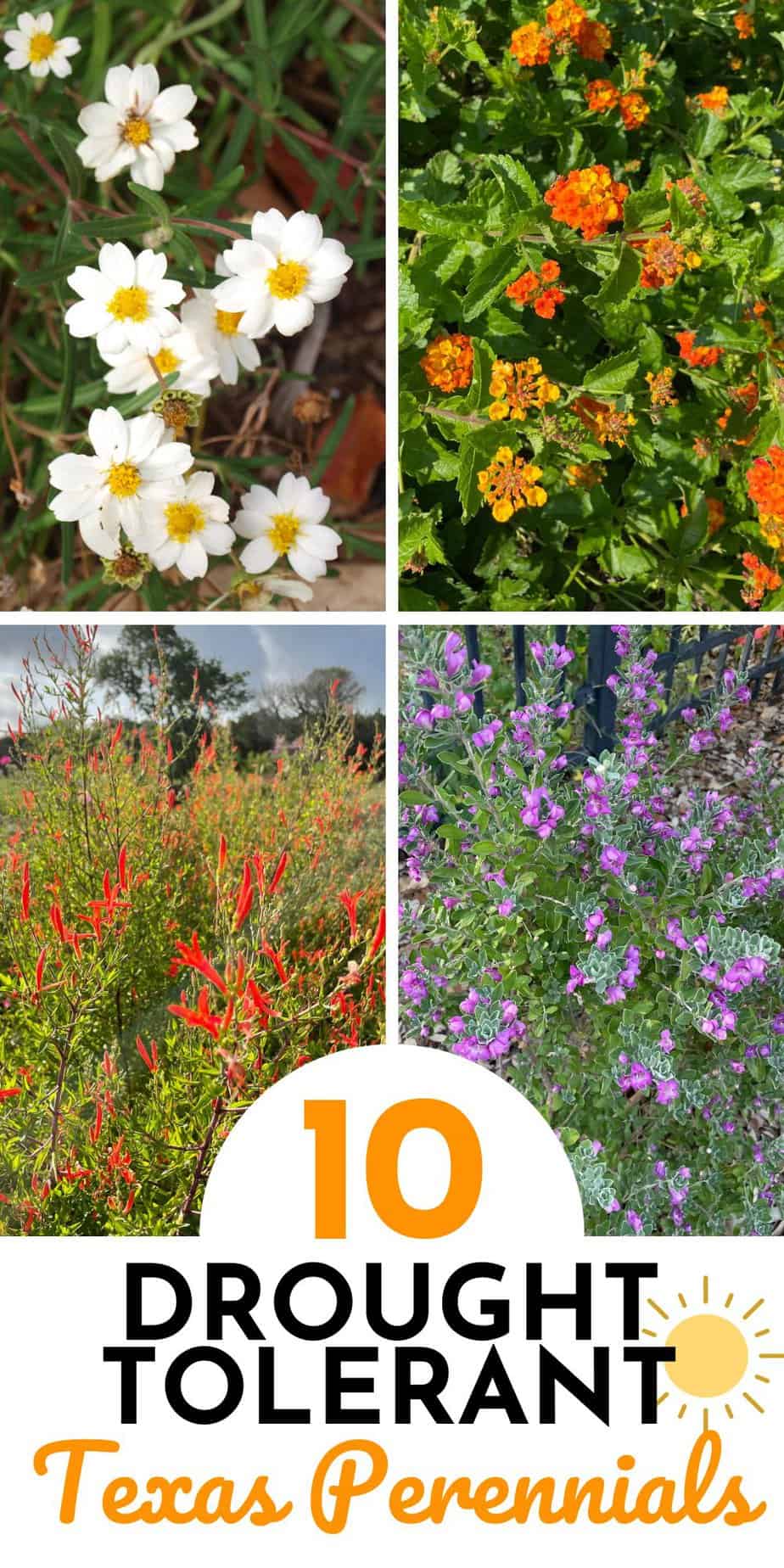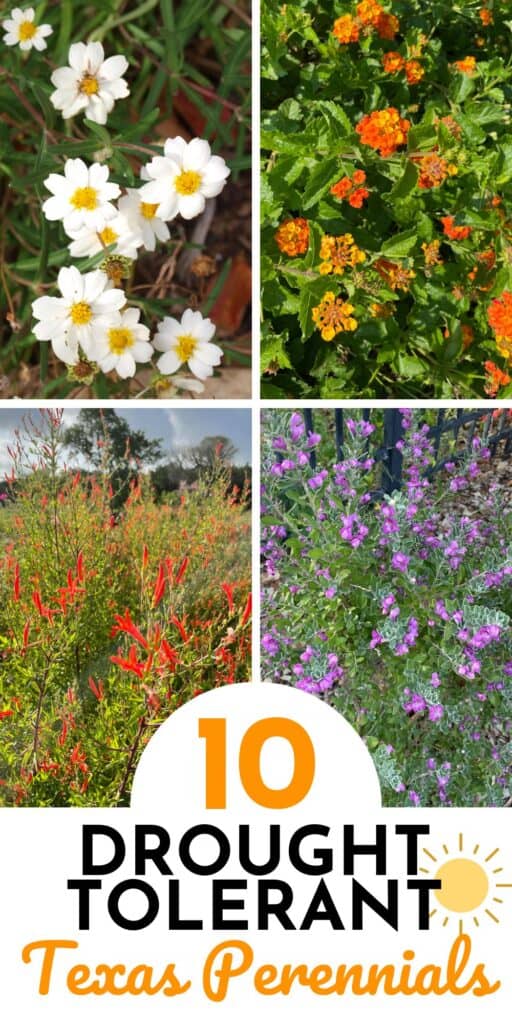 Top 10 Texas Drought Tolerant Perennials
Here are my top 10 recommendations for drought tolerant perennials in Texas. Most of these can grow well throughout the state. If you'd like to know their specific native range, you can search for them by scientific name on these BONAP maps.
Below I have included both their common name and scientific name (in parentheses).
1. Zexmenia (Wedelia acapulcensis var. hispida)
A low-maintenance plant that does great during periods of drought. It can spread to be a tall ground cover. Zexmenia is a good option for a rock garden or trailing over a rock wall. This long blooming perennial is a winner for a sunny spot in your Texas garden!
Native to: Texas
Bloom period: May-Nov.
Sun requirements: Sun to part sun
Height: 1-3 ft.
Wildlife benefits: Nectar for pollinators. Goldfinches like to eat its seeds.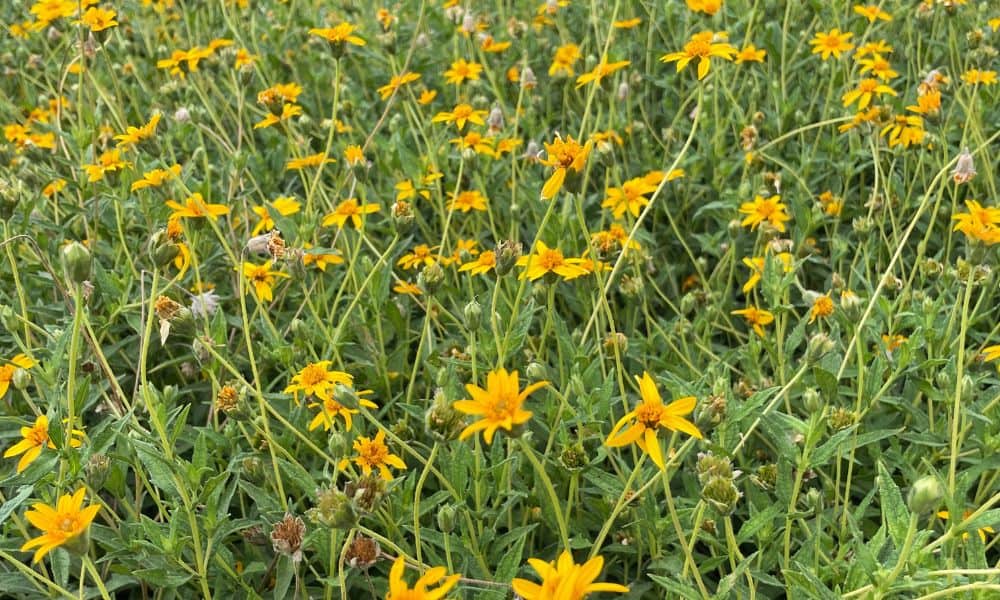 2. Esperanza (Tacoma stans)
Esperanza a beautiful plant with yellow flowers and bright green leaves that can be seen in landscaping across south Texas yards. It will be full of blooms during drought conditions when other plants are struggling in the Texas heat.
Native to: Texas, New Mexico, and Arizona
Bloom period: Late spring – fall
Sun requirements: Full sun – partial shade
Height: 6-10 ft. tall
Wildlife benefits: Nectar for pollinators. Host plant to Dogface butterfly and Plebeian Sphinx moth. Check out this video of a moth caterpillar I found on my Esperanza!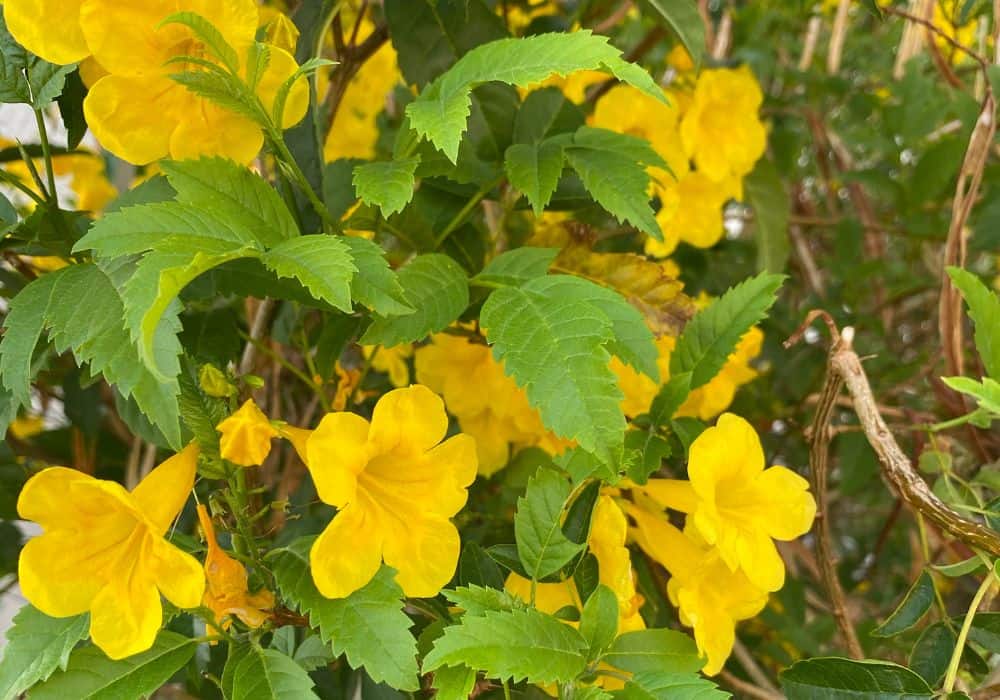 3. Four Nerve Daisy (Tetraneuris scaposa)
This compact, sunny plant is an excellent choice for a rock garden or xeriscape. It likes well-drained soils. I like to pair it with Flame Acanthus (see #4 below).
Native to: Texas, New Mexico, Colorado, Oklahoma, Kansas and Nebraska
Bloom period: March – June, and occasional blooms in other months throughout year.
Sun requirements: Full sun to part shade
Height: 1 ft.
Wildlife benefits: Nectar for pollinators. High deer resistance.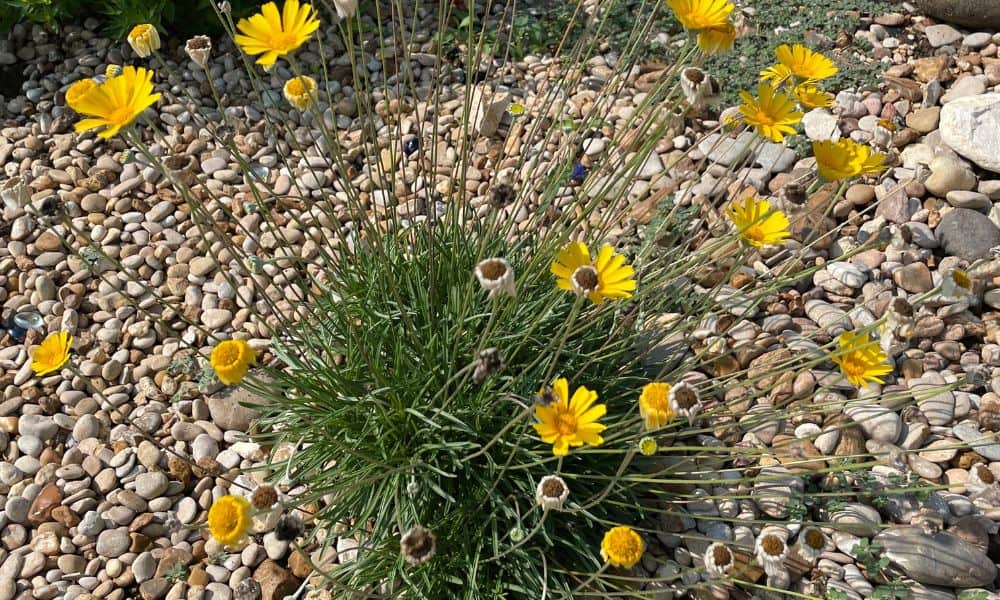 4. Flame Acanthus (Anisacanthus quadrifidus)
This is one tough plant! It is covered with red flowers during the driest, hottest part of the summer through early fall. Its flower heads attract hummingbirds and butterflies – one of the reasons it also goes by the common name Hummingbird Bush.
Flame Acanthus can handle lots of hours of sun and very little care. It is native to the Edwards Plateau region of central Texas.

Native to: Texas
Bloom period: July – September
Sun requirements: Full sun – part sun
Height: 3-5 ft.
Wildlife benefits: Host plant for Crimson Patch and Texas Crescent butterflies. Nectar plant for pollinators. Deer resistant.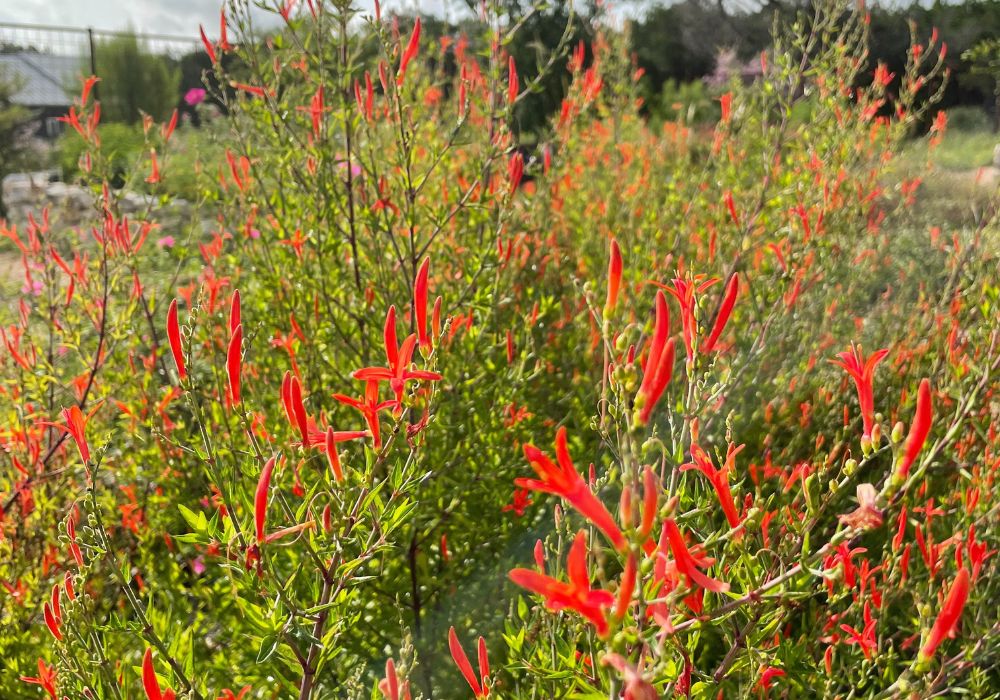 5. Autumn Sage (Salvia greggii)
Autumn Sage has a long bloom period with waves of blooms between March and November, even during dry weather. You can provide more blooms with regular dead-heading. Just pinch off the tips of the plant. Autumn Sage likes good drainage. This plant is a fun addition to your landscaping because it comes in different colors including red, white, and pink flowers.

Native to: Texas
Bloom period: March – November
Sun requirements: Full sun
Height: 2-3 ft.
Wildlife benefits: Nectar for pollinators. Deer resistant.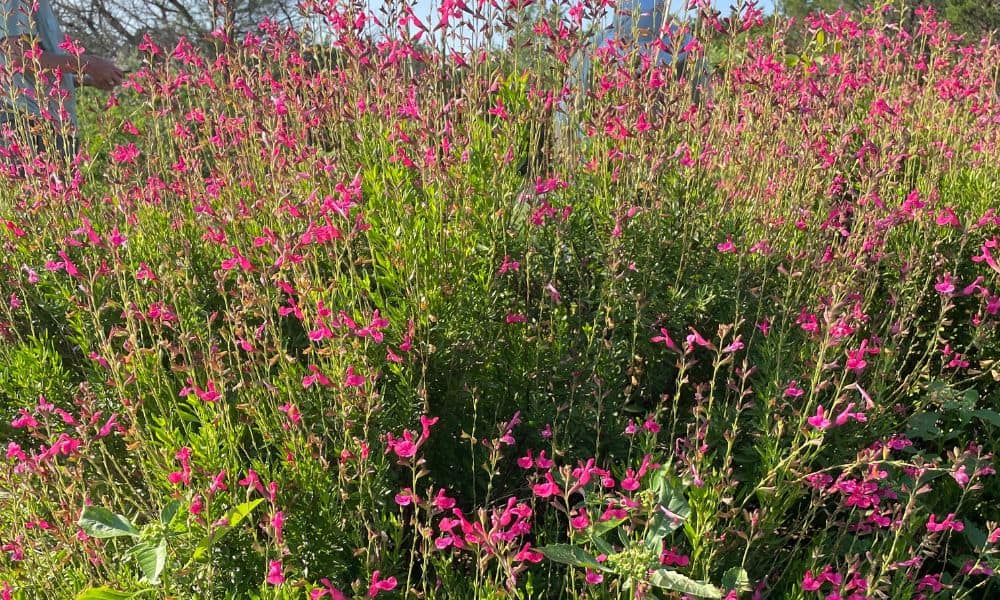 6. Mealy Blue Sage (Salvia farinacea)
A great addition to a flower bed thanks to its pretty purple, long-lasting flowers. Mealy Blue Sage blooms from early summer through fall. Bees flock to its purple flowers, especially American Bumblebees.
Native to: Texas, New Mexico, Oklahoma, Louisiana, Florida
Bloom period: May – November
Sun requirements: Full sun
Height: 2-3 ft.
Wildlife benefits: Nectar for pollinators (American Bumblebees love it!). Goldfinches eat flower buds.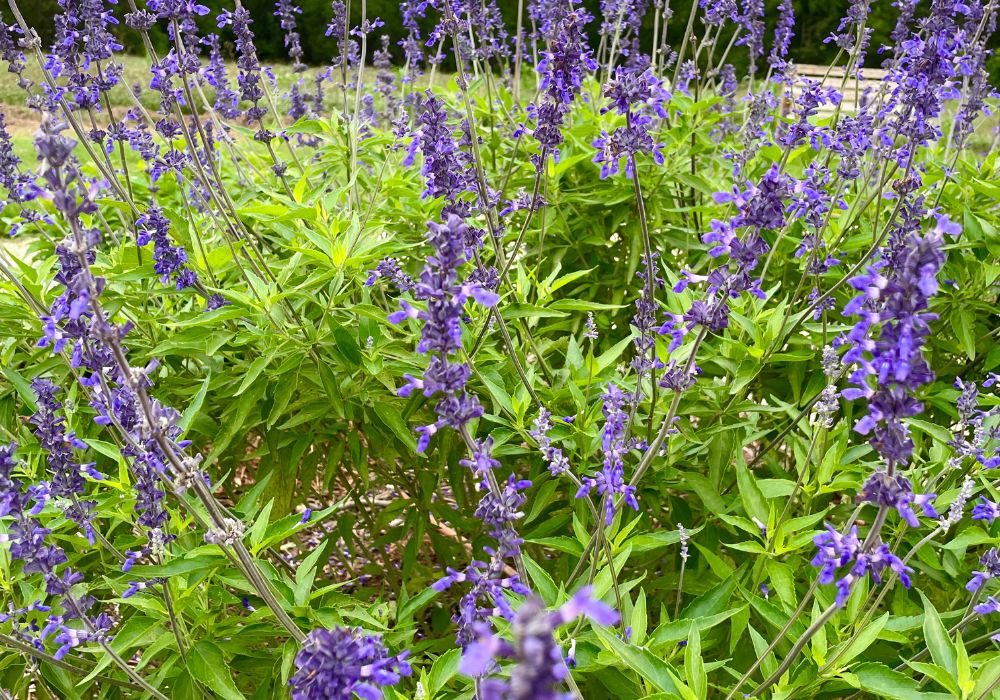 7. Texas Lantana (Lantana urticoides)
Texas Lantana has a long bloom period, but tends to bloom in waves. Lantana comes in a wide variety of colors at the nursery. However,be sure to look for "Lantana urticoides" on the label, which is the native Texas Lantana. Many other varieties are not native to Texas, and can become invasive.
Red and orange flowers will cover the plant when in full bloom, attracting a variety of butterflies to their nectar.

Native to: Texas, New Mexico, Arizona
Bloom period: April – October
Sun requirements: Full sun
Height: 2-3 ft.
Wildlife benefits: Nectar for butterflies. Deer resistant.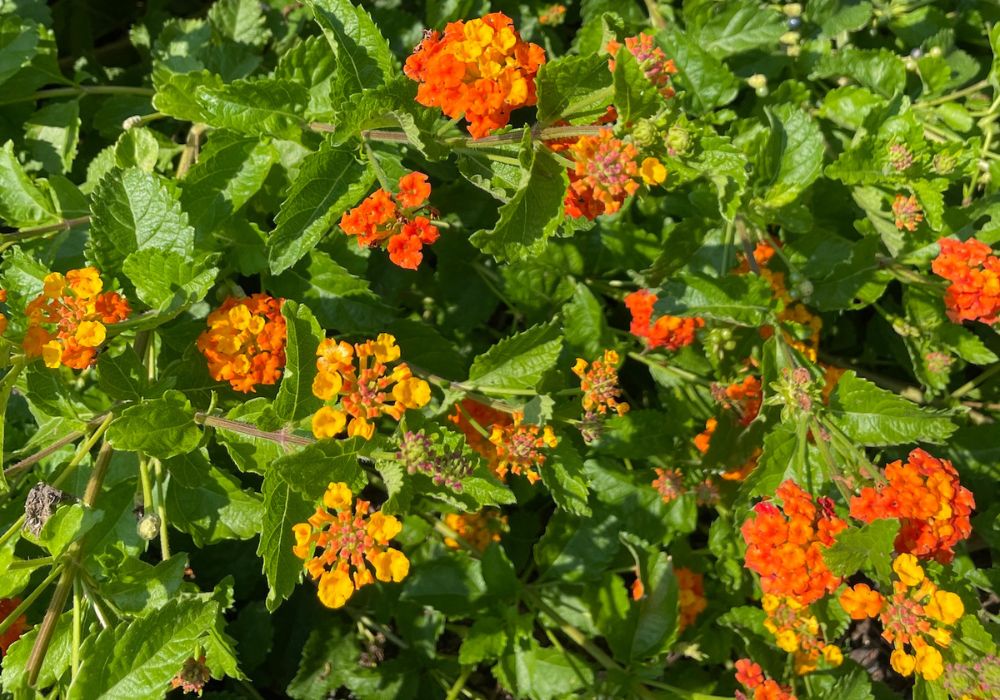 8. Blackfoot Daisy (Melampodium leucanthum)
Blackfoot Daisy is covered in dainty white flowers with a yellow center. This pretty plant is great for a rock garden. It prefers dry, poor soil, and little water. Too much water will kill it (which I have found out firsthand!).

Native to: Texas, New Mexico, Arizona, Colorado, Kansas, Oklahoma
Bloom period: Mar. – Nov.
Sun requirements: Full Sun to Part Sun
Height: 1 ft.
Wildlife benefits: Nectar for pollinators.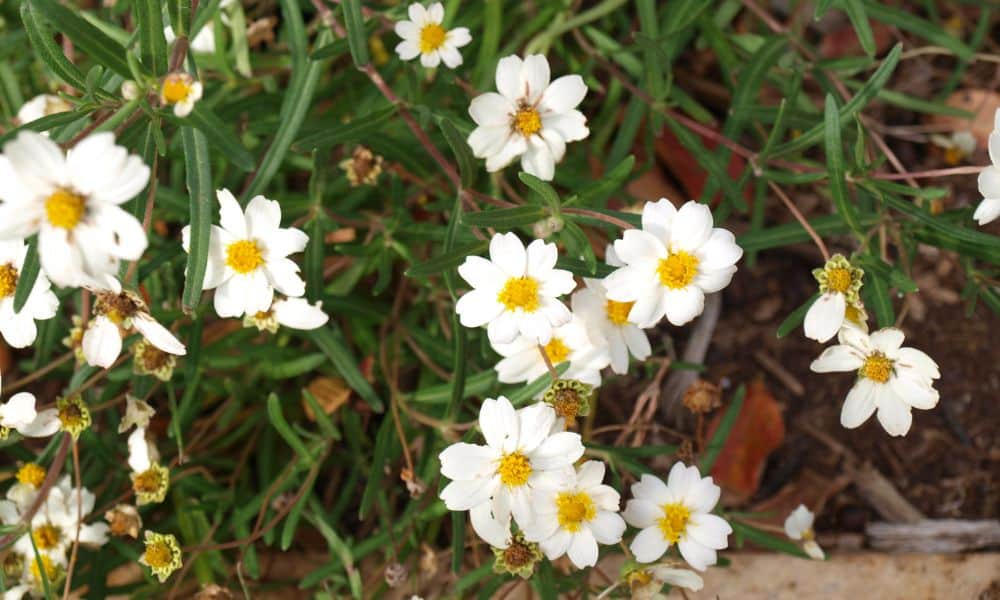 9. Red Yucca (Hesperaloe parviflora)
Popular in plant beds throughout San Antonio, Red Yucca is a unique ornamental plant. It is also a great way to add year-round interest to your landscape bed. Its base stays evergreen after the flower spikes fade.
These desert plants are native to West Texas and are a popular choice for rock gardens with dry soil.
Native to: Texas
Bloom period: Spring – late summer
Sun requirements: Full sun to part sun
Height: 3-4 ft.
Wildlife benefits: Nectar for pollinators. Attracts hummingbirds.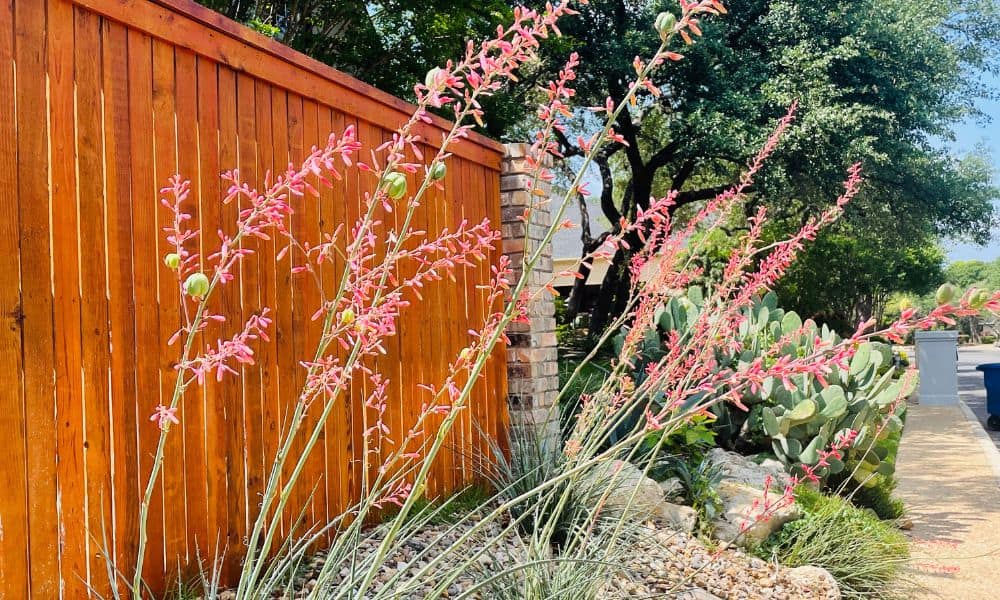 10. Texas Sage (Leucophyllum frutescens)
Texas Sage is a good choice for year-round interest in your garden thanks to its evergreen, silvery foliage. Also known as Cenizo, it erupts in purple blooms during periods of rain when there is high humidity in the air.
FYI – another great evergreen option is Texas Mountain Laurel, a slow-growing ornamental tree with fragrant flowers that can also be grown as an evergreen shrub .
Native to: Texas
Bloom period: Periodically throughout the year (when it rains)
Sun requirements: Full sun / part sun
Height: 4-6 ft.
Wildlife benefits: Host plant for Theona Chekerspot and Calleta Silkmoth. Year-round shelter for birds and wildlife. Deer resistant.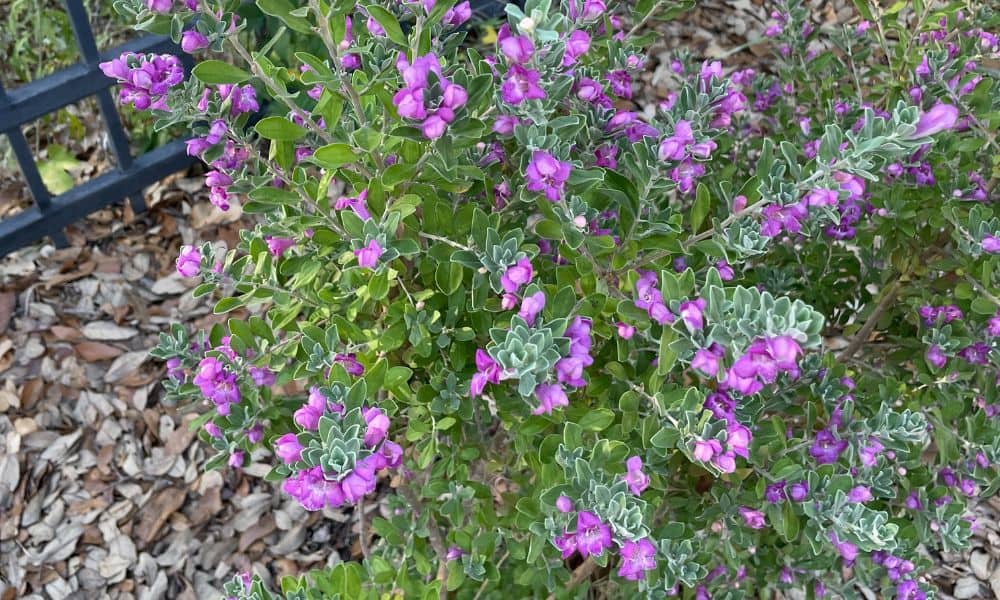 Download the Free PDF: Texas Drought Tolerant Plants
I created a handy one-page PDF for you to print and take along with you to the plant nursery. It includes a thumbnail photo of each plant along with both its common and scientific name and helpful growing info. Get it here: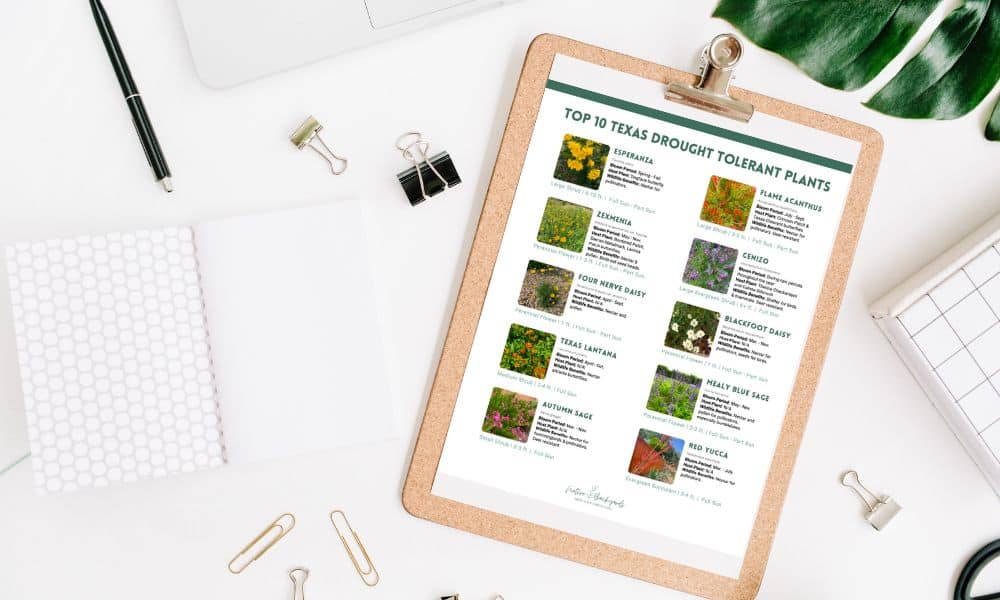 Drought Tolerant Ornamental Grasses
Many native grasses thrive in dry climates thanks to their deep root systems. Ornamental grasses are a gorgeous way to add texture and curb appeal to a drought-tolerant garden. They are also good for erosion control and preventing run-off during a rain. Here are a few great options for your garden:
Big Bluestem or Little Bluestem– one of the big four prairie grasses. Check out the amazing root system of Bluestem grass!
Lindheimer Muhly – it shines in the fall with its gorgeous feathery seed heads.
Mexican Feather Grass – a feathery compant ornamental grass native to West Texas.
Buffalo Grass – a turf grass alternative that is drought tolerant and requires little mowing.
Other Drought-Resistant Plants
In addition to my top 10 drought resistant perennials above, here are several other options to consider:
Native wildflower varieties such as Blanket Flower, Annual Sunflower, and Mexican Hat tend to be drought-tolerant flowers. Remove some turf grass and sow a native wildflower meadow instead!
Butterfly Weed – a milkweed variety with beautiful flowers that is relatively easy to grow, and find at nurseries. Host plant to Monarch and Queen butterflies.
Purple Coneflower – a perennial plant that makes great cut flowers.
Black-Eyed Susan – a classic combo to plant with Purple Coneflower!
Where to Buy Native Drought Tolerant Perennials
Finding native plants at the nursery can be challenging. I recommend skipping the big-box garden centers and heading to a locally-owned nursery that is knowledgeable about native plants. Check out this list of native plant nurseries in Texas.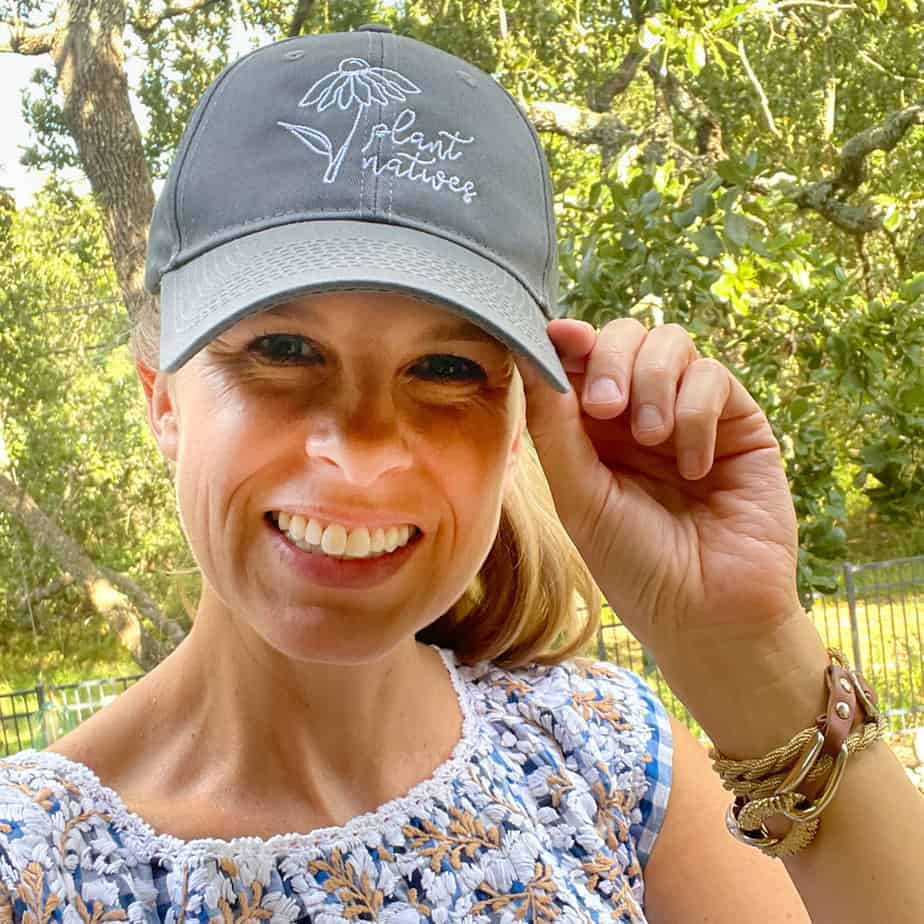 Welcome to Native Backyards! I'm Haeley from San Antonio, Texas, and I want to help you grow more native plants.
I have seen firsthand how the right plants can bring your yard to life with butterflies, bees, and birds. I've transformed my yard with Texas natives and I'm excited to share what I've learned with you.
Join my newsletter here! – each week I'll send you helpful tips to make your native plant garden a reality!
Want to learn more about me and my garden? Check out my About page!