Help Pollinators! Plant Frostweed (Verbesina Virginica)
Have you heard of Frostweed (Verbesina virginica)? Any time a plant has "weed" in the name, it automatically gets a bad rap. Unfortunately, some of the absolutely best pollinator plants have the word "weed" in their name!
In addition to Frostweed, Milkweed, Butterfly Weed, and Joe-Pye Weed are awesome pollinator plants to add to your garden. Don't fall for the trap! These are incredibly important (and gorgeous!) flowering plants, not weeds.😊
Frostweed is a great plant to add to your wildflower gardens and native to the southeastern United States. It is a pollinator magnet for butterflies, bees, and more!
Want to attract more pollinators to your yard? Be sure to download my FREE Pollinator Nectar Plants PDF. Take this handy one-pager to the nursery to get the native plants that pollinators LOVE!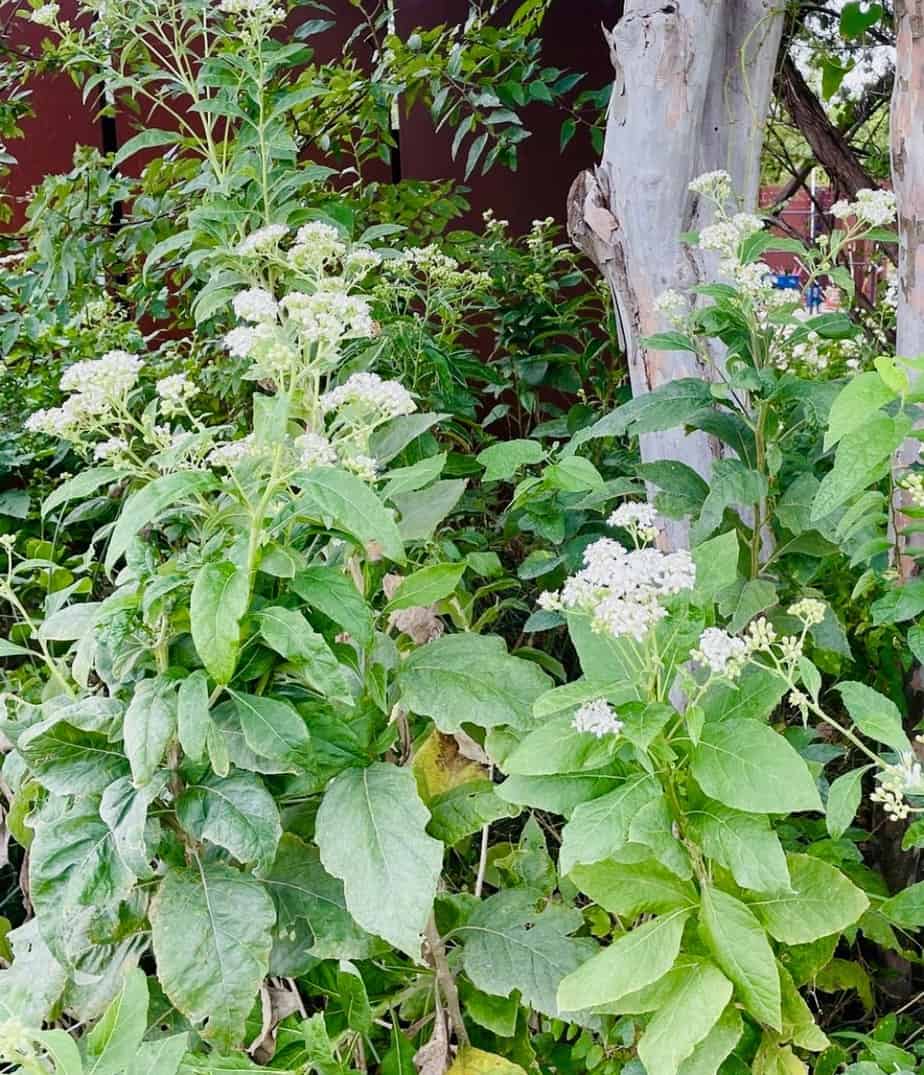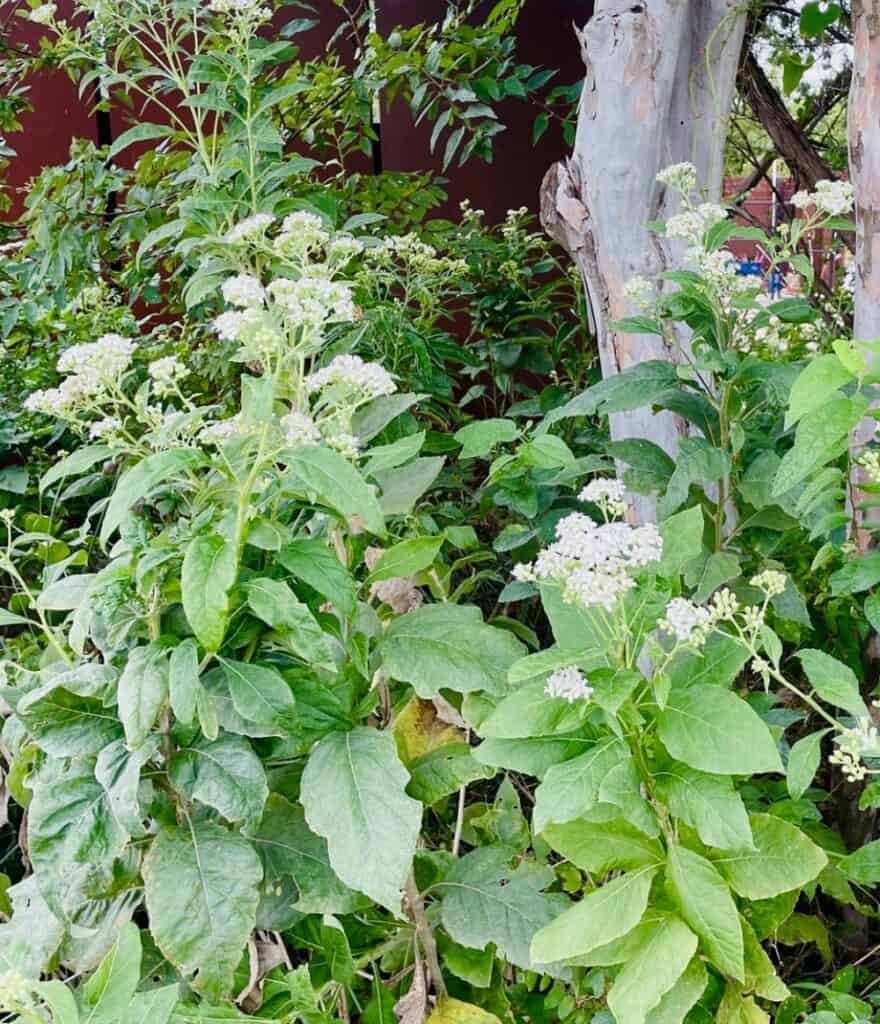 7 Reasons to Grow Frostweed
1. It is a critical nectar plant for Monarchs
The clusters of white flowers that appear starting in August and last until November are a welcome sight for Monarch butterflies during their fall migration.
Frostweed is one of the few plants with autumn flowers consistently in bloom during that time.
Planting Frostweed gives Monarchs the critical nectar source they need for their journey. It is a must for pollinator gardens in Zones 8-11!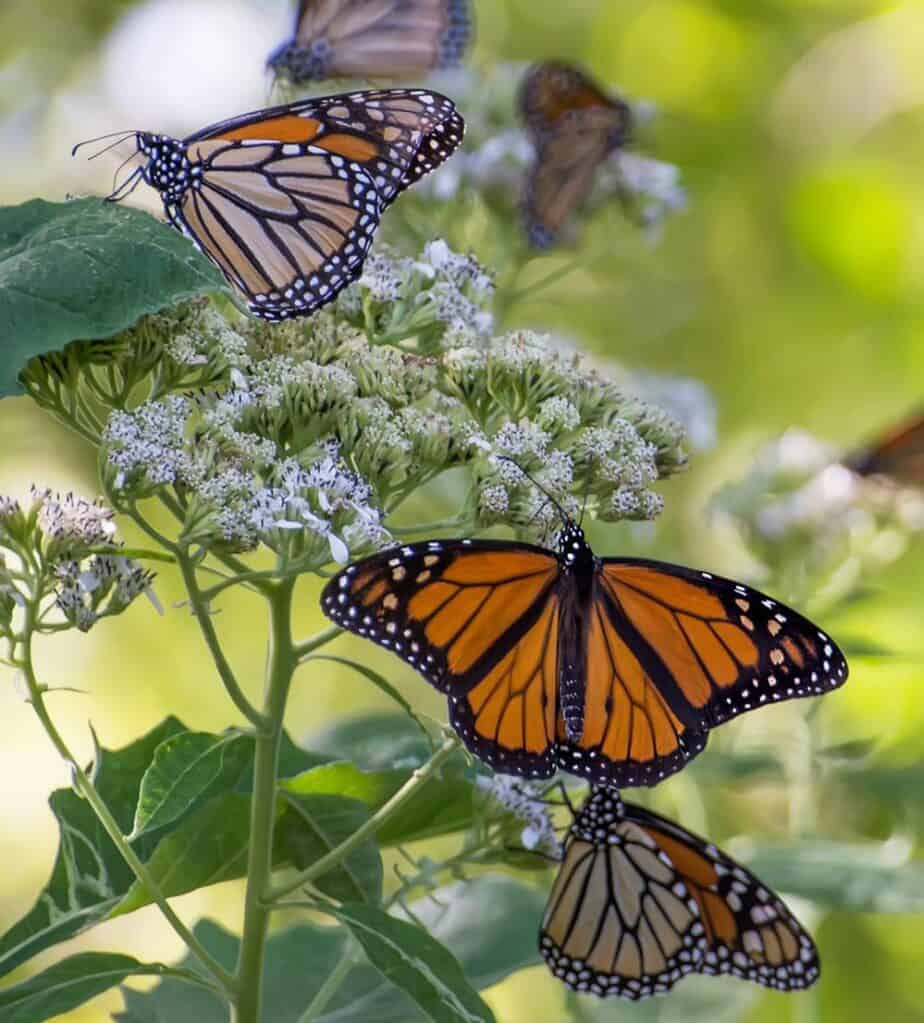 2. It attracts all sorts of pollinators
In addition to the Monarch butterfly, you'll see all sorts of other butterflies, bees, wasps and more visit Frostweed flower heads. Often times, you'll see several types of pollinators on a single cluster of flowers.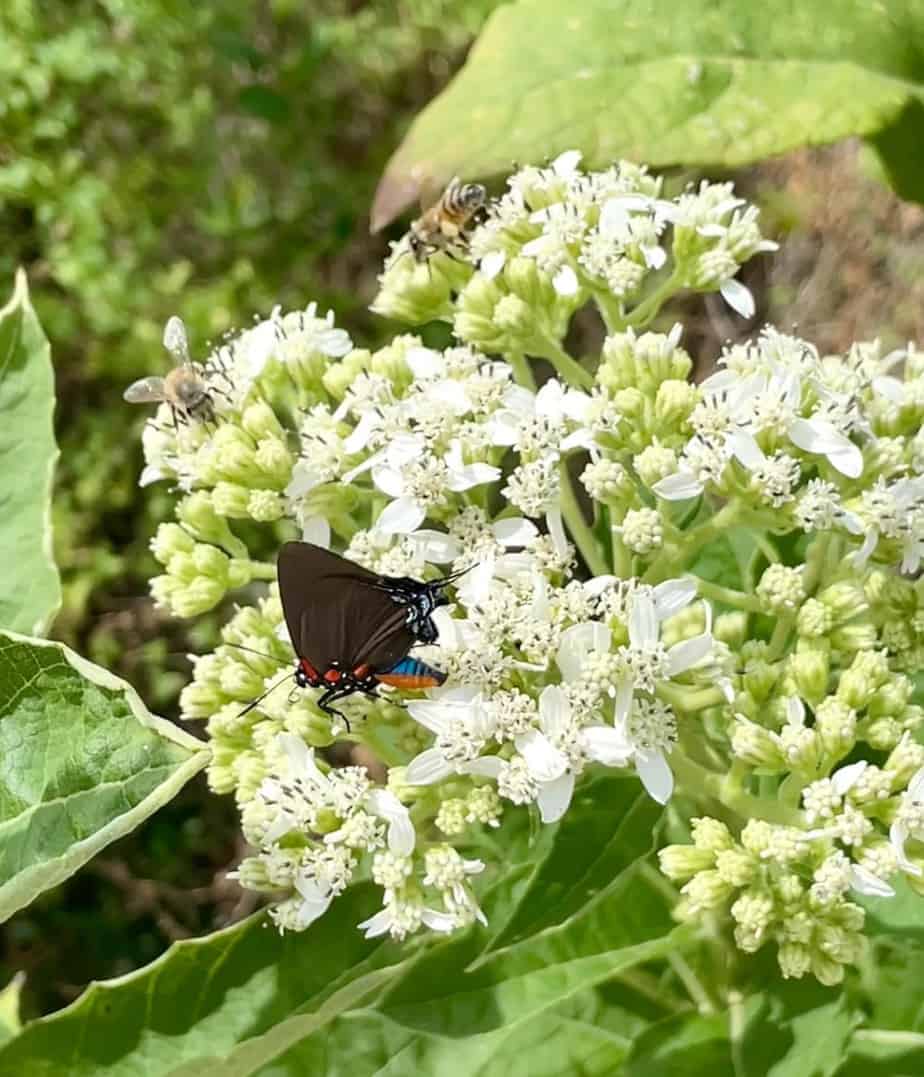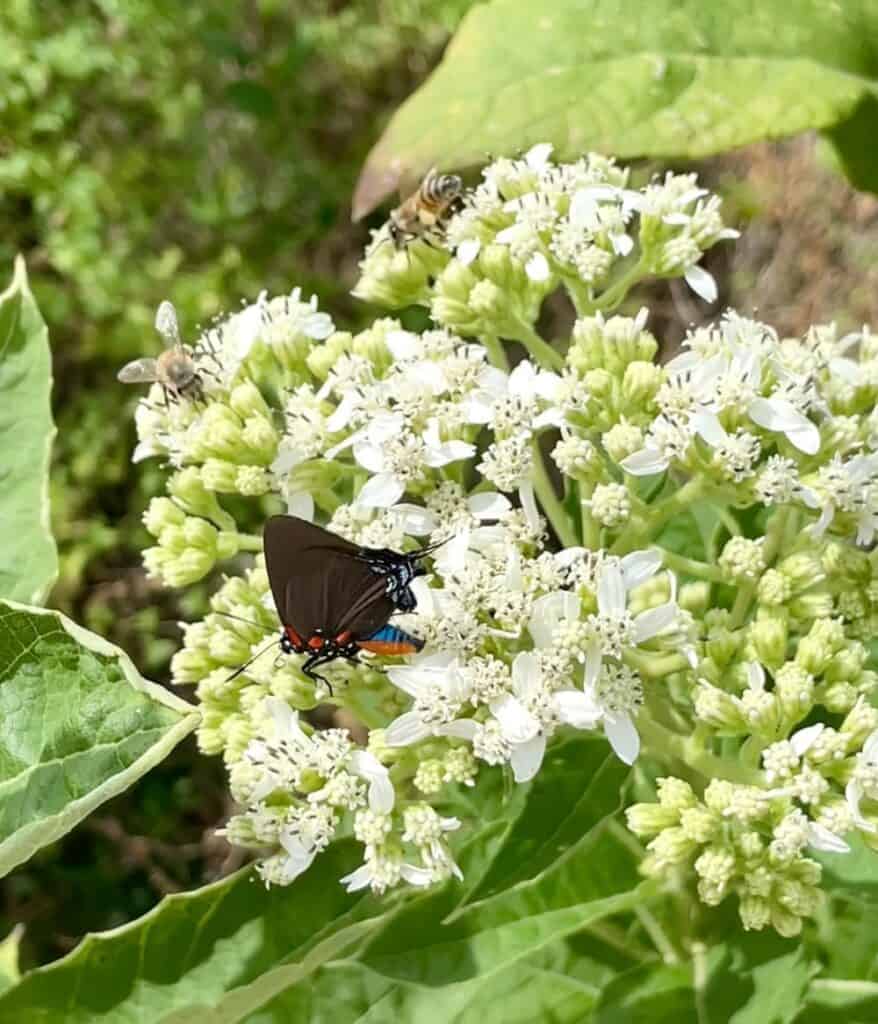 An important aspect of pollinator gardening is ensuring you have nectar sources throughout the growing season. While some pollinator plants shine in spring or summer, there are fewer options in the fall. Frostweed fills this bloom time gap perfectly!
3. It provides early fall interest
Frost weeds will be covered in large clusters of white blooms starting in August and lasting unti November. This native plant adds interest to your garden when other flowering plants have fizzled out for the season.
4. It creates ice sculptures during the first hard freeze
Frostweed gets its common name from its most unique feature – its ice ribbons, also called ice flowers or ice fingers. Keep your eyes peeled starting in early winter. During the early morning of the first hard freeze of the season you may be able to see Frostweed's stems break open and reveal beautiful ice formations.
The dead stems soak up moisture from the soil during the late fall, and the trapped water forms ice crystals when the plant freezes during the first hard frost.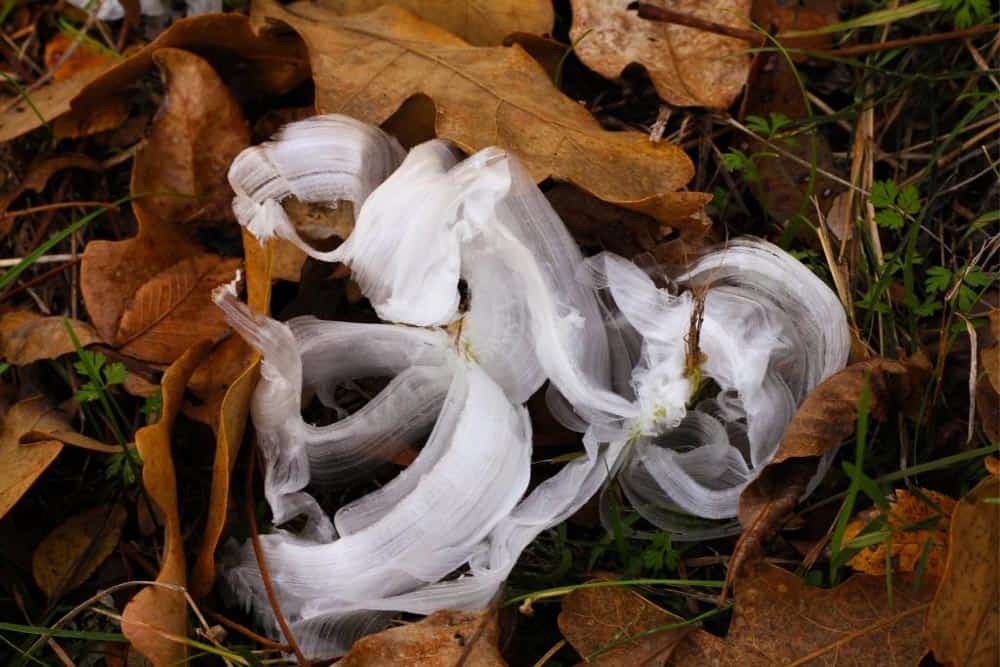 5. It performs well in the shade
In wild areas, you'll find Frostweed plants growing along the forest edge, under trees, or along river banks and flood plains. It likes partial shade or dappled shade, and its a great option for planting under trees, such as the Live Oak trees we have here in San Antonio.
Many plants with beautiful blooms require full sun, but Frostweed is an exception! It performs great in part shade. It is also important to plant in layers to create habitat for wildlife, and Frostweed can help you achieve this.
6. It is deer resistant
Those of us share our yards with white tailed deer can be frustrated when it comes to finding plants they don't gobble up. Good news – deer tend to stay away from frostweed!
I have some Frostweed planted in the wildflower bed behind my fence that is fair game to deer. However, they have left it completely alone!
7. It is a butterfly host plant
Another reason to add Frostweed to your pollinator garden – is the host plant for the Bordered Patch butterfly! Host plants are critical because they provide food for butterfly caterpillars.
Different species of butterflies require different species of plants to lay their eggs on. These are the specific plants that their caterpillars can eat. For Monarchs, it is Milkweed. For the Bordered Patch, it is plants from the Sunflower family including Frostweed.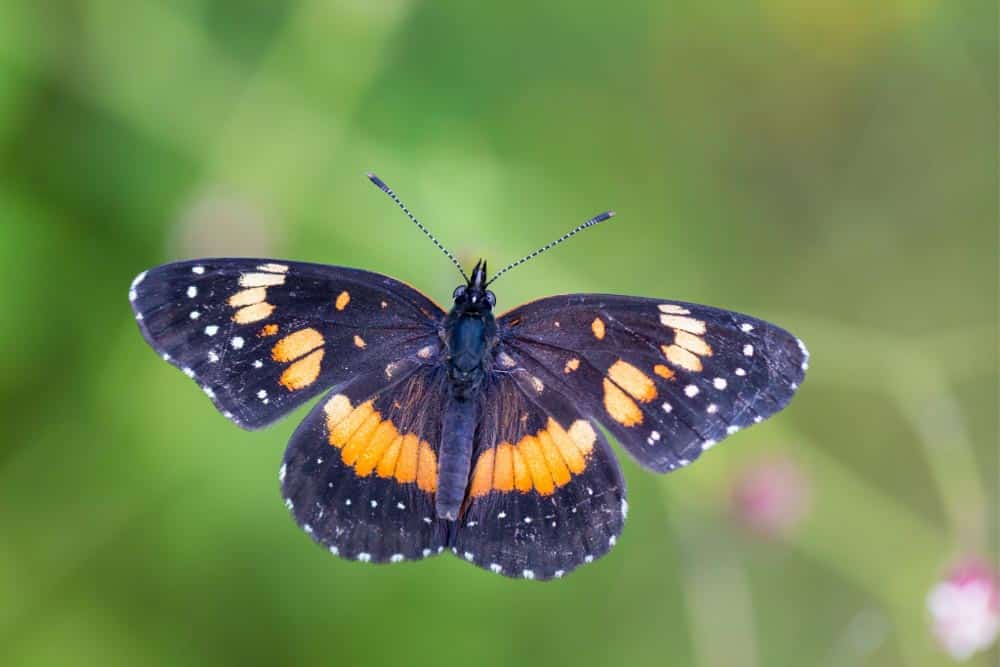 Download the Free PDF: Native Nectar Plants
Want all the pollinators in your yard? I created a handy one-page PDF for you to print and take along with you to the plant nursery. It includes a thumbnail photo of each plant along with both its common and scientific name, shade requirements, and other helpful growing info. Get it here: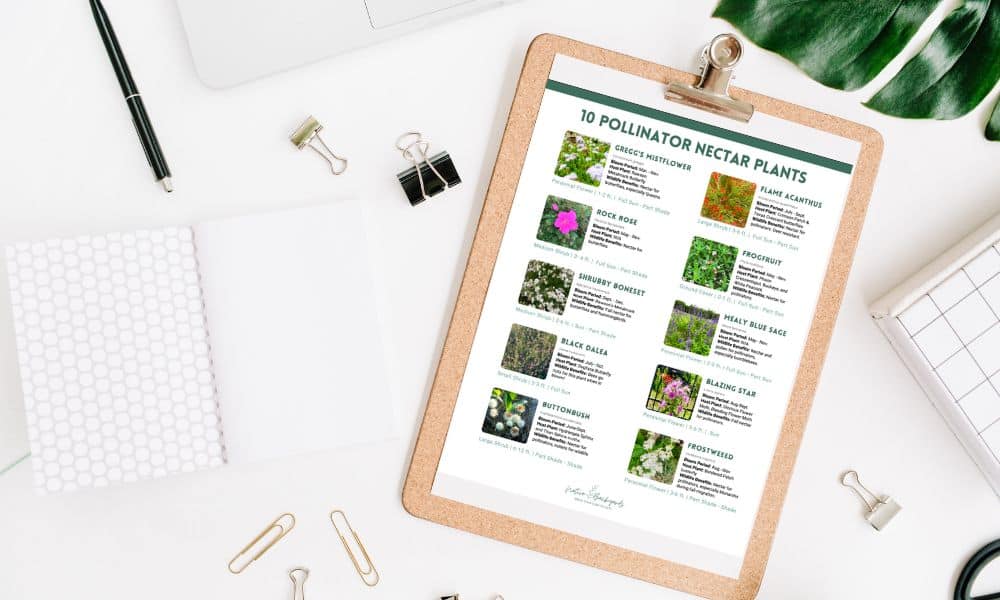 What does Frostweed (Verbesina virginica) look like?
Frostweed is a perennial forb – meaning it is a herbaceous (not woody) flowering plant that returns each year. It has large leaves that are soft, dark green. Frostweed typically grows 3-6 feet tall. It can grow up to 8 feet in wetter conditions.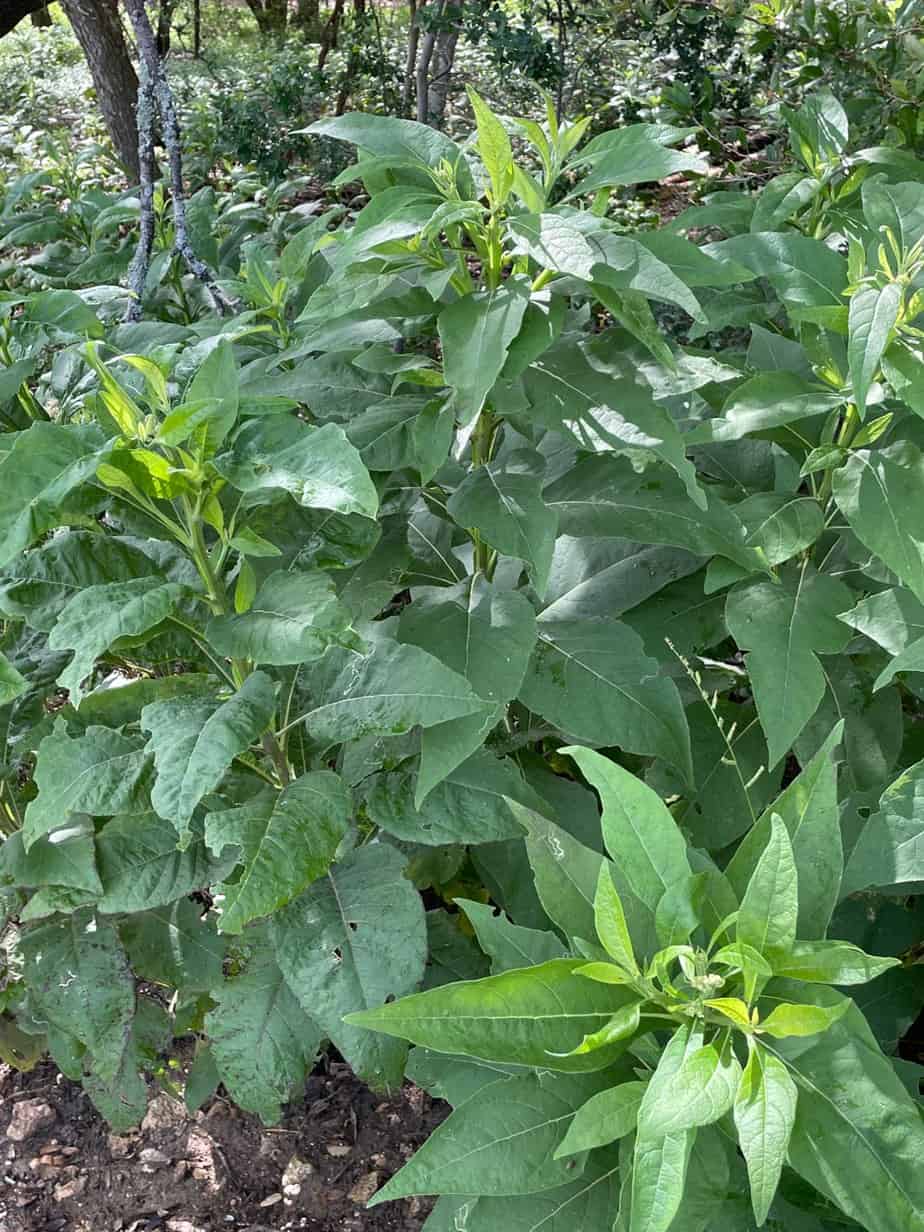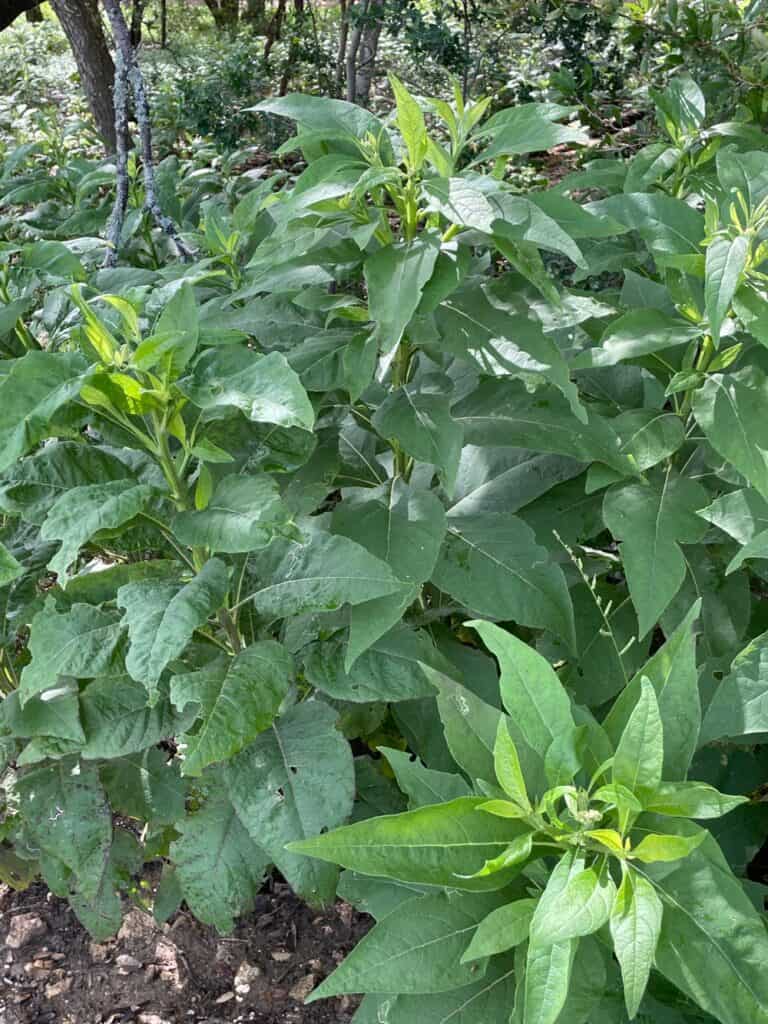 Starting in August it is covered in large clusters of white flowers with ray florets.While each individual flower is small, the clusters are several inches wide. They provide the perfect landing area for multiple pollinators to enjoy a drink together!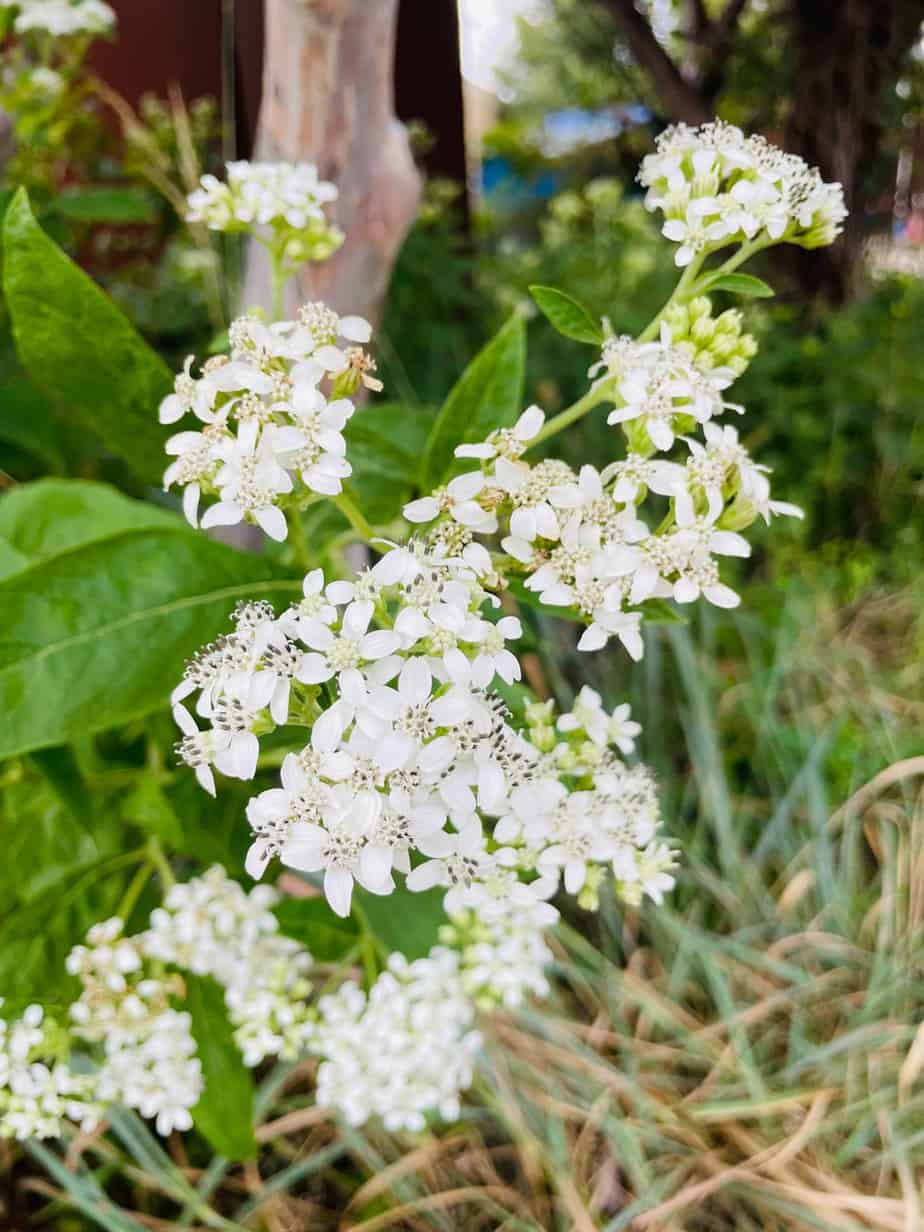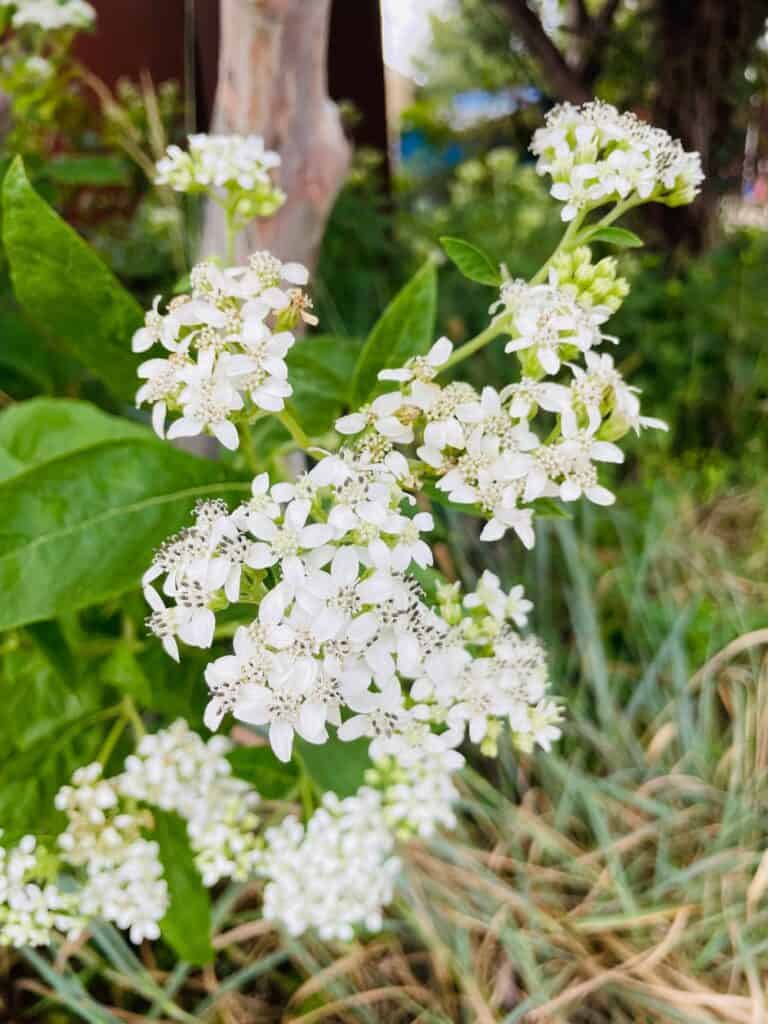 Verbesina virginica is an understory plant. You'll often see it growing under oak or pecan trees here in Central Texas.
Where is Verbesina virginica native to?
Frostweed is native to 22 states in the south Eastern United States. Its native range extends from the Atlantic Coast to Texas. It grows well in Zones 8-11. Here is a list of states where it is native to:
Alabama
Arkansas
District of Columbia
Florida
Georgia
Iowa
Illinois
Indiana
Kansas
Kentucky
Louisiana
Maryland
Missouri
Mississippi
North Carolina
Ohio
Pennsylvania
South Carolina
Tennesee
Texas
Virginia
West Virginia
Want to find other native plants native near you? Be sure to check out my list of native plants by state!
What are the other common names for Verbesina virginica?
A plant has only one scientific (Latin) name. This plant's scientific name is Verbesina virginica.
However, a single plant can have many common names. In addition to being called Frostweed, it also goes by White Crownbeard, Virginia Crownbeard, Iceplant, and Iceweed.
Common names can be confusing, because very different plant species can have the same common name. For instance, there are other plants that go by the common name "Frostweed" because they also are frost flowers that create frost ribbons when it freezes.
Helianthemum canadense is one example of a very different plant that goes by common name Frostweed.
How do you grow Frostweed?
Since Frostweed loves growing along the borders of woodlands, it is a great understory plant to place under trees or in a partly shaded area of your yard. It prefers light shade, but can grow in partial sun to full shade conditions. Frostweed is a drought tolerant plant that likes well drained soil. It will grow taller and weedier in wet soil.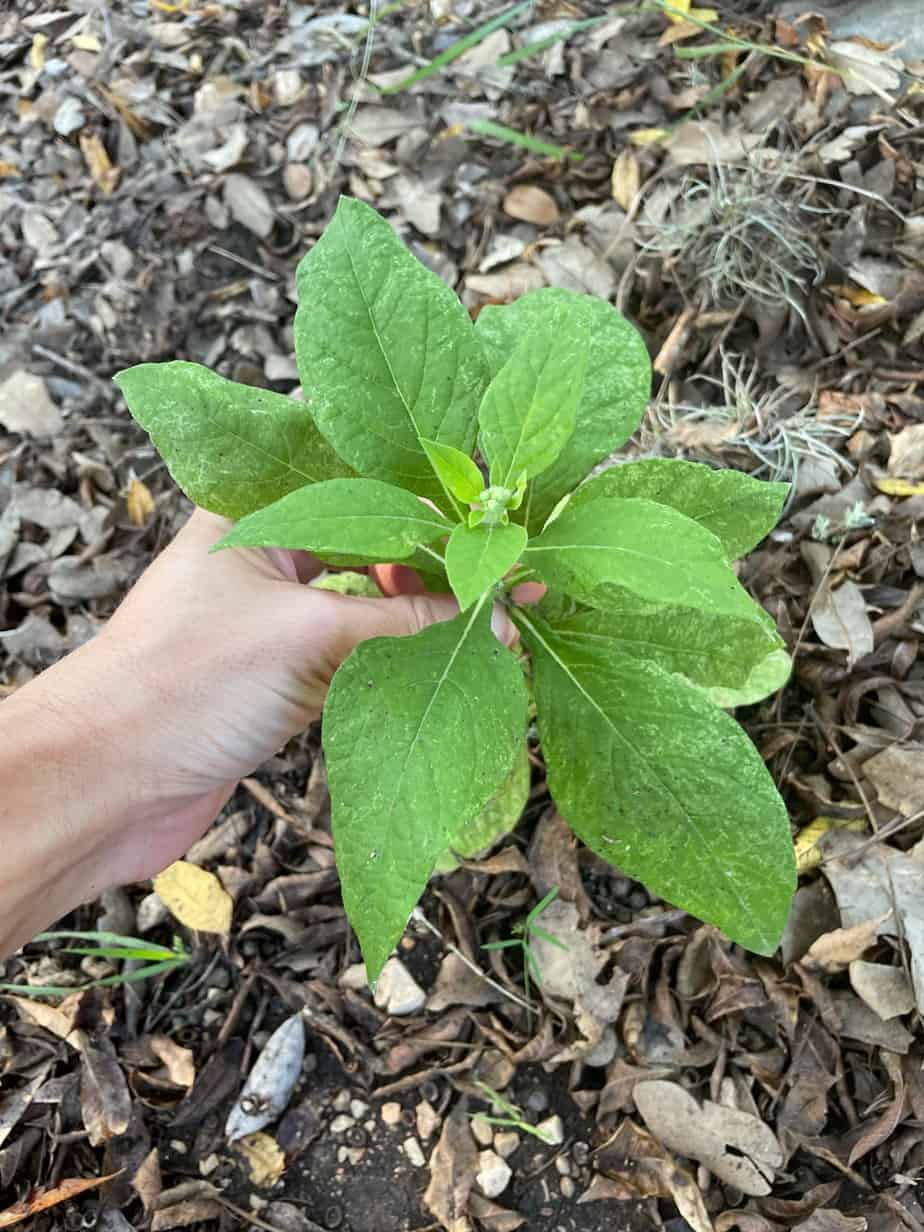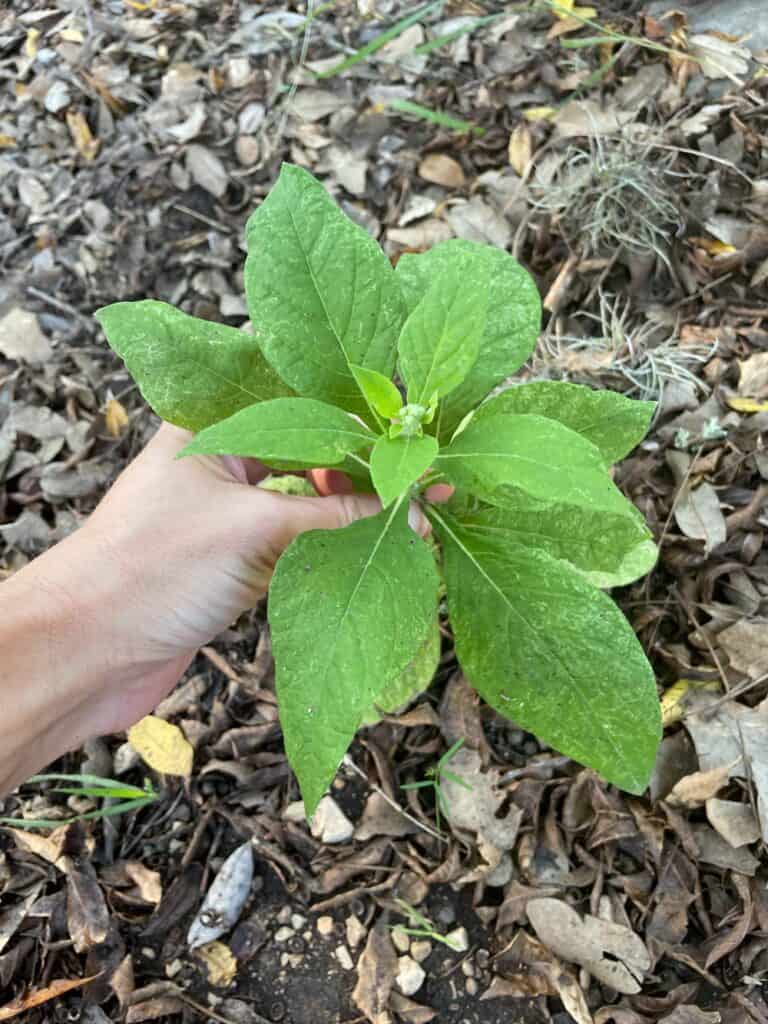 How do you propagate Frostweed?
You can propagate Verbesina virginica by sowing its seeds or by dividing its fibrous roots. Wait until the plant is dormant in the winter to divide it.
Frostweed is one of those plants notorious for spreading quickly and forming sizable colonies, so if you want to contain it to a certain area be sure to cut off its seed heads after it blooms to prevent seed dispersal.
What other native plants can you pair with Frostweed?
Because Frostweed doesn't bloom until the fall, it can be nice to pair its dark green leaves with another shade tolerant plant that can provide blooms during the spring and summer. It also grows tall, making it a good background plant. I recommend mixing it with Turk's Cap which grows a similar height and can provide red blooms during spring and summer.
Other beautiful pairings for Verbesina virginica that would look great growing at the base of the plants include:
Gregg's Mistflower (grows 2 feet tall with beautiful purple flowers that attract Queen butterflies)
Pigeonberry (1-2 ft. tall groundcover with pinkish red blooms and tiny red berries)
Chili Pequin (shade tolerant plant covered in tiny red peppers that birds love)
Inland Sea Oats (shade loving ornamental grass with beautiful seedheads)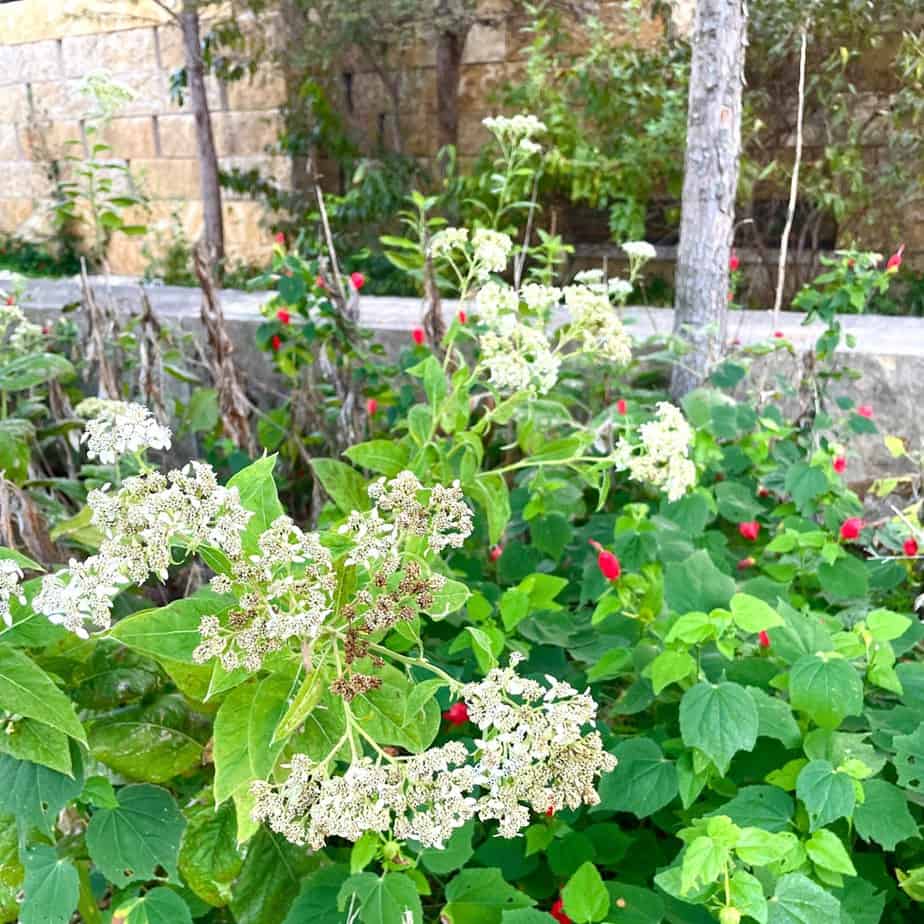 Where can you buy Frostweed (Verbesina virginica)?
Frostweed can be hard to find at the nursery. Perhaps the word "weed" in its name makes it a poor seller! However, you can purchase Frostweed seeds from my favorite online native seed source – Native American Seeds. You can also check your local Native Plant Society for upcoming sales, as they may have it available.
Pin this to help spread the word about Frostweed!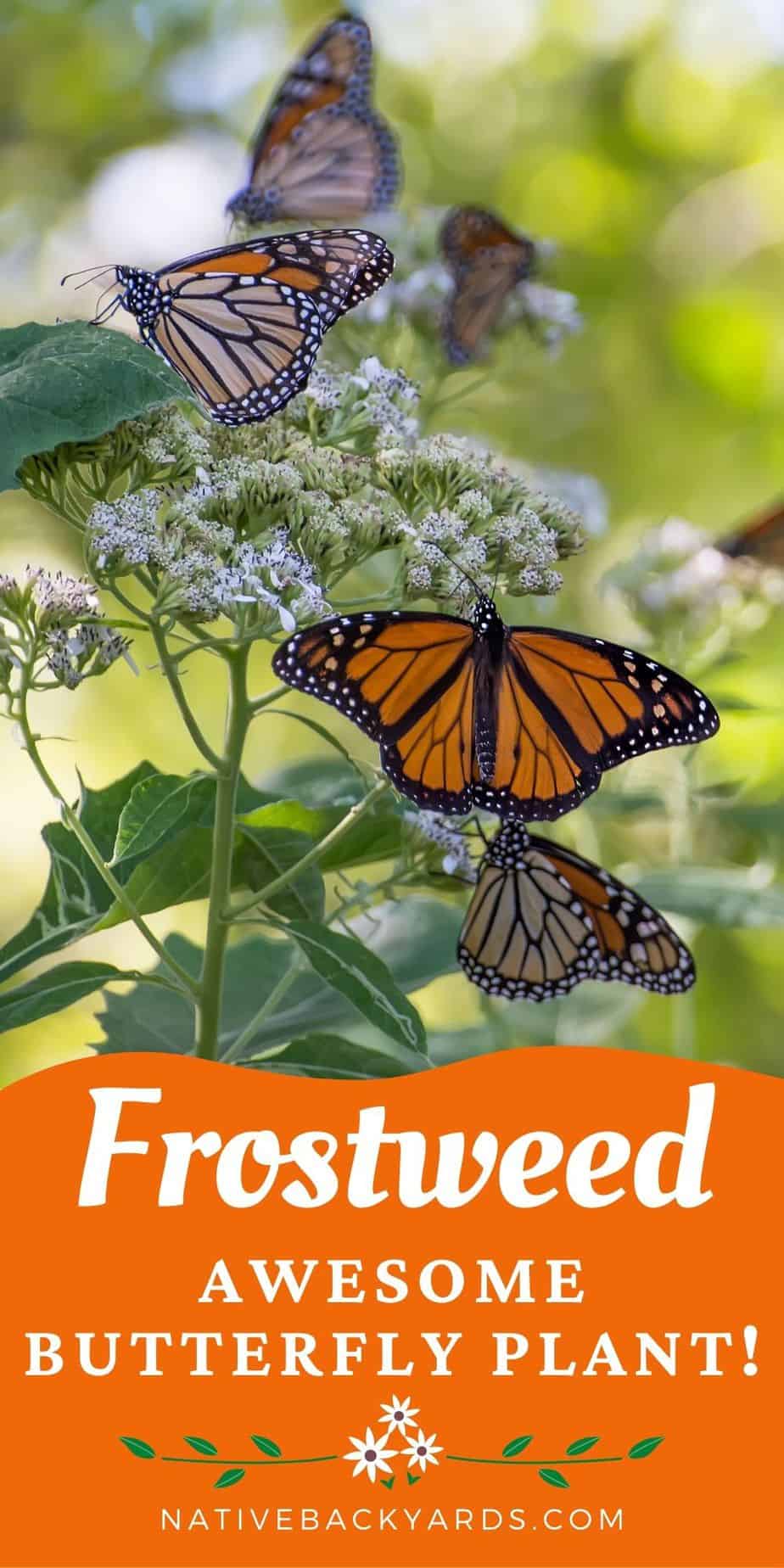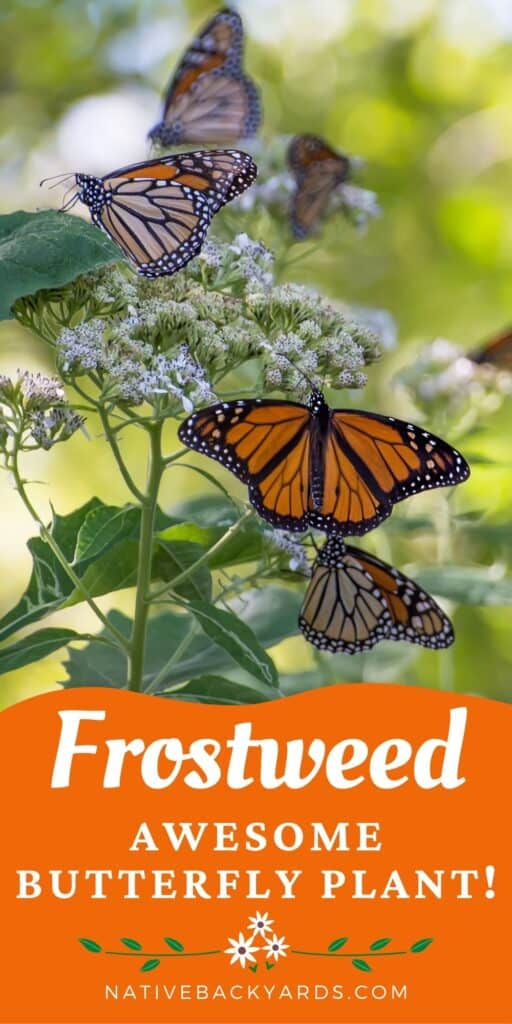 Frostweed: PRINTABLE Plant Care Guide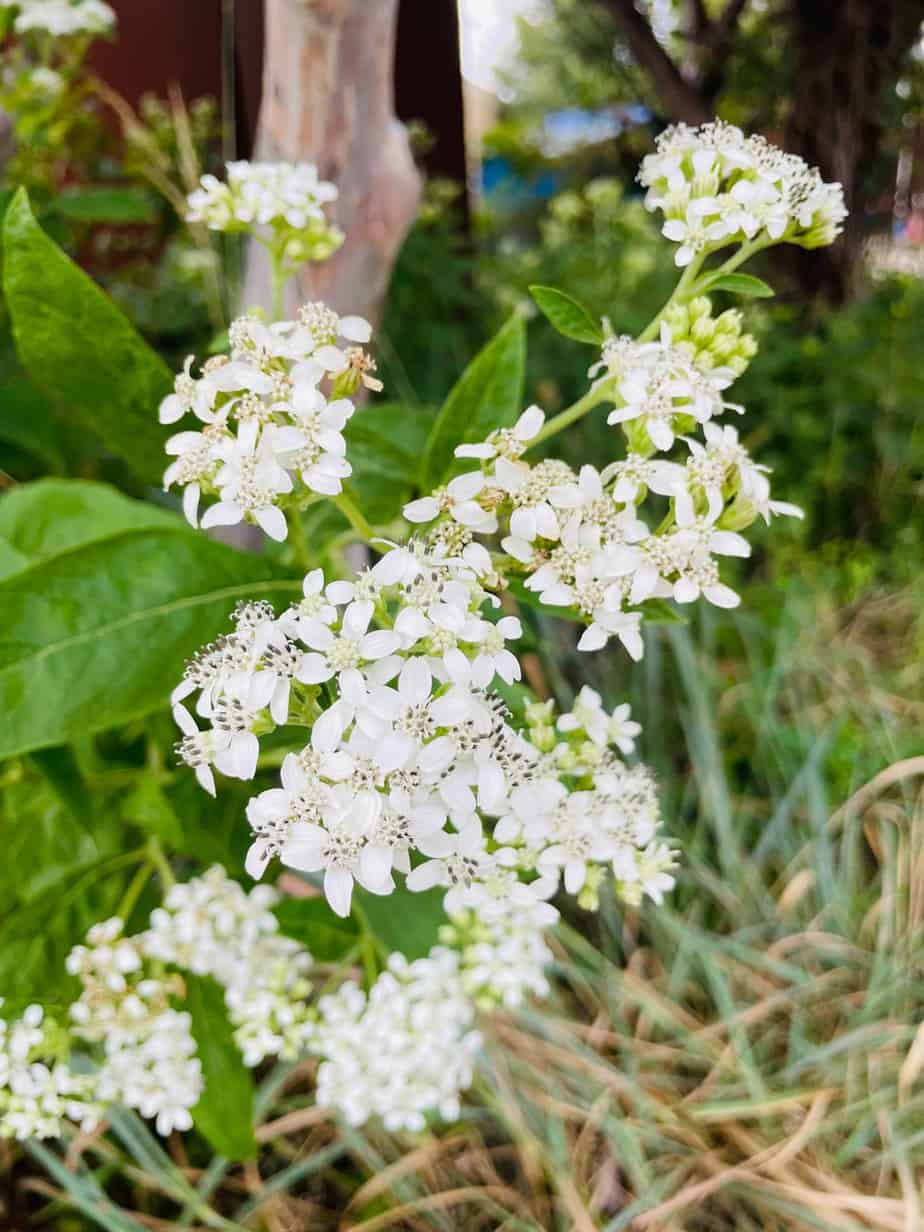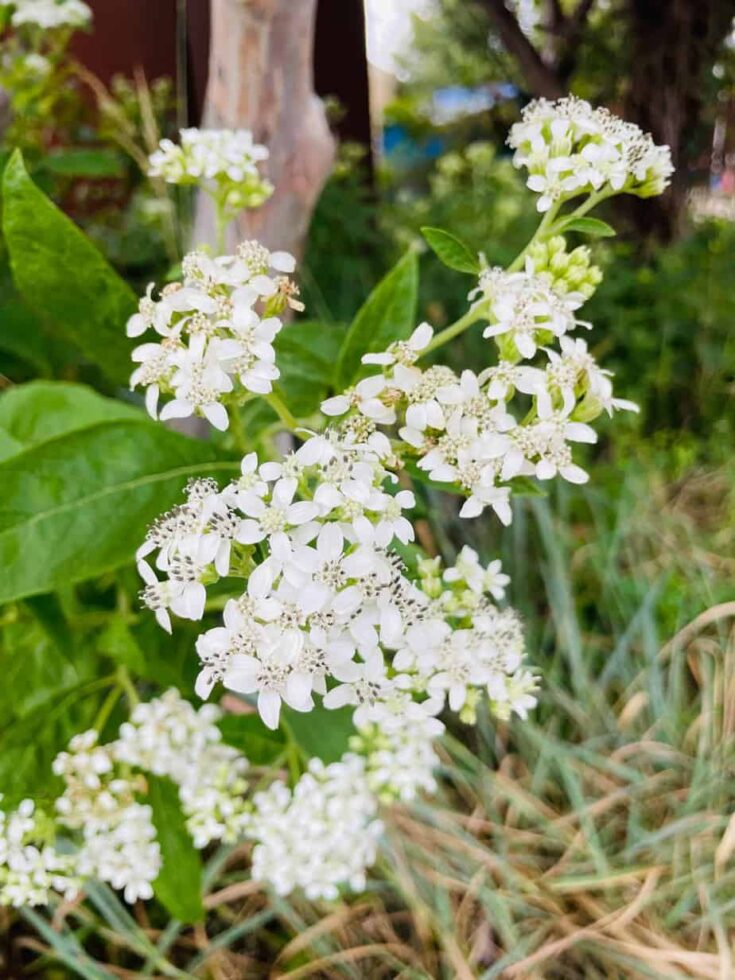 Scientific Name:
Verbesina virginica
Native to:
South Eastern and South Central United States
Mature Height and Width:
3-6 ft. tall
Sun Conditions:
Part Shade to Shade
Water Needs:
Likes well-drained, dry to moist soil.
Wildlife Benefits:
Excellent fall nectar plant for pollinators, especially Monarchs during fall migration. Host plant for Bordered Patch butterfly.
Instructions
Watering
Prefers well-drained soil. Requires minimal supplemental water in shady areas.
Pruning
Cut dormant plants to a few inches above the ground in late winter or early spring.
Propagating
Frostweed can be propagated by root division when dormant in the winter or by scattering seeds.
Recommended Products
As an Amazon Associate and member of other affiliate programs, I earn from qualifying purchases.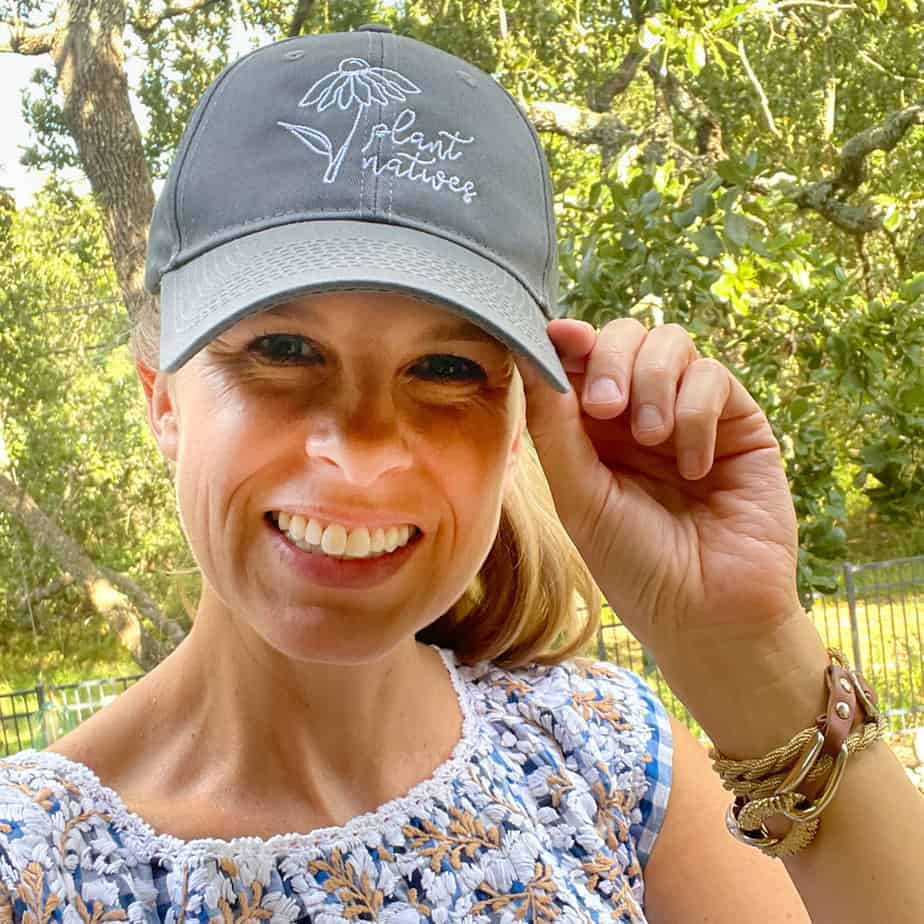 Welcome to Native Backyards! I'm Haeley from San Antonio, Texas, and I want to help you grow more native plants.
I have seen firsthand how the right plants can bring your yard to life with butterflies, bees, and birds. I've transformed my yard with Texas natives and I'm excited to share what I've learned with you.
Join my newsletter here! – each week I'll send you helpful tips to make your native plant garden a reality!
Want to learn more about me and my garden? Check out my About page!