5 Benefits of Growing Greggs Mistflower
If you want to bring your yard alive with pollinators, Gregg's Mistflower is a must-have plant for your garden. Come fall, its fluffy purple blooms will be covered with Queen butterflies, and plenty of Monarchs too. They use the flower as an important nectar source during their fall migration.
Want to attract more butterflies to your yard? Be sure to download my FREE Pollinator Nectar Plants PDF. Take this handy one-pager to the nursery to get the native plants that pollinators LOVE!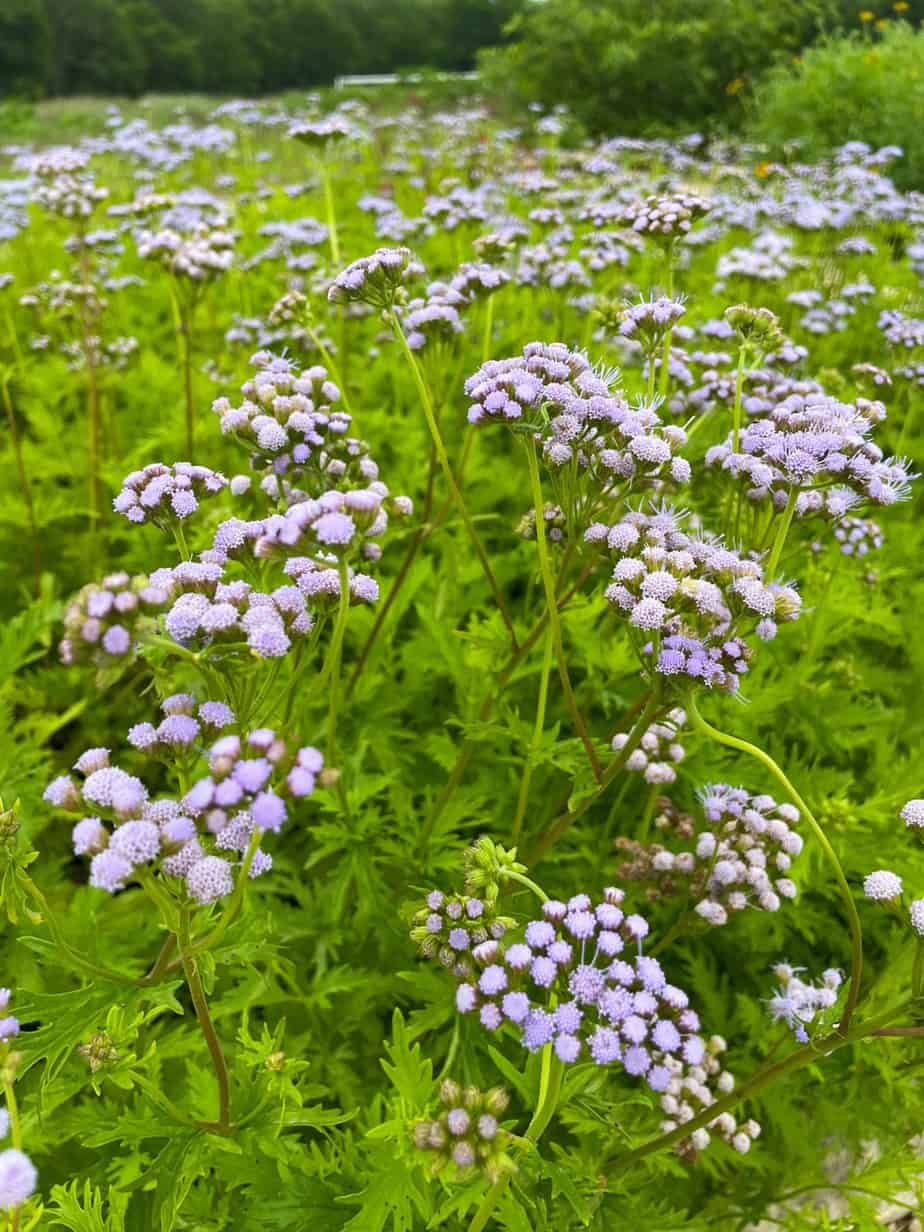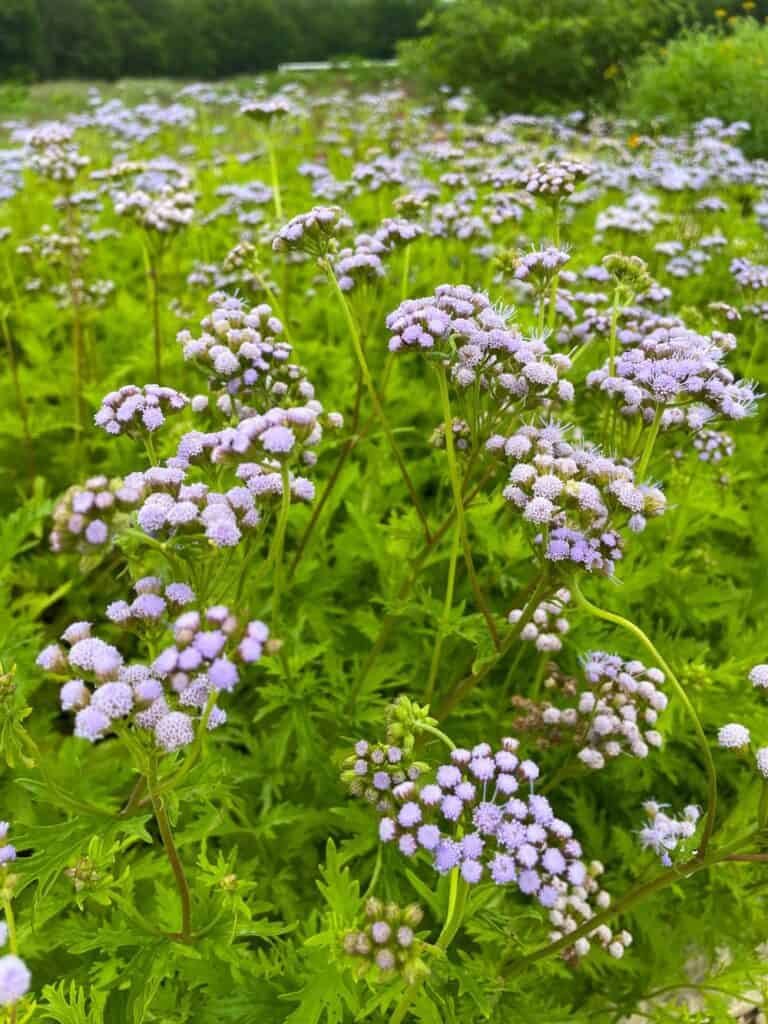 5 Benefits of Growing Gregg's Mistflower
1. Awesome nectar plant for Queen and Monarch butterflies
Come fall it will be covered in Queen butterflies who rely on this plant for nectar. It is also an important nectar source for Monarchs and helps them during their migration. In addition to being a great nectar plant, it is also a host plant for the Rawson's Metalmark butterfly. Learn how to attract more butterflies to your yard.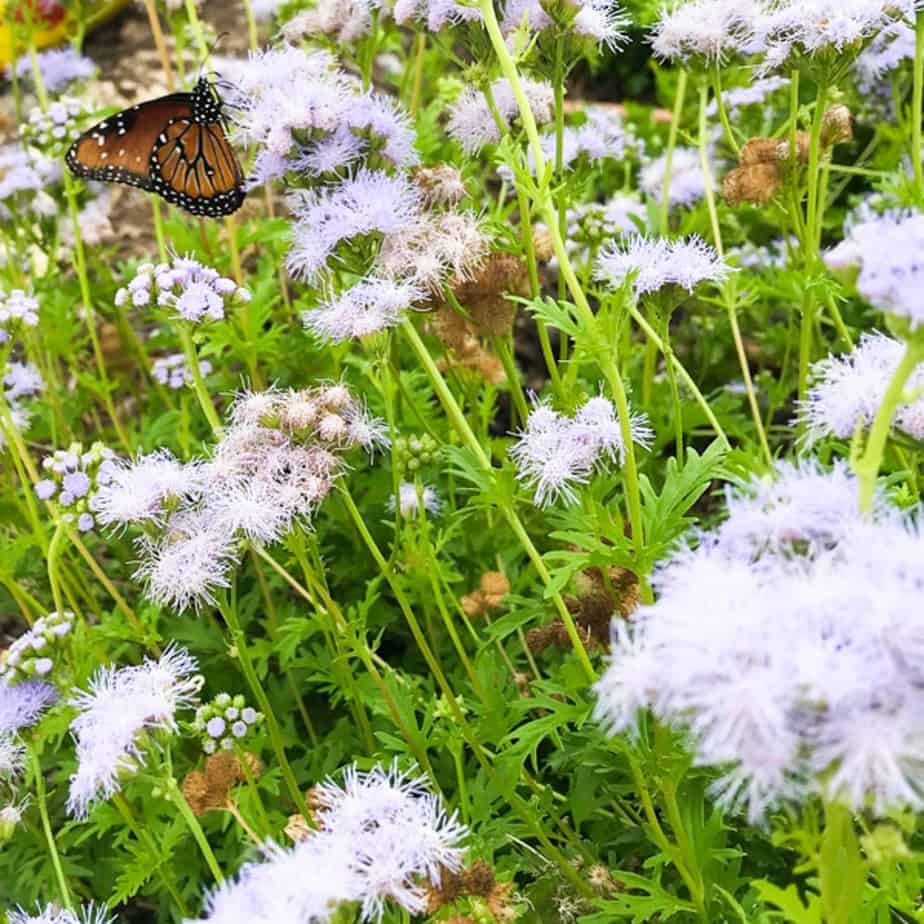 2. Unique purple flowers from spring until fall
Unlike some perennials in your flower garden, Conoclinium greggi can be relied on to bloom consistently from March through November. Its clusters of fluffy light purple flowers are also very pretty and unique from anything else I've seen. They make pretty additions to a backyard flower bouquet!
3. Performs well in part shade
It can be hard to find flowering natives that don't require full sun, but Greggs Mistflower is one of them. It actually likes a little bit of filtered sun or part shade. It can perform great in full sun too, as long as it has some water.
4. Easy to grow in pots
I like to grow Gregg's Mistflower in pots along with annuals. I think it looks pretty mixed with Dusty Miller and some Coleus for color. Its wispy stems give the plant some movement. Some stems will be upright, and others may flow over the pot. You can always do a little pruning if it gets unwieldy!
5. Spreads quickly and easy to propagate
If you want to cover an area with Gregg's Mistfower, it will happily spread quickly by rhizomes. It can be aggressive, so it requires some care if you want to keep it to a limited area.
However, it is easy to pull up if it starts growing out of your desired location. Dig some up and give it to friends! Gregg's Mistflower looks especially pretty in a prairie or wildflower garden setting.
Download the Free PDF: Native Nectar Plants
Want all the pollinators in your yard? I created a handy one-page PDF for you to print and take along with you to the plant nursery. It includes a thumbnail photo of each plant along with both its common and scientific name, shade requirements, and other helpful growing info. Get it here: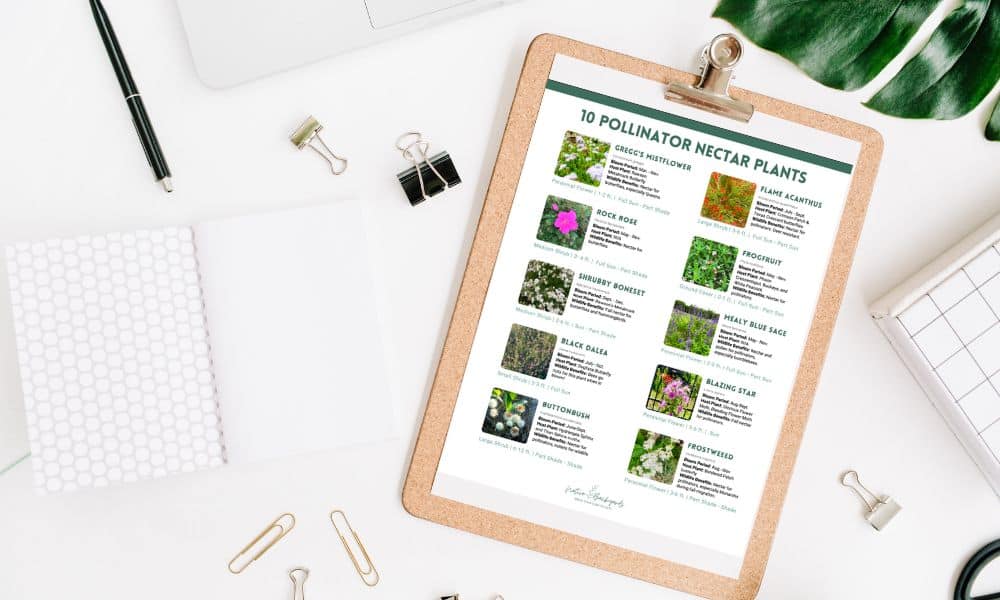 Names for Gregg's Mistflower
Scientific Name: Conoclinium greggi
The scientific (Latin) name for Gregg's Mistflower is Conoclinium greggi. The plant was named after Josiah Gregg, and early botanist who traveled through Texas in the 1840s. He has over 20 native plants named after him, including another one of my favorites, Salvia greggi (Autumn Sage).
It is important to write down the scientific name of the plant when heading to the nursery to make sure you get the right plant! Good nurseries will have signage & plant labels with the scientific name.
Other Common Names
While each plant can only have one scientific name, it can have many different common names, which can be confusing!
I have always heard this plant referred to as Gregg's Mistflower or Gregg's Blue Mistflower (although I think the blooms are more purple than blue). However another common name is Thoroughwort. Not as pretty of a name if you ask me!
Where is Greggs Mistflower Native To?
This pretty plant is native to Texas (mostly West Texas), Arizona and New Mexico.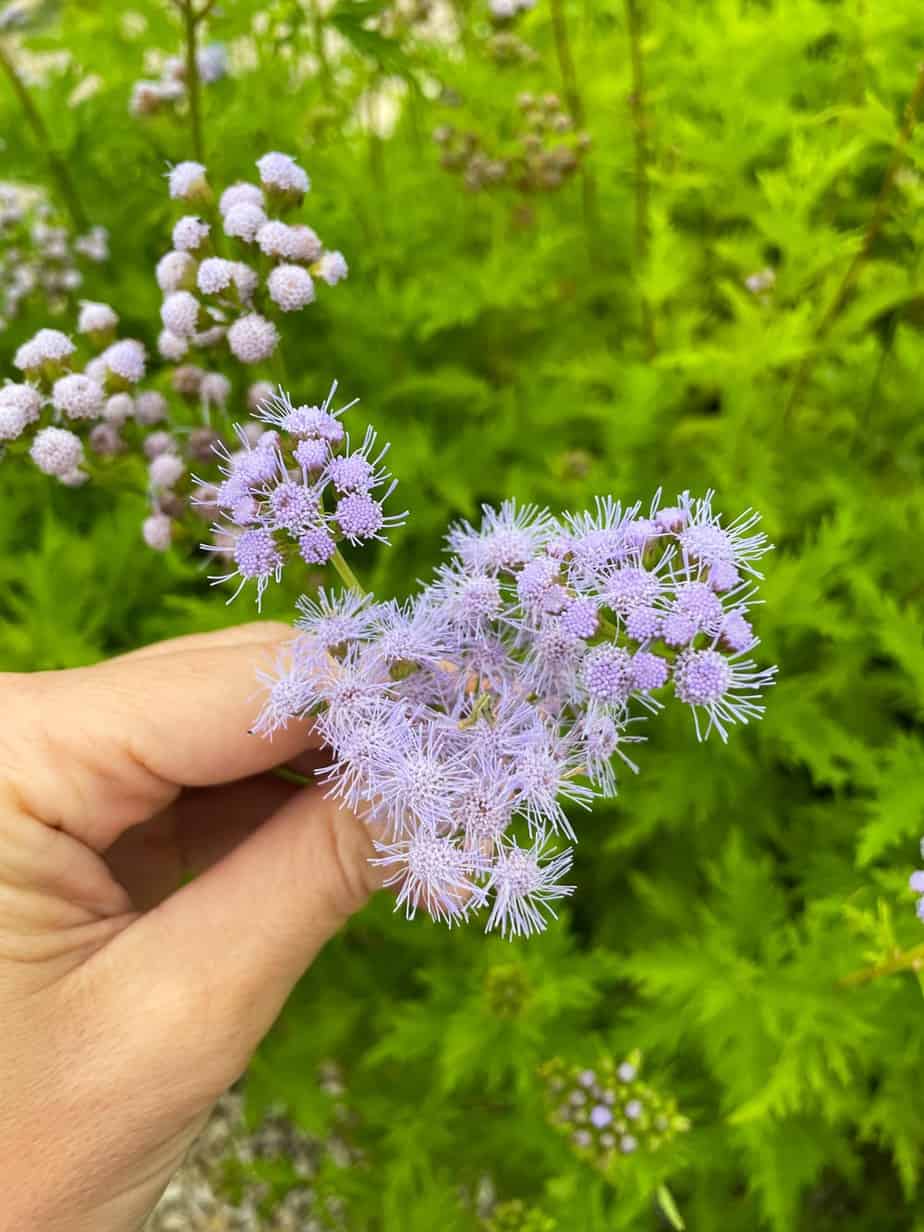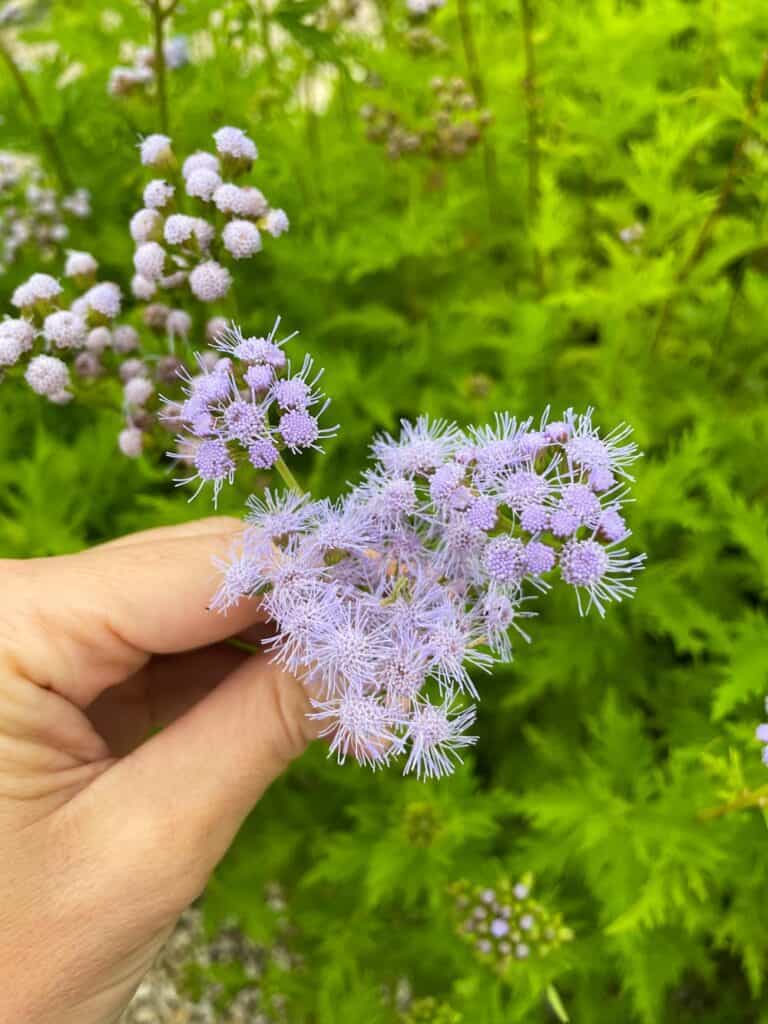 Gregg's Mistflower vs. Other Mistflower Plants
You might also hear of a "Blue Mistflower" or "Fragrant Mistflower". These are actually different plants than Gregg's Mistflower. The main difference in identifying them is in the leaves.
Blue Mistflower (Conoclinium coelestinum): also called Blue Boneset. This plant looks very similar to Gregg's Mistflower but its leaves are triangular while Gregg's are palmate (hand shaped).
Fragrant Mistflower (Chromolaena odorata): also called Blue Boneset and Fragrant Boneset. This also looks very similar to Gregg's Mistflower but has triangular leaves similar to Blue Mistflower.
White Mistflower (Ageratina havanensis): also called Shrubby Boneset. It has similar flowers to Gregg's Mistflower but the blooms are white.
Confused yet?! This is just an example of why using the scientific names is so important. The good news is these are all Texas native plants, so you really can't go wrong with any of them!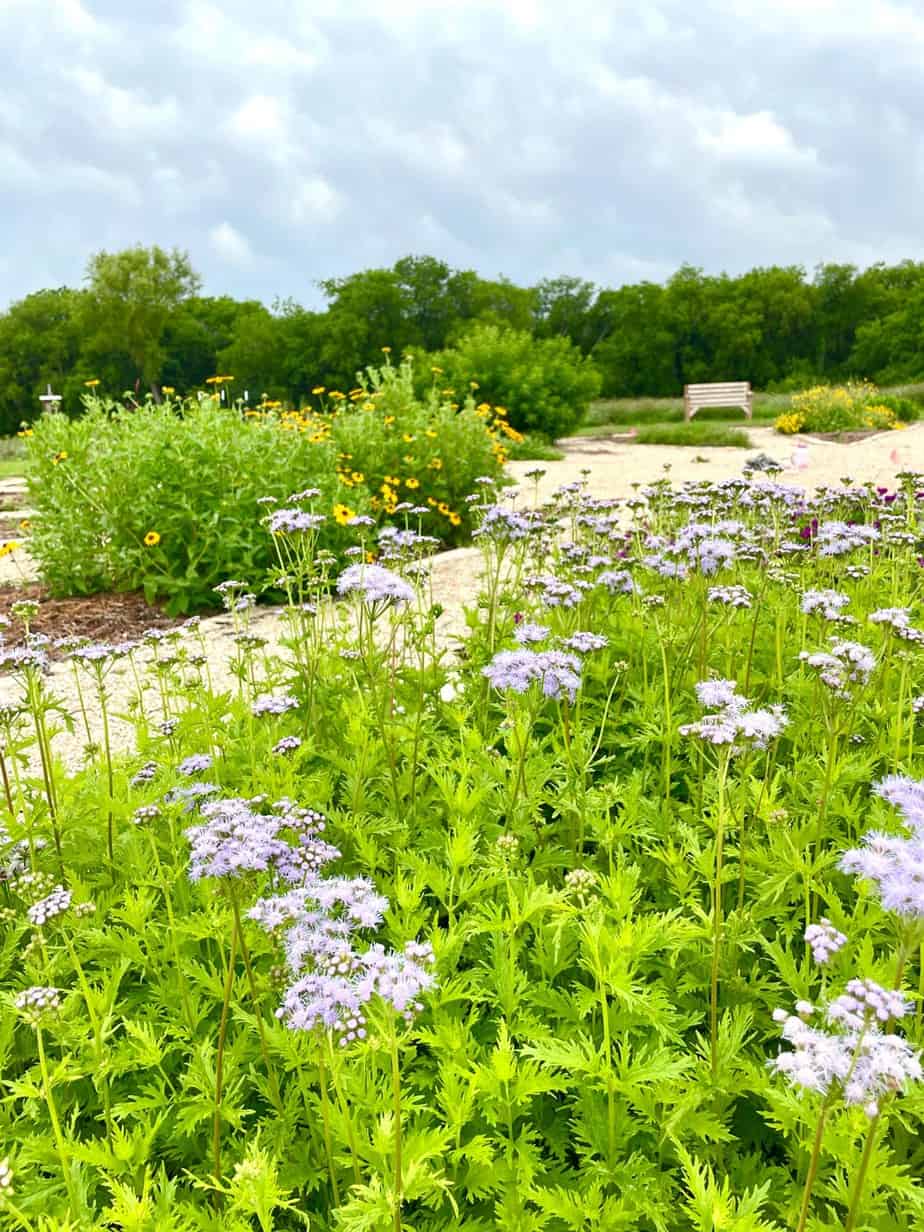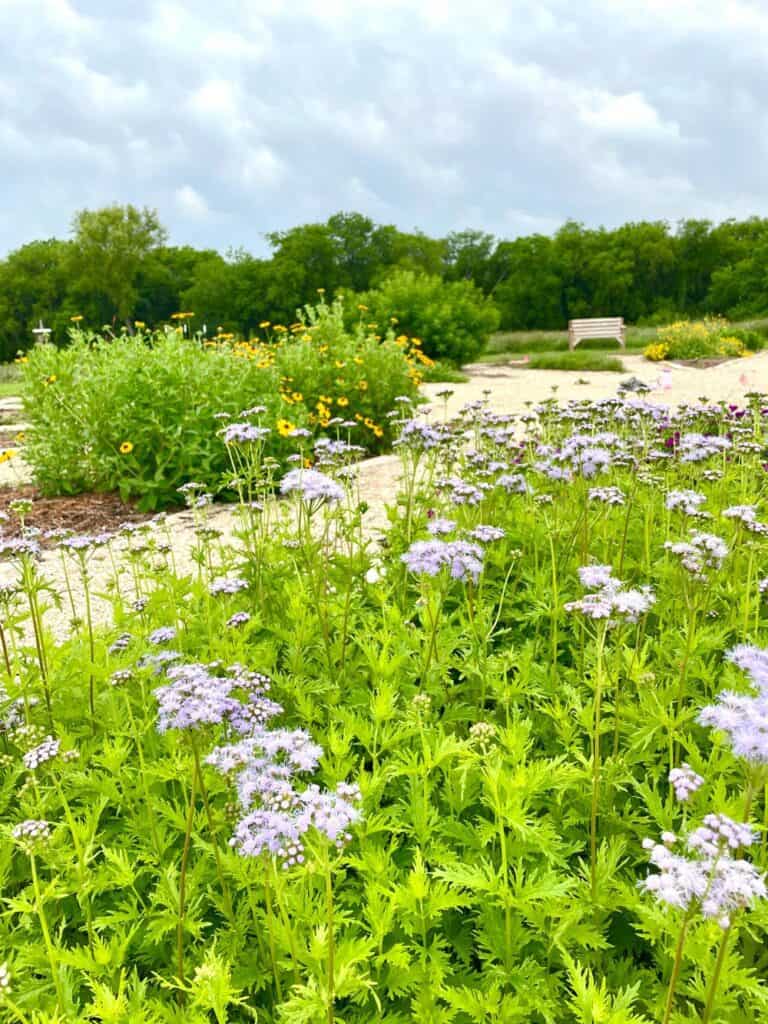 How to Grow Greggs Mistflower
Water weekly in the heat of summer, especially if it is in full sun. Gregg's Mistflower will die back to the ground in the winter, so you may want to intersperse it with some evergreen plants.
Answers to Common FAQs
When should I cut back my Mistflower?
I like to cut it back to the ground after it turns brown in winter, or you can wait until early spring when you see new growth appear at the base. You can also trim it back in late spring if it gets too unwieldy!
How do you propagate Gregg's Mistflower?
There are several ways to easily propagate Gregg's Mistflower. You can collect the seeds in the fall, cut softwood cuttings to root with a root hormone, or dig up new growth in the spring.
Is Mistflower invasive?
While the term "invasive" is reserved for non-native plants, native Gregg's Mistflower can be aggressive! However it is easy to pull any that escape beyond the area where you want it to grow.
Is Gregg's Mistflower deer resistant?
No, unfortunately deer really like to eat Gregg's Mistflower. You'll want to keep this one out of their reach!
Pin this image to spread the word about Greggs Mistflower!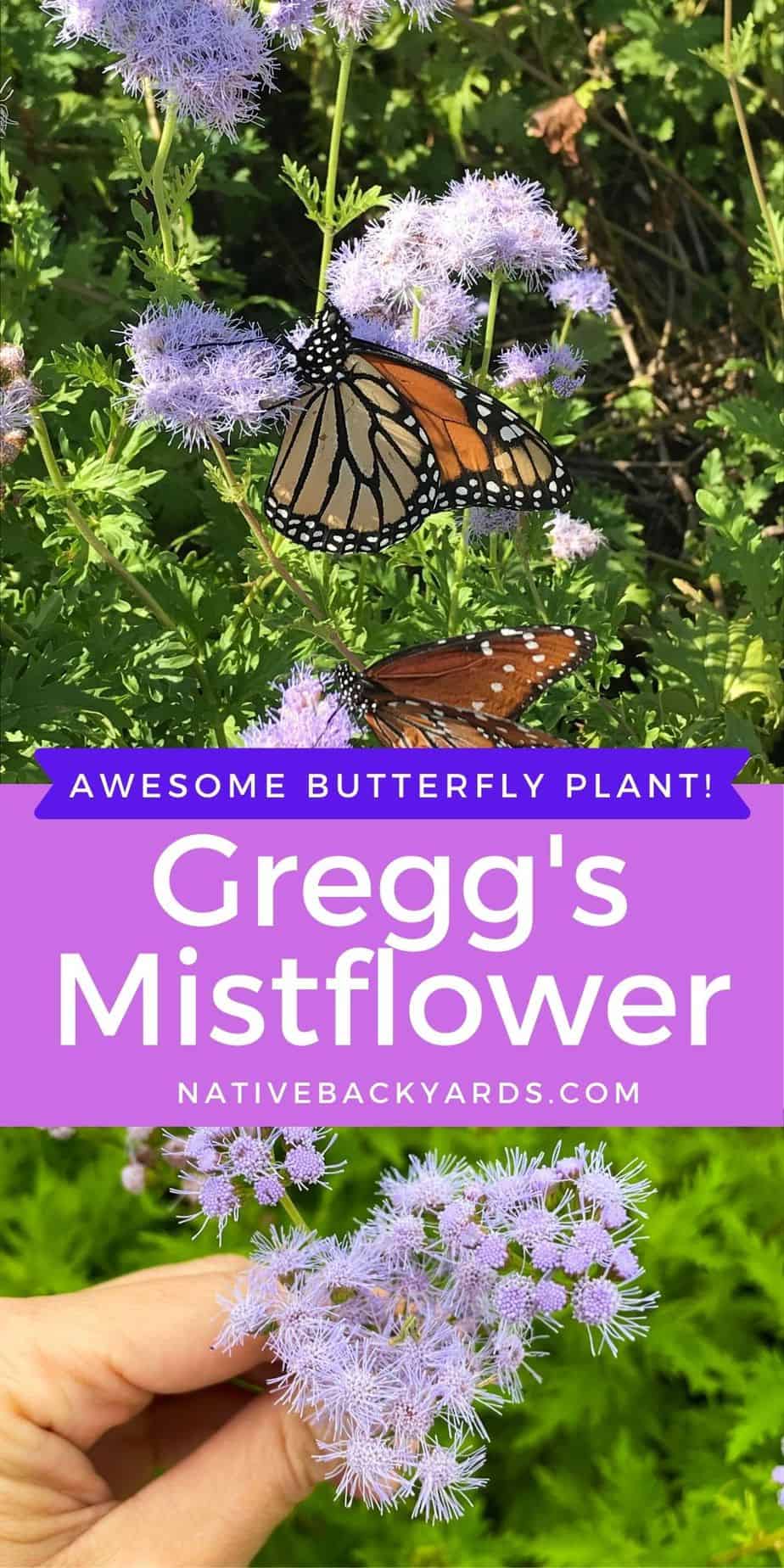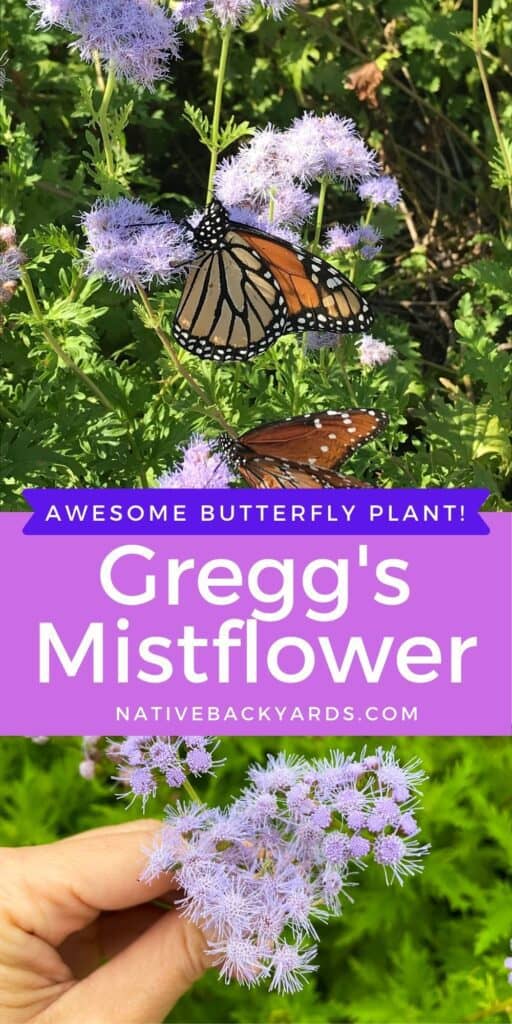 Gregg's Mistflower: PRINTABLE Plant Care Guide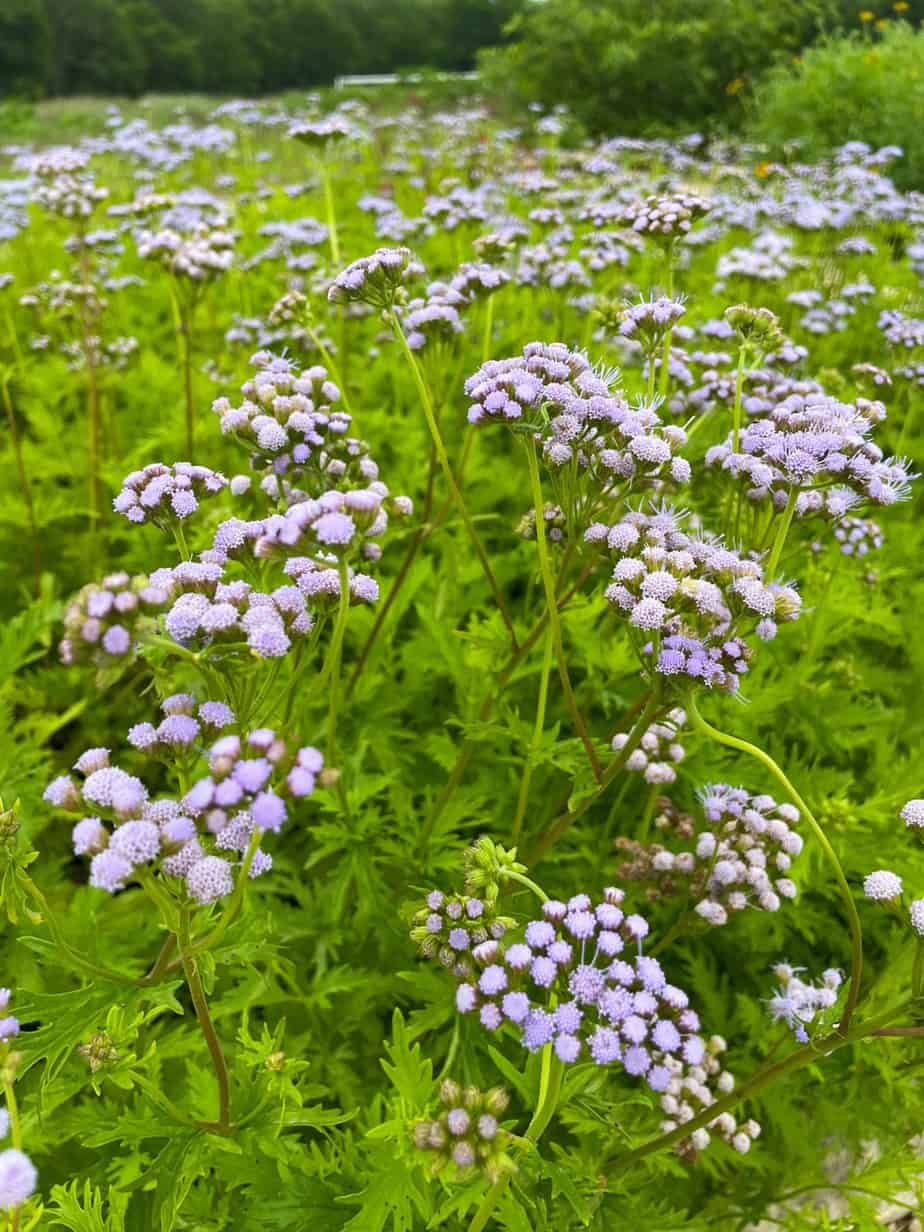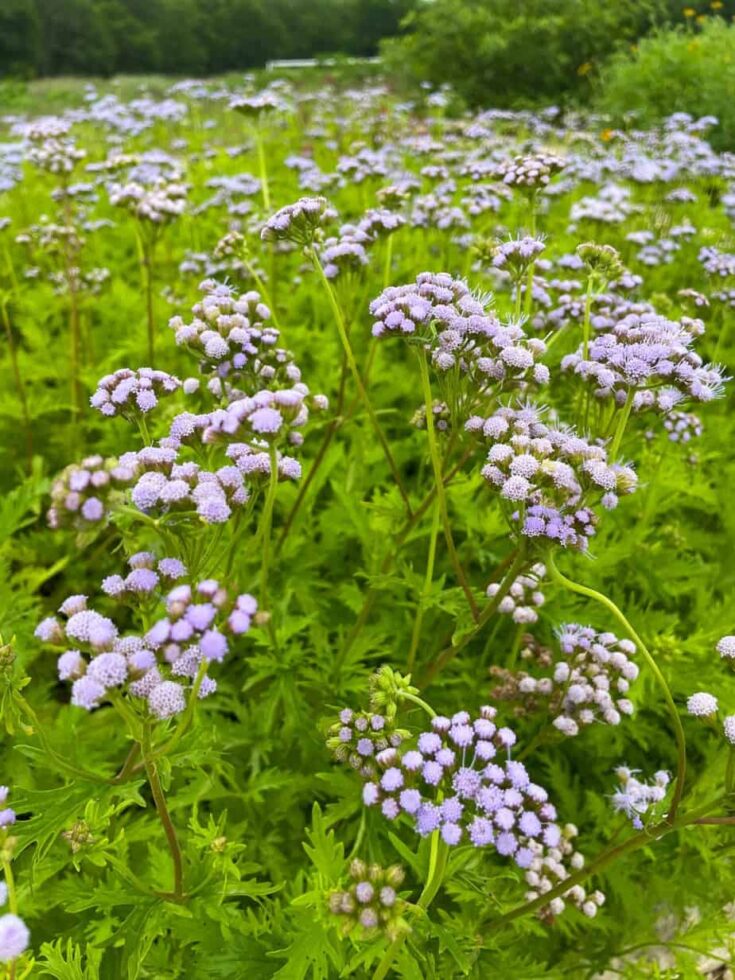 Scientific Name:
Conoclinium greggii
Native to:
TX, NM, AZ
Mature Height and Width:
2 ft.
Bloom Period:
Mar-Nov
Sun Conditions:
Part Sun to Full Sun
Water Needs:
Does best with a weekly watering during the hottest season.
Wildlife Benefits:
Host plant to Rawson's Metalmark butterfly. Great nectar plant for Queen and Monarch butterflies.
Tools
Instructions
Planting
Plant by seed or transplant. Likes limestone soil, especially near water.
Watering
Water regularly to establish and then weekly during the hottest summer months, especially when in full sun.
Propagating
Propagate by seed, soft wood cuttings and rooting hormone, or by digging up new growth in the spring.
Recommended Products
As an Amazon Associate and member of other affiliate programs, I earn from qualifying purchases.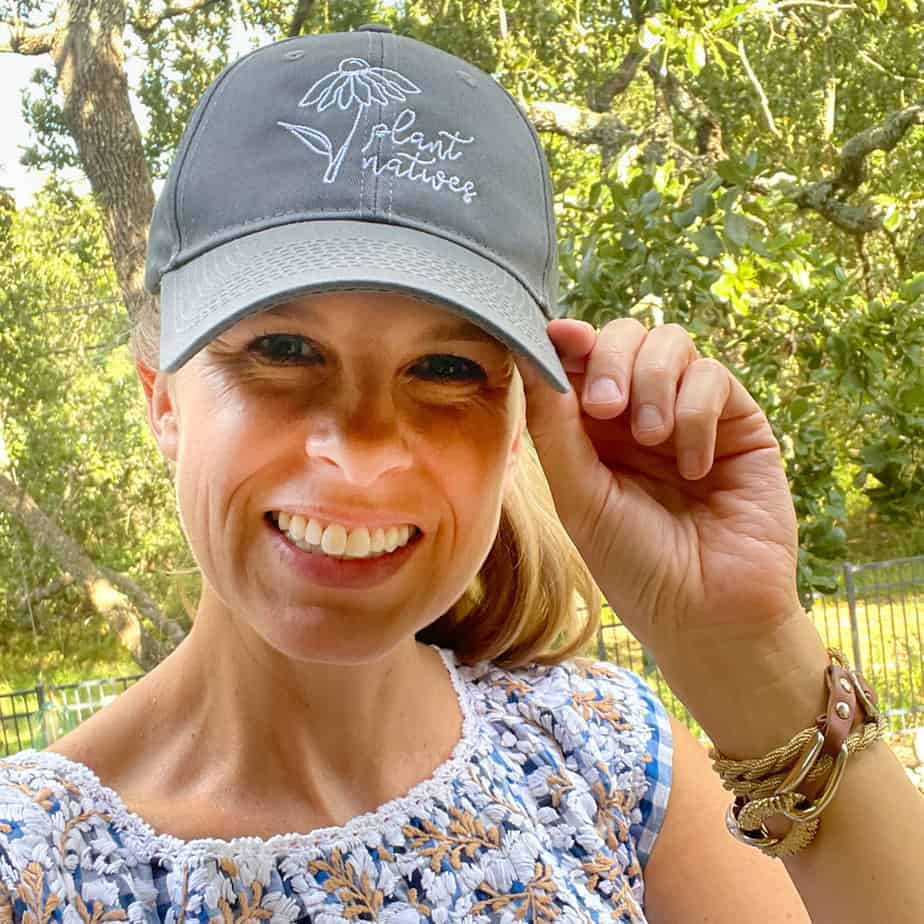 Welcome to Native Backyards! I'm Haeley from San Antonio, Texas, and I want to help you grow more native plants.
I have seen firsthand how the right plants can bring your yard to life with butterflies, bees, and birds. I've transformed my yard with Texas natives and I'm excited to share what I've learned with you.
Join my newsletter here! – each week I'll send you helpful tips to make your native plant garden a reality!
Want to learn more about me and my garden? Check out my About page!