5 Great Reasons to Grow Inland Sea Oats
Have you heard of Inland Sea Oats (Chasmanthium latifolium)? It is one of my new favorite native grasses! I have always loved the look of ornamental grasses mixed into landscaped areas. I often like to use them in container pots as well.
However, the one drawback with ornamental grasses is they typically need full sun to look their best. In my yard dotted with large live oak trees, a full sun spot is tough to find!
That is not the case with Inland Sea Oats. This grass performs just as beautifully in partial shade. In fact, it is the perfect plant to incorporate into a shady spot of your yard or gardens.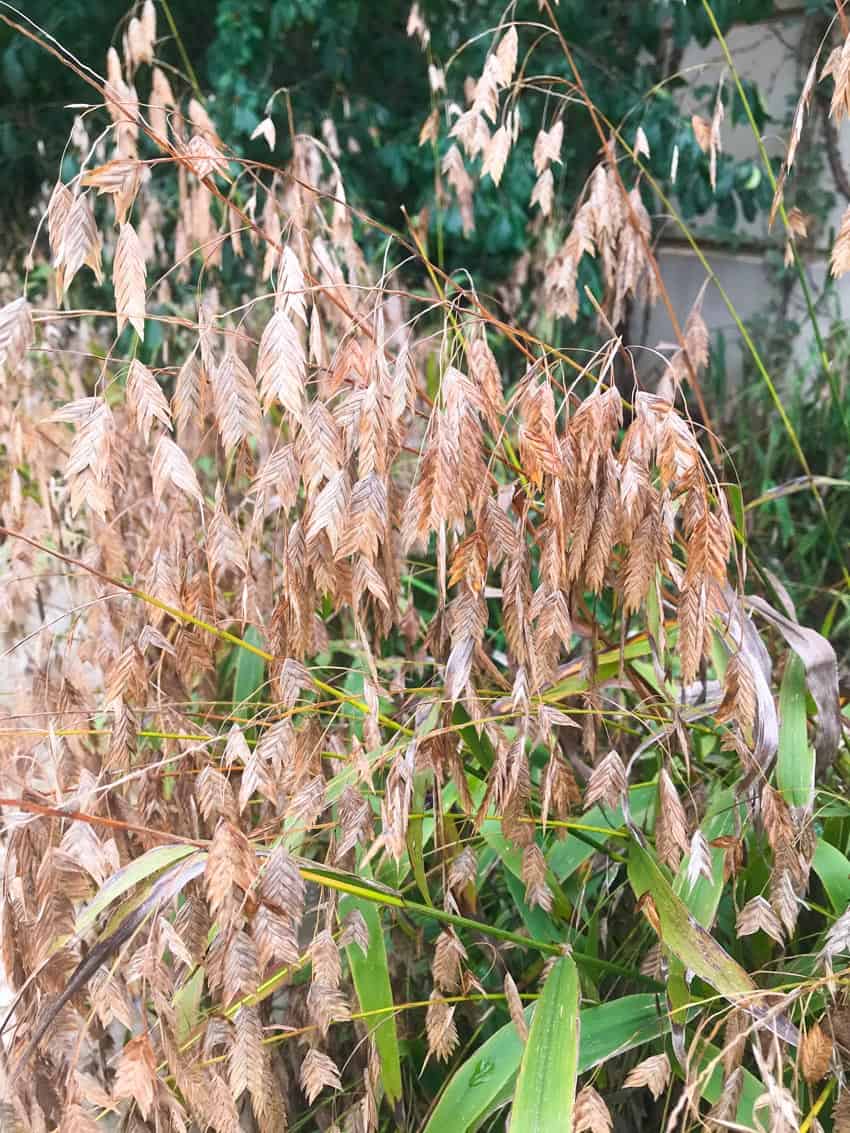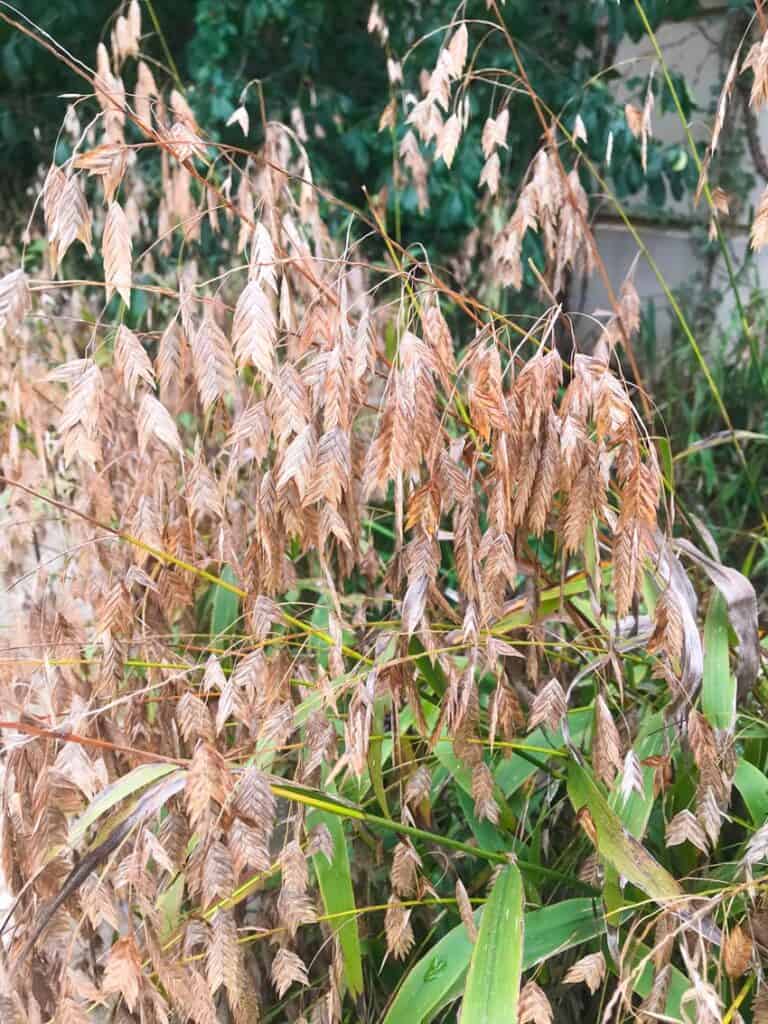 Looking for more shade-loving plants like Inland Sea Oats? Start by downloading my free printable PDF of the Top 10 Texas Shade Plants. You can take this handy one-pager with you to the plant nursery.
5 Reasons to Grow Inland Sea Oats in Your Yard
This past year, I added a single plant to a shady corner of my yard near the Turk's Cap. It has done great and I am excited to add more.
Since it is deer resistant, I'd even like to try it in the greenbelt area behind our fence along with my wildflower garden. It also would look great planted in a pot!
Here are five reasons why it is worth trying in your yard.
1. It grows well in the shade
This is what really sets Chasmanthium latifolium from other ornamental grasses. Most grasses need full sun to look their best. This is one of the few that looks amazing in part shade to even full shade. It is great for planting under a tree or along the side of the house.
Inland Sea Oats can handle sun, but it will need more water to stay looking good. If you are unsure where to put it in your yard, try it out in a pot first along with some flowering plants for a fun container plant.
2. It provides year round interest
A beautiful green throughout the spring and summer, the grass really starts to get interesting by August or early fall when its seed heads turn from green to golden light brown. They really pop against the green grass.
The grasses turn bronze during winter, providing year round interest in your yard. It would add some nice contrast to your gardening design when planted along with evergreen plants. The seed heads are also great additions to flower arrangements !
3. It is a low-maintenance shade grass
In addition to being able to handle a range of sun conditions, it can tolerate a range of soil conditions as well, including poorly drained soil. Inland Sea Oats are often found along creek beds because they like their feet wet.
4. Inland sea oats provide shelter and food for wildlife
The bunch grass can provide shelter and native habitat for birds and other small mammals. The seed heads also provide food for seed eating animals in the winter, so make sure to leave them on the plant all winter long.
5. It is a host plant for several pollinators!
When it comes to adding a new plant to your yard, I always recommend prioritizing larval host plants. Host plants are ones that butterflies and moths choose to lay their eggs and feed their caterpillars. You can read why this is so important in my Top Benefits of Native Plants.
According to wildflower.org, Inland Sea Oats are a host plant for several skippers – a cross between a moth and a butterfly. I learned something new – I had not heard of a skipper before doing my research!
Download the Free PDF: Texas Native Shade Plants
Have a shady yard? I created a handy one-page PDF for you to print and take along with you to the plant nursery. It includes a thumbnail photo of each plant along with both its common and scientific name, shade requirements, and other helpful growing info. Get it here: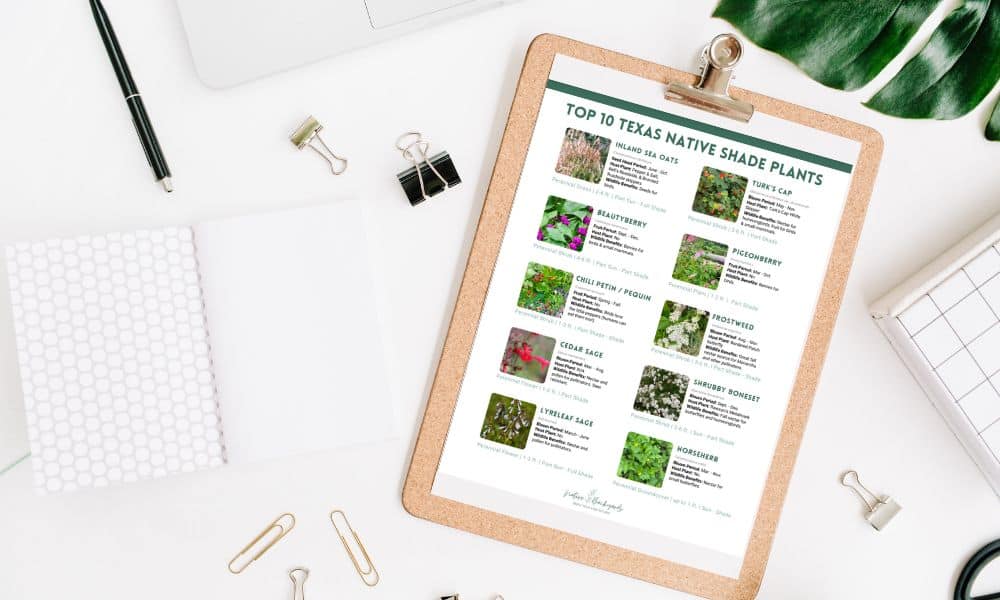 Other names for Inland Sea Oats
A particular species of plant can have many common names but only one scientific name.
Scientific Name: Chasmanthium latifolium
The scientific name for Inland Sea Oats is Chasmanthium latifolium. That is a mouthful, but a helpful name to write down before heading to the nursery to make sure you buy the right plant! Plant labels typically always include the scientific name.
The scientific name helps you distinguish it from regular Sea Oats (Uniola paniculata), which grow in sand dunes along subtropical coastal areas. You may occasionally hear Chasmanthium latifolium called by its old scientific name Uniola latifolia. Sometimes scientists will recategorize a plant (confusing!). Know that these two names refer to the same species!
Common Names
Other common names for Chasmanthium latifolium include Inland Oats, Northern Sea Oats, Wild Oats, River Oats, Upland Oats, and Indian Wood Oats.
Where do Inland Sea Oats grow?
While this grass does great in Central Texas, according to Wildflower.org, this grass has a large native range in the United States spanning from the Great Plains to the Eastern United States! You can find it growing in a whopping 29 states.
If your state is on this list, there is a good chance you can find the grass at native nurseries. Here are some tips for finding native plants near you.
Alabama
Arkansas
Arizona
District of Columbia
Delaware
Florida
Georgia
Iowa
Illinois
Indiana
Kansas
Kentucky
Louisiana
Maryland
Michigan
Missouri
Mississippi
North Carolina
New Jersey
Oklahoma
Pennsylvania
South Carolina
Tennessee
Texas
Virginia
Wisconsin
West Virginia
What do Inland Sea Oats look like?
Inland Sea Oats are a clumping / bunch grass that can grow between 2-4 feet tall. Its most unique characteristic is the beautiful drooping seed heads that have a chevron pattern. The seed heads are green until late summer when they start to turn a pretty light brown.
This native plant is often looking its best in the heat of summer when other plants are fading! By late fall the green foliage turns to a golden light brown color.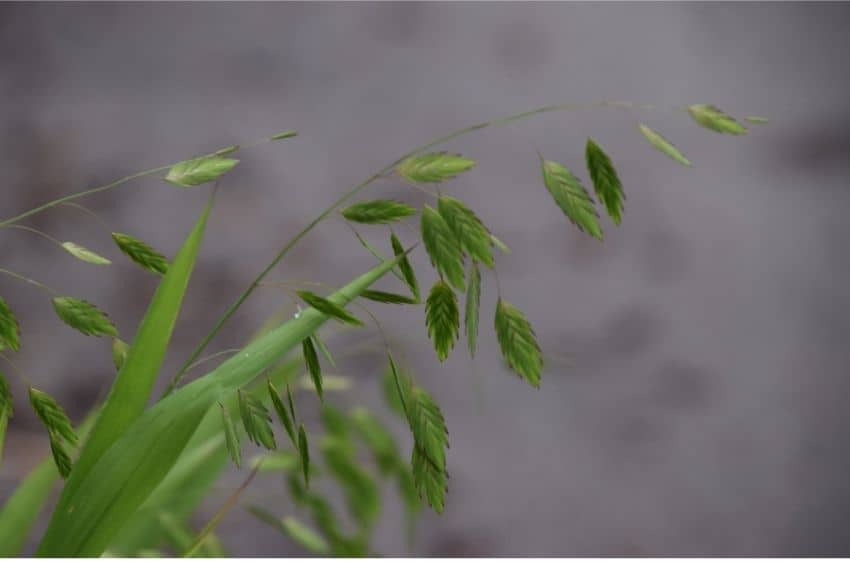 This post contains affiliate links. See our full disclosure.
How do you grow Inland Sea Oats?
This native perennial grass is easy to grow from transplants or seeds. Inland Sea Oats is a great choice for erosion control in rain gardens or shade gardens.
It is known to spread quickly, can form a tall ground cover in the area where it is planted. f you want to minimize the spread, the new clump of growth can be pulled up easily. Consider potting it and giving a transplant to a neighbor!
Inland Sea Oats Pruning
You can leaf the coppery color grass up for winter interest in your flower beds and to provide habitat for wildlife. Cut the leaf blades back to the ground in early spring when new growth starts to appear at the base.
You can also cut off seed heads throughout the growing season and add them to cut flower arrangements for a pretty look!
How do you propagate Inland Sea Oats?
I have had success growing this grass from seed! You want to wait until the seed heads turn completely brown in the late fall to collect the seeds. I started mine in a seed starter tray with dome over the winter. Once they had germinated and were a few inches tall, I transferred them to larger pots.
Where can you buy Inland Sea Oats?
Look for Inland Sea Oats at a local nursery that specializes in native plants. Remember to make sure to ask for it by its scientific name (Chasmanthium latifolium). Local native plant societies also have regular plant sales or exchanges. Find a native plant society near you.
You can also buy the seeds from online retailers. My favorite source is Native American Seed.
Inland Sea Oats: Plant Care Printable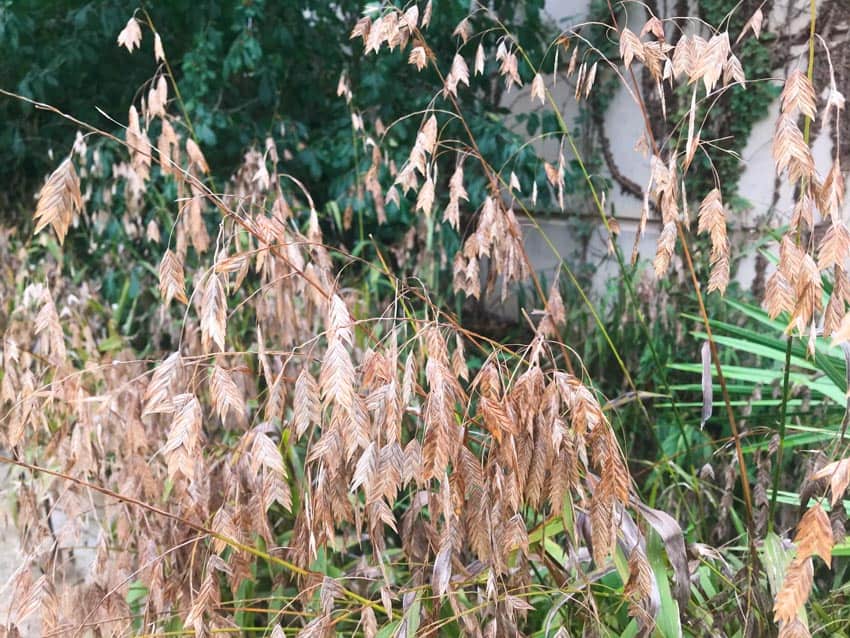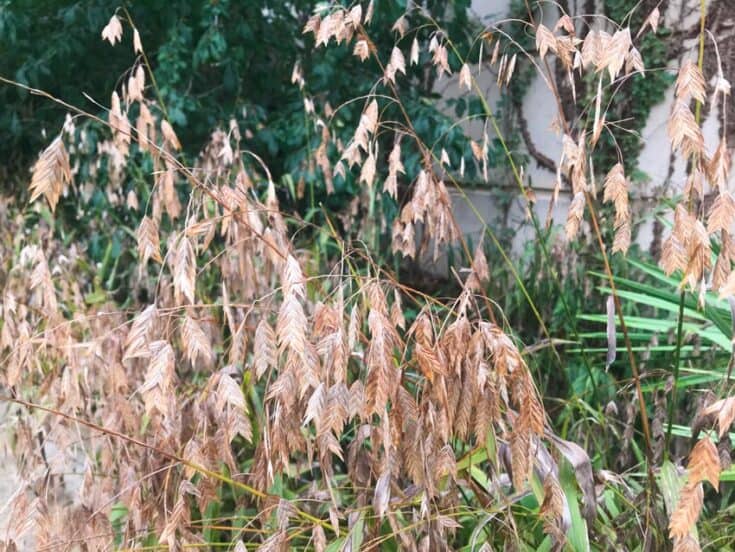 Scientific Name:
Chasmanthium latifolium
Native to:
AL, AR, AZ, DC, DE, FL, GA, IA, IL, IN, KS, KY, LA, MD, MI,
MO, MS, NC, NJ, NM, OH, OK, PA, SC, TN, TX, VA, WI, WV
Mature Height and Width:
2-4' tall (bunching grass)
Sun Conditions:
Full shade to part sun. Tolerates a variety of sun conditions.
Water Needs:
Not necessarily drought tolerant. Likes to have its feet wet. Can tolerate poor draining soil. Needs more water in direct sun.
Wildlife Benefits:
Provides seeds and shelter for wildlife. Host plant to Pepper & Salt Skipper, Bells Road Side Skipper, and Bronzed Roadside Skipper.
Instructions
Watering
Likes moist soil. Water regularly in summer.
Pruning
Cut back to ground at the end of winter. It is great to leave the seed pods on as long as you can as they provide food for wildlife.
Propagating
Plant spreads easily and can be propagated by digging up new clumps and transplanting. You can also grow new plants by collecting the seeds in fall.
Recommended Products
As an Amazon Associate and member of other affiliate programs, I earn from qualifying purchases.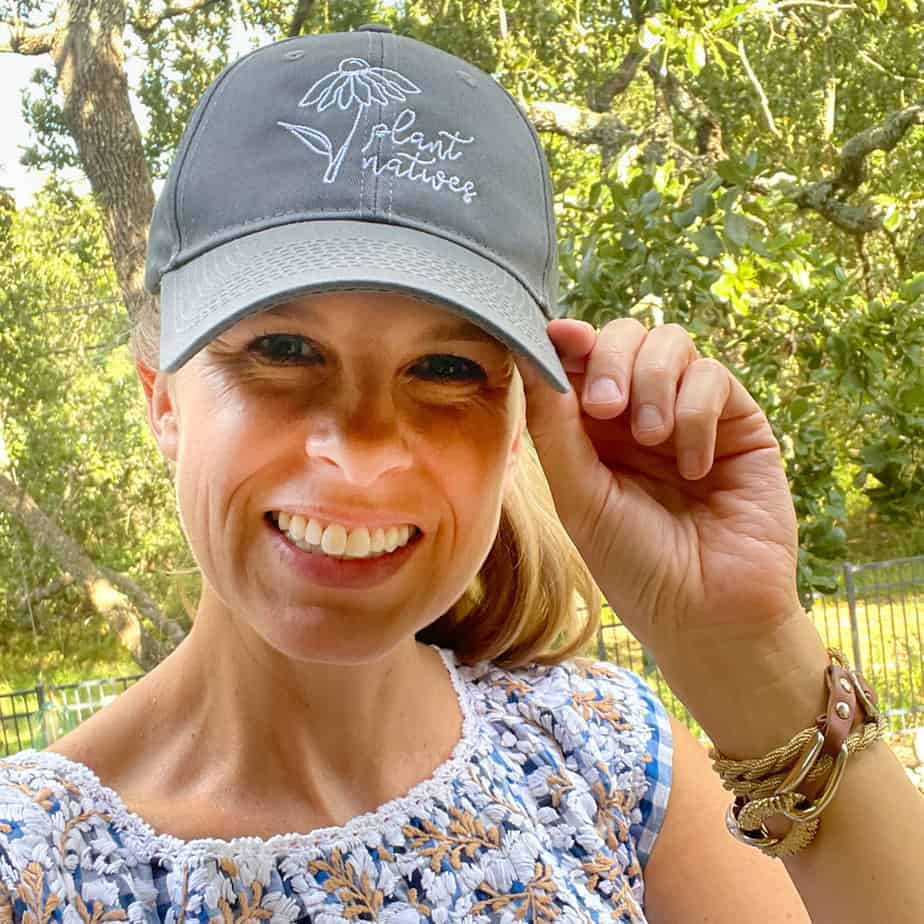 Welcome to Native Backyards! I'm Haeley from San Antonio, Texas, and I want to help you grow more native plants.
I have seen firsthand how the right plants can bring your yard to life with butterflies, bees, and birds. I've transformed my yard with Texas natives and I'm excited to share what I've learned with you.
Join my newsletter here! – each week I'll send you helpful tips to make your native plant garden a reality!
Want to learn more about me and my garden? Check out my About page!