Where To Buy San Antonio Native Plants
Do you live in the San Antonio area? I am giving you my best tips on where to find native plants to purchase for your home garden (or in some cases, get for free) to save you time and searching.
Where to Purchase Native Plants of San Antonio
Before I started becoming a native plant enthusiast, I bought most of my plants at my local Lowes. Why? Because it was convenient. Unfortunately, these big box stores carry very few Texas native plants. Most of their inventory are plants imported from other continents like Asia and Africa, and including some invasive plants that you want to avoid.
So when it comes to shopping for San Antonio native plants, shop local!
1. San Antonio Native Plant Nurseries
There are a handful of local nurseries that have a great selection of Texas native plants. Make these your new favorite place to shop.
Pollinatives
This Texas native plant nursery just opened in Converse (100 South St) on Sept. 1, 2023! Owned by Donald and Melanie Gerber, two Texas Master Naturalists and native plant enthusiasts, it is stocked with a great selection of Texas native plant species, including native trees, interesting ornamental native grasses like Sideoats Grama, and a ton of native shrubs and perennials that you can't find at big box stores.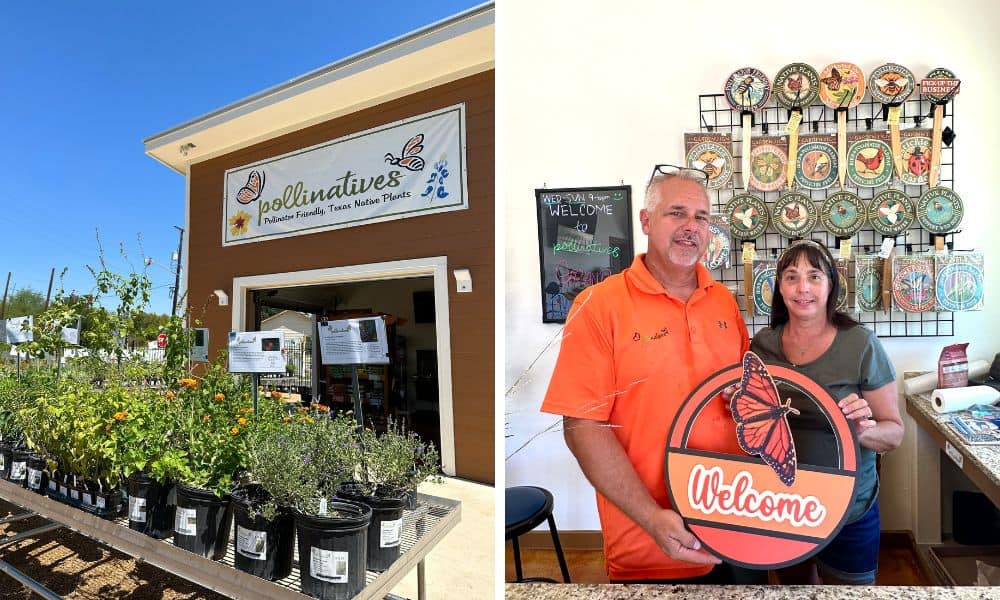 They also carry awesome Texas native wildflower seeds from Native American Seed, and copies of my book – Native Plant Gardening for Beginners!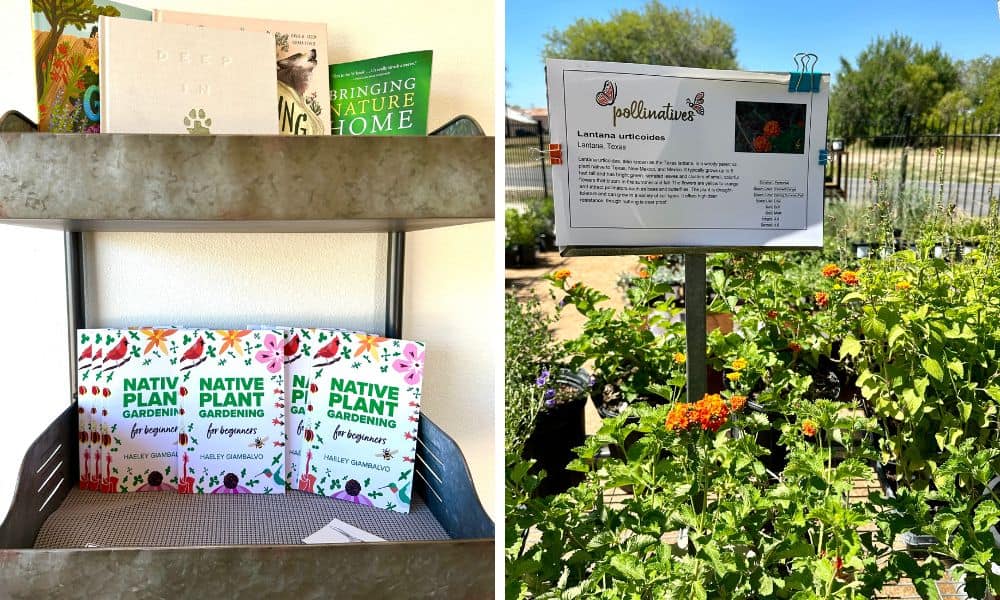 The Nectar Bar
This all-Texas native nursery located at 14732 Bulverde Road also has a really unique plant selection. The owner, Drake White, is an expert on plants that support butterflies and other native wildlife. She has plenty of native plants that you likely won't find anywhere else!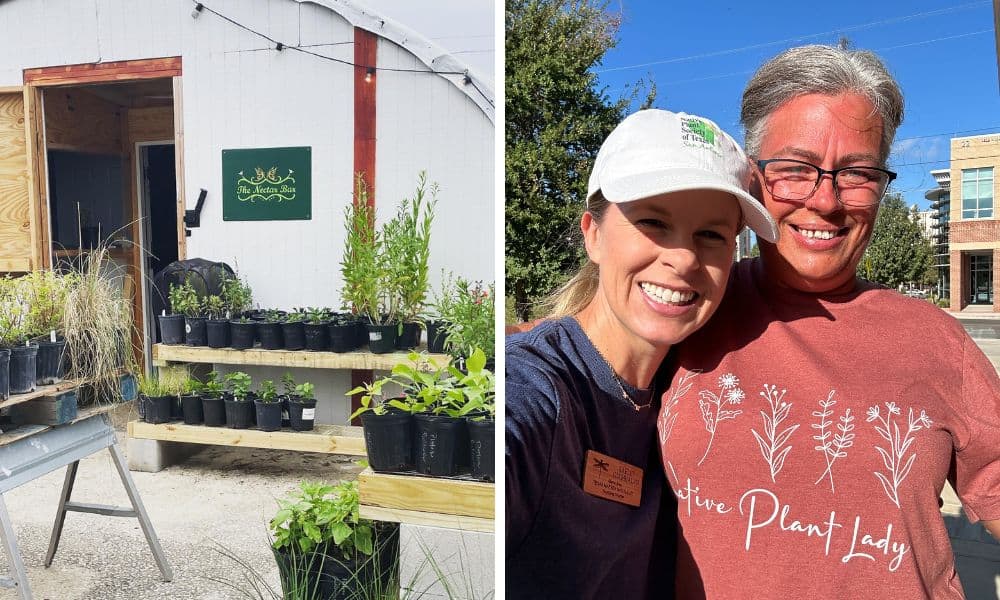 Inside the tent at the Nectar Bar are plants that prefer partial shade to full shade, while outside are plants that would thrive in a full sun San Antonio garden.
Drake loves helping customers pick the best plants for their garden and can give advice on everything from the best plants to attract local pollinators, to deer resistant plants, to plants that are hard to kill if you don't have a green thumb!
I've found that Rainbow Gardens has the great selection of native plants along with non-native adaptive plants in San Antonio. They have two locations – one on Thousand Oaks Blvd. and one in Bandera Road.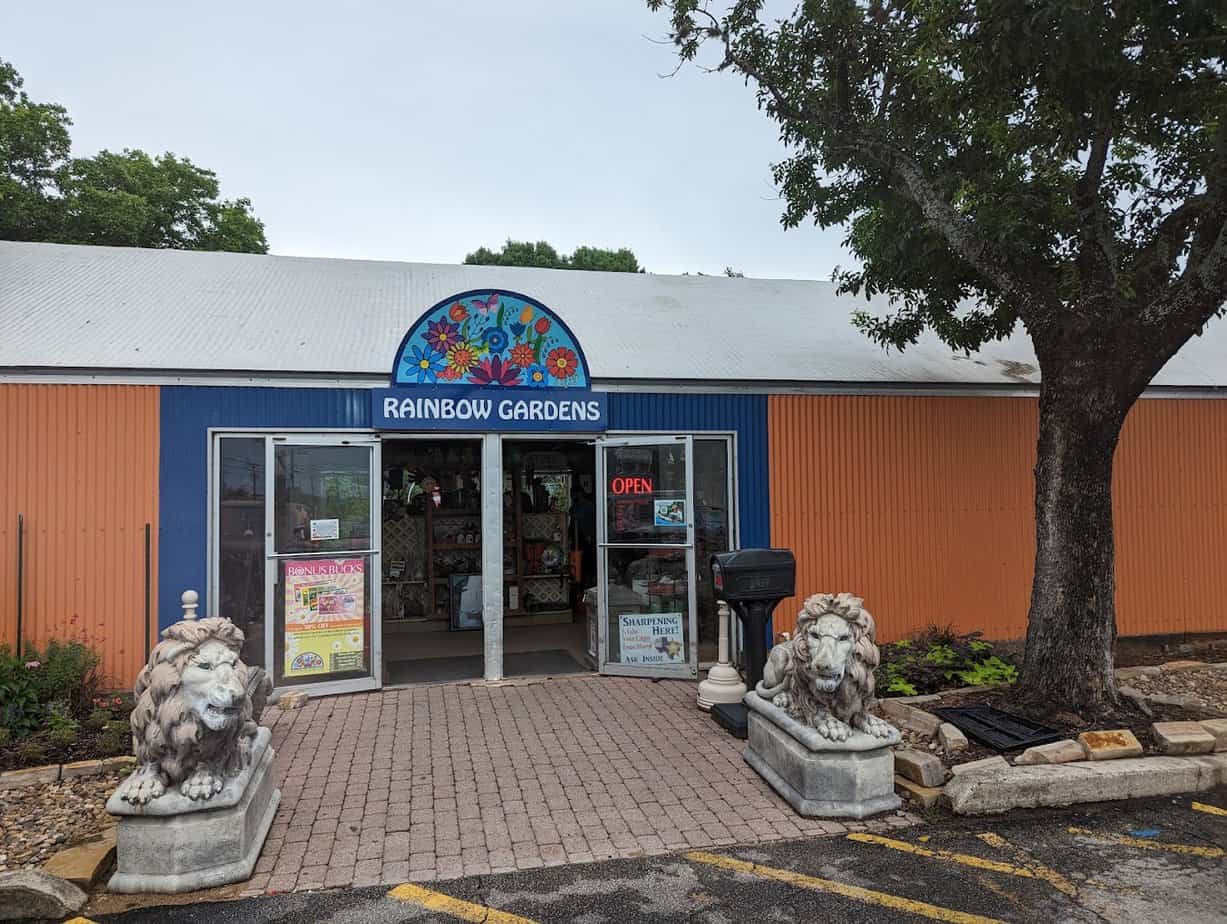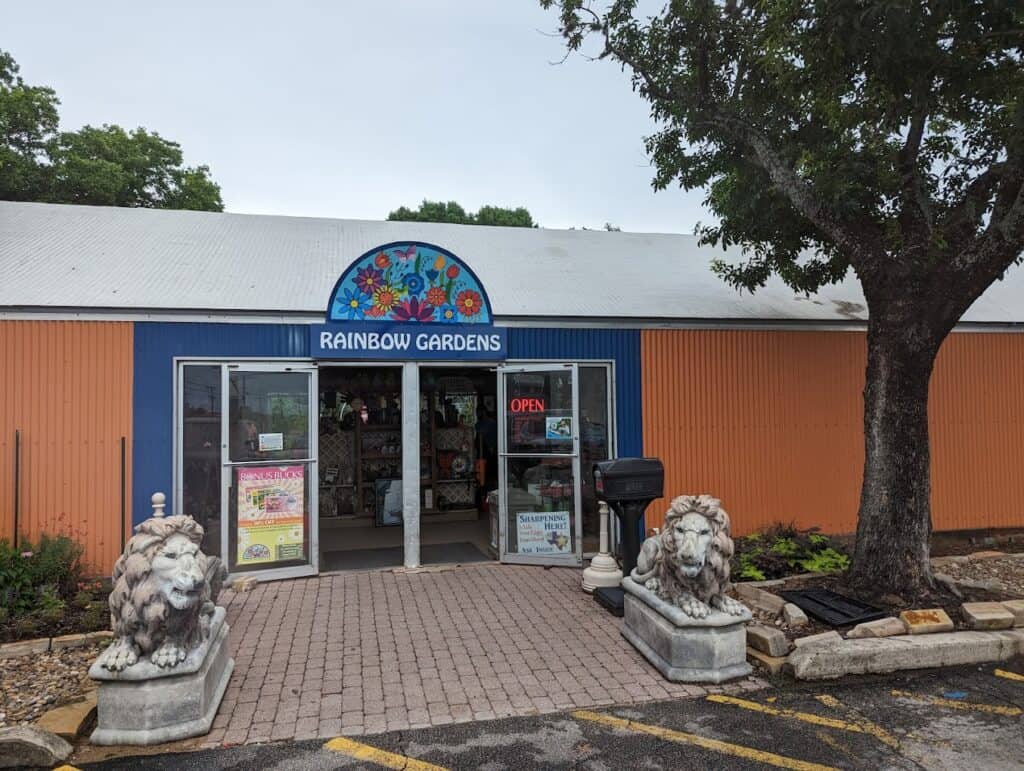 The Texas native plants at Rainbow Gardens are mixed in among the non-native plants, so you may need to ask for help to locate the plant you are looking for. Rainbow Gardens does have helpful signage to help you identify and learn about native plants.
Rainbow Gardens is a partner in the SAWS Watersaver Rewards and Lawn Rebate programs (see below for details).
2. NPSOT San Antonio Chapter Plants x Donation Program
If you want to learn a lot of cool things about native plants, I highly recommend you check out the Native Plant Society of San Antonio. Their monthly meetings are free and open to the public (even if you are not a member). The society meetings the 3rd Tuesday of every month at Phil Hardberger Park.
At each meeting, members bring a variety of Texas native plants for giveaway in exchange for an optional donation to the chapter. The plant table is always the most popular spot at the meeting!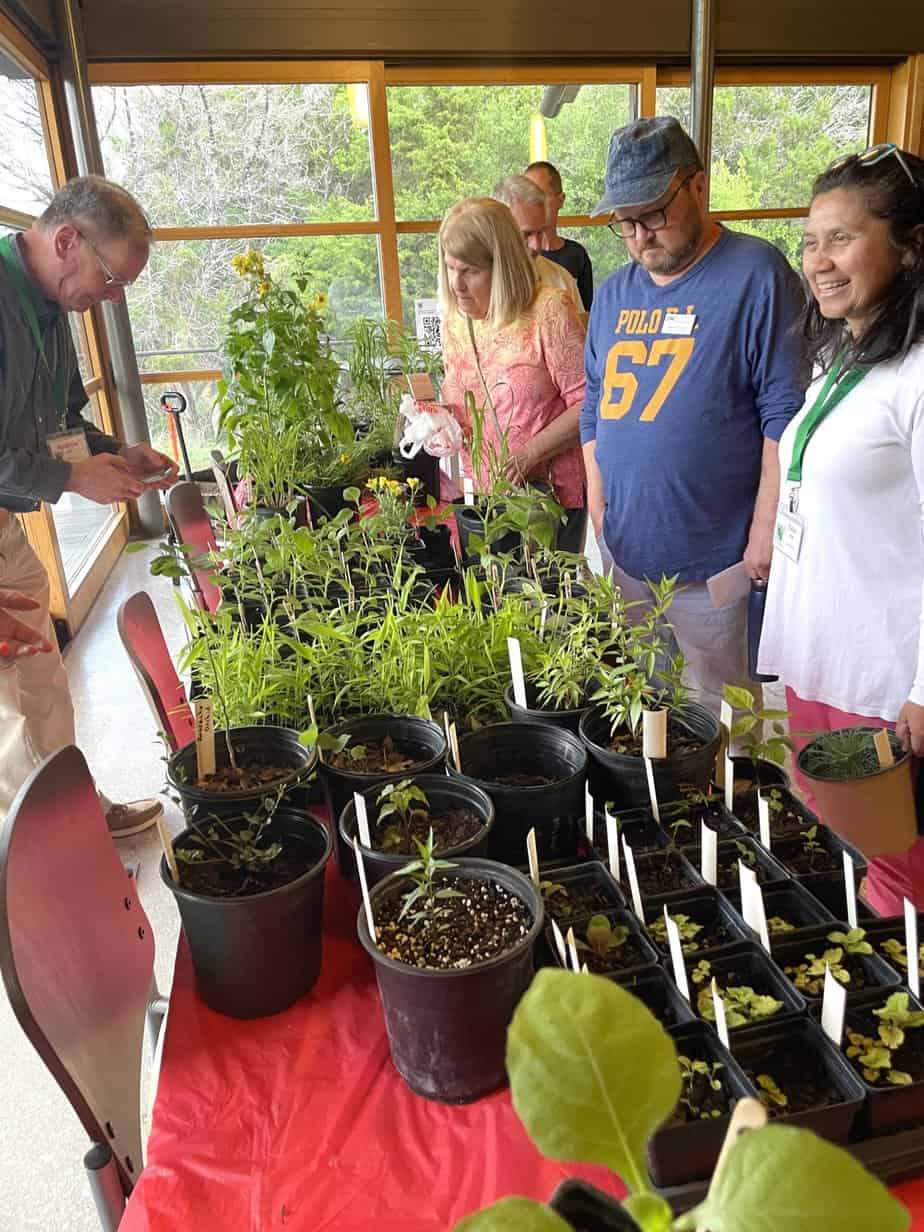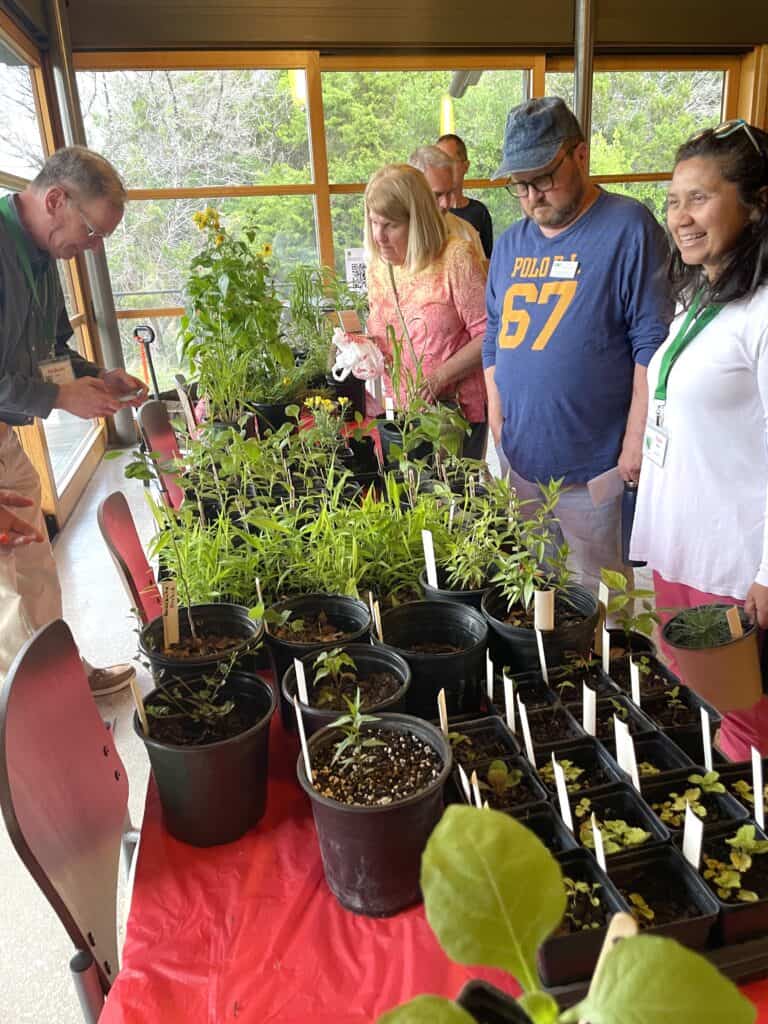 If you can't make it to a meeting, you can find a list of plants available for donation online here.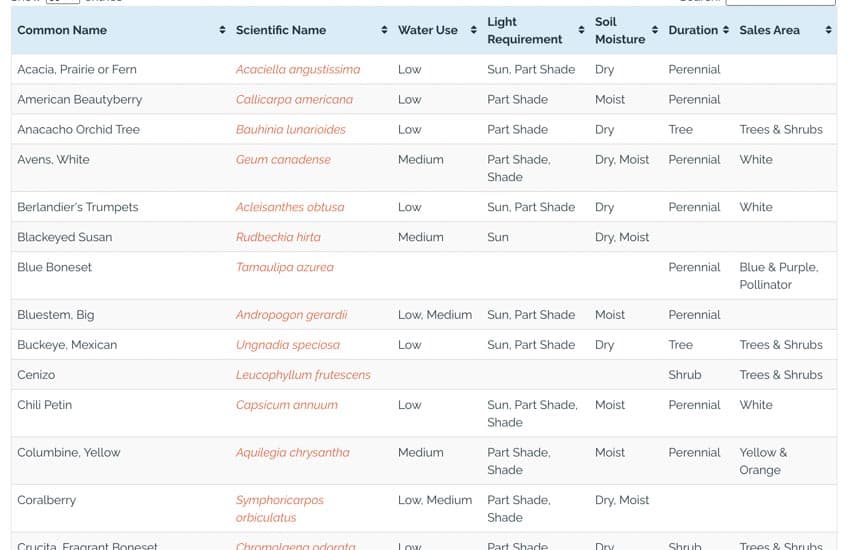 I love the San Antonio Botanical Garden. It is well worth the annual membership. They typically have a variety of native plants (along with some non-native plants) for sale right outside of their gift shop. If you're a member, you get 10% off.
How Can You Get Free Native Plants in San Antonio?
1. Enroll in the SAWS Rebate Programs
I think this might just be one of the best kept secrets in San Antonio! The city water utility, San Antonio Water System (SAWS), offers several coupon programs for improving your yard with native plants.
Native plants use less water than non-natives (and especially turf grass) so they are great for water conservation and saving money on your water bill!
This is such a cool program available to anyone in San Antonio. You can earn up to $150 in coupons towards native plants, mulch and garden tools, by participating in the San Antonio Water System (SAWS) WaterSaver Rewards classes. Classes are typically sessions on gardening, composting, water conservation, etc. You can find the full list of classes here.
So you can learn cool things and get free plants for doing it. Sounds too good to be true, right? Each class you attend typically earns you 1 point. Here is what you earn for collecting points throughout the year:
3 points = $30 coupon
5 points = $50 coupon
7 points = $70 coupon
Coupons are redeemable at participating retailers including Rainbow Gardens and Fanick's Garden Center. Multiple people in a household can participate, so if you and your significant other do it together you get double the rewards!
Plus, the program starts over each year. I earned all my points last year and used them towards supplies for my new native landscaping bed.
SAWS has a separate Landscape Coupon program that awards you $100 towards plants for every 200 sq ft of lawn (and sprinkler heads) you remove! I am going to be participating in this program this year. You can find the details of the program here.
You get to use the $100 coupon towards 15 native and/or adaptive plants that require less water in your landscaping. SAWS provides a list of approved plants. Prioritize these San Antonio native plants from their approved list:
Blackfoot Daisy
Damiantia
Milkweeds (choose Texas native species)
Salivas (choose Autumn Sage, Scarlet Sage, and Mealy Blue Sage)
Mistflowers (choose Gregg's Mistflower and Fragrant Mistflower)
Muhly Grasses (choose Lindheimer Muhly or Gulf Muhly)
Esperanza
Yaupon / Possumhaw
Mexican Olive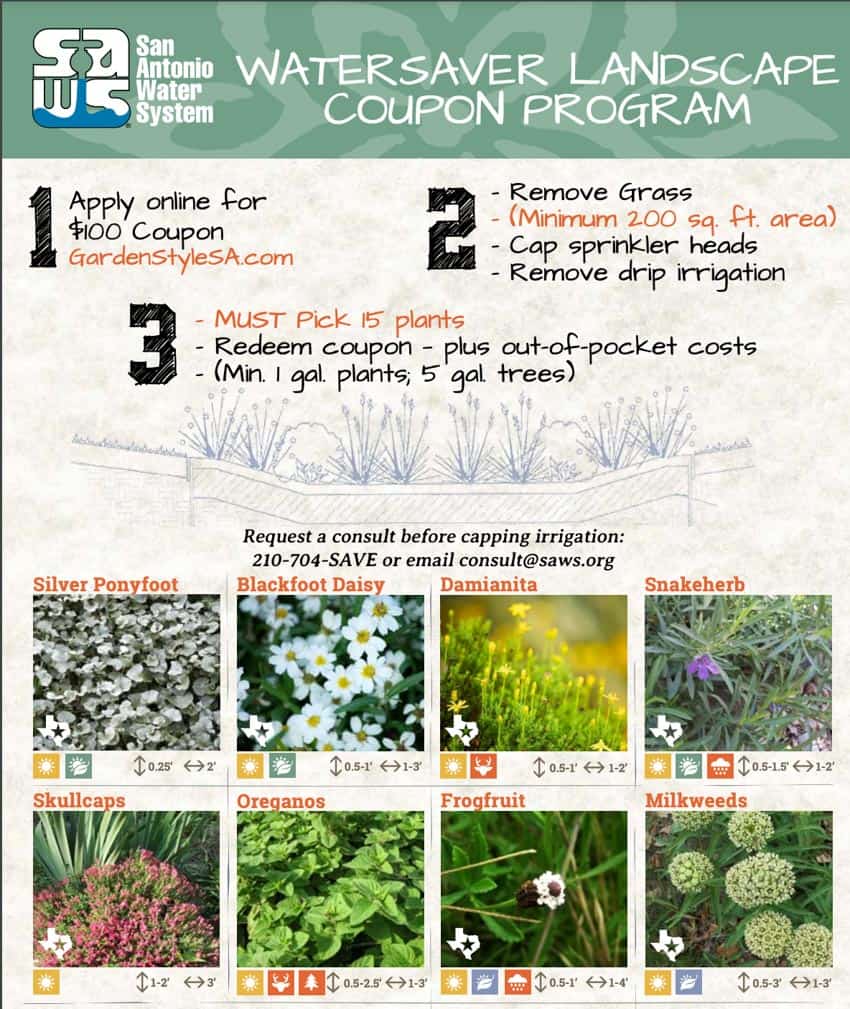 SAWS also has amazing landscape designs to help you plan your own beautiful landscape of low maintenance plants, drought-tolerant plants: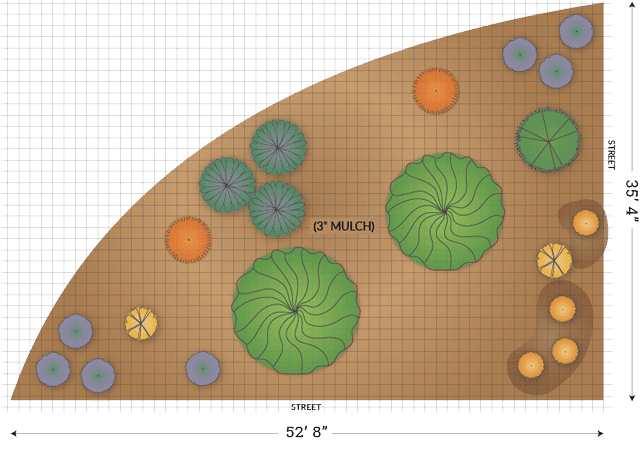 2. Join the Native Plant Exchange on Nextdoor
If you are on Nextdoor, you can join the Native Plants Seed Sharing and Plant Swapping Group. You never know when someone may have some extra plants to share. Or you can share some of yours.
What are the Native Plants of San Antonio?
I'm glad you asked! San Antonio has an amazing variety of native plants. While some of these plants are endemic to the Texas Hill Country around San Antonio, many others can be found throughout the state of Texas, and other states as well. Check out my list of Top 15 Texas Native Plants to Grow for my favorite plants to grow in San Antonio.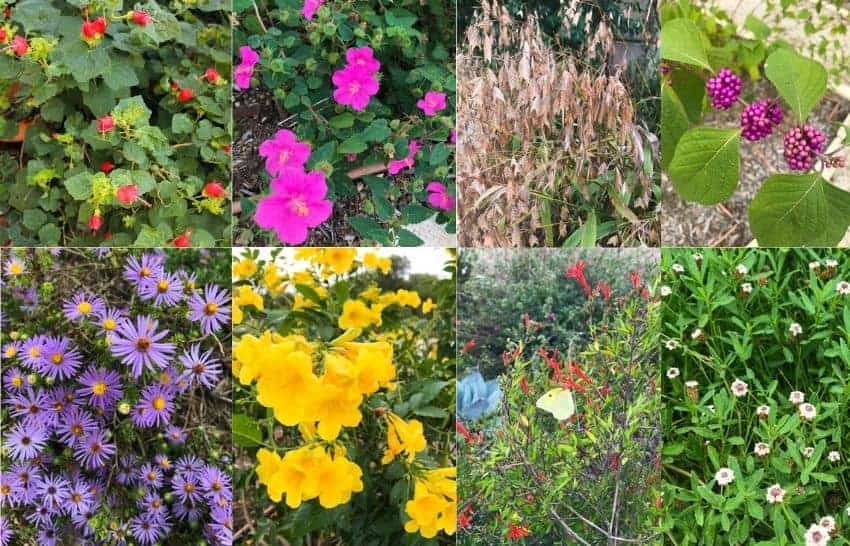 Why It Is Important to Grow Native Plants
If you add any new plant to your yard, make it a native! Native species are the foundation of a healthy local ecosystem. These plants have evolved in our local area over thousands and thousands of years, while non-native plants were introduced from other countries. Native plants:
Are important food source to plant-eating insects
Serve as host plants to butterflies and moths
Require less water and maintenance. These hardy plants can handle high heat without much water once established.
Provide a sense of place – they look like Texas!
The majority of our yards are currently filled with non-native plants. Some of them are even invasive species like Ligustrum trees from other parts of the world that have a tendency to escape our yards and spread to natural areas, disrupting native habitats.
There are lots of opportunities to swap in some natives and help the environment, from trees to flowers, from full sun to part shade. I hope you'll visit one a local San Antonio native plant nursery soon!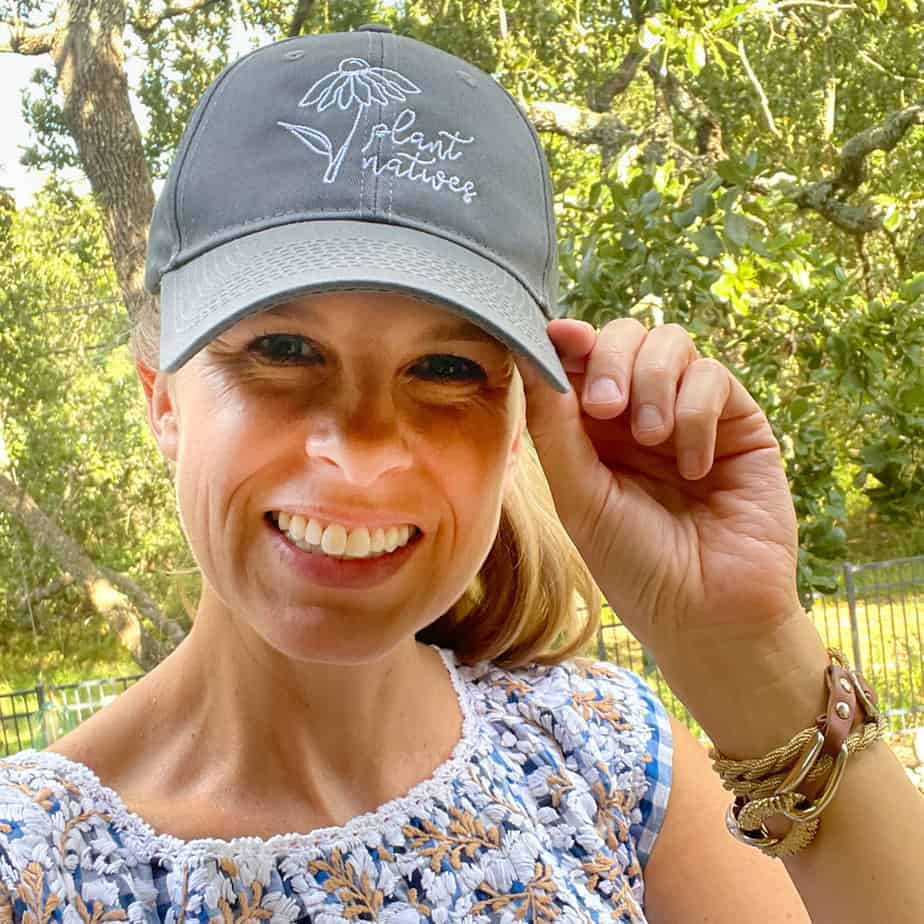 Welcome to Native Backyards! I'm Haeley from San Antonio, Texas, and I want to help you grow more native plants.
I have seen firsthand how the right plants can bring your yard to life with butterflies, bees, and birds. I've transformed my yard with Texas natives and I'm excited to share what I've learned with you.
Join my newsletter here! – each week I'll send you helpful tips to make your native plant garden a reality!
Want to learn more about me and my garden? Check out my About page!