10 Awesome Native Texas Landscaping Ideas
Are you looking for landscaping ideas for your Texas yard? These 10 native Texas landscapes are sure to inspire you!
Not only can native plants create an even more unique and beautiful garden than traditional landscaping plants, they require less maintenance and little water once established.
As water conservation becomes increasingly important in Texas, replacing turf grass with drought-tolerant plants is one of the easiest ways to save money on your water bill!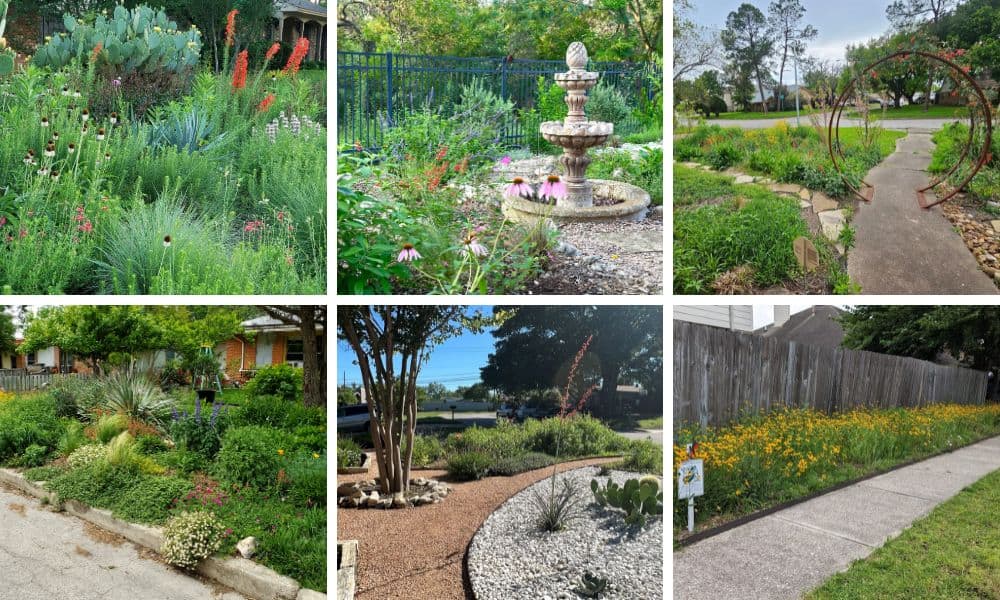 Why Landscape with Native Plants?
By using Texas native plants for their garden beds, these homeowners are choosing:
Drought-tolerant pernennials that are adapted to the local climate and don't need much watering once established.
Plants that serve as critical food sources for our local insects, birds, and other wildlife.
Less yard work! These low-maintenance landscapes eliminate mowing and fertilizing while being much more beneficial for the environment than turf grass (and certainly more than artificial grass).
Plants that provide a sense of place. These yards are what Texas is supposed to look like!
There is no "right way" to do native landscaping. Native gardens can be done in a variety of ways, from more wildscapes and natural landscapes, to more manicured and traditional home landscapes.
Whether you are looking to create a drought-tolerant rock garden, rain garden, or pocket prairie, these ten Texas gardens give you the inspiration you need to get started!
Texas Front Yard Landscaping Ideas
1) Andrea's Yard in Austin
Goodbye front lawn! A beautifully designed native garden is a great way to increase a home's curb appeal.
The focal point of Andrea's Texas landscape is her rock garden featuring low-maintenance plants. It is an excellent way to incorporate plants that can handle full sun and require less water.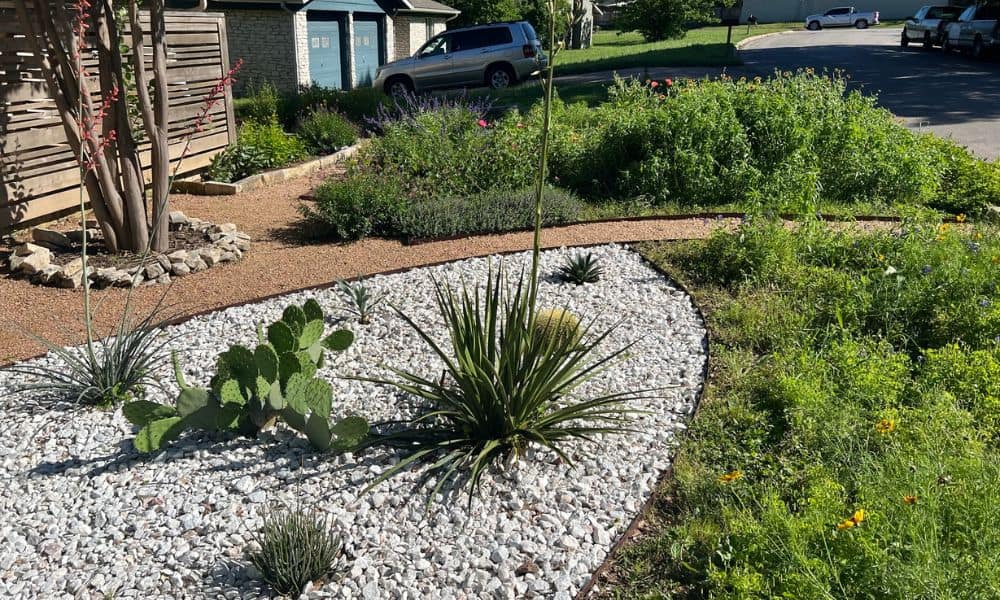 Her plant beds are beautifully edged to create visually appealing borders against the contrasting crushed granite pathways. Andrea's rock bed includes Red Yucca, Twistleaf Yucca, and Prickly Pear, which thrive in the hot summers of Central Texas.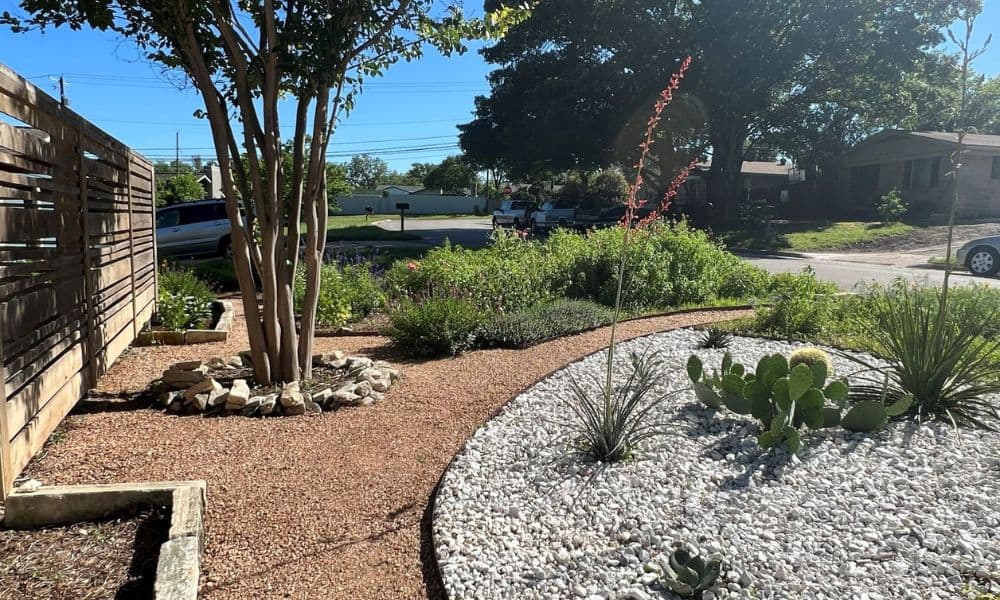 Adjacent to the rock bed are additional lush Texas native flower beds which are filled with colorful flowers in purple and pink shades such as Autumn Sage, Mealy Blue Sage, and Purple Coneflower.
The mix of shrubs with coordinating colors separated by clean pathways is the best way to create a nice formal garden look: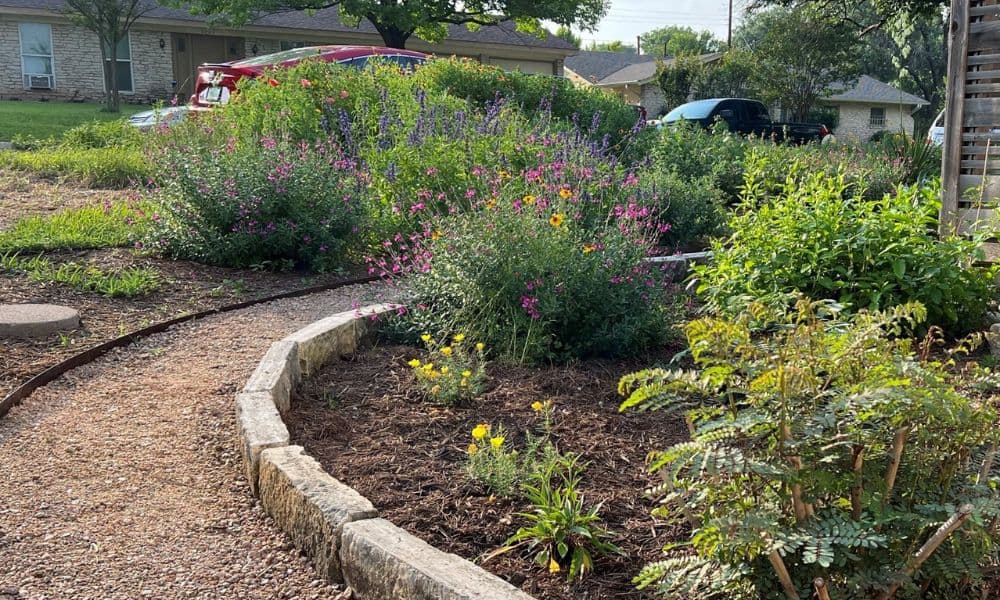 In a pocket prairie bed, Andrea has included annual plants such as Lemon Mint and Firewheel. These native Texas wildflowers are easy to sow by seed in sunny areas of your yard.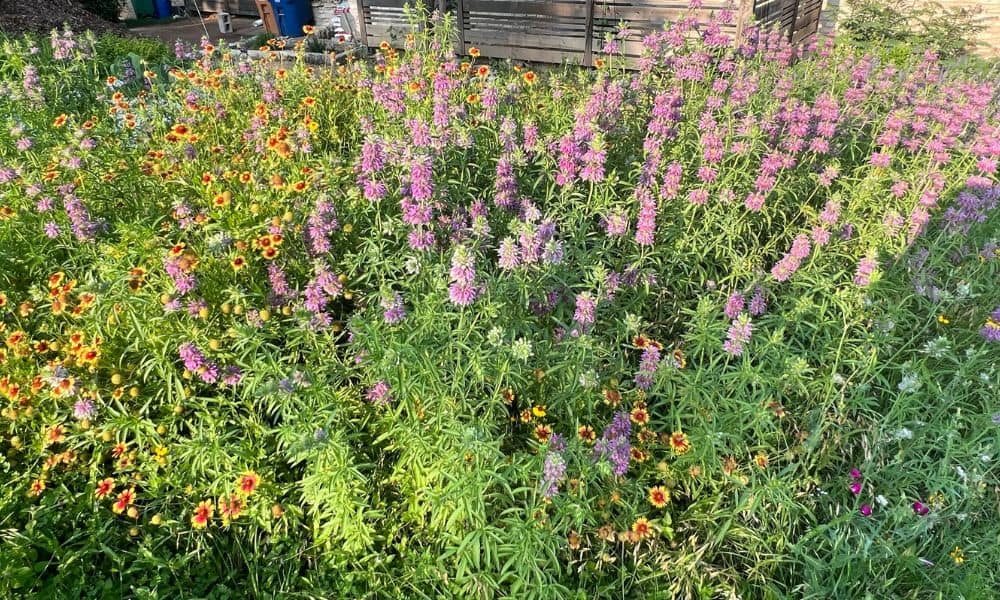 2) Emily's Garden in League City (Houston Area)
Have a long strip of grass along a fence that is a pain to water and mow? This is a perfect opportunity for low-maintenance landscaping options like a native wildflower bed sowed by seed.
Emily's long garden bed in the Houston area is a great option for a pocket prairie. Emily sowed a variety of Texas wildflower seeds interspersed with some plugs to provide new flowers at different seasons.
In late spring, the garden is filled with Clasping Coneflower and Black-Eyed Susan. In late summer, the Liatris and Milkweed are stars: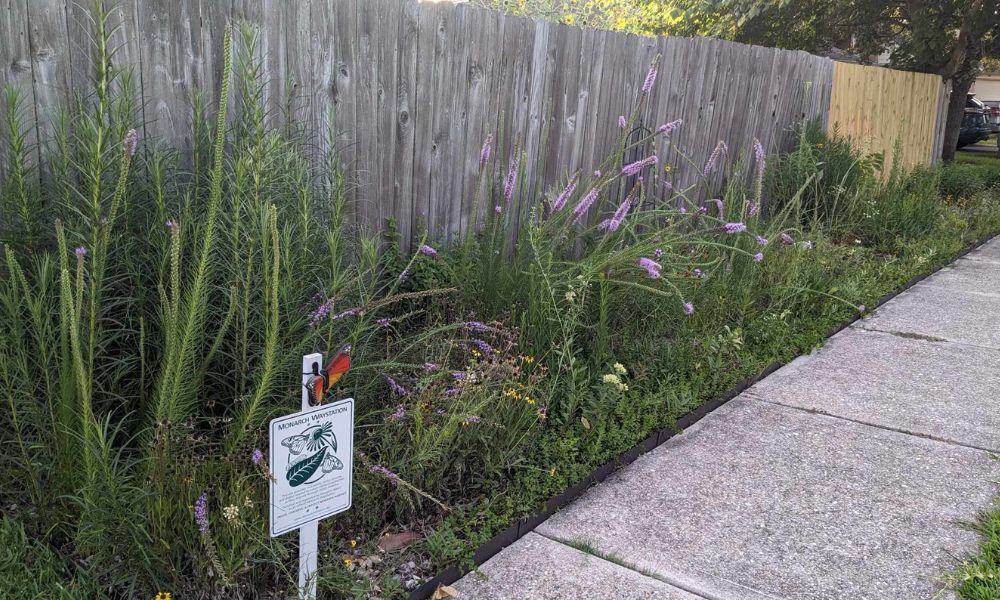 Her garden is a favorite spot on the block for pollinators!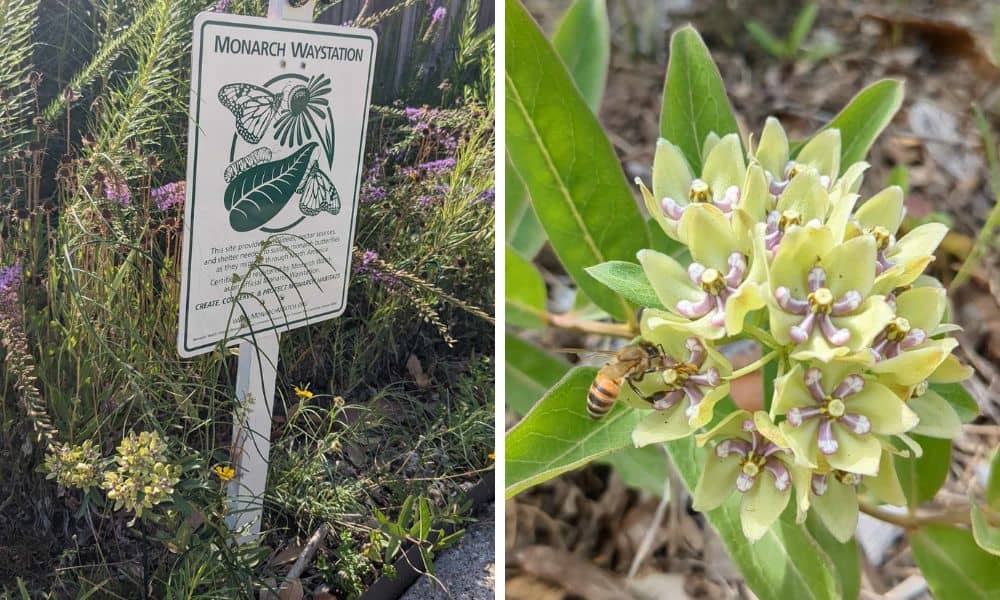 3) Gina's Yard in Houston
In 2019, Gina transformed an expanse of turf grass in her yard to a thriving Texas native plant garden. To do so, she prepped the area with cardboard, compost and mulch.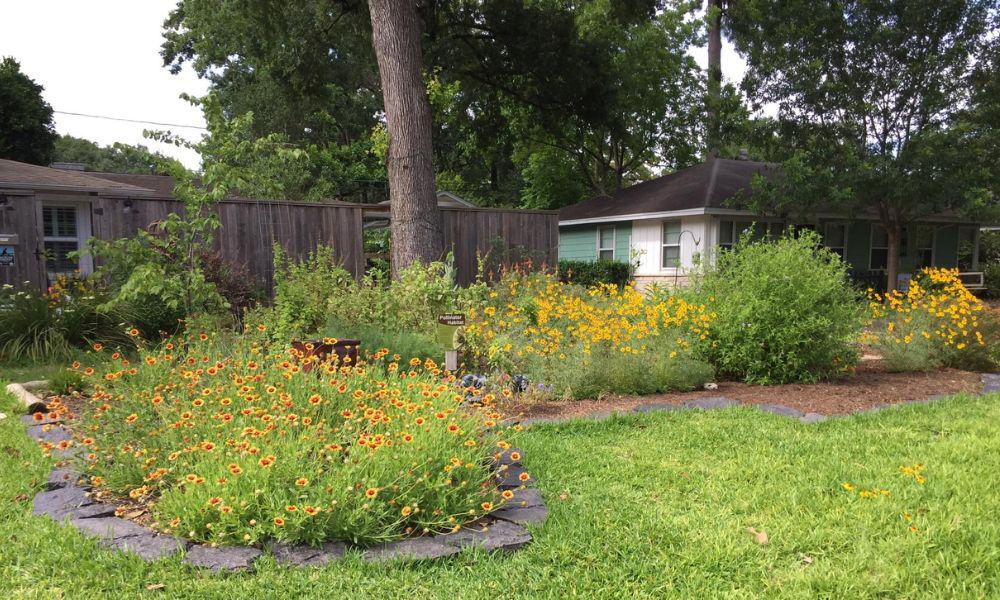 Here is a step by step tutorial for the cardboard method. Her beautiful landscape took off and has evolved over the years to include a variety of Texas native wildflowers and perennial shrubs including. You can see the full list of Gina's plants here. It includes over 30 species!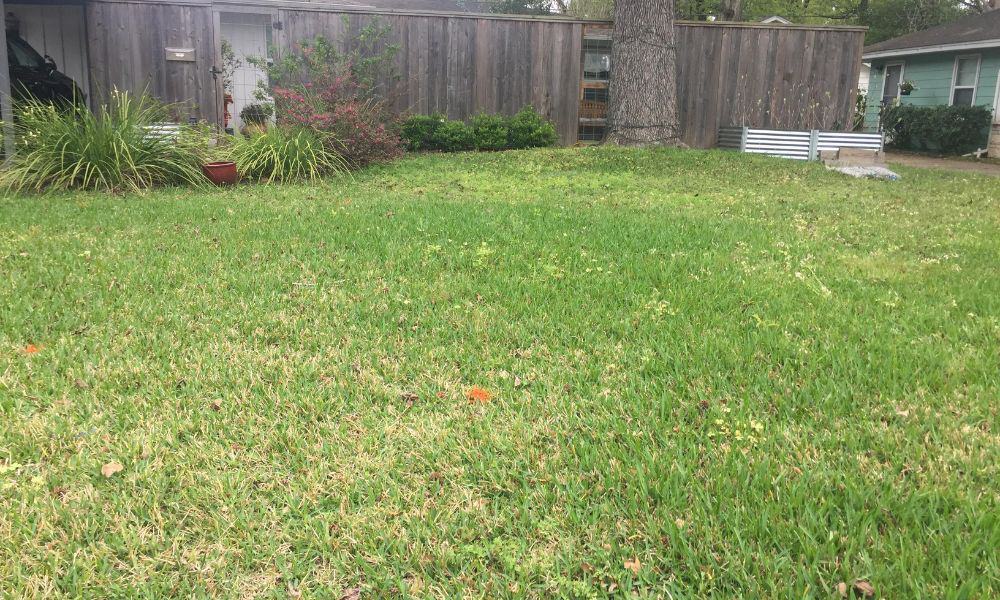 You can follow along with Gina's gardening adventures and Seeking Pollinators on Instagram!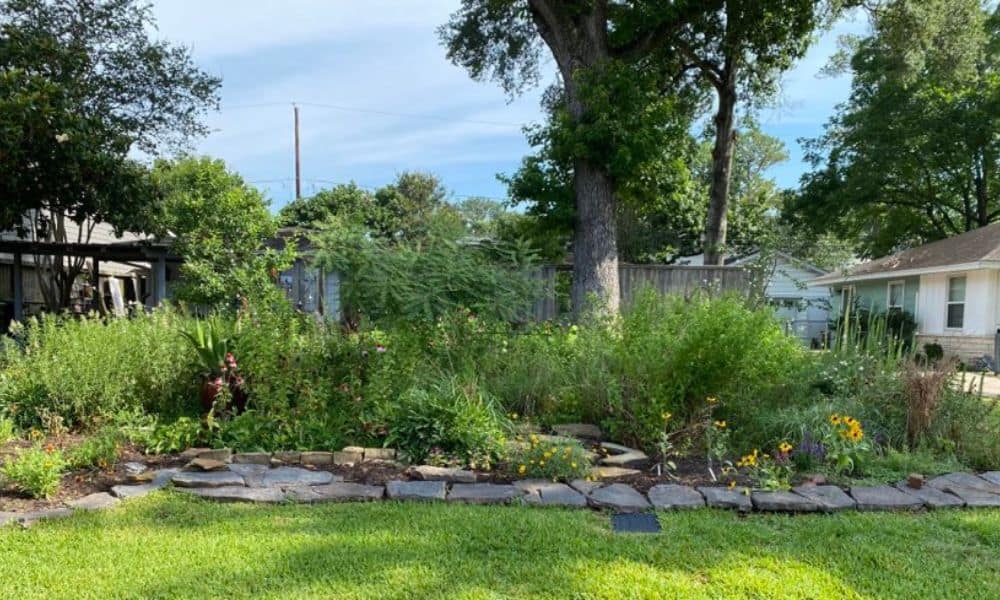 4) Ricky's Dallas Hell Strip
Ricky transformed the 60 foot strip of turf grass between the sidewalk and the street, commonly known as a hell strip into a heaven strip! His north Texas yard is now filled with pollinators that visit the new pocket prairie. It is a great example of how you can make a big impact in a small space!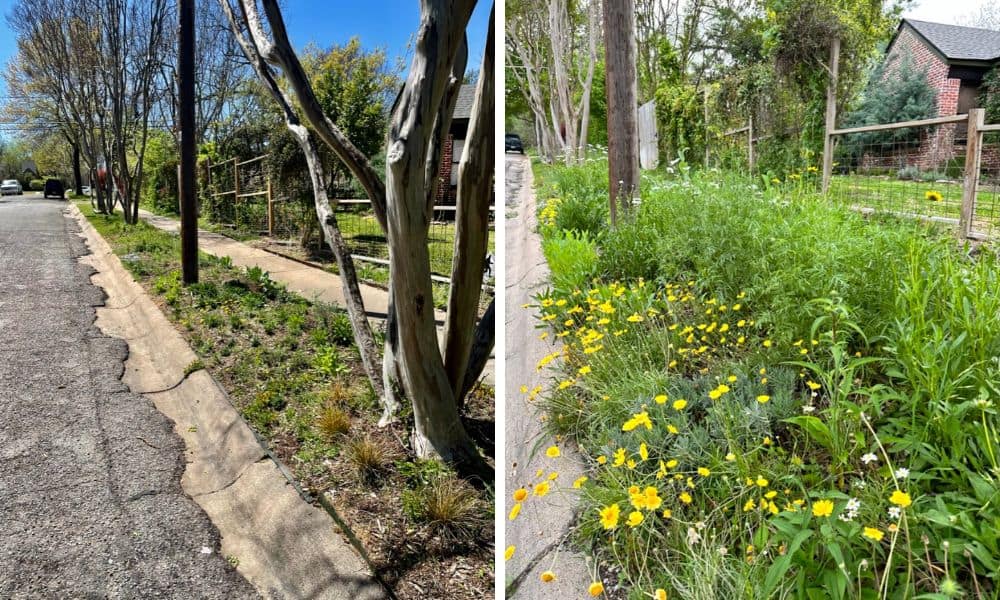 Ricky packed a variety of keystone species into this full sun area including native Asters, Goldenrod and Sunflowers, along with pollinator favorites such as Milkweed, Coneflowers, and Coreopsis shown here with a Crepe Myrtle tree (native to Asia).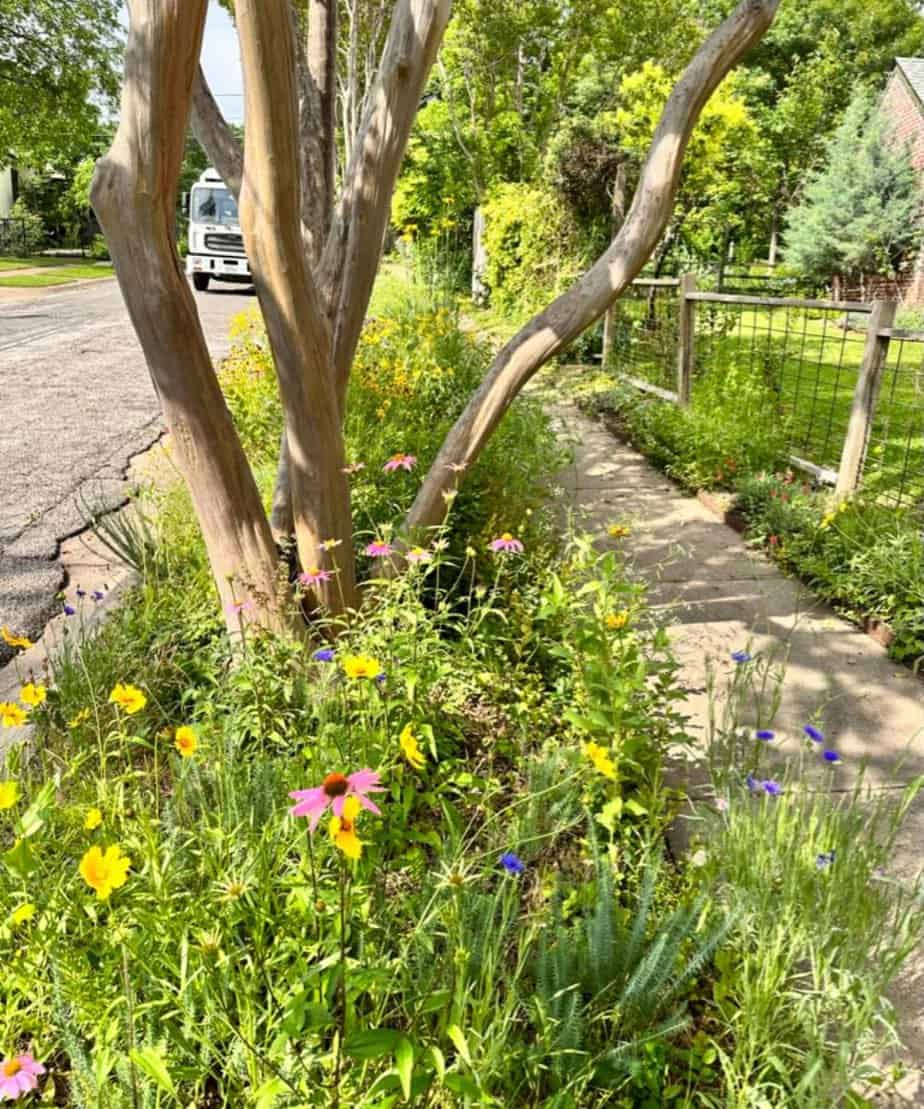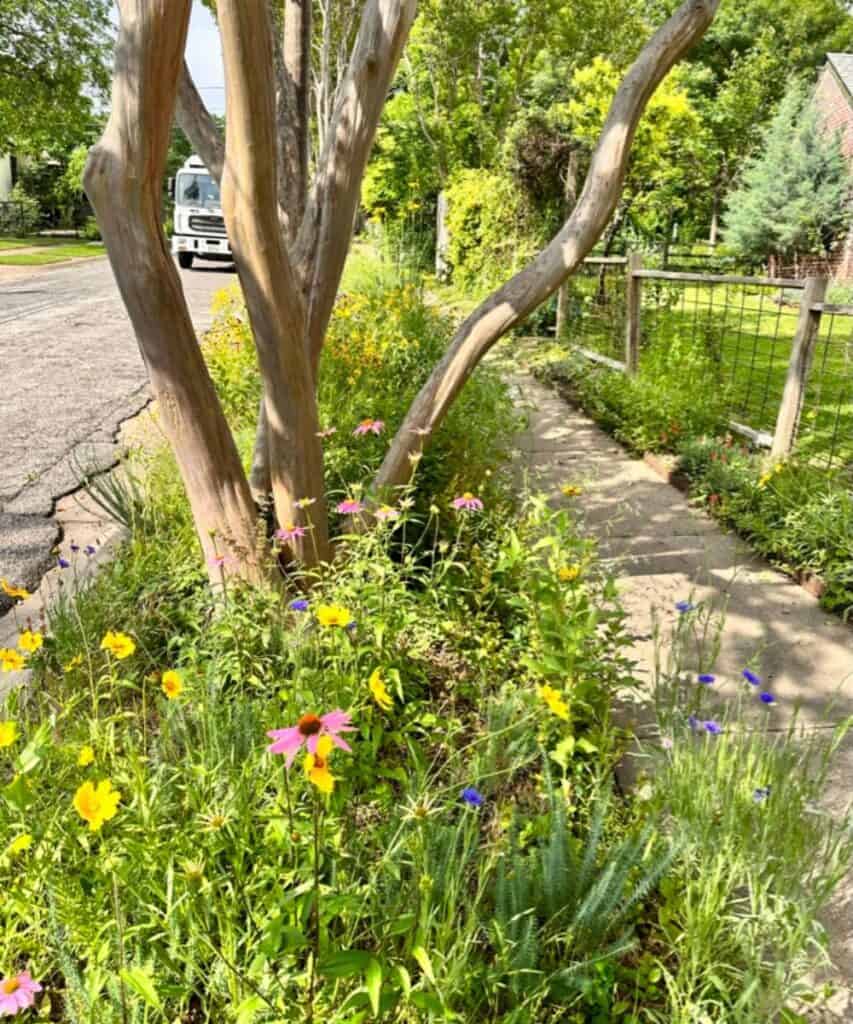 Check out the article Ricky wrote for his HOA about his hell strip transformation. Thanks to the hardy plants he chose this area has minimal water needs. As Ricky says in his article, "I only water my plants the first week I plant – no sprinklers, no hose, the whole patch lives on rain alone!"
If you are looking for front yard landscaping ideas, consider your hell strip as prime real estate for a small garden of native plants.
5) Stephen's Yard in Houston
Stephen's yard in the Glenbrook Valley neighborhood of Houston was once a monoculture of grass, but is now a vibrant and gorgeous Texas native plant garden filled with a variety of different plants.
Adding tasteful garden art like this eye catching arch climbing with Coral Honeysuckle vine helps define the outdoor space.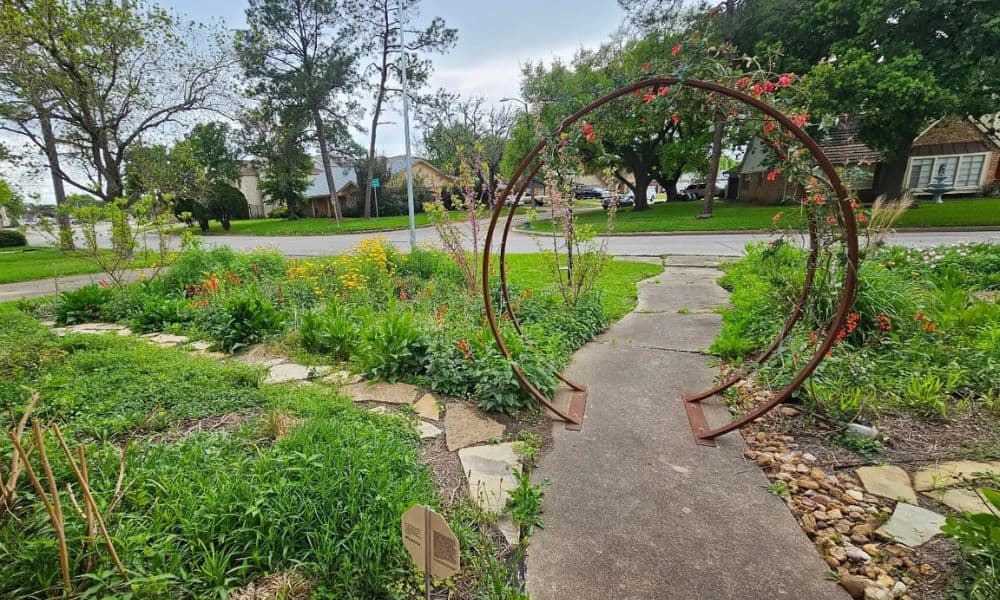 Pathways are an easy way to make the garden look intentional and visually appealing, while also making the plants more accessible.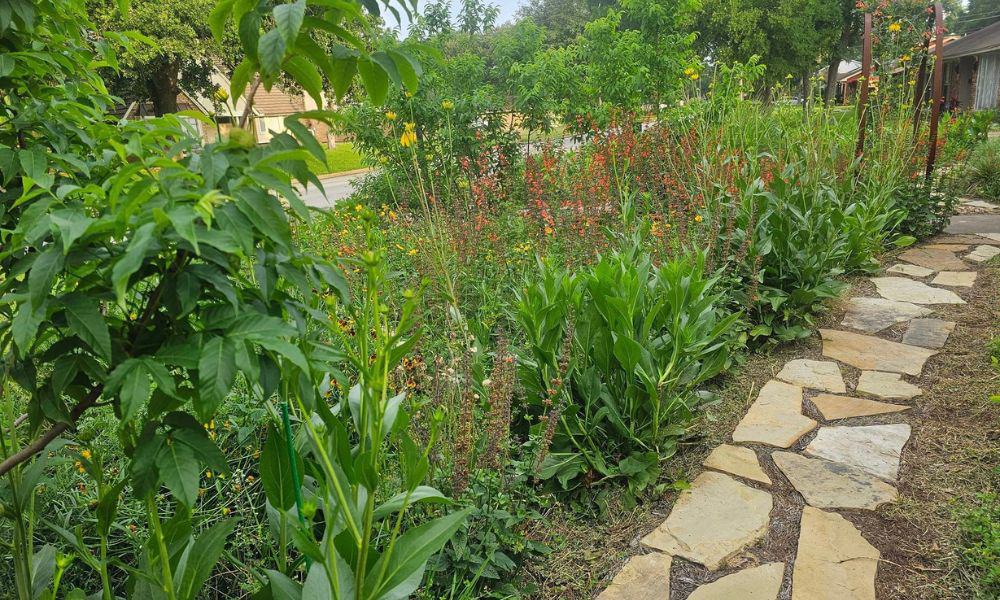 Patches of flowers such as this Coreopsis add color at different times of the year in this Houston yard.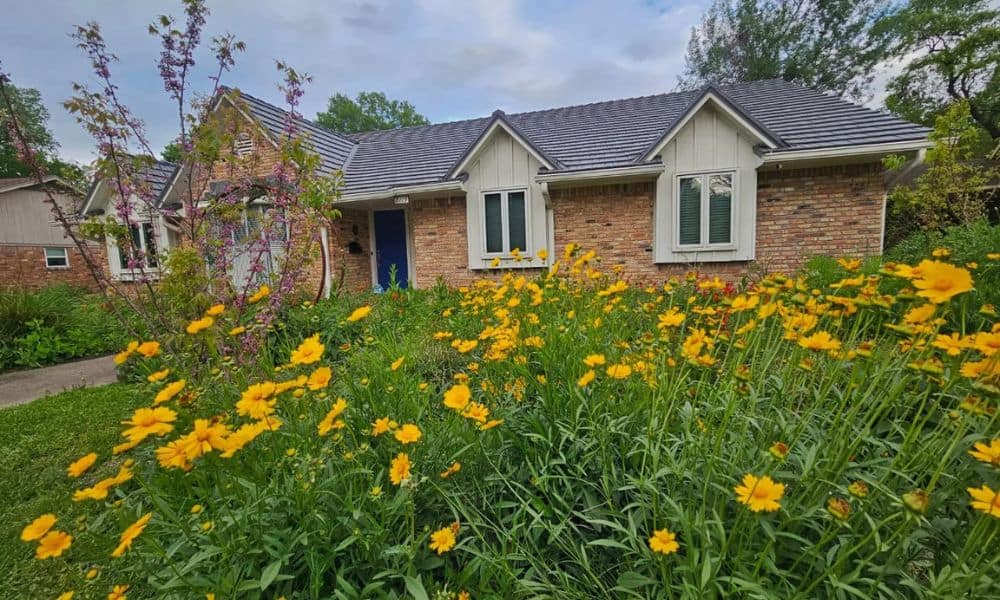 6) Mary's San Antonio Yard
Mary's Texas landscaping has a ton of curb appeal thanks a dense planting of a variety of well-maintained plants that grow right up to the curb. In some cases, like the pretty Blackfoot Daisy, they flow over the curb.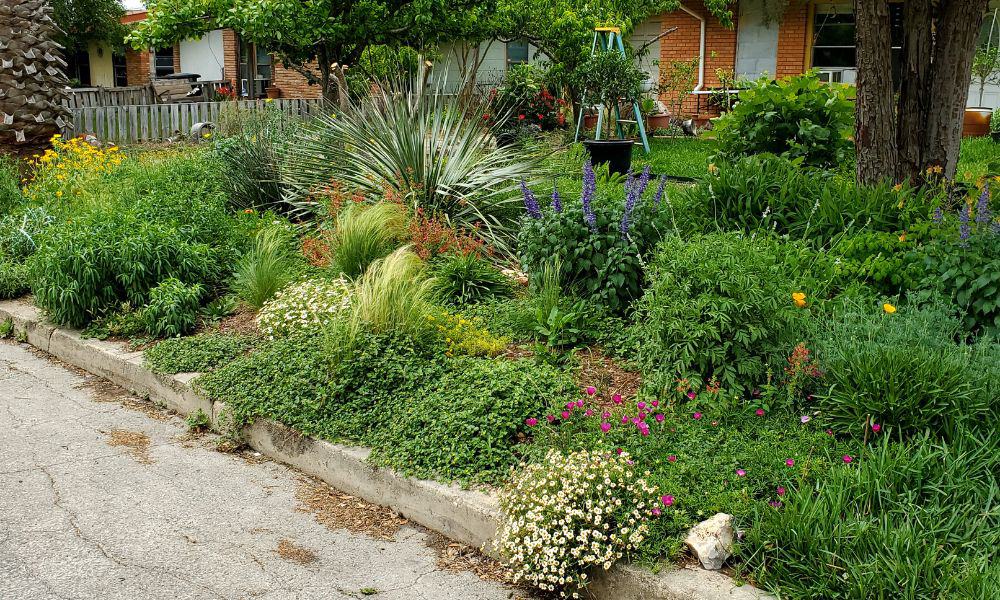 The garden bed is a great example of incorporating various colors and textures, such as the soft Mexican Feather Grass (native to West Texas) and spiky Yucca interspersed with the leafy perennials.
7) Michael's Plano Yard
Michael's envy-inducing Plano front yard has over 3,400 fans on Instagram at Plano Prairie Garden! Be sure to follow Michael for lots of inspiration and gardening tips.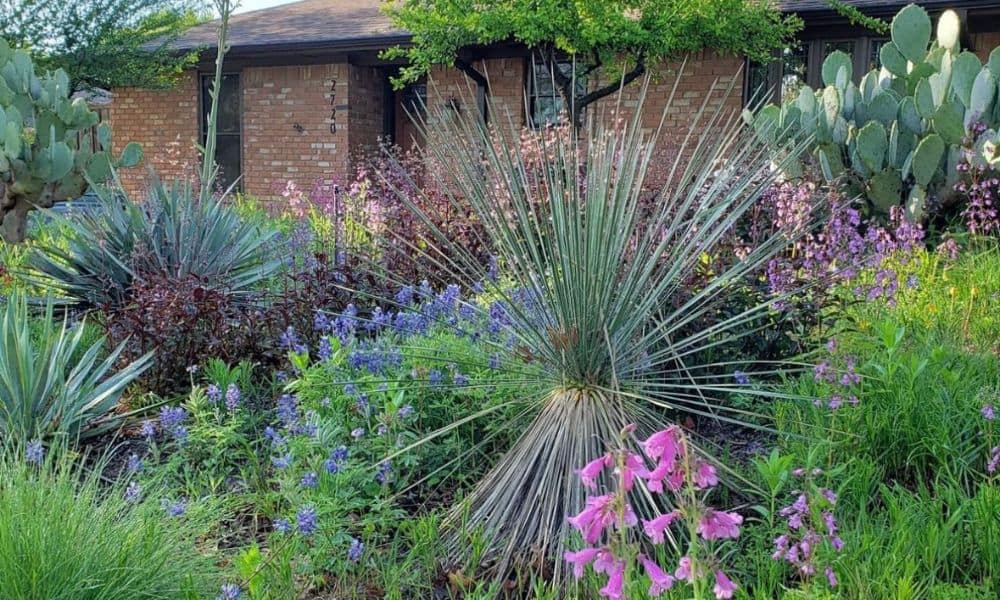 The before and after photo below says it all. The first photo is from 2004, and the second photo from April 2021. A labor of love over 17 years, his front yard comes alive with Texas Bluebonnets in the spring, and liatris and coneflowers in the summer.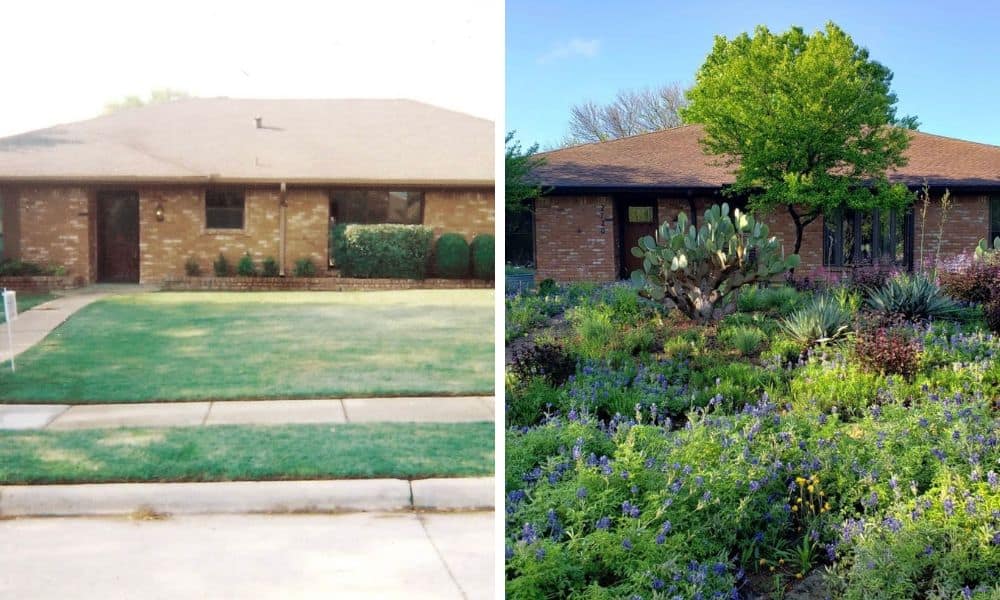 Large evergreen plants like the Prickly Pear cactus and ornamental Muhly grasses add structure to the landscape.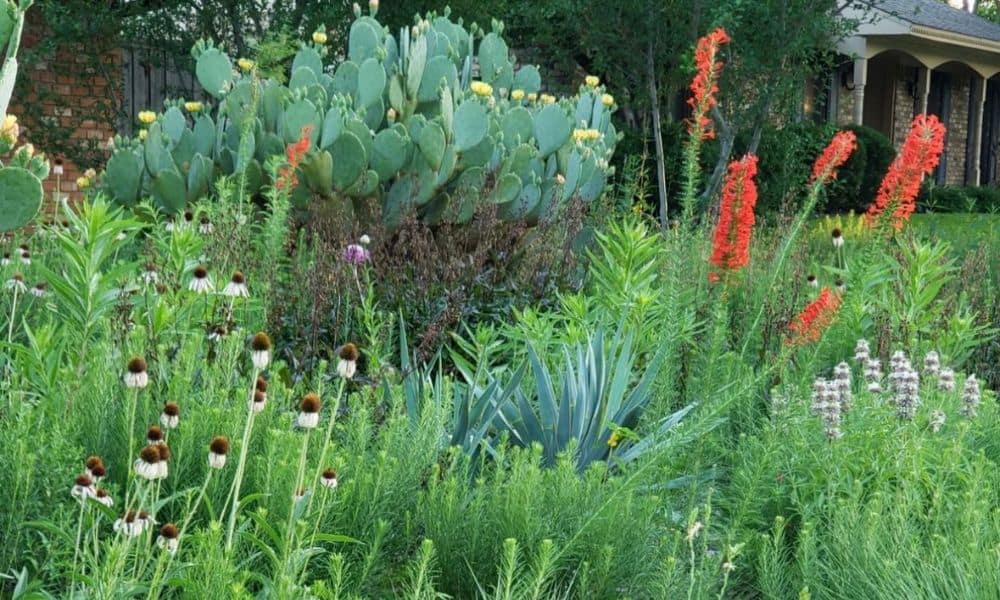 Michael has mastered seasonal planting so there is always something of interest in the garden. Even in the winter it is beautiful!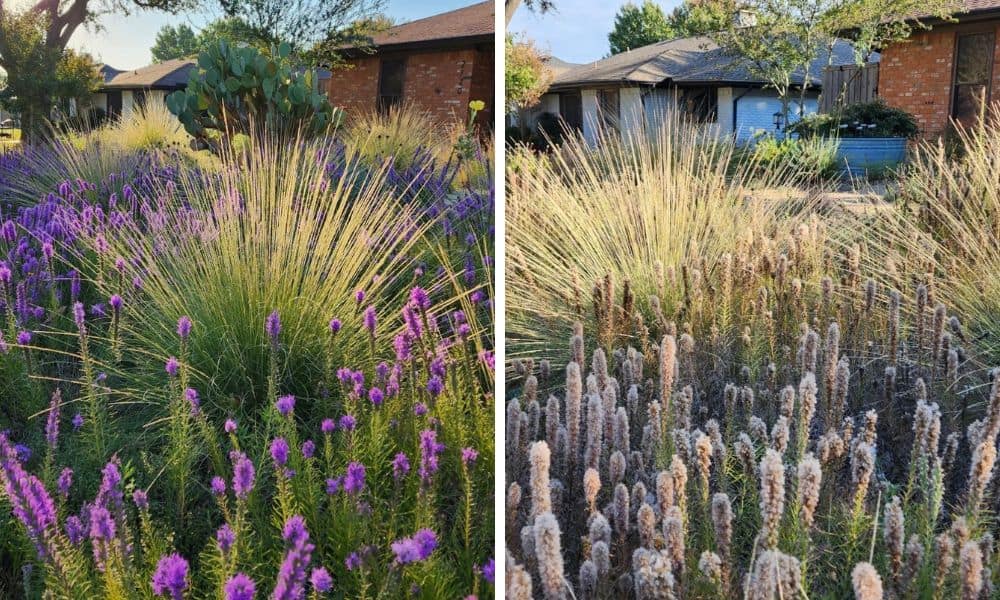 Texas Backyard Landscaping Ideas
7) Michael's Plano Backyard
Michael's garden extends to the backyard, where the beds are separated by crushed granite pathways, and a DIY blue bottle sculpture serves as a focal point.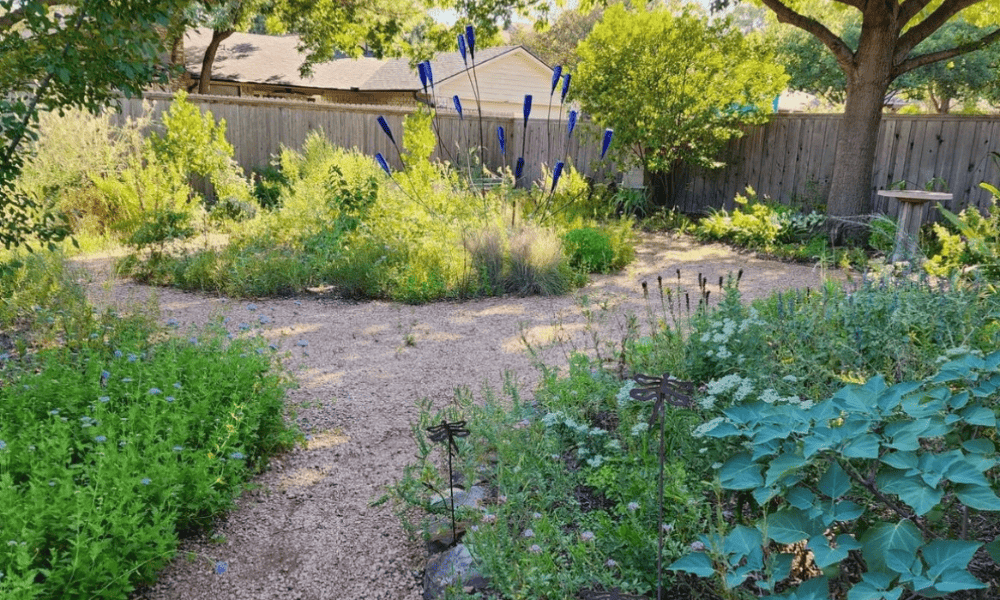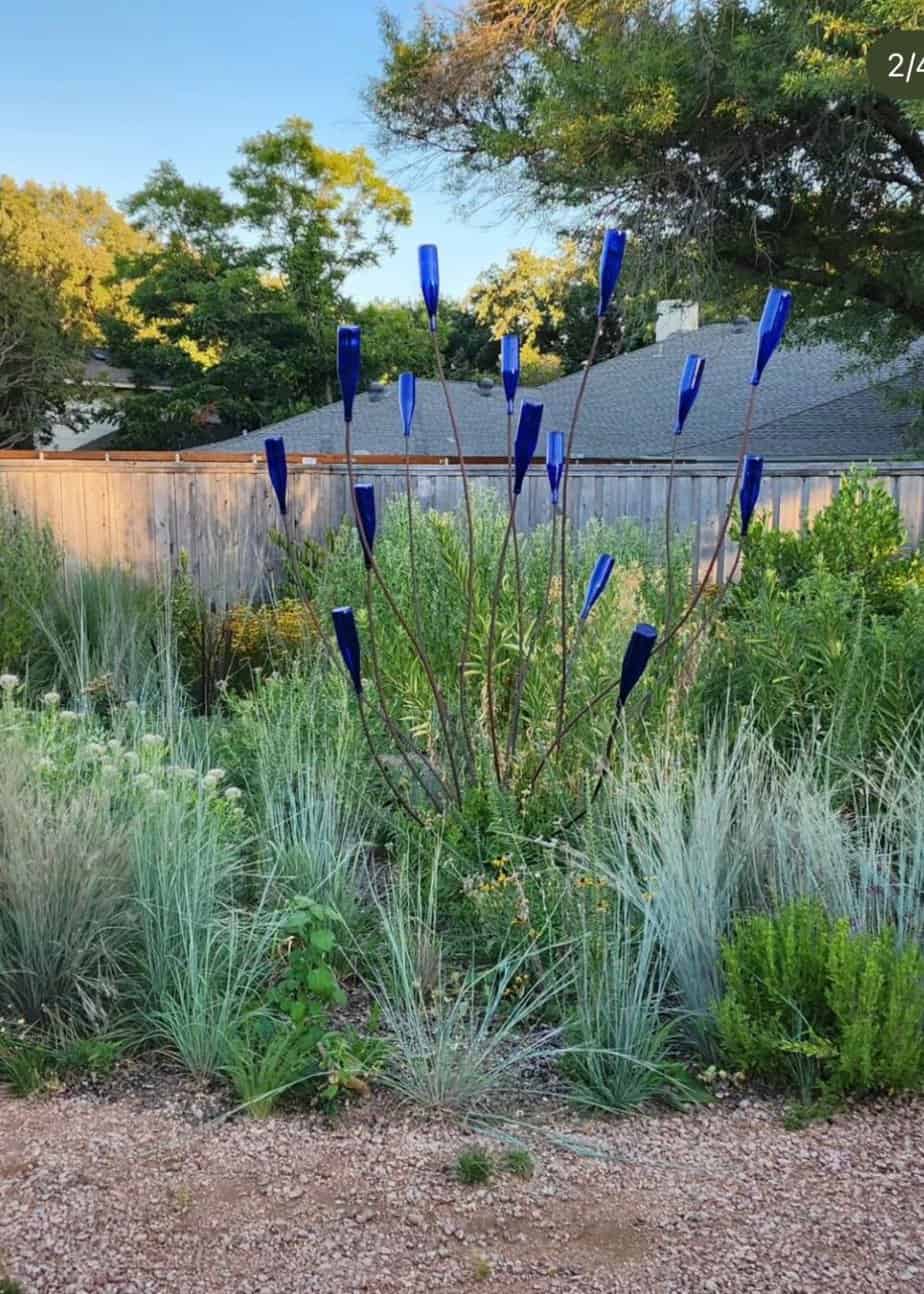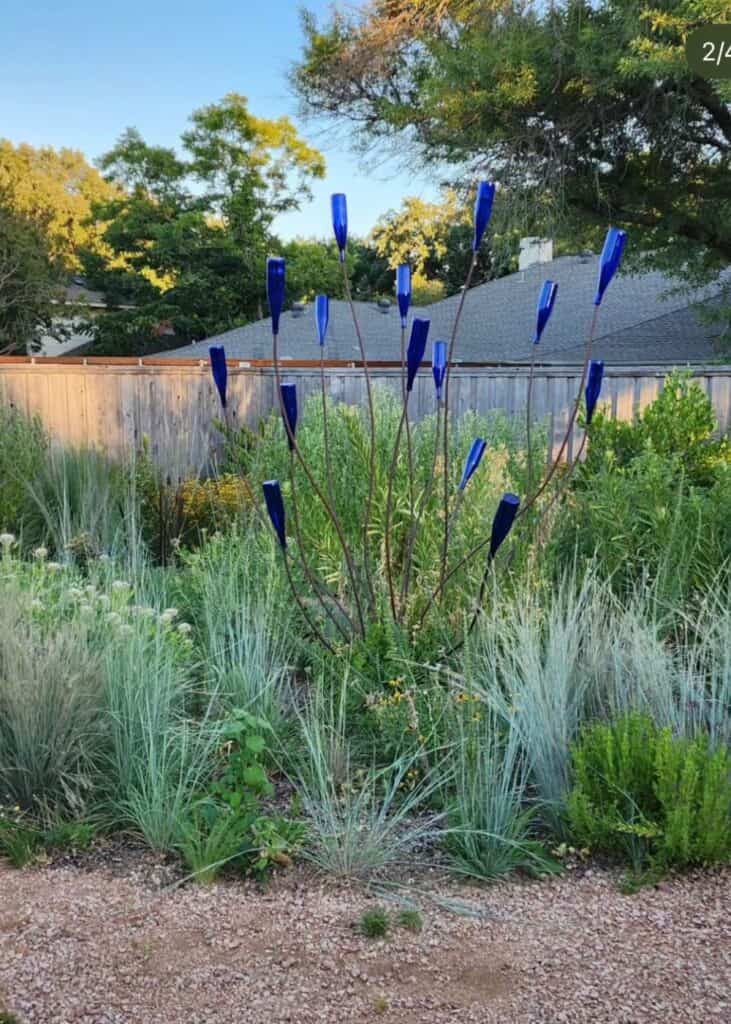 8) Kathleen's Garden in New Braunfels
Kathleen's beautiful Texas Hill Country landscape was featured on Central Texas Gardner. Check out this video of her garden!
Her backyard garden provides a burst of different colors along her fence. Large shrubs of Autumn Sage in red, pink, and white are grouped together.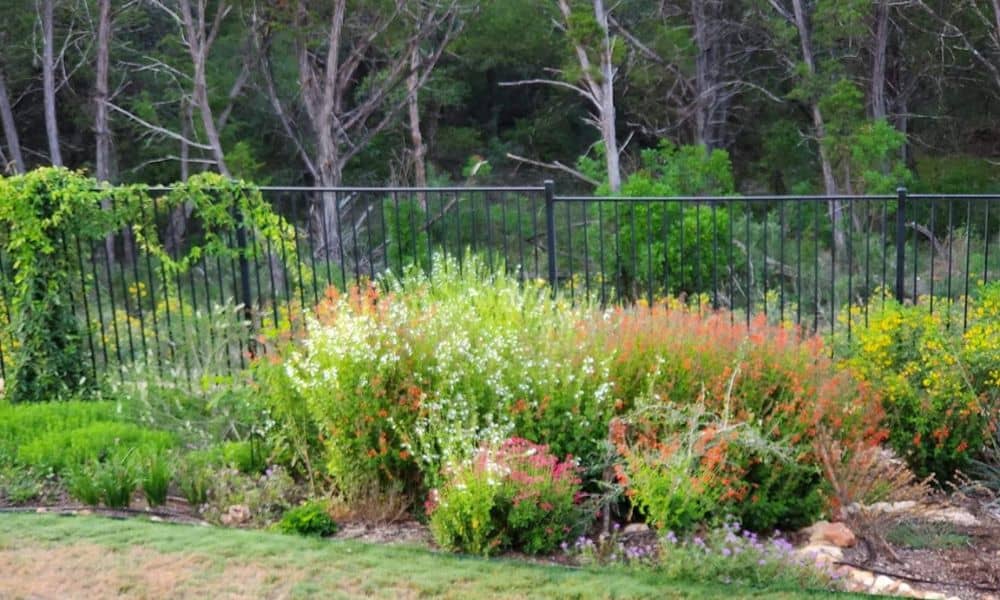 Other native perennials interspersed in her garden include Tropical Sage, Gulf Penstemon, Clasping Coneflower, Prairie Verbena, and Snakeherb: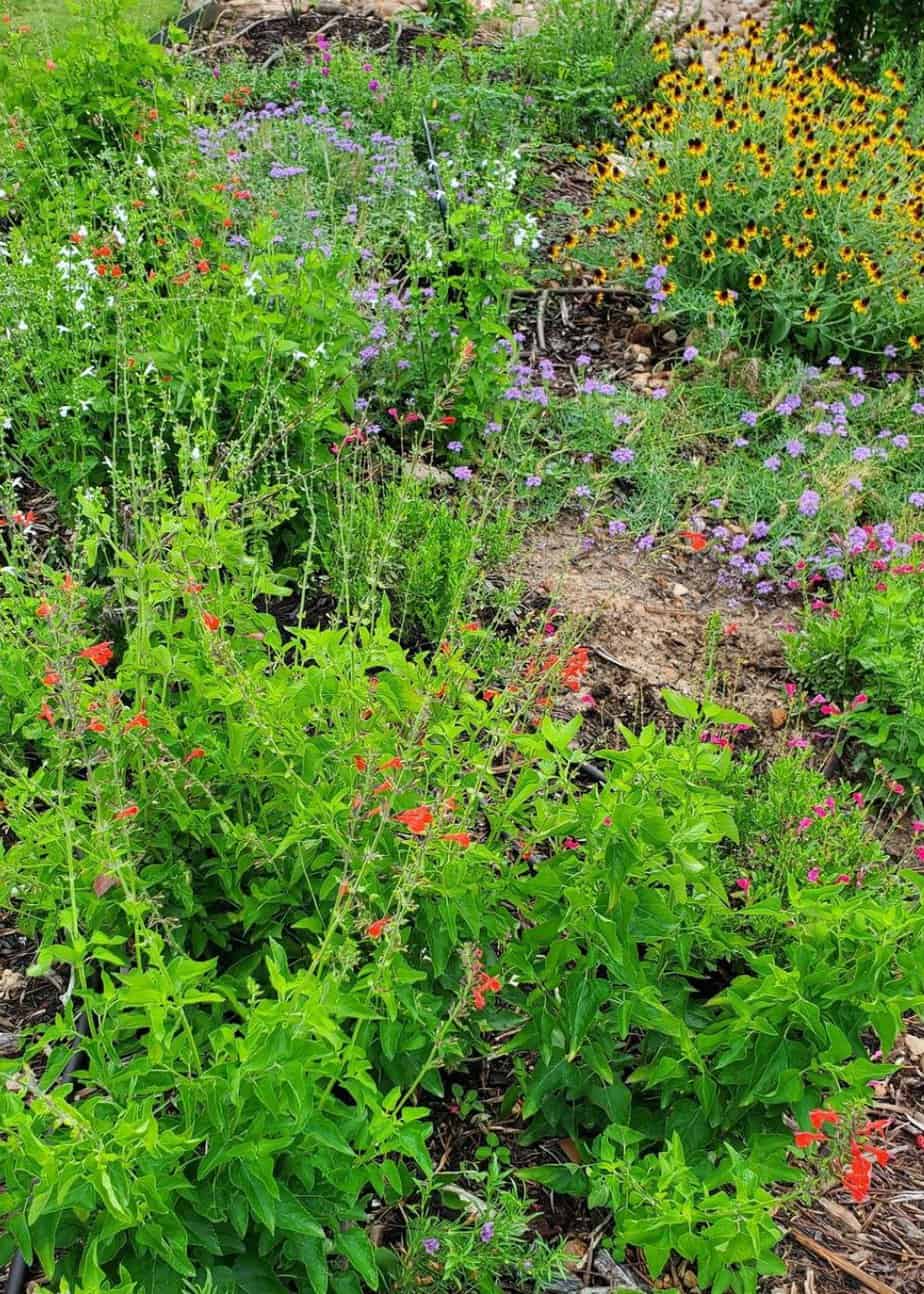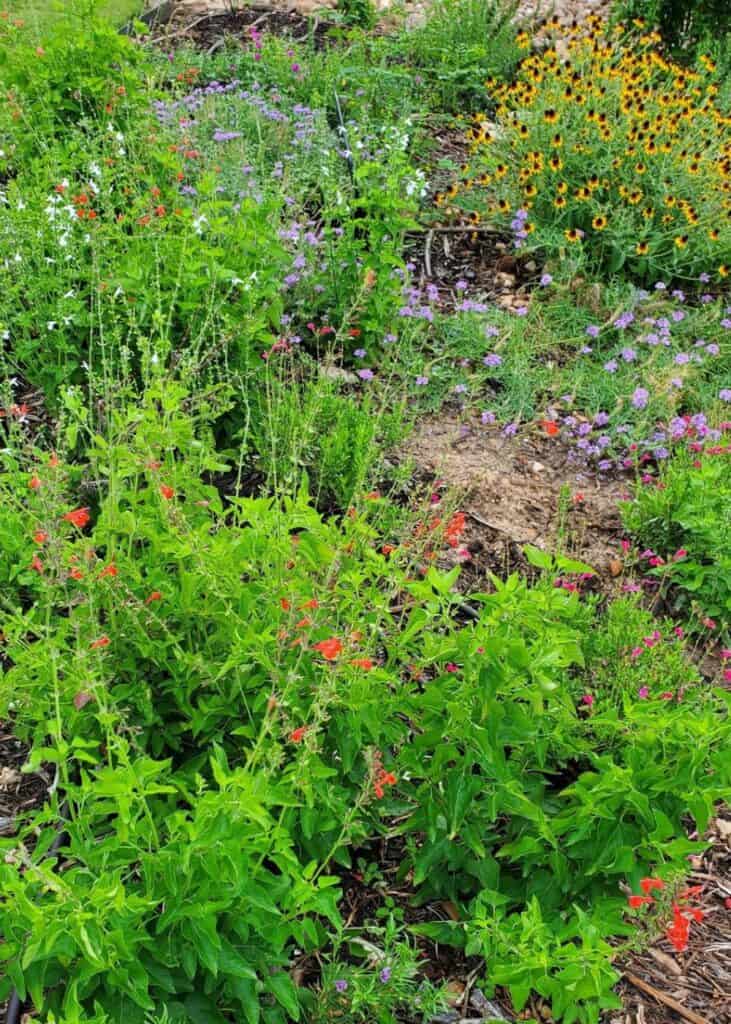 Below, a lush Frogfruit ground cover is punctuated by Pride of Barbados (native to Caribbean) and Anacacho orchid trees in a full sun area along the fence.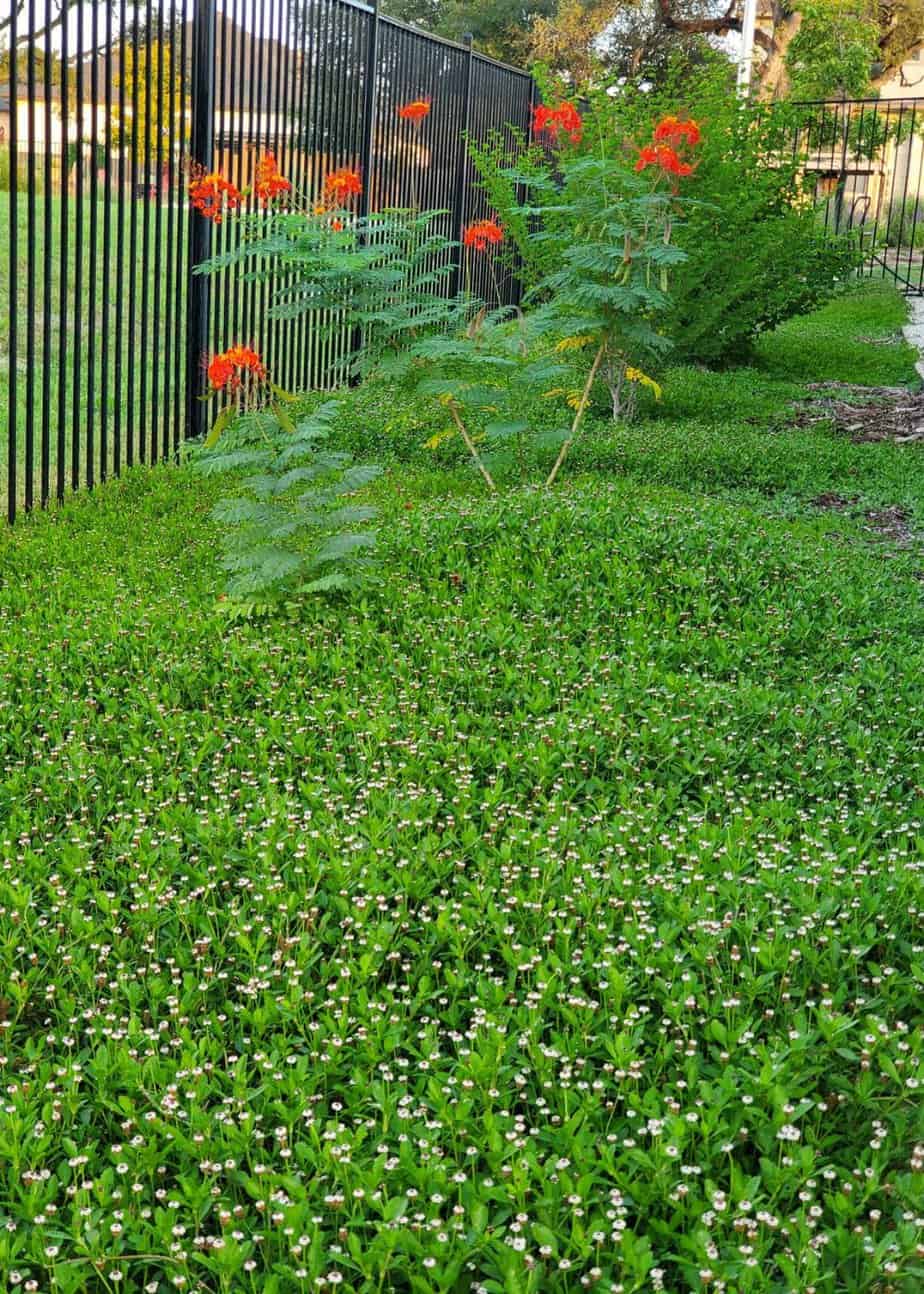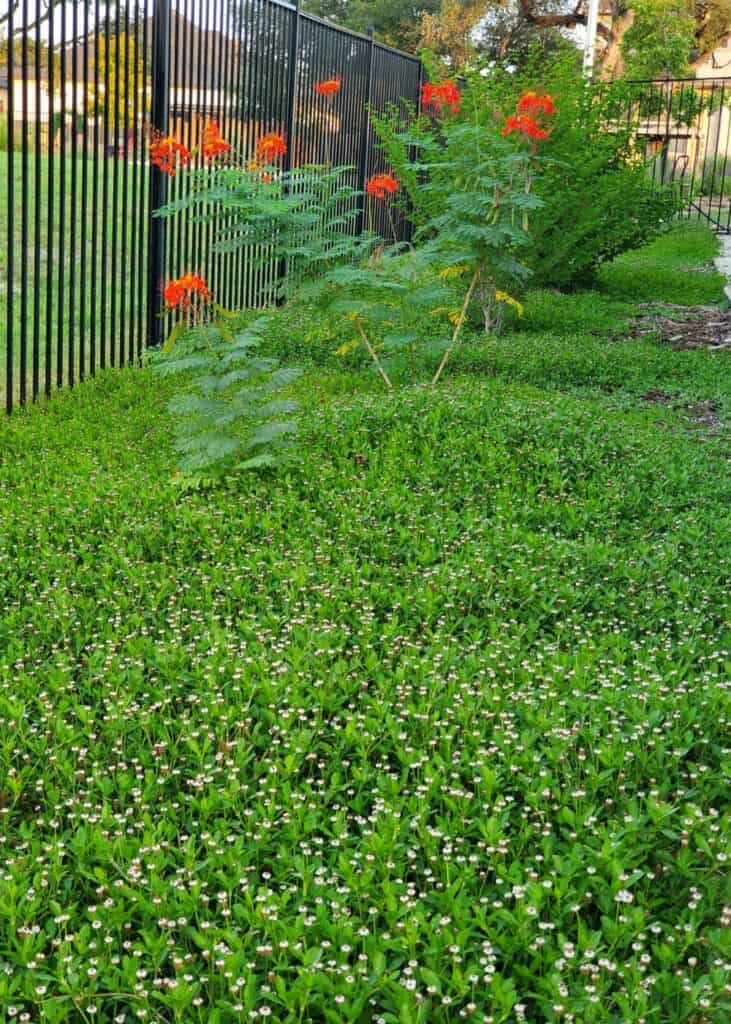 Kathleen says about her garden: "Nine months ago this was a bare mulch bed reclaimed from Bermuda grass–a wildlife desert. Now we see hummingbirds, painted buntings, Carolina wrens, lark sparrows, mourning doves, goldfinches, mockingbirds, cardinals, house finches, titmice, butterflies, native bees, moths and other pollinators foraging here."
A backyard garden allows you to experiment with cool Texas native plants like this GIANT Maximilian Sunflower. How cool is that!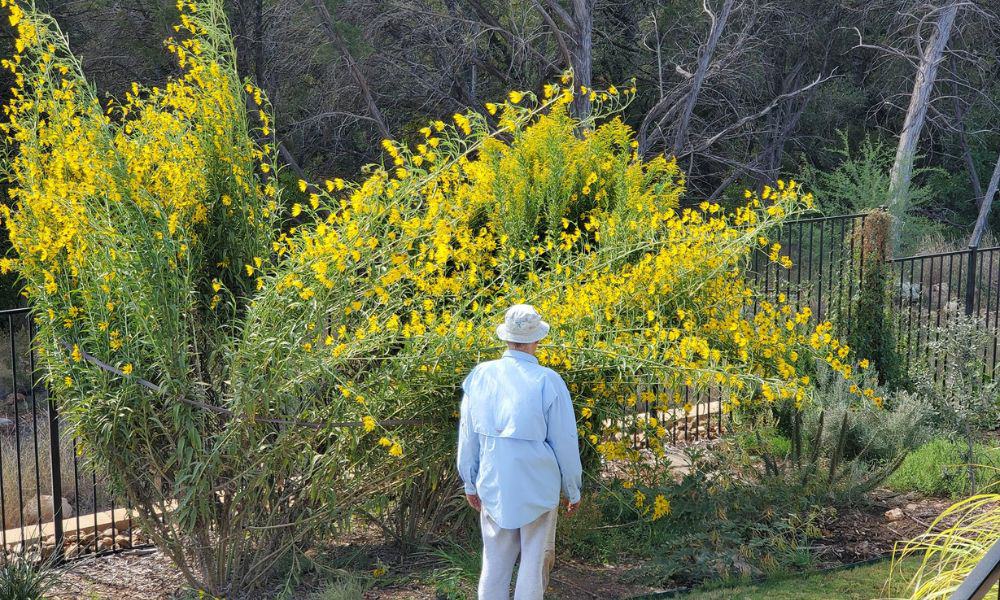 9) Reba's Garland Texas Native Yard
Reba employed Carol Feldman's landscaping company to create her wildlife oasis that spans her front and back yard. Her native habitat is a certified Monarch Waystation and NWF Wildlife Habitat (get my tips on how you can certify your yard as a wildlife habitat).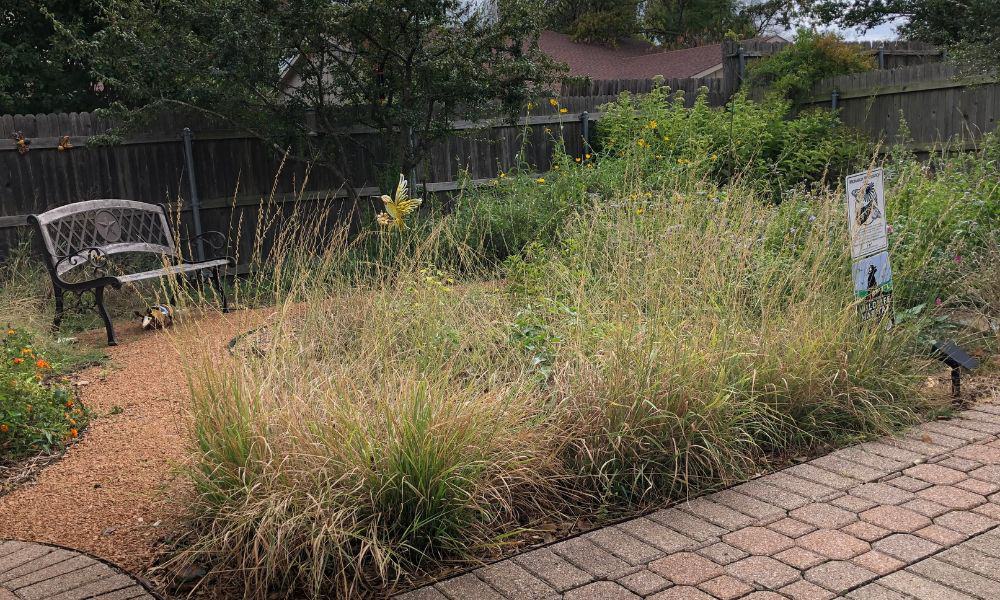 Her sunny Blackland Prairie backyard is full of native grasses and perennials that shine in the fall including Frostweed and Maximilian Sunflower.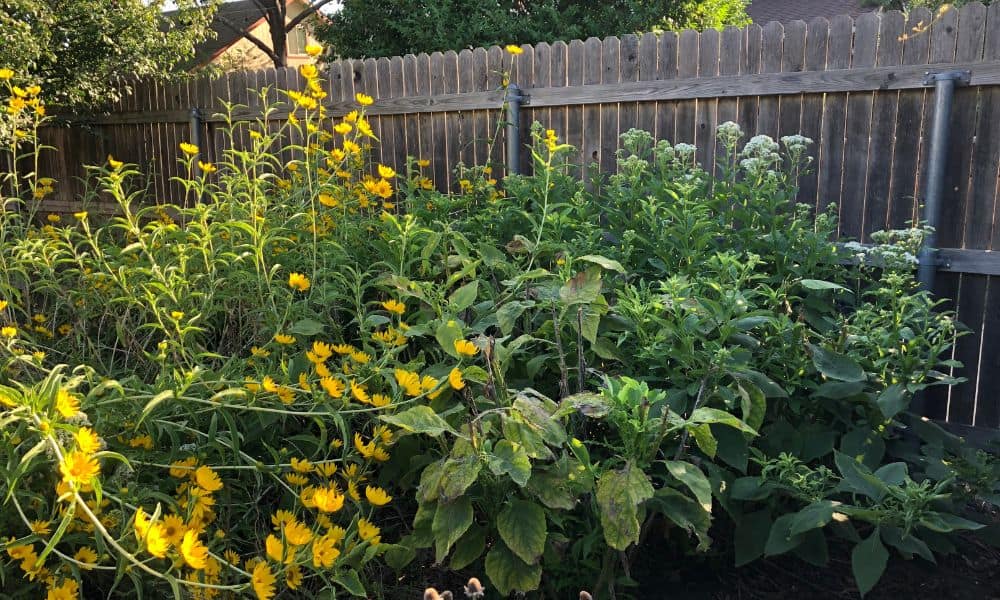 Benches and pathways make a comfy outdoor living space to observe wildlife. If you have a large area of your yard that you want to transform, getting professional help is a great option. Look for landscaping companies that specialize in Texas native plants. Your local Native Plant Society chapter may be able to provide recommendations.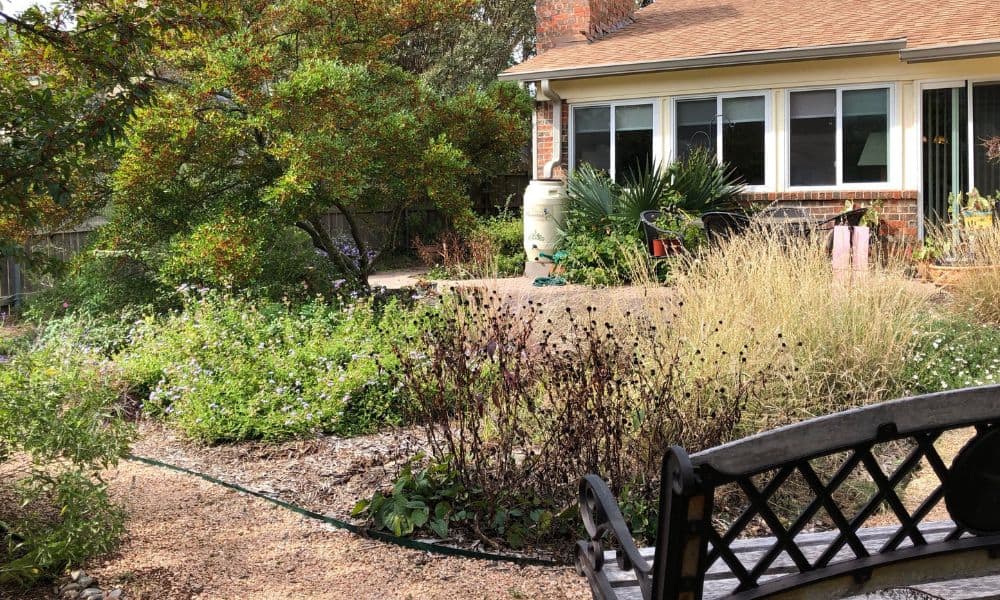 Reba's front yard features a variety of wildflowers that can handle the part shade from the large Shumard Oak tree.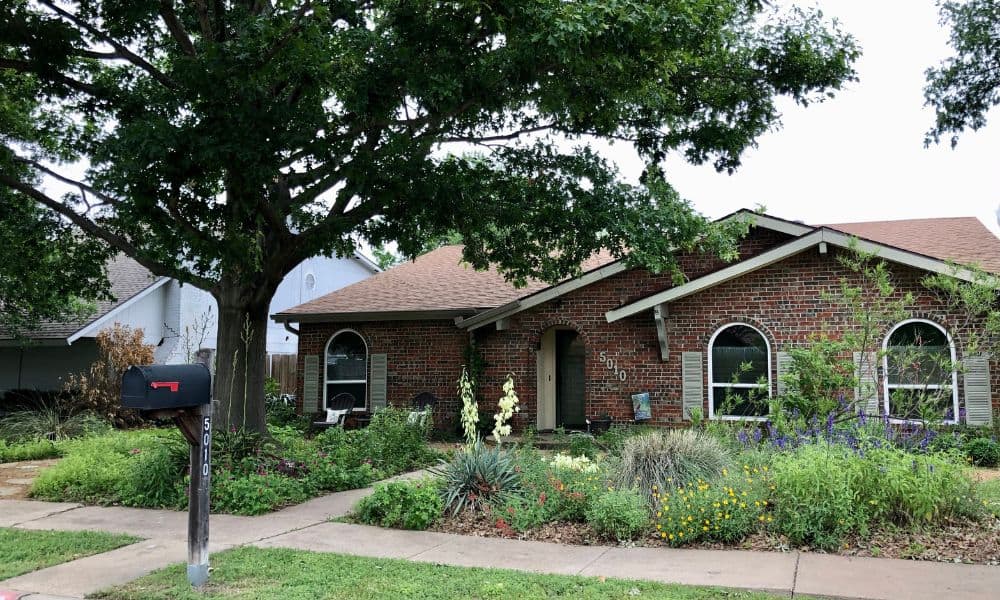 10) My San Antonio Yard
Finally, I have been working over the last three years to transform my back yard from St. Augustine grass to a Texas native plant oasis with over 50 different plant species. We removed the automatic irrigation system in this area. Check out the early phases of my landscape design.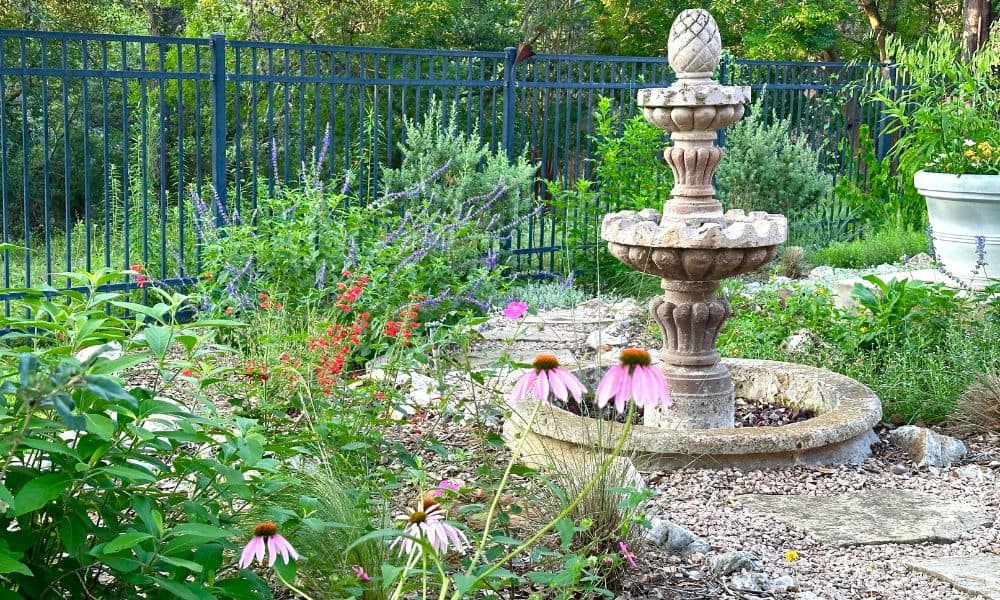 My backyard garden includes water features such as this pretty fountain used as a bird bath, rock borders, and and flagstone pathway: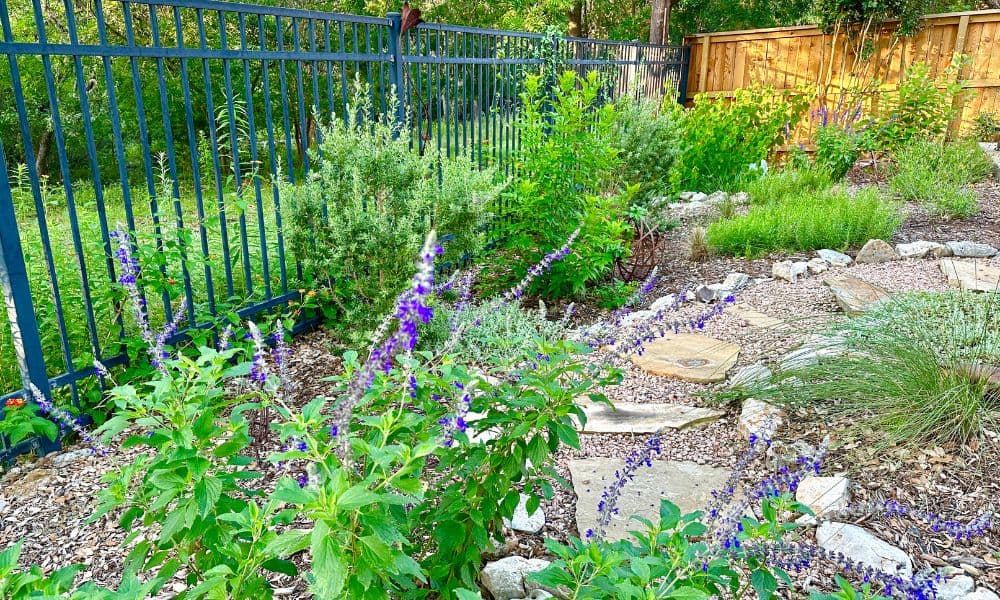 It is a work in progress as it continues to mature and evolve! Follow me on Instagram at Native Backyards to see the latest photos of my garden.
Where to Plants for Native Texas Landscapes
Want to find the best plants for your region of Texas? Check out these regional plant lists from the Native Plant Society of Texas.
When looking for Texas native plants seek out a locally owned nursery or garden center that is knowledgeable about native plants and sustainable practices. This list of nurseries in the Native Plant Society NICE Program is a good place to start.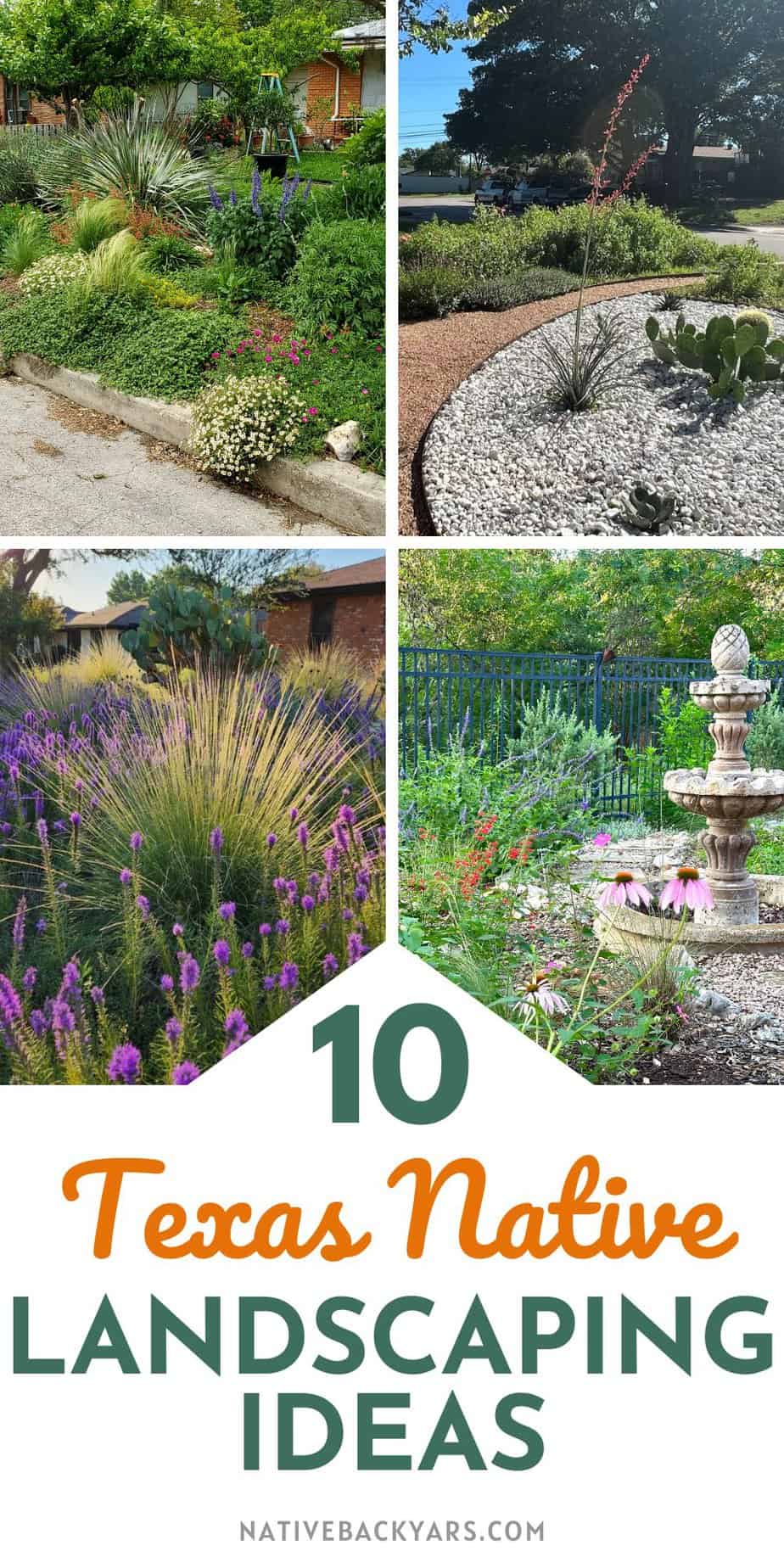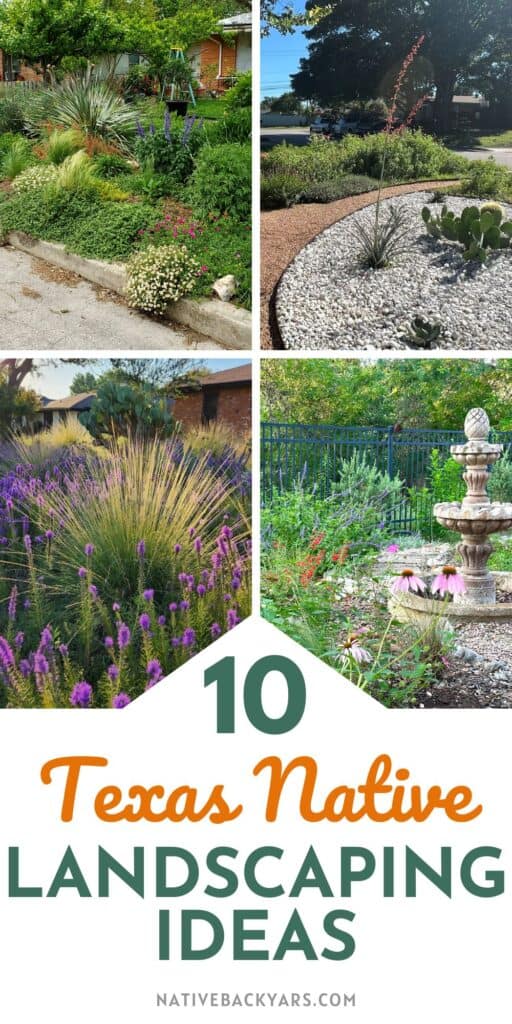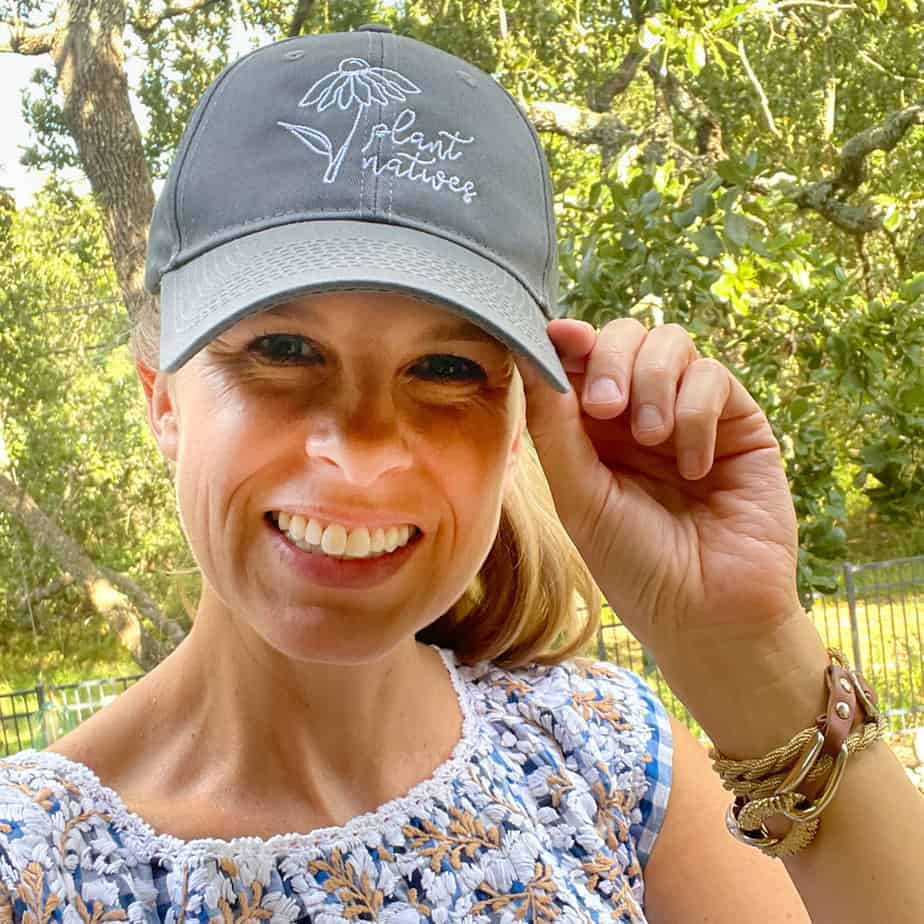 Welcome to Native Backyards! I'm Haeley from San Antonio, Texas, and I want to help you grow more native plants.
I have seen firsthand how the right plants can bring your yard to life with butterflies, bees, and birds. I've transformed my yard with Texas natives and I'm excited to share what I've learned with you.
Join my newsletter here! – each week I'll send you helpful tips to make your native plant garden a reality!
Want to learn more about me and my garden? Check out my About page!