5 Reasons to Grow Antelope Horns Milkweed
Antelope Horns (Asclepias asperula) is a beautiful species of Milkweed with clusters of star-shaped blooms and a unique green flower color. I personally think it is the prettiest Milkweed of all!
Native to the midwestern and southwestern United States, this low-growing plant is a must for butterfly gardens if you live within its native range.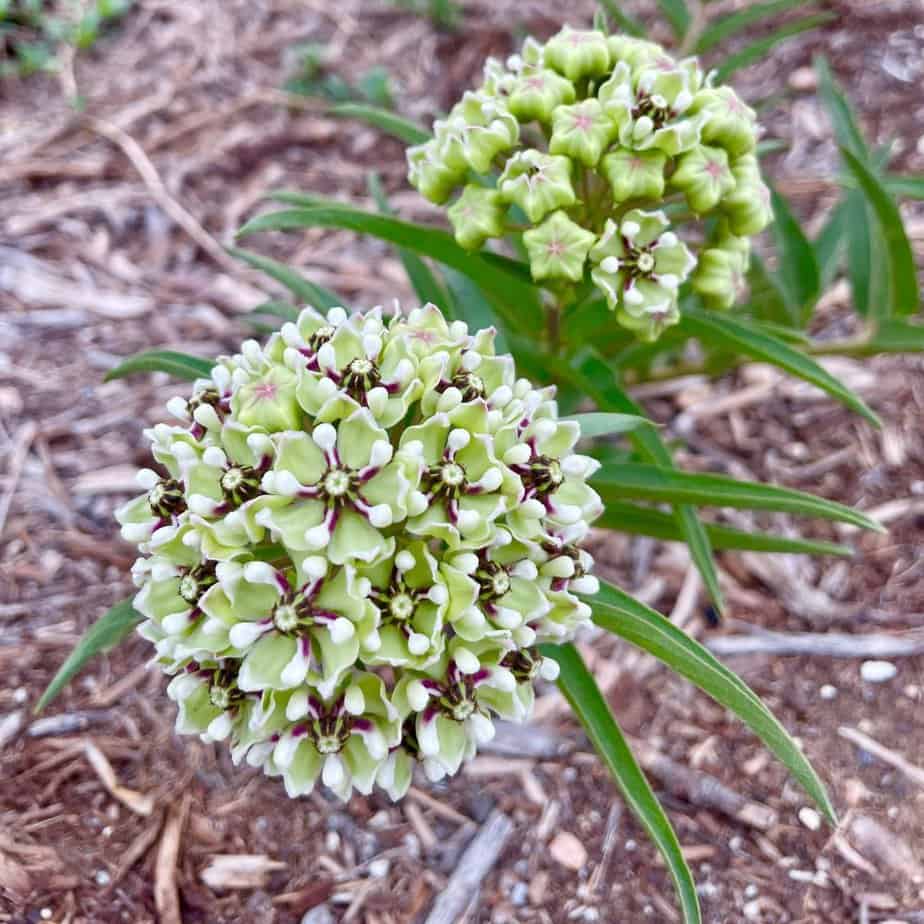 5 Reasons to Plant Antelope Horns Milkweed
1. It has gorgeous blooms
Milkweed got the short end of the stick when it was named a weed. It is such a misnomer! This green milkweed plant with super unique flowers and bright green leaves can be a standout in your garden.
The bloom period for Antelope Horns starts in early spring and typically lasts through May.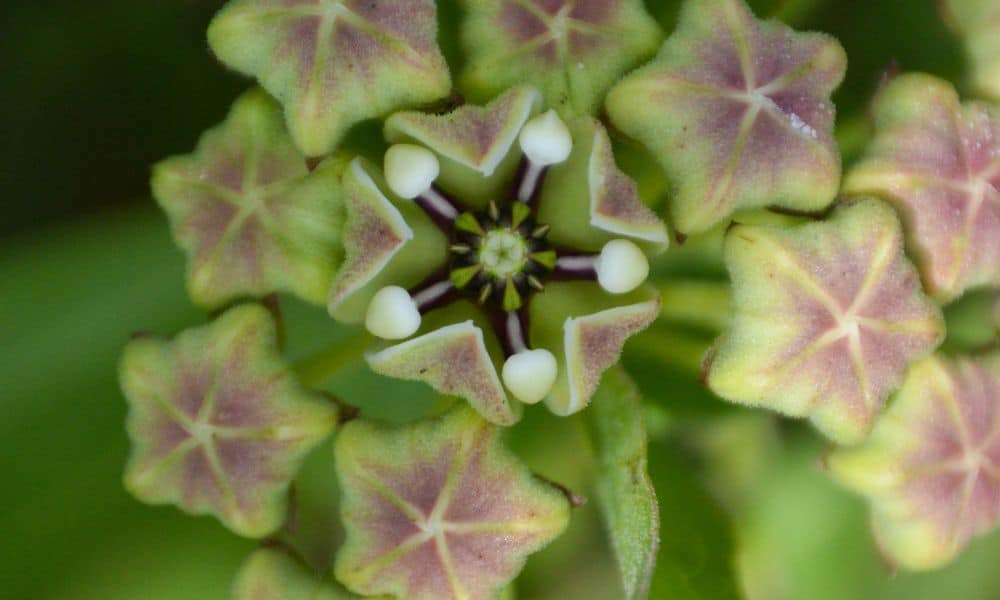 2. It is an important host plant for Monarch Butterflies
Monarchs can't survive without their host plant Milkweed. It is the primary food source for Monarch caterpillars. Monarch butterflies specifically seek out Milkweed plants to lay their eggs on.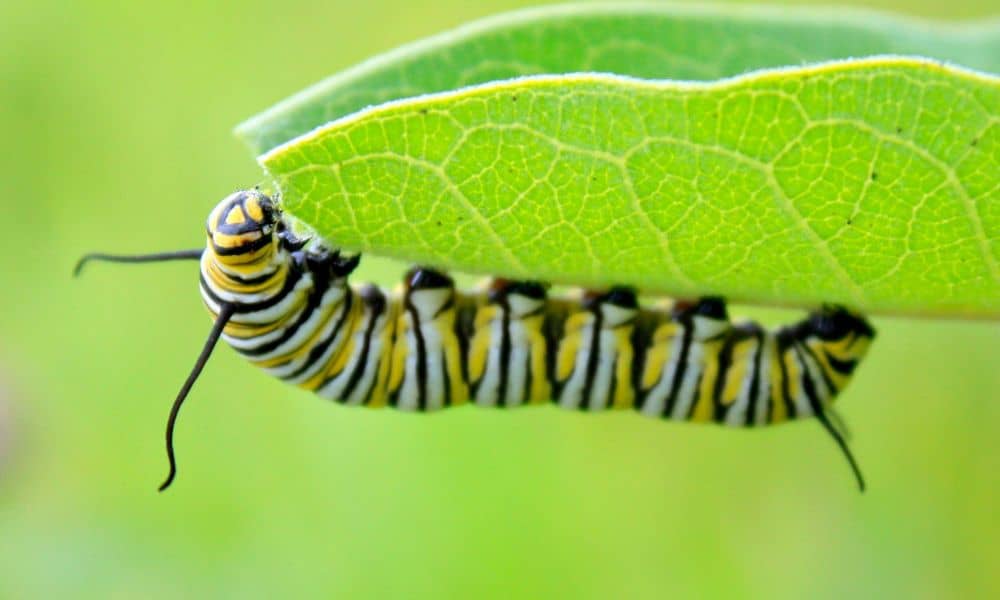 Milkweed is also an important host plant for Queen butterflies, a species of butterfly that looks very similar to a Monarch.
Antelope Horns is a great choice of Milkweed if you live in Texas like I do. Texas is a key stop on the Monarch's spring migration, so the more Monarch host plants we can add to our garden the better.
Check out these other great butterfly host plants native to Texas.
3. It is a great butterfly nectar plant
In addition to being a host plant that provides food to butterfly larvae, Antelope Horn Milkweed is also a great nectar plant that provides food to adult butterflies and other pollinators including bumblebees.
Like other species of Milkweeds, its scent is heavenly – one of the ways it attracts pollinators.
4. It is deer resistant
Thanks to their poisonous milky sap and strong taste, Antelope Horns milkweed plants are deer resistant. Milkweed is a great choice if your garden is heavily visited by deer, which is often the case here in Texas.
Be aware that Milkweed can be toxic to wildlife and pets. It can also irritate your skin, so use gloves when handling it.
Looking for other deer-resistant plants? Check out my list of Top 35 Deer Resistant Texas Native Plants.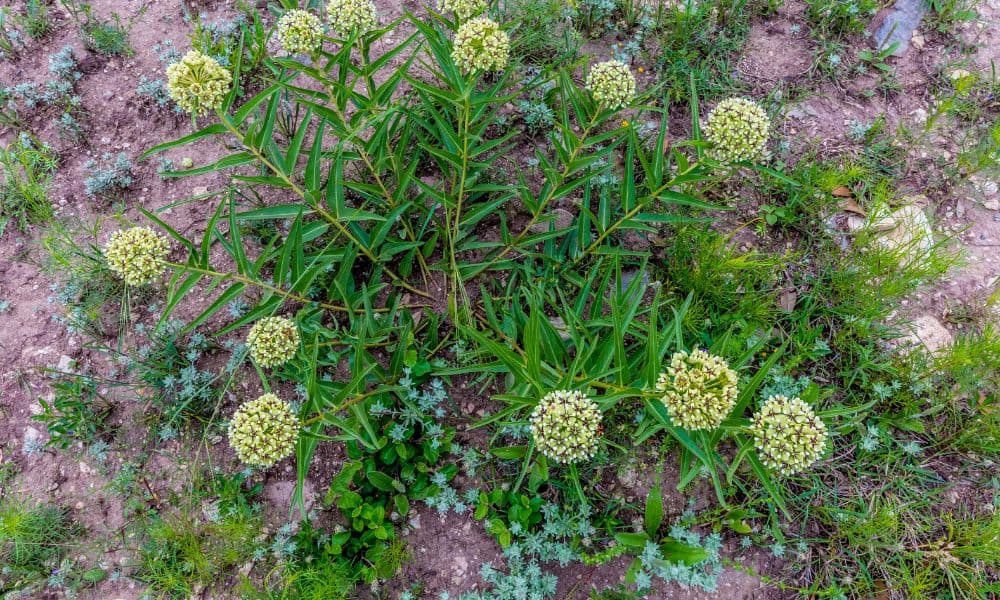 5. Antelope milkweed is drought tolerant
Asclepias asperula tends to be drought tolerant thanks to its deep tap root. It likes full sun and dry rocky or sandy soils of prairies.
Spider Milkweed – Another Common Name
The common name Antelope Horns comes from the shape of the seed pods that curve like a horn. However, another common name is Spider Milkweed. Apparently, that common name comes from the White Crab Spider that inhabits the flowers, patiently waiting for prey!
While a plant can have multiple common names, it only has one scientific (Latin) name. Its scientific name is Asclepias asperula. It is part of the genus Asclepias – the Milkweed family of plants!
Asclepias asperula vs. Asclepias viridis – two similar species
To add to the naming confusion, there is another species of Milkweed that looks very similar to Asclepias asperula and also goes by the same common names of Spider Milkweed, Antelope Horn Milkweed, as well as Green Milkweed. This species is Asclepias viridis.
The primary way to tell the difference between the two species is by their leaves. Asclepias asperula tends to have long slender leaves, while Asclepias viridis has larger and rounder leaves.
The distribution of the two plants is different in Texas. Asclepias asperula tends to be found in the western half of the state while Asclepias viridis is found in East Texas.
Antelope Horns Milkweed Native Range
The native range of Asclepias asperula extends through parts of the Midwest and Southwestern United States including the state of Texas where I live! Its native range also extends down to Northern Mexico.
States where it is native include:
Arizona
California
Colorado
Kansas
Idaho
Nebraska
New Mexico
Oklahoma
Texas
Utah
Antelope Horn Milkweed Seeds for Sale
Now for the drawback. Antelope Horns Milkweed can be very tricky to find at the nursery. Start by asking your local nursery that specializes in native plants. If they don't currently carry it, ask them to!
Your best bet is to grow Antelope Horns from seed. You can purchase Asclepias asperula seeds from Native American Seed.
How to Grow Asclepias asperula
Milkweed doesn't require special potting soil or fertilizers. In fact, it prefers gravelly soil like the rocky soils of the Edwards Plateau where I live.
If you live in a climate with cold winters, you can sow the Asclepias asperula seeds directly into the soil in the fall. Or you can cold stratify the seeds in the refrigerator for a couple months over the winter and sow them after the last frost in the spring.
It is hard to transplant Asclepias asperula because of its large tap root. So if you have some already growing, you are best off letting it be! Instead, try to collect some seeds from the seed pods in the fall.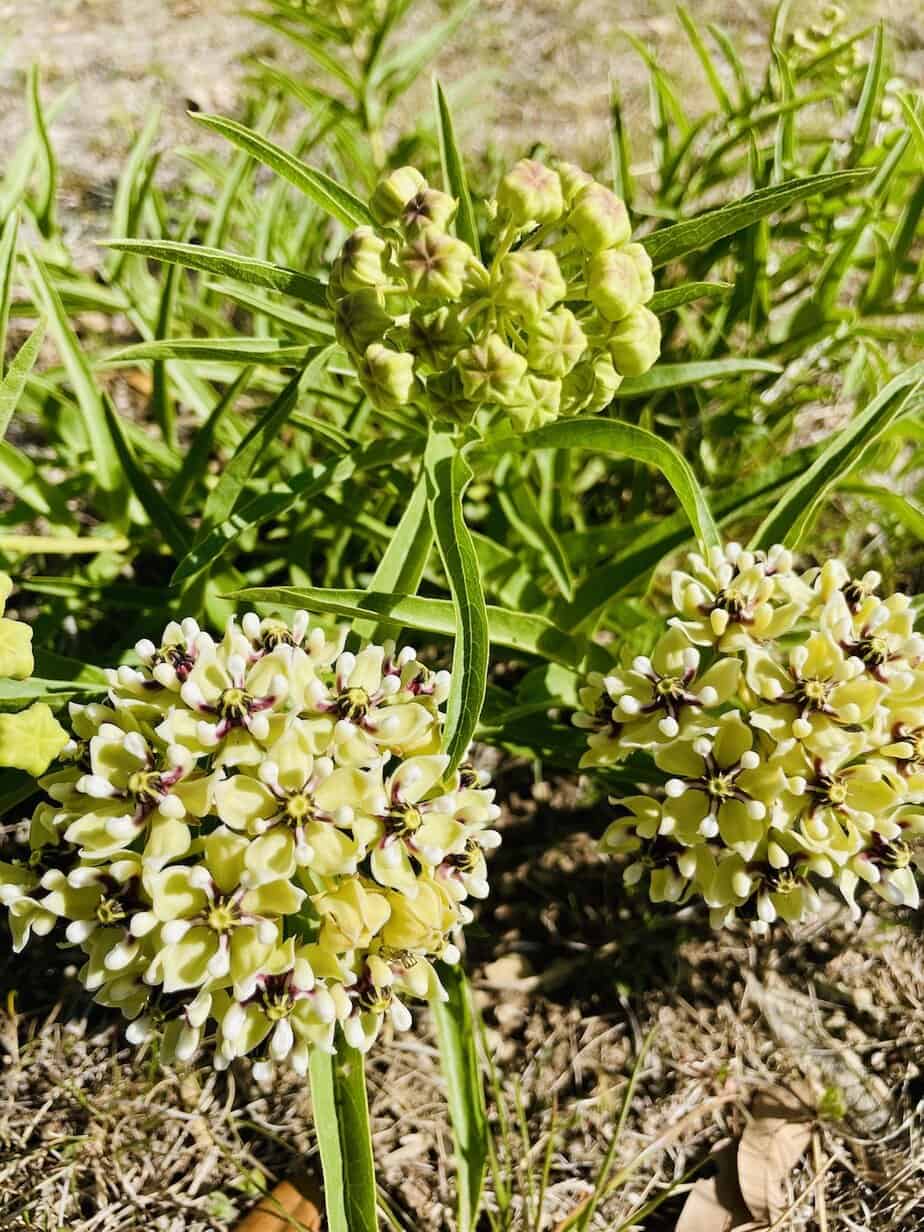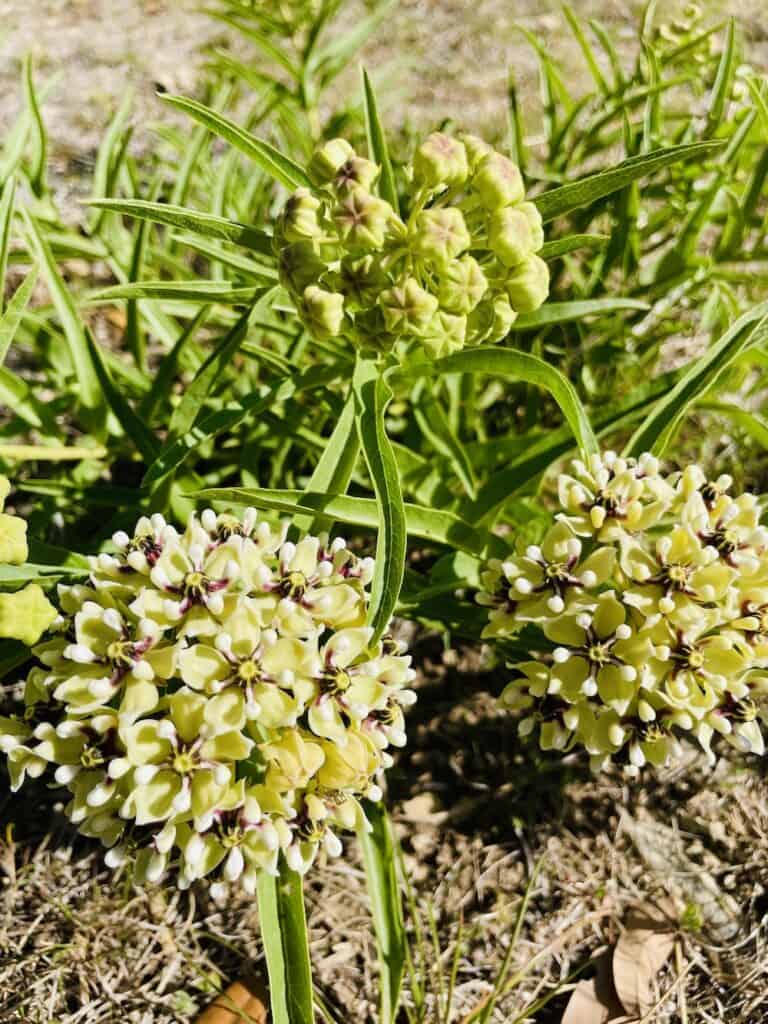 Other Types of Milkweed Native to Texas
Antelope Horns is just one member of the Milkweed family in Texas, and one of over 70 species of Milkweed in the United States!
When possible, avoid Tropical Milkweed in your garden (here is why). Instead, look for some of these great Texas natives:
Butterfly Weed (Asclepias tuberosa)
Texas Milkweed (Asclepias texana)
Swamp Milkweed (Asclepias incarnata)
Zizotes Milkweed (Asclepias oenotheroides)
Pin This to Spread the Word About Antelope Milkweed!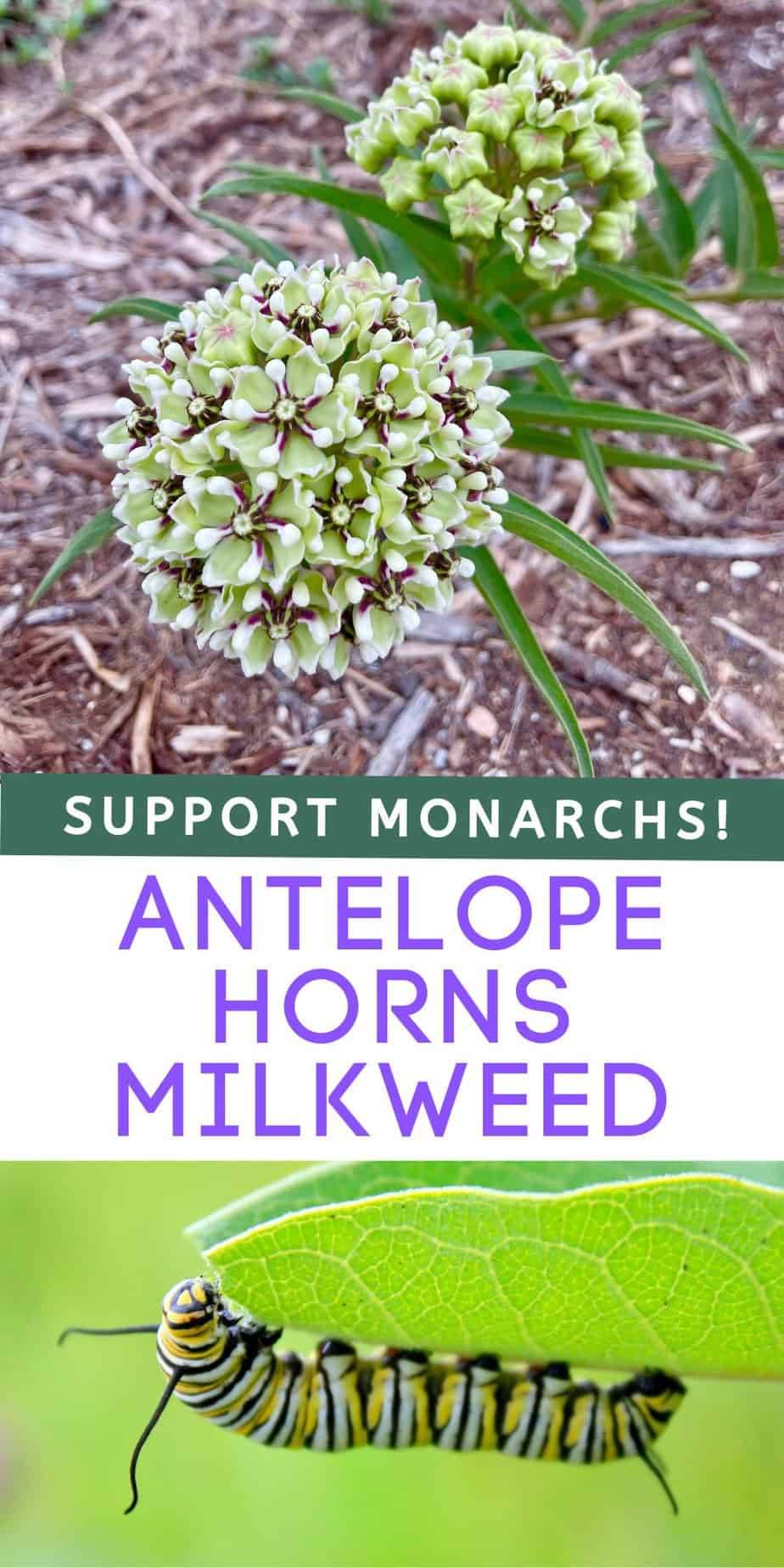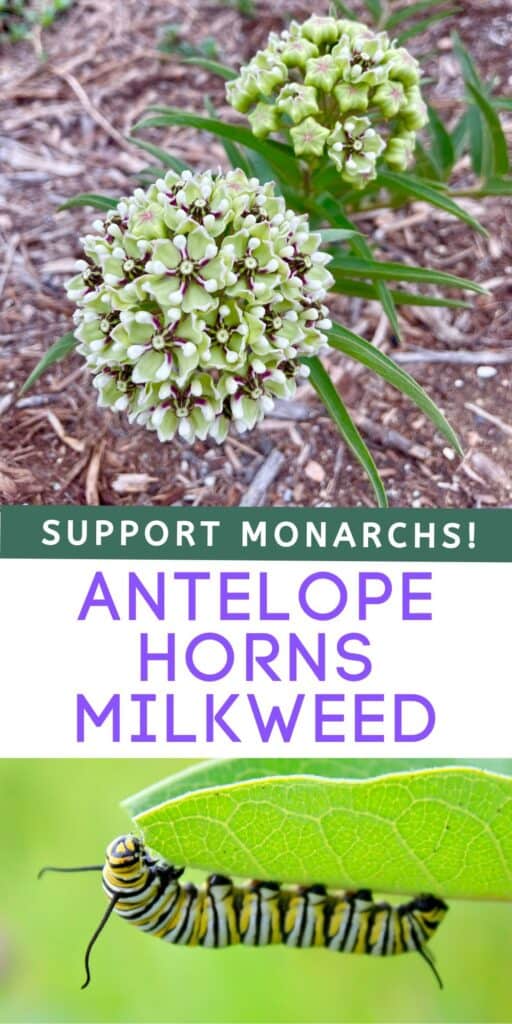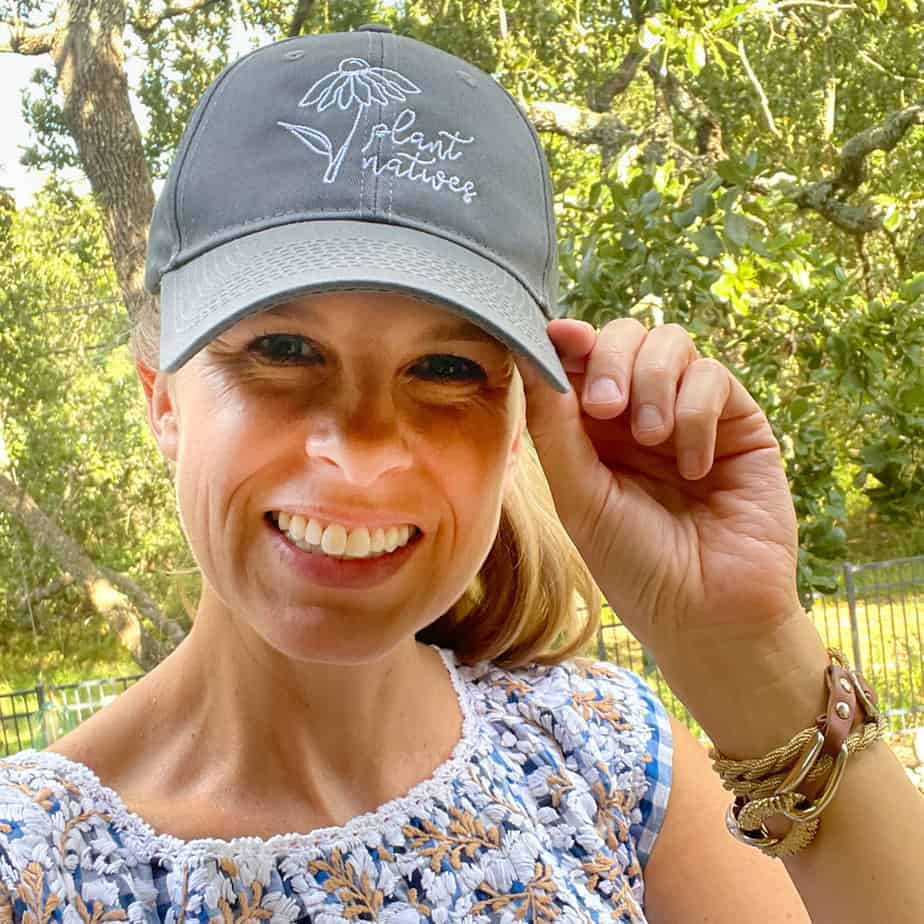 Welcome to Native Backyards! I'm Haeley from San Antonio, Texas, and I want to help you grow more native plants.
I have seen firsthand how the right plants can bring your yard to life with butterflies, bees, and birds. I've transformed my yard with Texas natives and I'm excited to share what I've learned with you.
Join my newsletter here! – each week I'll send you helpful tips to make your native plant garden a reality!
Want to learn more about me and my garden? Check out my About page!