Top 5 Native Flowering Trees of Central Texas
If you are looking for a new tree to add to your yard, go native! These five flowering trees of Central Texas are not only native to the Hill Country area, they are absolutely gorgeous when they are in bloom.
Be sure to download my free printable PDF of 5 Texas Flowering Trees. You can take this handy one-pager with you to the plant nursery.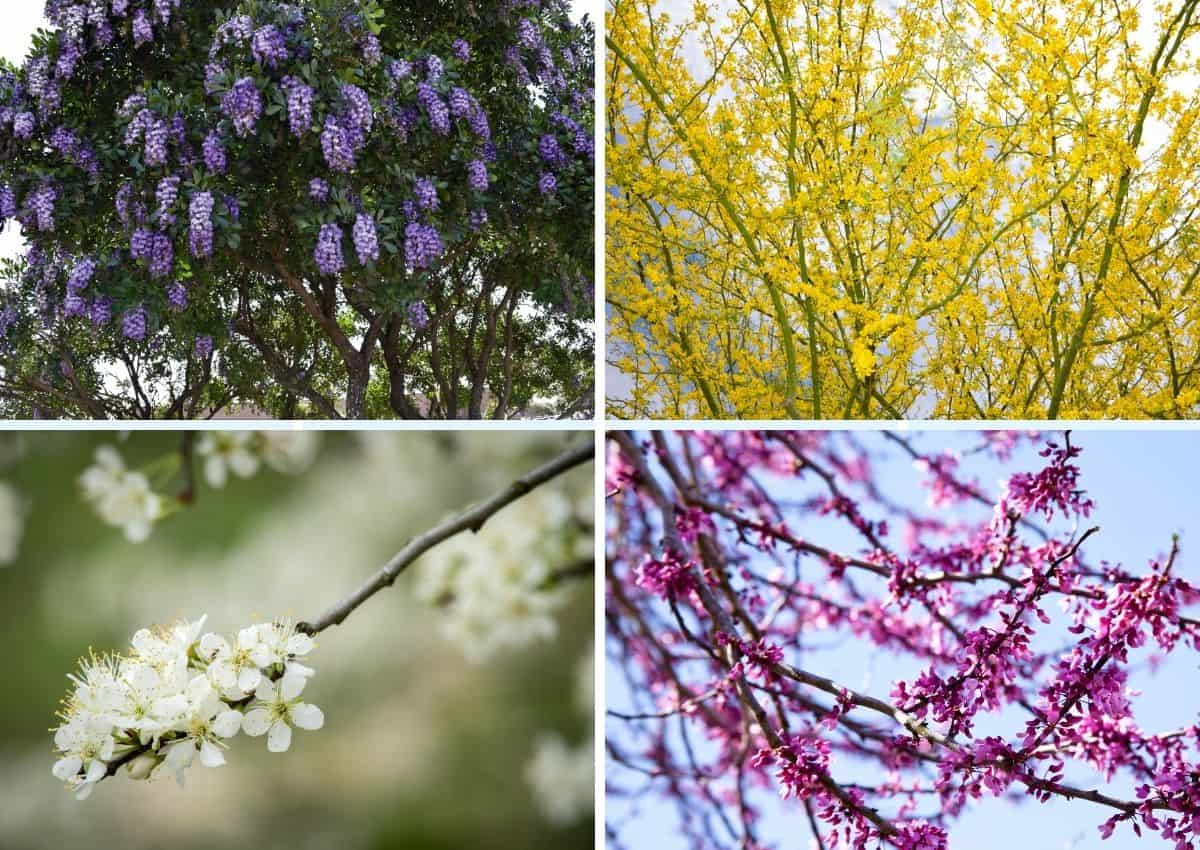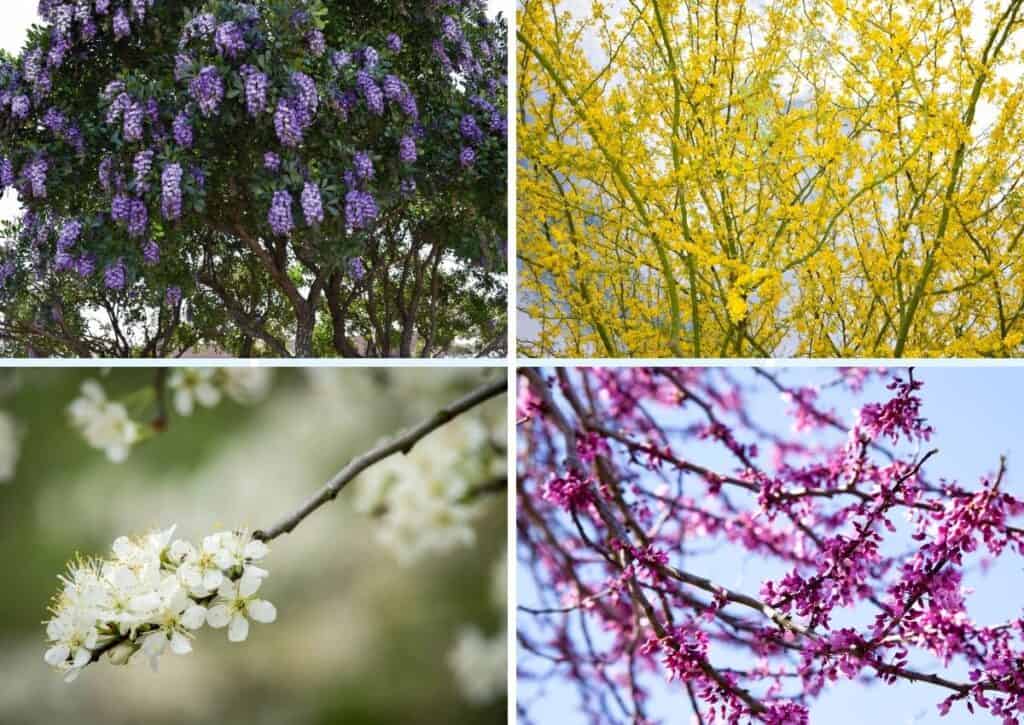 Why Plant Native Texas Trees?
Did you know that native trees (those that have evolved in your local area) can offer a wealth of ecological benefits over non-native trees (those imported from other continents)? Native trees:
Are some of the best butterfly and moth host plants that we have. Learn why host plants are so important to sustaining wildlife.
Have evolved in your local climate and tend to handle harsh weather conditions such as long periods of drought better than non-natives.
Create a sense of place. Nothing says Texas Hill Country like the Texas Mountain Laurel in bloom!
Provide ecological diversity from the monotony of yards planted with the same non-native species (i.e., all those Crepe Myrtles and Ligustrum trees!).
5 Flowering Trees of Texas Hill Country
There are more native flowering trees of Texas than just these five , but these are my favorite ornamental trees around San Antonio where I live. What would you add to the list?
1. Texas Mountain Laurel
Scientific Name: Sophora secundiflora
Often referred to as the "Grape Kool-Aid Tree", this one of the first trees flowering in Central Texas in the spring, and its flowers really do smell like grape Kool-Aid! The small tree has beautiful cone shaped clusters of purple flowers that are 3-7″ long.
The flowers only last a few weeks in spring, but the remainder of the year the evergreen tree has pretty glossy leaves.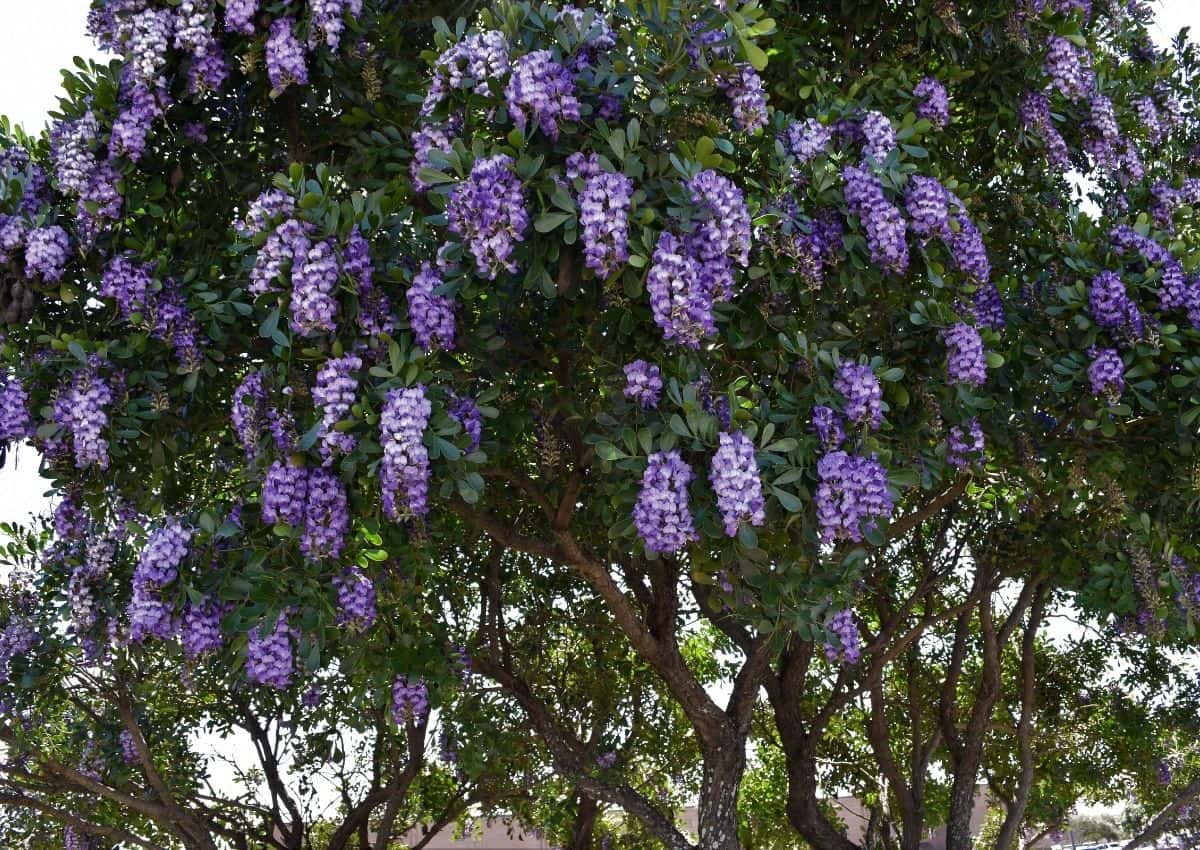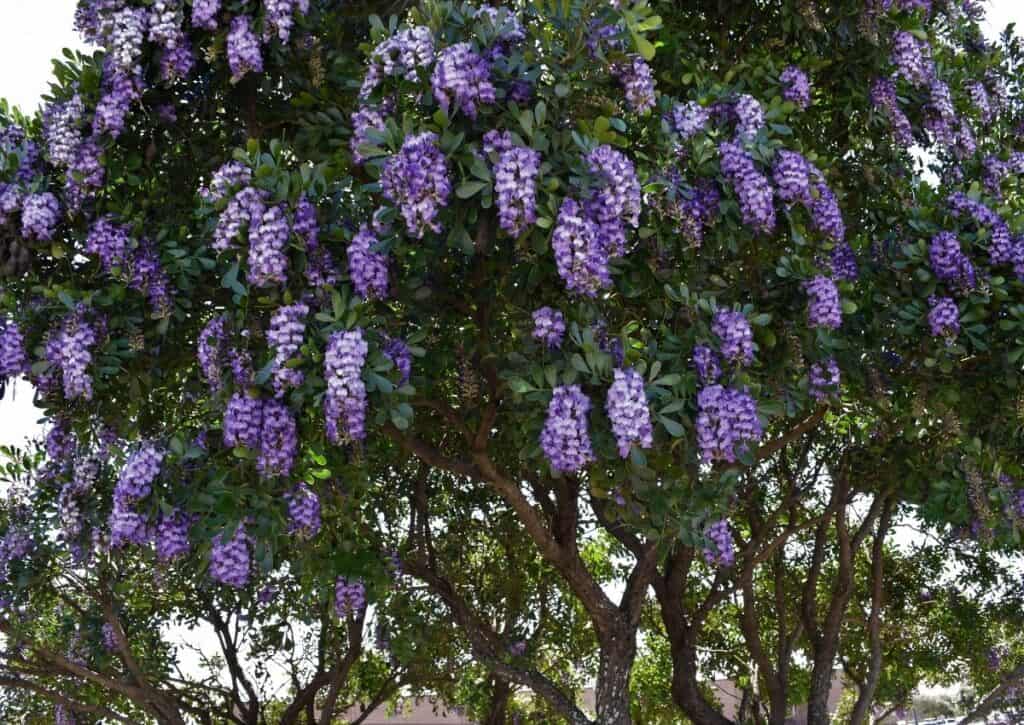 Mountain Laurel Tree Details
Blooms: Purple blooms in early spring (Feb-April)
Height: 6-12 ft.
Sun Requirements: Dappled shade to full sun
Common Names: Texas Mountain Laurel, Mescal Bean
Host Plant: Henry's Elfin and Orange Sulphur butterflies
Did You Know?
The bright red Mescal beans (seeds) of the Texas Mountain Laurel were used by Native Americans for ceremonial uses. However, the beans can be deadly to humans if broken and chewed. Thankfully, their hard seed coat means that if a child accidentally swallows a bean it will most likely pass through their system without causing harm.
2. Texas Redbud
Scientific Name: Cercis Canadensis var. texensis
This is one of the pretties blooming trees in Texas and hard to miss when it is in bloom. Its branches are covered in purplish pink flowers between March and April. It is one of the most recognizable flowering trees of Central Texas and commonly used in landscapes. I also personally think it is the prettiest flowering tree in Texas!
The rest of the year you can identify the plant by its heart shaped leaf. However, it is a deciduous tree. The leaves will turn yellow and fall from the tree in the winter.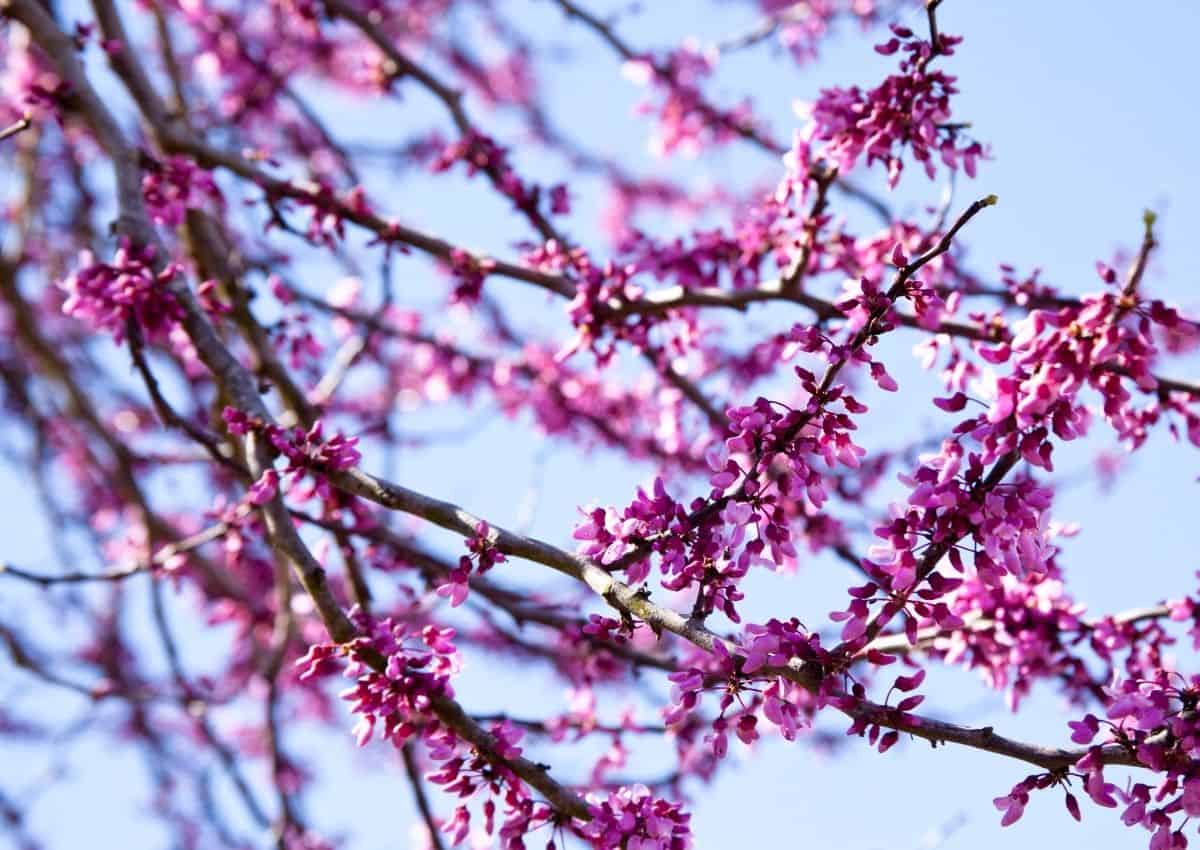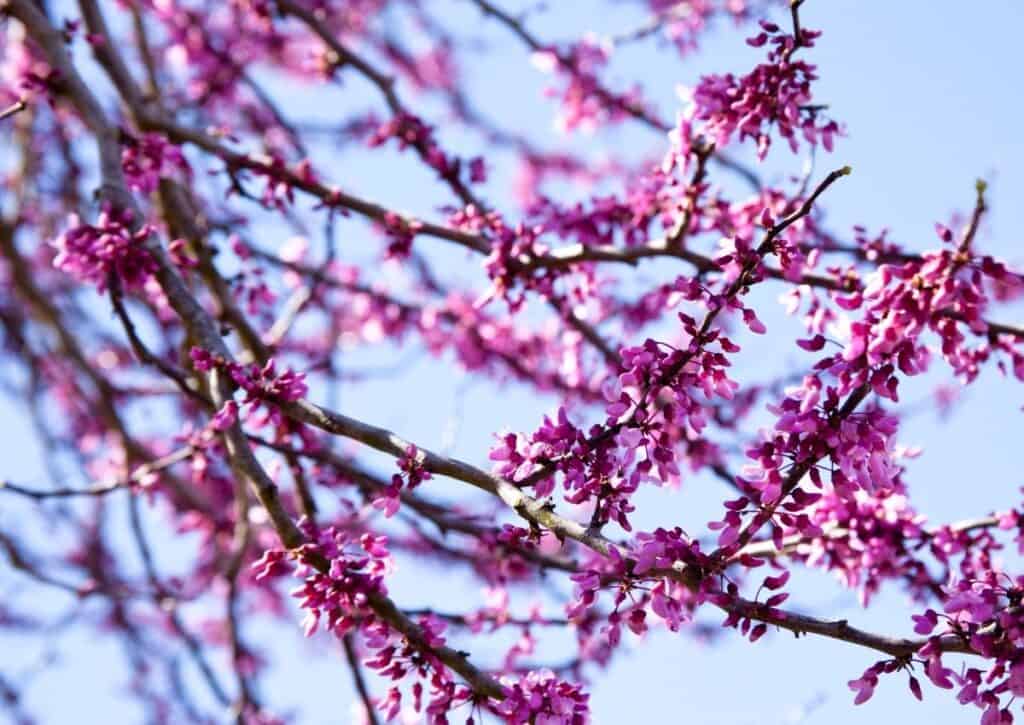 Texas Redbud Tree Details
Blooms: pinkish purple blooms cover branches in March & April
Height: 10-20 ft.
Sun Requirements: Dappled shade to full sun
Common Names: Texas Red Bud (different from Eastern Red Bud)
Host Plant: Henry's Elfin butterfly
Did You Know?
You can eat the flower buds and flowers of the Texas Redbud. Apparently, they are especially delicious sautéed in butter! The cut branches also make for a beautiful spring arrangement.
3. Huisache
Scientific Name: Vachellia farnesiana
For several years I loved eating at the Huisache Grill in New Braunfels, without knowing what "Huisache" meant. It is pronounced "WEE-satch". Only recently did I realize it was the name of a native Texas tree with beautiful puff balls of yellow flowers in the spring!
The flowers put off a heavenly scent. However, in some areas the tree may not bloom every year if the flower buds are hit by a late frost. I'm guessing they will not bloom this year given the February 2021 Snowcopalypse.
Other identifiable characteristics of Huisache are its multiple trunks and skinny branches with thorns and fern-like leaves. Huisache actually means "many thorns" in Nahuatl – a language spoken by the indigenous people of Mexico.
Huisache Tree Details
Blooms: golden yellow ball-shaped blossoms from March-April
Height: 15-20 ft.
Sun Requirements: Full sun
Common Names: Huisache, Sweet Acacia
Host Plant: Henry's Elfin butterfly
Did You Know?
They plant this tree in Southern Europe to be used for perfume. I love this tree but it can be considered invasive as it will easily move into disturbed areas. However it is a great provider of nectar for bees and seeds for birds!
4. Retama
Scientific Name: Parinsonia aculeata
This is another name that I associated with a business around San Antonio without knowing what it meant -the Retama Park horse race track! Retama is one of several common names for this pretty drought tolerant tree with lime green branches and bright yellow flowers. This tree can be found from Southern Texas to Arizona, where it is called Palo Verde.
We have a Retama tree on the nature path near our house. I am keeping a close eye on it as it looks like it was damaged from the February mega-freeze.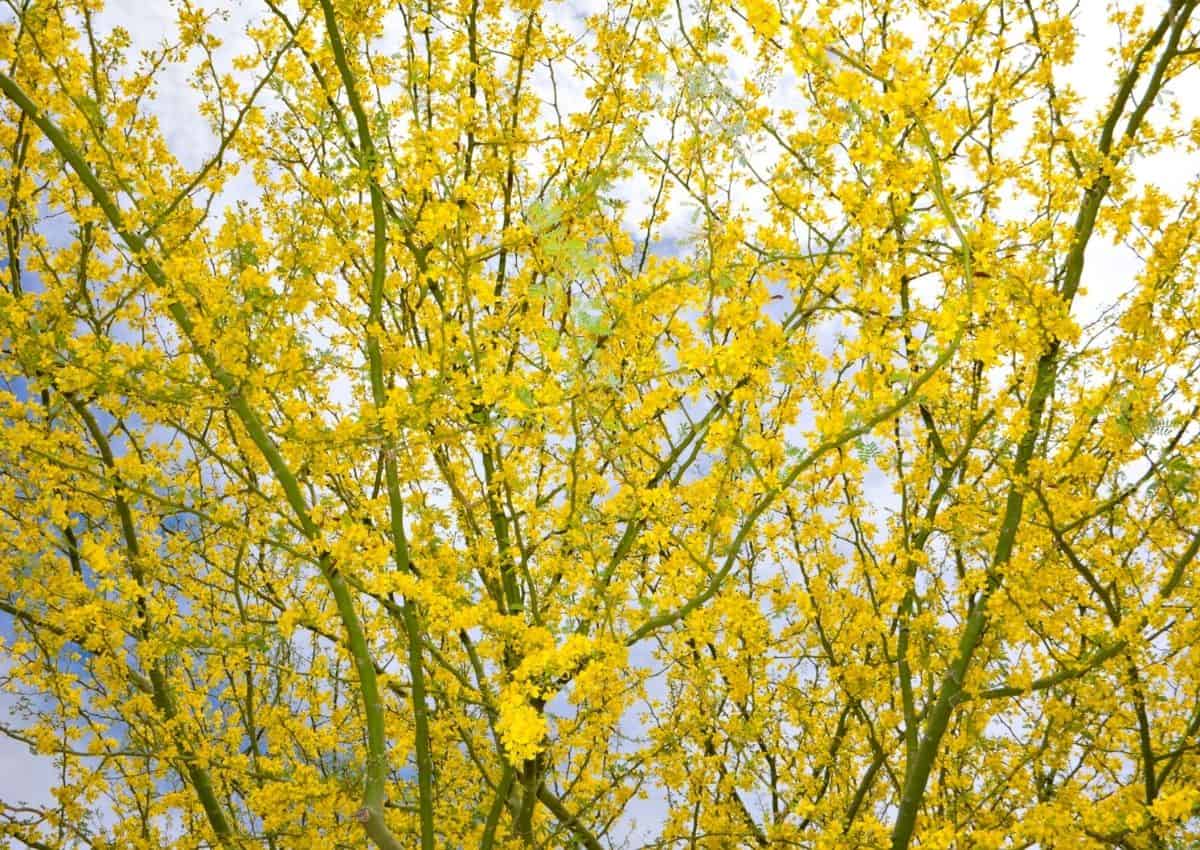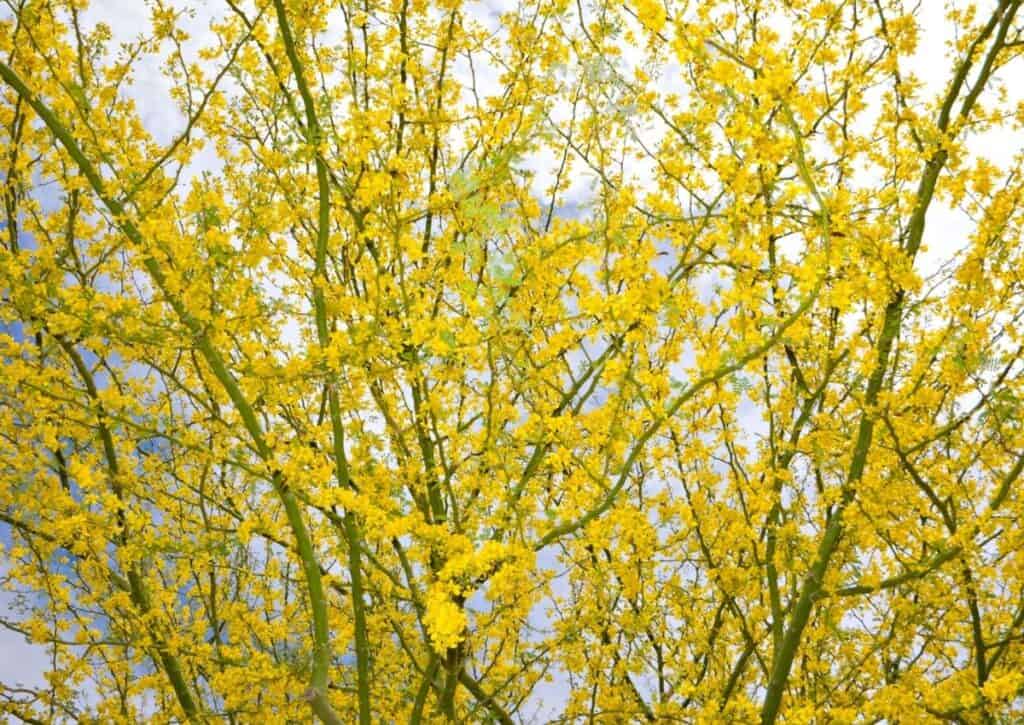 Retama Tree Details
Blooms: Clusters of bright yellow from from spring-summer
Height: 12-15 ft.
Sun Requirements: Full sun
Common Names: Retama, Palo Verde, Jerusalem Thorn
Did You Know?
Retama likes soil that is not too wet or too dry. Under very dry conditions, it will drop all its leaves. However it still looks pretty with its green branches. Its long bloom cycle makes it a great nectar source for pollinators. Its seeds provide food for birds and small mammals.
5. Mexican Plum
Scientific Name: Prunus Mexicana
I saw this tree in bloom for the first time on the grounds of Mission San Juan while on a nature walk with Master Naturalists. It was in early February and one of the first trees in bloom. It was covered with bees!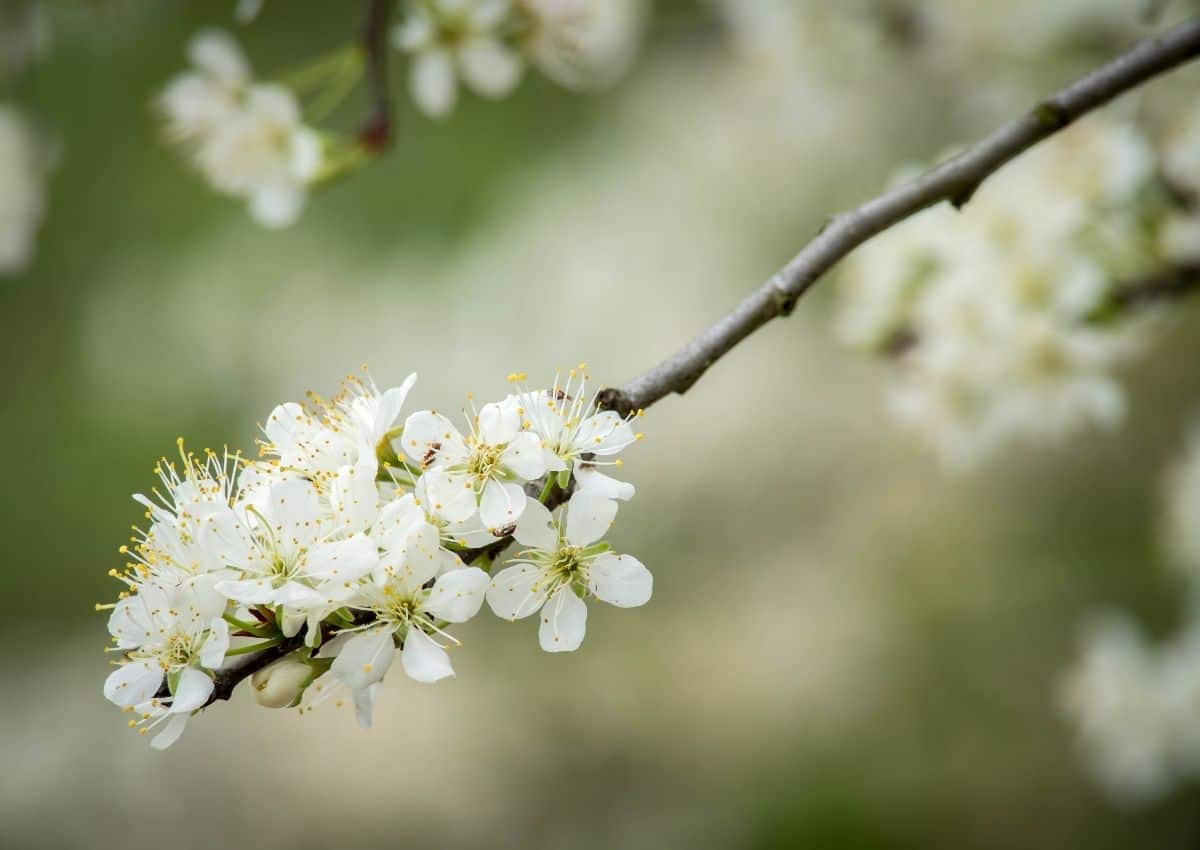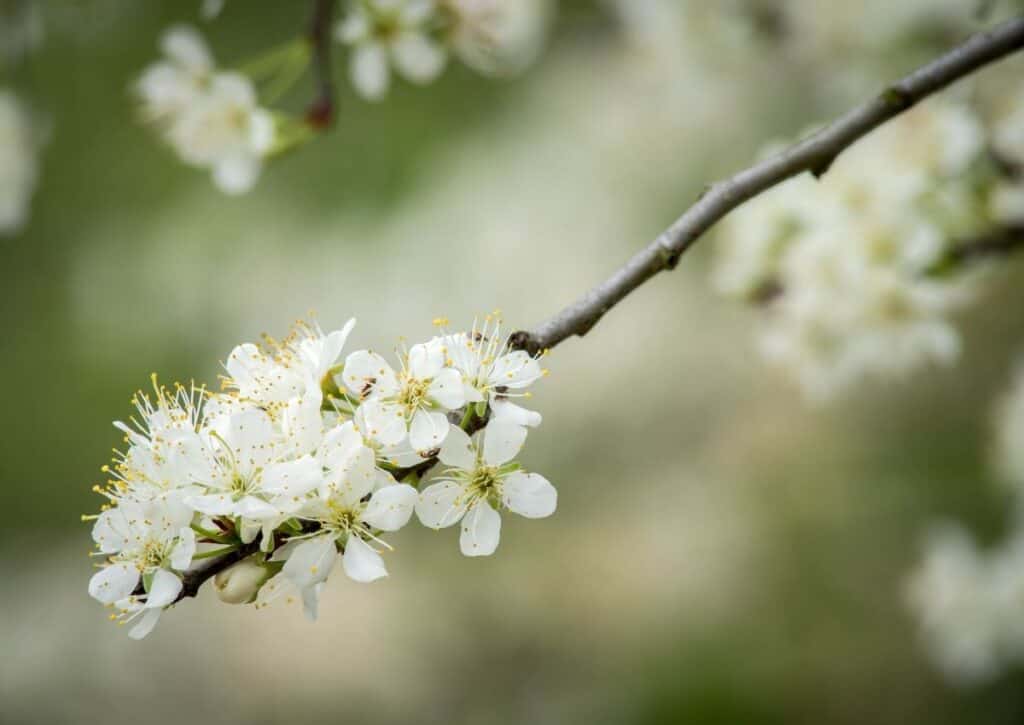 Mexican Plum Tree Details
Blooms: Pretty white blooms cover its branches in early spring (Feb – April)
Height: 15-35 ft.
Sun Requirements: Dappled shade to full sun
Common Names: Mexican Plum, Bigtree Plum
Host Plant: Tiger Swallowtail, Cecropia Moth, Large Tolype Moth
Did You Know?
Not only do the bees love its flowers, the plums are devoured by birds and other small mammals. Humans can eat them too!
Download the Free PDF: 5 Texas Flowering Trees
I created a handy one-page PDF for you to print and take with you to the plant nursery. It includes a thumbnail photo of each plant along with its common and scientific names, size, sun needs and more! Get it here: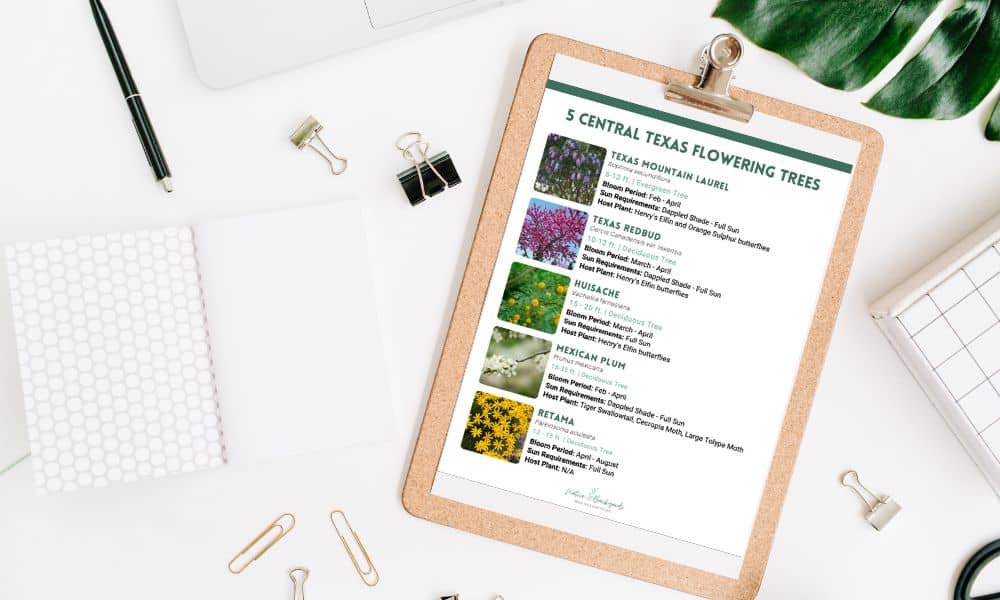 How Do I Identify a Flowering Tree?
See a tree flowering in the spring but aren't sure what it is? The easiest way to find out is to take a few photos of it and upload it to a plant identification app. My favorite is iNaturalist. Not only will it tell you what the plant is, it will tell you where it is native to.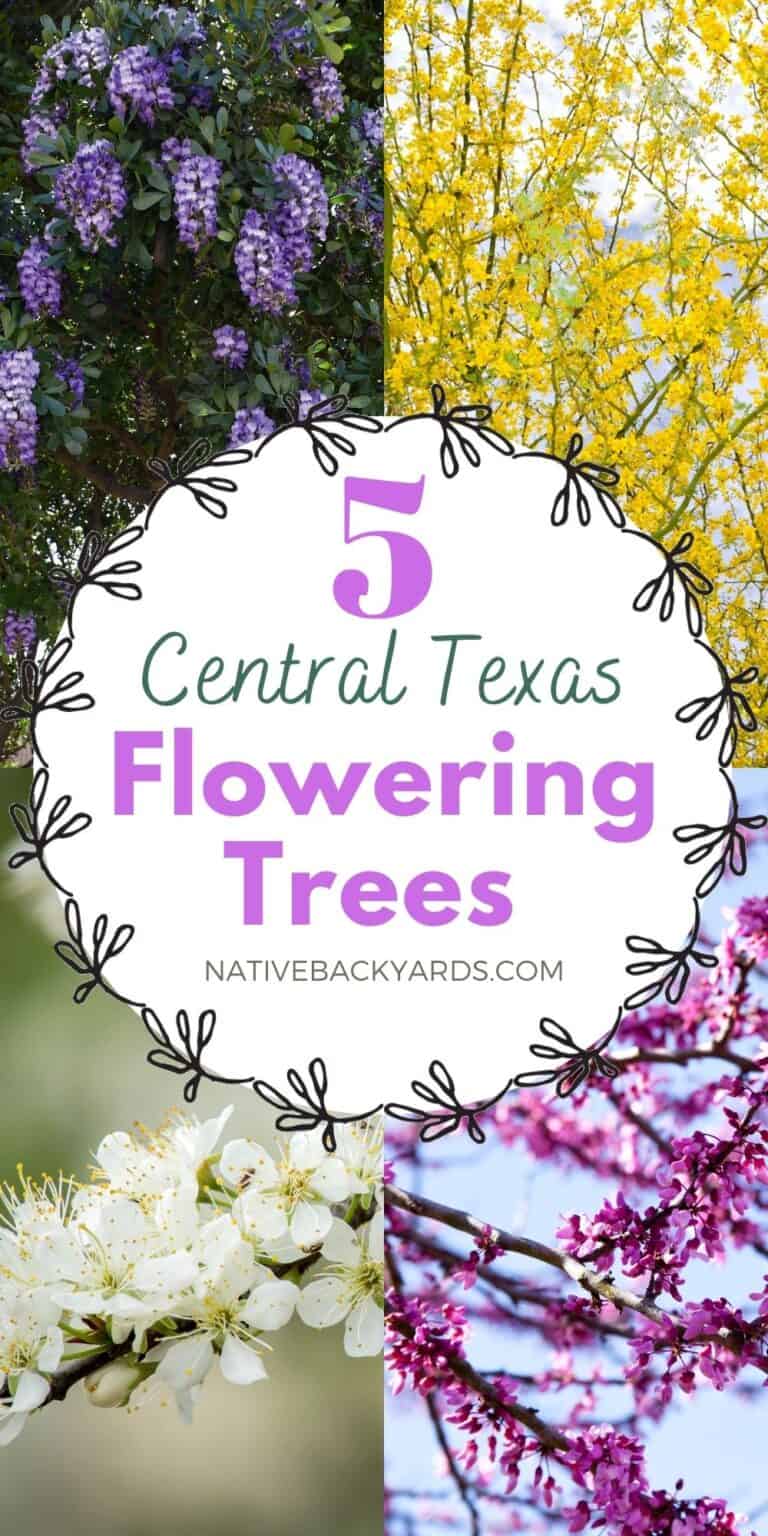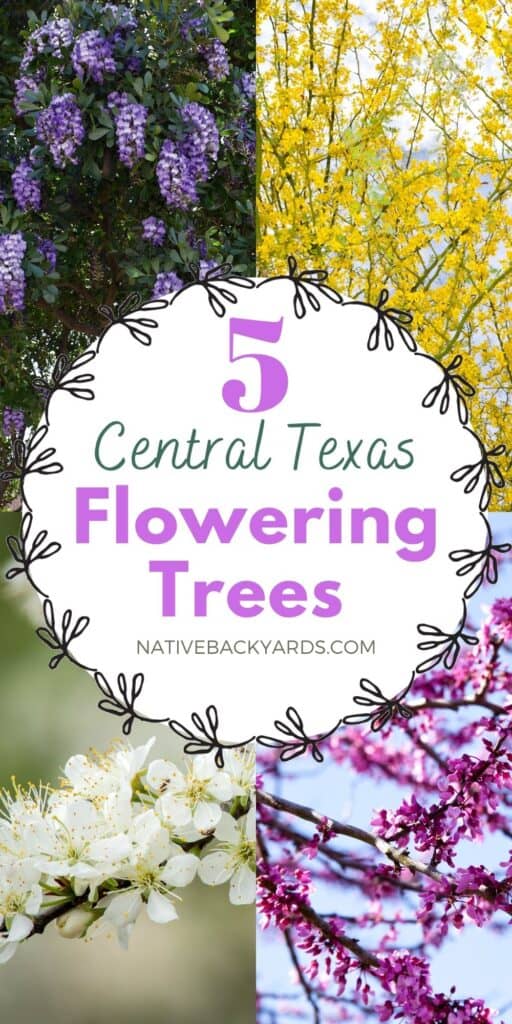 This post contains affiliate links. See our full disclosure.
Sources referenced for this article: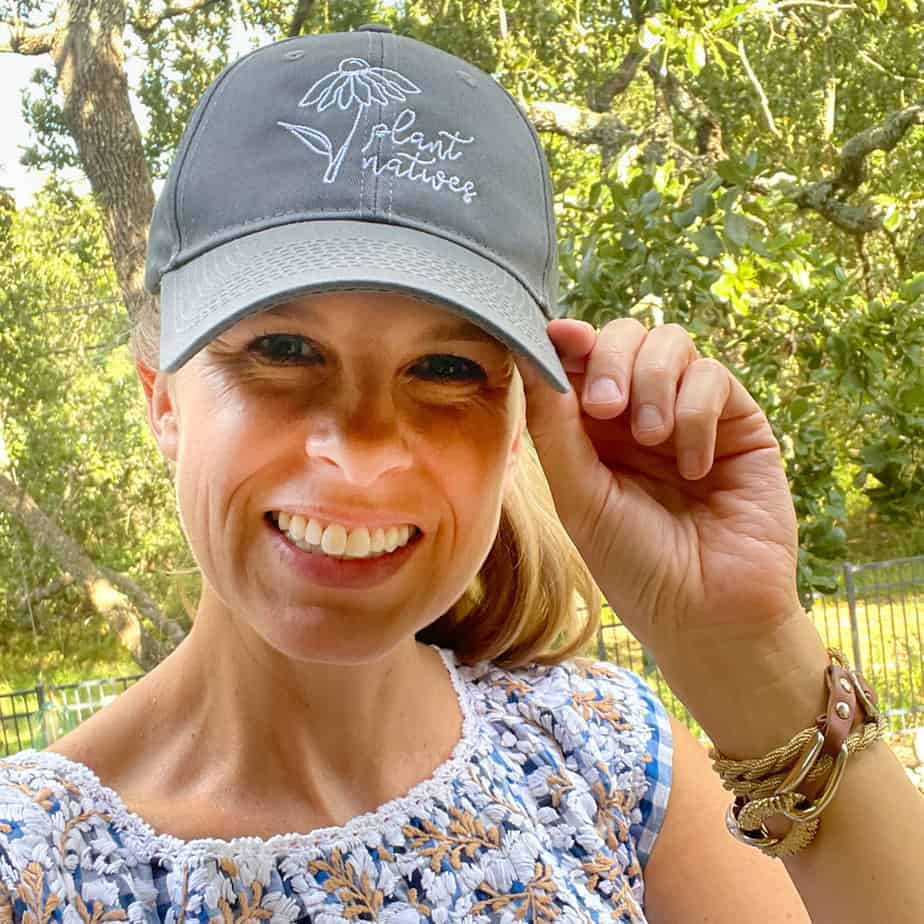 Welcome to Native Backyards! I'm Haeley from San Antonio, Texas, and I want to help you grow more natives.
I have seen firsthand how the right plants can bring your yard to life with butterflies, bees, and birds. I've transformed my yard with Texas natives and I'm excited to share what I've learned with you.
Join my newsletter here! – each week I'll send you helpful tips to make your native plant garden a reality!