5 Reasons to Grow Zexmenia (Wedelia texana)
Need a full sun drought-tolerant Texas native plant to add to your yard? Zexmenia (Wedelia texana) is for you! Butterflies and other pollinators love this small shrub with a sprawling growth habit.
A long-time bloomer, Zexmenia will brighten your garden from May through November!
Want more drought-tolerant perennial ideas for your yard? Start by downloading my FREE 10 Texas Drought Tolerant Plants PDF. You can take this handy one-pager with you to the nursery.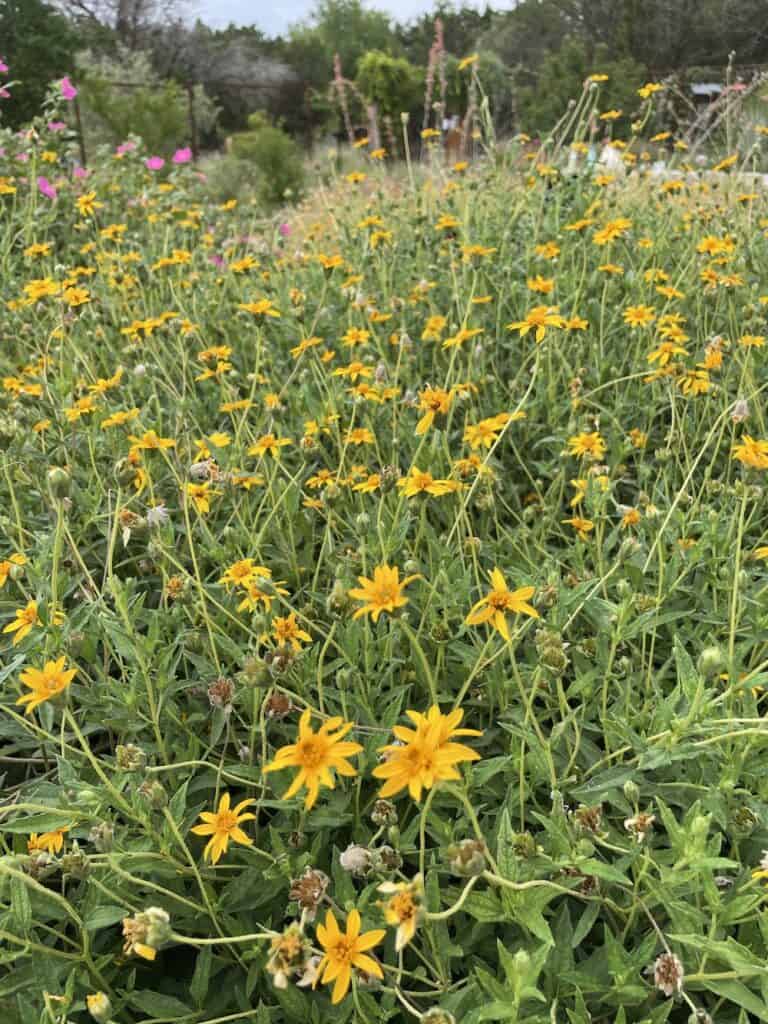 5 Reasons to Grow Zexmenia (Wedelia texana)
1) It is drought tolerant
This plant is tough! I have seen this plant thrive during one of the hottest and driest summers on record here in San Antonio in a garden where it receives ZERO supplemental water. Now that is what I call drought tolerant!
Wedelia texana is native to the rocky soils of the Edwards Plateau through West Texas so it is no stranger to heat! In fact, excess water can make the plant leggy and unhappy so don't overwater it.
2) It blooms all summer
Zexmenia starts blooming in late spring and will keep blooming periodically throughout the summer and fall, not ending until November. Its daisy-like flowers top long stems that spread out over an area.
Zexmenia can be planted in part shade, but will have fewer blooms than in full sun.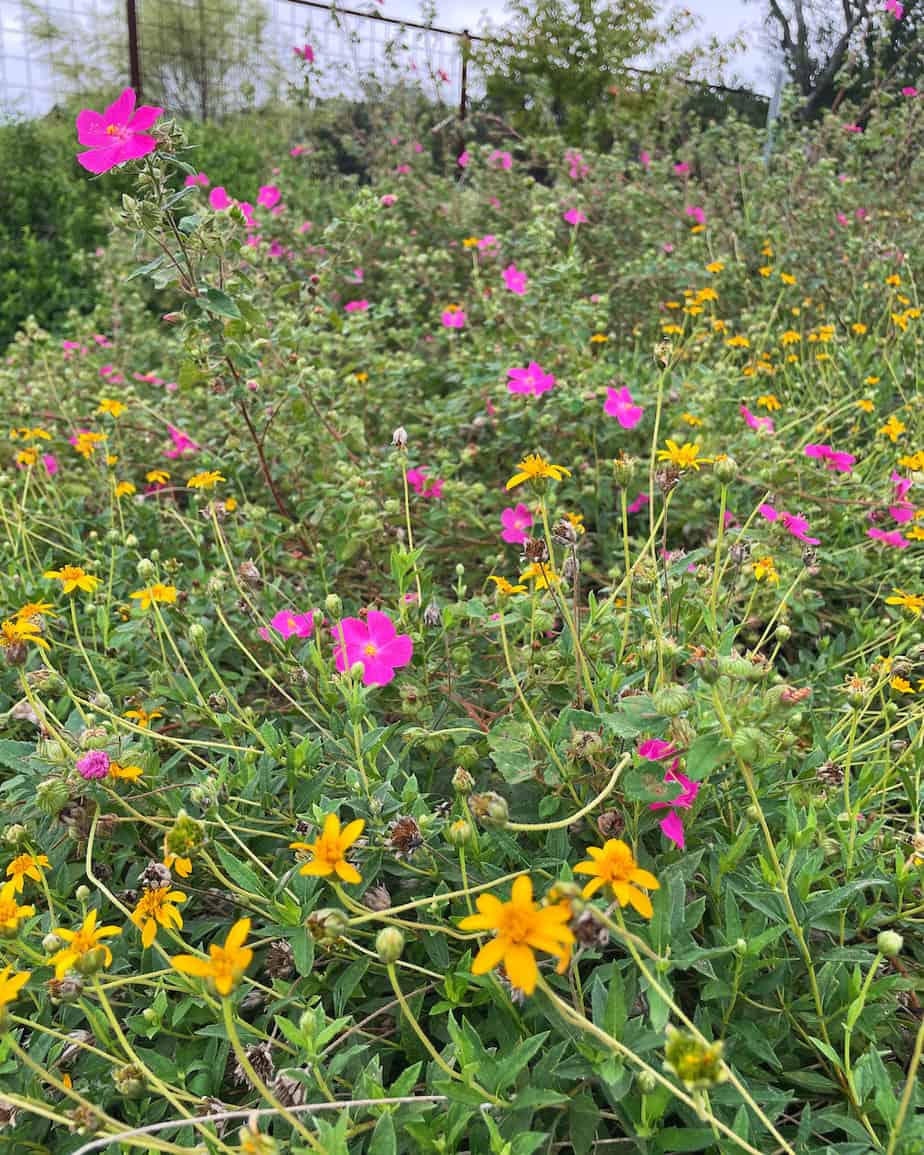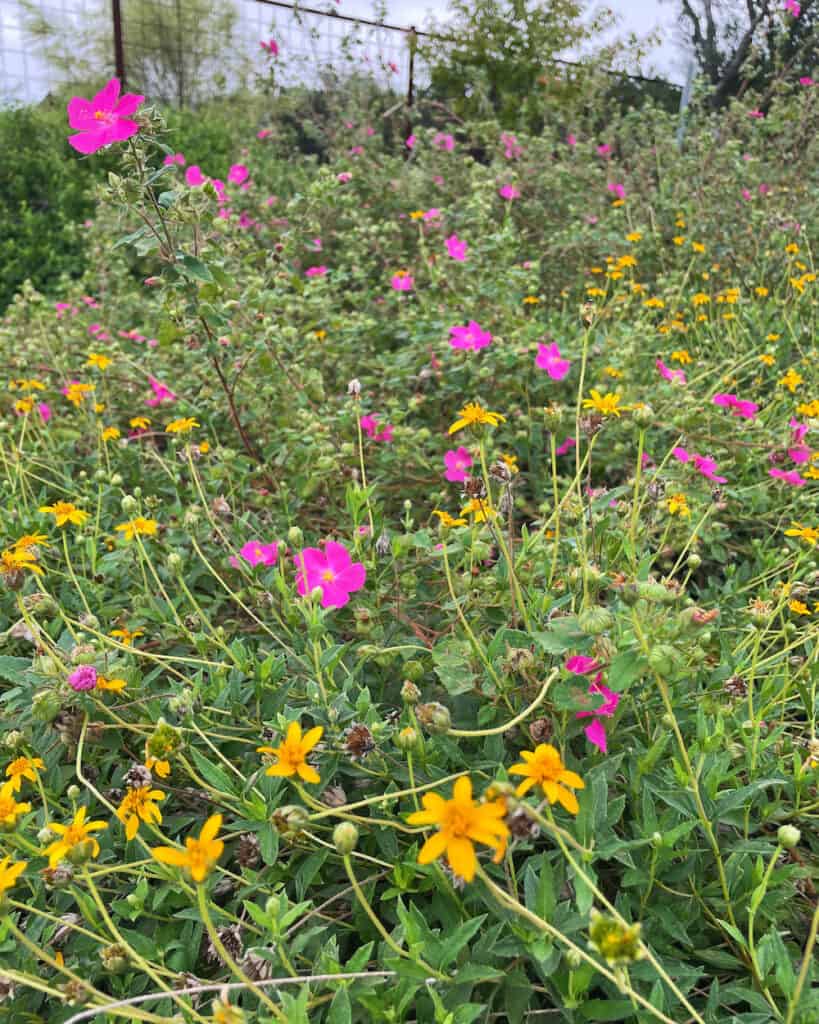 3) Wedelia texana is a butterfly host plant
I try to incorporate butterfly host plants into my garden whenever I can. These are the plants that the butterflies' caterpillars eat. Zexmenia is a host plant for at least two butterfly species – the Bordered Patch and Sierran Metalmark.
4) Great wildlife plant
This shrubby flower not only attracts butterflies but lots of bees to its nectar and pollen. I have also seen Lesser Goldfinches eating Zexmenia seeds.
5) It is easy to grow
Like many Texas natives, Zexmenia needs little care once established! It has a nice spreading growth habit that makes it a great candidate for covering an area of your garden or flowing over the side of a raised bed or rock wall. You can manage the spread by trimming it as needed, but otherwise, this plant is very hands-off!
How to Care for Zexmenia (Wedelia texana)
Follow these simple steps to grow Zexmenia like a pro:
Plant in full sun (6+ hours of direct sun) or partial shade (4-6 hours of direct sun). There will be fewer blooms in partial shade.
Don't overwater. Too much water can make the long stems leggy.
You can trim Zexmenia back by up to 1/2 in the summer to promote more blooms and denser growth.
It will die back to the ground in the winter. Prune back its woody branches in late winter at the end of February or early March to be ready for new growth in the spring.
What to Plant with Zexmenia
Zexmenia can serve as a tall groundcover, a low-growing plant at the front of a garden bed, or a plant that flows over the side of a raised bed. Try paring this yellow perennial with other Texas native plants: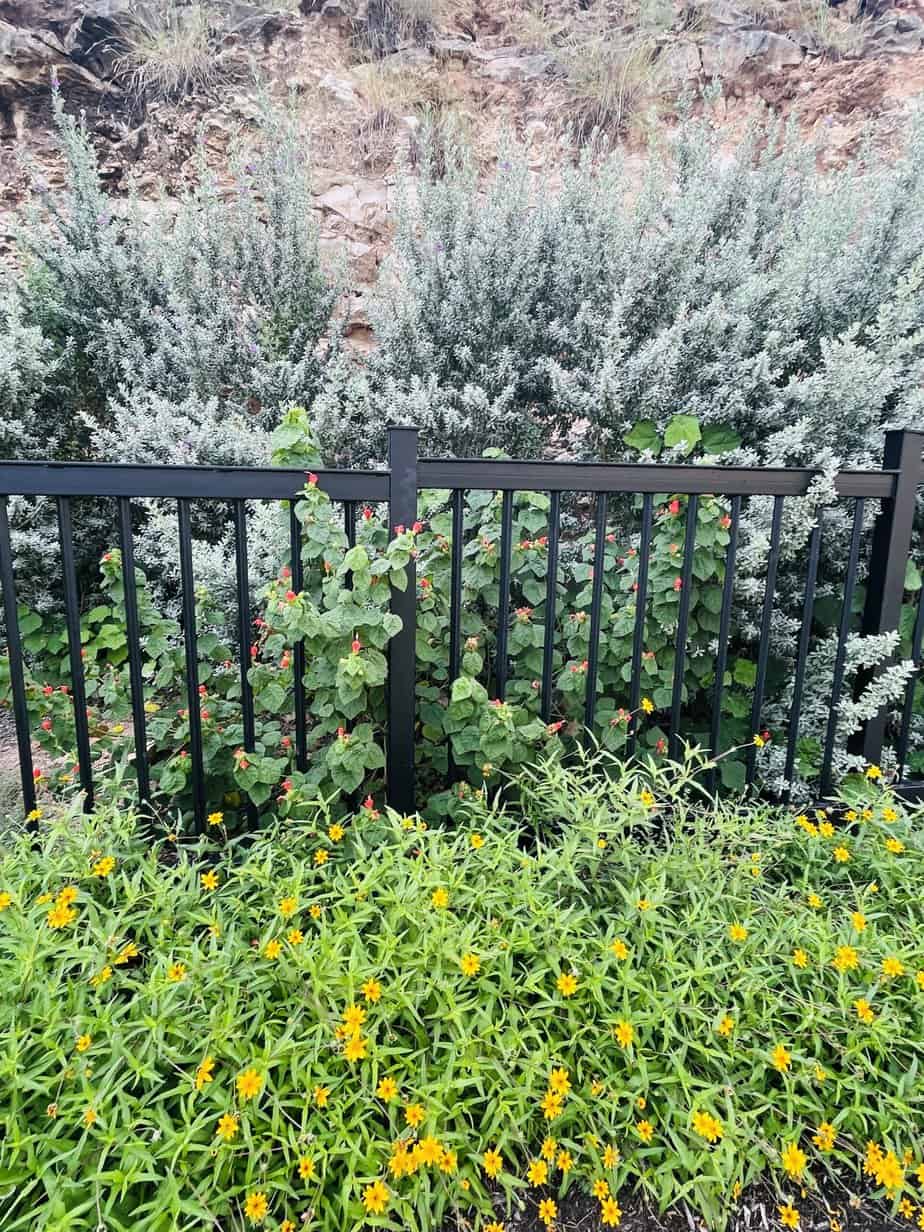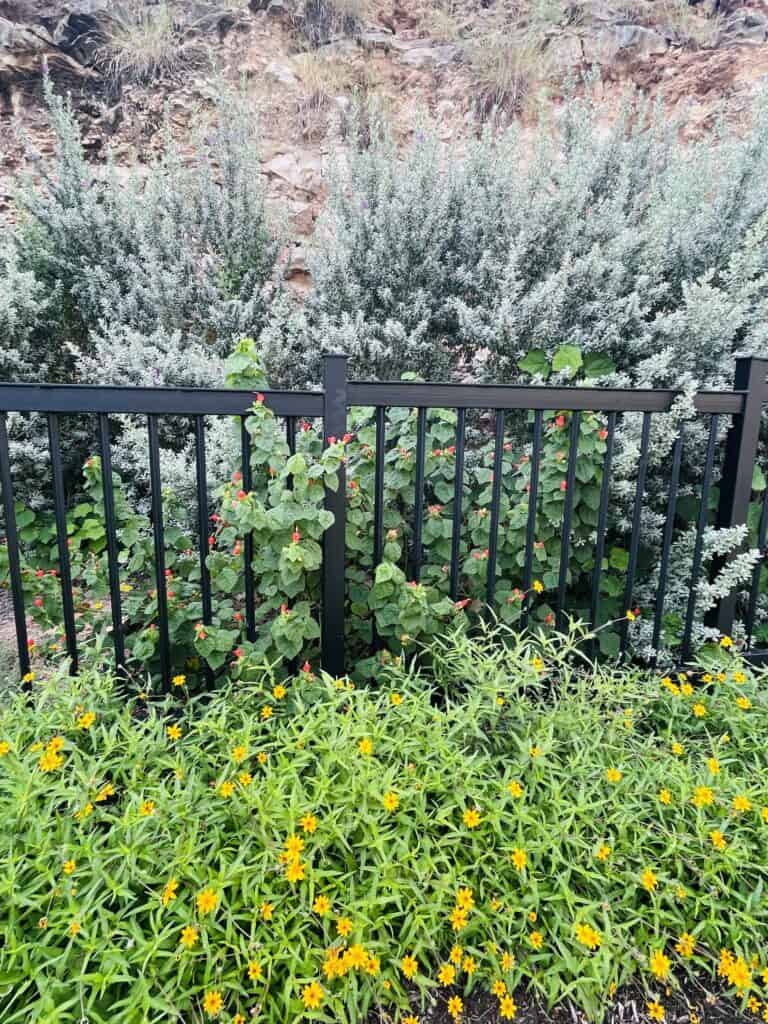 Where is Wedelia texana native to?
The native range of Wedelia texana covers the western half of Texas, from the Edwards Plateau to West Texas, and south to the Rio Grande Valley and Corpus Christi. It will stay evergreen in the southern part of its range.
Common and Scientific Names for Wedelia texana
This plant happens to go by a variety of names! Other common names for Zexmenia include Texas Creeping-Oxeye, Orange Zexmenia, or Wedelia.
While a plant can have multiple common names, they usually only have one scientific name. However, that is not the case with Zexmenia. I have seen it go by two different scientific names:
Wedelia texana
Wedelia acapulcensis var. hispida
For the sake of this post, I used Wedelia texana as it is easier to type! However, if you see either of these on a plant label you know you are buying the Texas native species.
Non-Native Wedelia: Wedelia trilobata
When you are at the nursery, it is important to make sure you check the scientific name of the plant before you purchase it. There are is another plant with the common name Wedelia that is not native to Texas, and is considered invasive species in parts of the world:
Sphagneticola trilobata (also called Wedelia trilobata) this Wedelia is native to Central and South America. It can escape cultivation in a tropical setting and is listed as an invasive plant in Florida (and interestingly, in China).
Look for "Wedelia texana" or "Wedelia acapulcensis var. hispida" to make sure you are buying the Texas native Zexmenia.
Download the Free PDF: Texas Drought Tolerant Plants
Looking for more drought-tolerant Texas natives? I created a handy one-page PDF for you to print and take along with you to the plant nursery. It includes a thumbnail photo of each plant along with both its common and scientific name and helpful growing info. Get it here: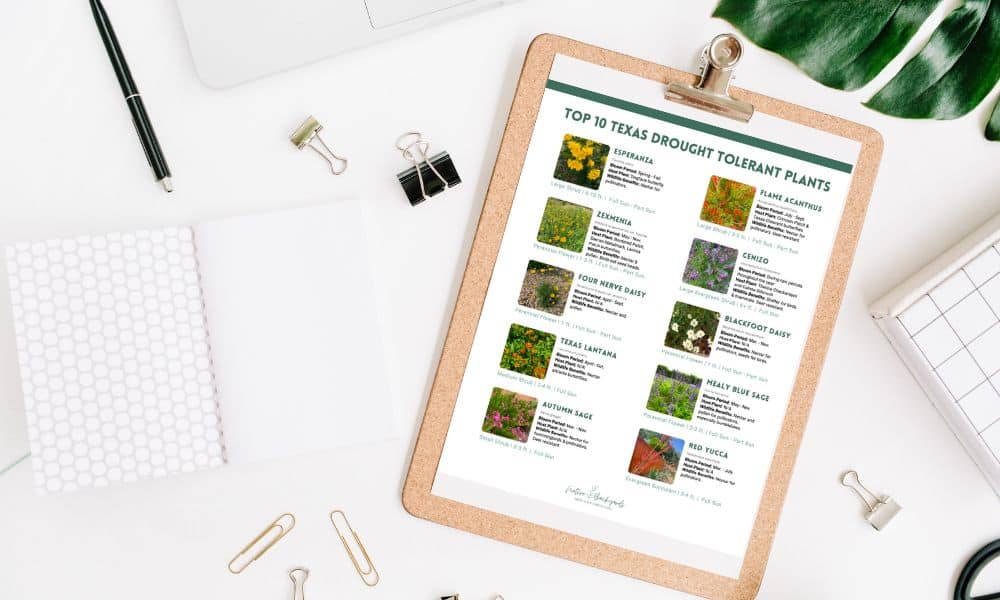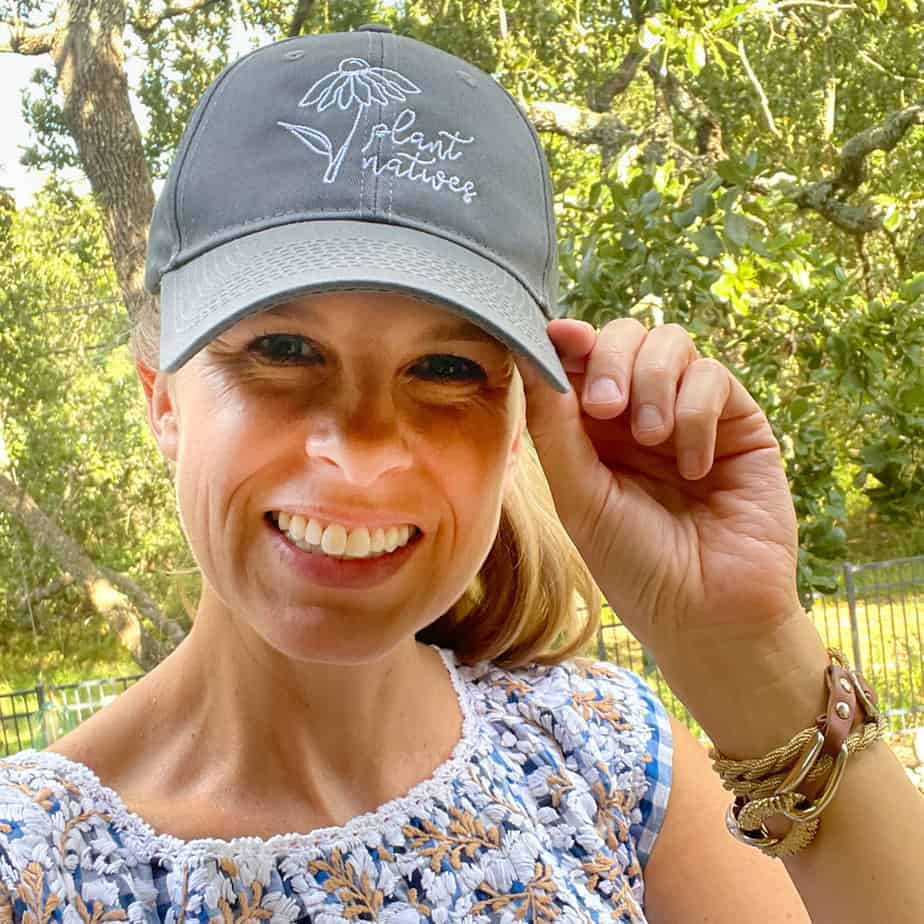 Welcome to Native Backyards! I'm Haeley from San Antonio, Texas, and I want to help you grow more native plants.
I have seen firsthand how the right plants can bring your yard to life with butterflies, bees, and birds. I've transformed my yard with Texas natives and I'm excited to share what I've learned with you.
Join my newsletter here! – each week I'll send you helpful tips to make your native plant garden a reality!
Want to learn more about me and my garden? Check out my About page!